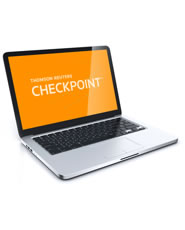 Tax Citation Tracker

Product Information
Frequency of Updates:

Daily

Brand:

Research Institute of America
Tax Citation Tracker allows you to follow developments on Federal tax cases or IRS Rulings and Releases by turning on Track It for that case or ruling and receiving email notification when it is cited in a newly reported Federal tax case or IRS ruling/release.
The following IRS Rulings and Releases documents are available for Track It: Revenue Rules, Revenue Procedures, Notices, Announcements, PLRs, TAMs, FSAs, SCAs, CCAs and AODs. Citation Tracker gives subscribers an up to date list of new Federal tax cases or IRS rulings that cite to the document they are tracking. The case or IRS Ruling/Release will be tracked for 1 year unless the user clicks the Turn Off button. If you want to extend tracking for a case or ruling beyond 1 year, they can do so by clicking the Extend button.
In addition to the email alerts, when a user opens the tracked document on Checkpoint, they will see a list of the last 30 days of citations in the left pane, if any, to the tracked document.
Checkpoint Tax Research Demo

View