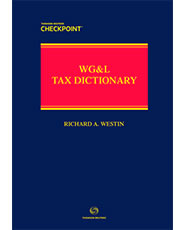 Tax Dictionary

The WG&L Tax Dictionary is a complete desktop reference guide to all tax and tax-related financial terminology. This invaluable resource is a must for any tax or financial professional's library.
Packed in this remarkable single volume are explanations to more than 5,000 terms that arise in federal tax practice - everything from Internal Revenue Code definitions to tax and financial slang.
In addition to being a complete lexicon of tax and financial terms and phrases, the WG&L Tax Dictionary's definitions contain numerous relevant cross-references to the Internal Revenue Code, Treasury Regulations, other government-issued materials, and expert commentaries, including the renowned WG&L tax treatises.
Westin: WG&L Tax Dictionary

A

<strong>A trust</strong> through <strong>absolute gift</strong>

<strong>absorber, residential energy credit</strong> through <strong>accrue</strong>

<strong>accrued benefits</strong> through <strong>active insurance exception, Subpart F</strong>

<strong>actively engaged in business</strong> through <strong>adequate disclosure, substantial understatement# of income tax penalty</strong>

<strong>adequate disclosure, twenty-five percent omission</strong> through <strong>administrative member</strong>

<strong>administrative powers</strong> through <strong>affirmative action carryover election</strong>

<strong>Affordable Care Act credit</strong> through <strong>all earnings and profits amount</strong>

<strong>all events test</strong> through <strong>alternative minimum tax</strong>

<strong>alternative minimum taxable income</strong> through <strong>announcement</strong>

<strong>annual accounting concept</strong> through <strong>anti-intermediary rules</strong>

<strong>anti-inversion regulations</strong> through <strong>applicable exclusion amount</strong>

<strong>applicable family member</strong> through <strong>Appointments Clause</strong>

<strong>apportion</strong> through <strong>Arrowsmith doctrine</strong>

<strong>Art Advisory Panel</strong> through <strong>assumes primary withholding responsibility, withholding on foreign accounts</strong>

<strong>assumption agreement</strong> through <strong>average base period income</strong>

<strong>average basis method election</strong> through <strong>away from home overnight#, travel expenses</strong>

B

<strong>B notice</strong> through <strong>base amount, credit# for increasing research activities</strong>

<strong>base amount, golden parachutes</strong> through <strong>beneficial owner withholding certificate</strong>

<strong>beneficial owner, withholding on FDAP</strong> through <strong>blockage rule</strong>

<strong>blocked account, withholding on foreign accounts</strong> through <strong>books and records</strong>

<strong>book/tax disparity</strong> through <strong>brokers and dealers</strong>

<strong>brokers or dealers# in securities, inventories</strong> through <strong>business interest</strong>

<strong>business leagues</strong> through <strong>Byrum doctrine</strong>

C

<strong>C corporation</strong> through <strong>CUP</strong>

<strong>CUT</strong> through <strong>capital tax, insurance companies</strong>

<strong>capital transaction</strong> through <strong>cash method</strong>

<strong>cash method debt instrument</strong> through <strong>certified deemed-compliant FFI, withholding on foreign accounts</strong>

<strong>certified historic structure</strong> through <strong>charitable contribution deduction</strong>

<strong>charitable deduction property</strong> through <strong>Circuit Court</strong>

<strong>circular basis rule</strong> through <strong>Clifford trust</strong>

<strong>clinical testing expense credit</strong> through <strong>collection gain</strong>

<strong>collection loss</strong> through <strong>common fund private foundations</strong>

<strong>common investment fund</strong> through <strong>compensation, individual# retirement arrangements</strong>

<strong>compensation otherwise paid or accrued</strong> through <strong>computer program</strong>

<strong>computer software#, section 197 intangible</strong> through <strong>consistency requirement, partnerships</strong>

<strong>consistency requirements#, section 338 acquisitions</strong> through <strong>Consumer Operated and Oriented Plan Program</strong>

<strong>consumer property</strong> through <strong>contractor safe harbor method</strong>

<strong>contractor withholding</strong> through <strong>convention of association# of churches</strong>

<strong>Convention# on Mutual Administrative Assistance in Tax Matters</strong> through <strong>corporation, mandatory# farm accrual rules</strong>

<strong>corporation-shareholder loan</strong> through <strong>covenant not to compete</strong>

<strong>coverage month</strong> through <strong>credit for withholding# of tax at source</strong>

<strong>credit-invoice method, VAT</strong> through <strong>current life insurance# protection, qualified plans</strong>

<strong>currently distributable# income of estate</strong> through <strong>cut-off method, tax accounting</strong>

D

<strong>D reorganization</strong> through <strong>debt-equity swap</strong>

<strong>debt exchangeable for common stock</strong> through <strong>deemed election#, Section 338 acquisition</strong>

<strong>deemed IRA</strong> through <strong>deficiency interest</strong>

<strong>deficiency notice</strong> through <strong>dependent care assistance</strong>

<strong>dependent care #assistance programs</strong> through <strong>designated beneficiary#, tuition programs</strong>

<strong>designated blighted area</strong> through <strong>direct acquisition, debt instrument</strong>

<strong>direct charge-off method</strong> through <strong>disconnected youth</strong>

<strong>discount</strong> through <strong>disqualified person#, electing large partnership</strong>

<strong>disqualified person, ESOP stock</strong> through <strong>distribution, trusts and estates</strong>

<strong>distributive share</strong> through <strong>documentary evidence#, substantiation of travel, entertainment, and gift expenses</strong>

<strong>documentary evidence, withholding on foreign accounts</strong> through <strong>double dummy technique</strong>

<strong>double-extension method</strong> through <strong>dynasty trust</strong>

E

<strong>E&P</strong> through <strong>earned income, child #and dependent care credit</strong>

<strong>earned income credit</strong> through <strong>education IRA</strong>

<strong>educational organization, catch-up election</strong> through <strong>elective public office</strong>

<strong>electric car</strong> through <strong>eligible person, sale of property #to comply with conflict-of-interest requirements</strong>

<strong>eligible physicians and surgeons' mutual #protection and interindemnity arrangement or association</strong> through <strong>employee, qualified plan</strong>

<strong>employee relocation loan</strong> through <strong>endowment contract</strong>

<strong>endowment insurance</strong> through <strong>environmental enhancements of hydroelectric# generating facilities, exempt facility bond</strong>

<strong>environmental tax</strong> through <strong>estate tax credits</strong>

<strong>estate tax deductions</strong> through <strong>excess contribution, black lung benefit tax</strong>

<strong>excess contribution, CODA</strong> through <strong>excess plan</strong>

<strong>excess prepaid farm supplies</strong> through <strong>excise tax, stock compensation #of insiders in expatriated corporations</strong>

<strong>excise tax, taxable substances</strong> through <strong>exempt contract method</strong>

<strong>exempt cooperatives</strong> through <strong>existing housing price ratio</strong>

<strong>existing industrial or commercial #process, energy investment credit</strong> through <strong>export property, FSC</strong>

<strong>export subsidiaries</strong> through <strong>extrinsic aid</strong>

F

<strong>F in a bottle</strong> through <strong>facilities for the local furnishing of electric energy# or gas, tax-exempt bonds</strong>

<strong>facility, architectural and transportation barrier expense</strong> through <strong>farm loss deduction limit</strong>

<strong>farm method, estate tax valuation</strong> through <strong>fee royalty</strong>

<strong>feeder organization</strong> through <strong>Finance Committee, Senate</strong>

<strong>financed insurance</strong> through <strong>first tier distribution</strong>

<strong>first tier entity</strong> through <strong>flexible spending account</strong>

<strong>flight segment</strong> through <strong>foreign base company shipping #income, safe harbor rule</strong>

<strong>foreign based documentation</strong> through <strong>foreign income, subchapter S corporations</strong>

<strong>foreign income taxes</strong> through <strong>foreign service allowances</strong>

<strong>foreign shipping income</strong> through <strong>Form 1120</strong>

<strong>Form 1120S</strong> through <strong>fractional rule, accrued benefits</strong>

<strong>fractional share formula provision</strong> through <strong>full-time life insurance salesman</strong>

<strong>full-time salesman</strong> through <strong>futures contract</strong>

G

<strong>GAAP</strong> through <strong>general corporate test</strong>

<strong>General Counsel's Memorandum</strong> through <strong>gift splitting</strong>

<strong>gift, gift tax</strong> through <strong>grant date, stock options</strong>

<strong>grantor</strong> through <strong>gross profits, OECD</strong>

<strong>gross profit percentage, employee discounts</strong> through <strong>guaranteed interest, life insurance reserves</strong>

<strong>guaranteed payment</strong> through <strong>Gulf tax credit bond</strong>

H

<strong>HDHP</strong> through <strong>health insurance providers fee</strong>

<strong>health insurance premium credit</strong> through <strong>highly compensated individual, medical reimbursement plans</strong>

<strong>highly erodible cropland</strong> through <strong>home state bonds</strong>

<strong>homestead exemption</strong> through <strong>hybrid entity mismatch</strong>

<strong>hybrid entity separate unit</strong> through <strong>hypothetical transaction</strong>

I

<strong>ILM</strong> through <strong>illegal drug trafficking</strong>

<strong>illegal rebate</strong> through <strong>includable compensation#, eligible state deferred compensation plans</strong>

<strong>includable compensation#, tax-deferred annuities for exempt and educational organization employees</strong> through <strong>incremental cost, energy investment credit</strong>

<strong>incremental research credit</strong> through <strong>individual medical benefit account</strong>

<strong>individual retirement account (IRA)</strong> through <strong>injured spouse exception</strong>

<strong>injuries, compensation for</strong> through <strong>insulation, residential energy credit</strong>

<strong>insurable interest rule</strong> through <strong>intercompany trade receivable</strong>

<strong>intercompany transaction</strong> through <strong>Internal Revenue Service (IRS)</strong>

<strong>IRS legal memorandum</strong> through <strong>inversion transaction</strong>

<strong>inverted lease</strong> through <strong>IRS agreement, withholding on foreign accounts</strong>

<strong>IRS agreement, withholding on foreign payments</strong> through <strong>item of tax preference</strong>

J

<strong>janitor's insurance</strong> through <strong>Justice Department</strong>

K

<strong>KSOP</strong> through <strong>Kovel accountant</strong>

L

<strong>L and R</strong> through <strong>large food or beverage establishment</strong>

<strong>large group health plan</strong> through <strong>legal separation</strong>

<strong>legal title</strong> through <strong>liability, limited</strong>

<strong>liability, partnership</strong> through <strong>limited branch, withholding on foreign accounts</strong>

<strong>limited business interest</strong> through <strong>liquidation right, generation-skipping transfer tax</strong>

<strong>liquidation trust</strong> through <strong>long-term capital gains</strong>

<strong>long-term capital gains rate</strong> through <strong>low-profit LLC entity</strong>

<strong>low-risk offshore account holder</strong> through <strong>luxury water transportation</strong>

M

<strong>MACRS</strong> through <strong>mandatory payment right, generation-skipping transfer tax</strong>

<strong>mandatory retirement age</strong> through <strong>marriage penalty deduction</strong>

<strong>married filing jointly</strong> through <strong>medical and tuition expenses, gift tax exclusion</strong>

<strong>medical care</strong> through <strong>midpoint life</strong>

<strong>midquarter convention</strong> through <strong>minor</strong>

<strong>Miranda warning</strong> through <strong>money purchase pension plan</strong>

<strong>monthly depositor</strong> through <strong>municipal corporations</strong>

<strong>mustering-out pay</strong> through <strong>MyIRA</strong>

N

<strong>NAIC</strong> through <strong>nerve center test</strong>

<strong>net active income</strong> through <strong>net operating loss (NOL)</strong>

<strong>net operating loss carryback</strong> through <strong>new comparability plan</strong>

<strong>new construction, rehabilitation</strong> through <strong>nonadverse party</strong>

<strong>nonallocable receipts</strong> through <strong>nondiversified contract</strong>

<strong>nondividend distribution</strong> through <strong>nonportfolio dividend</strong>

<strong>nonpreferential dividend</strong> through <strong>nonreporting FFI</strong>

<strong>nonreporting IGA FFI, withholding on foreign accounts</strong> through <strong>notice of federal tax lien</strong>

<strong>notice of intent to levy</strong> through <strong>nunc pro tunc</strong>

O

<strong>OASDI</strong> through <strong>offset</strong>

<strong>offset plan</strong> through <strong>open access transaction</strong>

<strong>open account debt, S corporations</strong> through <strong>option privilege</strong>

<strong>options dealer</strong> through <strong>other casualty</strong>

<strong>other disposition</strong> through <strong>ozone-depletion factor</strong>

P

<strong>PAM</strong> through <strong>parity rule</strong>

<strong>parole evidence rule</strong> through <strong>partnership distribution</strong>

<strong>partnership estate freeze</strong> through <strong>passport certification rules</strong>

<strong>passthrough entity</strong> through <strong>payout concept, natural resources</strong>

<strong>payroll-based ESOP credit</strong> through <strong>penalty, failure to furnish information# with respect to foreign corporations</strong>

<strong>penalty, failure to furnish payee statement</strong> through <strong>penalty, substantial understatement# of income tax</strong>

<strong>penalty, substantial #valuation overstatement</strong> through <strong>periodic payment, notional principal contract</strong>

<strong>periodic payment, withholding</strong> through <strong>personal or household effects</strong>

<strong>personal property</strong> through <strong>placed in service, date</strong>

<strong>placed in service, qualified film</strong> through <strong>pollution control facility</strong>

<strong>Pomona plan</strong> through <strong>post-1953 stock and securities</strong>

<strong>post-1986 accumulated earnings</strong> through <strong>pre-existing condition exclusion</strong>

<strong>pre-existing entity account, withholding on foreign accounts</strong> through <strong>prepayment credits</strong>

<strong>preponderance of the evidence</strong> through <strong>principal purpose rule, debt-equity Regulations</strong>

<strong>principal residence, exclusion of gain</strong> through <strong>produce, uniform capitalization rules</strong>

<strong>produced by the taxpayer</strong> through <strong>progress expenditure</strong>

<strong>progressive taxes</strong> through <strong>property used in the trade or business</strong>

<strong>proportional tax</strong> through <strong>publicly traded partnership</strong>

<strong>publicly traded property or instrument</strong> through <strong>pyramiding of income tax</strong>

Q

<strong>Q and A</strong> through <strong>qualified automatic contribution arrangement</strong>

<strong>qualified bank holding company, personal holding company# income</strong> through <strong>qualified child care expenditures, employer-provided# child care facilities tax credit</strong>

<strong>qualified child care facility, amortization</strong> through <strong>qualified debt</strong>

<strong>qualified debt instrument, foreign currency</strong> through <strong>qualified energy conservation bond</strong>

<strong>qualified energy conservation expenditures</strong> through <strong>qualified foster care payments</strong>

<strong>qualified foster care placement agency</strong> through <strong>qualified incidental activities</strong>

<strong>qualified income offset</strong> through <strong>qualified mass commuting vehicles</strong>

<strong>qualified matching contribution</strong> through <strong>qualified parking</strong>

<strong>qualified participant, ESOP</strong> through <strong>qualified property, section 168(k) additional allowance</strong>

<strong>qualified property, tax liens</strong> through <strong>qualified residence interest</strong>

<strong>qualified resident, branch profits tax</strong> through <strong>qualified SSI recipient</strong>

<strong>qualified start-up debt</strong> through <strong>qualified tuition and related expenses#, HOPE and Lifetime Learning credits</strong>

<strong>qualified tuition and related expenses#, excludible scholarship</strong> through <strong>qualifying electrical transmission transaction</strong>

<strong>qualifying employer security, ESOP</strong> through <strong>quitclaim deed</strong>

R

<strong>R and D</strong> through <strong>real and depreciable business property</strong>

<strong>real estate</strong> through <strong>rebate, deficiency</strong>

<strong>rebate, negligence penalty</strong> through <strong>reciprocal will</strong>

<strong>recognition</strong> through <strong>redemption not essentially equivalent to a dividend</strong>

<strong>redemption of stock to pay death taxes</strong> through <strong>registered form bond</strong>

<strong>registered historic district</strong> through <strong>related function test</strong>

<strong>related or subordinate party, grantor trust rules</strong> through <strong>remit slip</strong>

<strong>remote area, overseas camps</strong> through <strong>replacement property</strong>

<strong>replacement year</strong> through <strong>requirements contracts</strong>

<strong>res</strong> through <strong>residual analysis, OECD</strong>

<strong>residual force of attraction principle</strong> through <strong>retained earnings-unappropriated</strong>

<strong>retained interest, contract with economic interest</strong> through <strong>reverse acquisition</strong>

<strong>reverse acquisition rules</strong> through <strong>rights, stock</strong>

<strong>Right to Financial Privacy Act of 1978</strong> through <strong>Rushing trust</strong>

S

<strong>S case</strong> through <strong>sale and purchase inventory method</strong>

<strong>sale for contingent payments</strong> through <strong>second examination</strong>

<strong>second level withholding tax</strong> through <strong>Section 338 acquisition</strong>

<strong>Section 338 election</strong> through <strong>Section 530 relief</strong>

<strong>Section 534 statement</strong> through <strong>Section 1245 property</strong>

<strong>Section 1245 recapture</strong> through <strong>securities dealer</strong>

<strong>securities future contract</strong> through <strong>separate account</strong>

<strong>separate accounting, employment and excise taxes</strong> through <strong>service contract</strong>

<strong>service cost method, reallocations# between related taxpayer</strong> through <strong>shareholder, stock dividends</strong>

<strong>sharing agreement, extractive industries</strong> through <strong>significant OID</strong>

<strong>significant participation activity</strong> through <strong>Sixteenth Amendment</strong>

<strong>sixty-five-day rule</strong> through <strong>small producers' exemption</strong>

<strong>small QBU</strong> through <strong>sound recording</strong>

<strong>source and application of funds method</strong> through <strong>specified conduct</strong>

<strong>specified domestic entity</strong> through <strong>sponsor</strong>

<strong>sponsored closely held investment vehicle, withholding on foreign accounts</strong> through <strong>state</strong>

<strong>state aid</strong> through <strong>sting tax</strong>

<strong>stipulations</strong> through <strong>streamlined sales tax</strong>

<strong>street name</strong> through <strong>Subchapter S Revision Act of 1982</strong>

<strong>subchapter S trust</strong> through <strong>substantial change in capital structure</strong>

<strong>substantial contribution test</strong> through <strong>success-based fee safe harbor</strong>

<strong>succession tax</strong> through <strong>surviving spouse, marital deduction</strong>

<strong>survivorship</strong> through <strong>system group</strong>

T

<strong>2009 Recovery Act</strong> through <strong>targeted area</strong>

<strong>targeted area residence</strong> through <strong>tax and revenue anticipation notes (TRANs)</strong>

<strong>Tax Appeals, Board of</strong> through <strong>tax-exempt interest</strong>

<strong>tax-exempt leasing</strong> through <strong>tax matters shareholder</strong>

<strong>tax motivated transaction</strong> through <strong>tax shelter</strong>

<strong>tax shelter, ABA view</strong> through <strong>temporary living expenses, travel</strong>

<strong>temporary regulation</strong> through <strong>termination payment, notional principal contracts</strong>

<strong>termination, private foundation status</strong> through <strong>thirty-percent PCM</strong>

<strong>thirty-percent tax</strong> through <strong>title</strong>

<strong>Title 11 case</strong> through <strong>traded on an established market</strong>

<strong>trader</strong> through <strong>transfer tax</strong>

<strong>transfer to avoid income tax</strong> through <strong>true earner</strong>

<strong>true taxable income</strong> through <strong>two-percent safe harbor for financial institutions</strong>

<strong>two-percent shareholder</strong> through <strong>Type III supporting organizations</strong>

U

<strong>UBIT</strong> through <strong>under the jurisdiction of the bankruptcy court</strong>

<strong>undercapitalization</strong> through <strong>unified credit trust</strong>

<strong>unified gift and# estate tax credit</strong> through <strong>United States dollar approximate# separate transactions method</strong>

<strong>United States earnings</strong> through <strong>unreasonable accumulations tax</strong>

<strong>unreasonable compensation</strong> through <strong>usury</strong>

V

<strong>VAT</strong> through <strong>veterans mortgage bond</strong>

<strong>veterans' organization</strong> through <strong>vulture trust</strong>

W

<strong>W&I</strong> through <strong>weighted arithmetic mean#, inventory accounting</strong>

<strong>weighted harmonic mean#, inventory accounting</strong> through <strong>withholding rate pool</strong>

<strong>withholding return</strong> through <strong>wrongful levy</strong>

Y

<strong>yearly renewable term reinsurance</strong> through <strong>youth participating in a cooperative# education program</strong>

Z

<strong>Zakat</strong> through <strong>zone</strong>
---