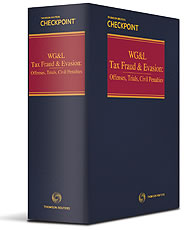 Tax Fraud and Evasion: Offenses, Trials, Civil Penalties

Whether you are defending a client on tax fraud charges or advising a client on exposure to tax fraud, this reference has the answers and advice you will need. Tax Fraud & Evasion: Offenses, Trials, Civil Penalties [Vol. 1] discloses what factors the government will consider; the procedures and polices the government adopts to investigate and prosecute; and when the IRS will impose the civil fraud penalty.
This indispensable reference shows you:
What IRS special agents do
What investigative techniques the IRS Criminal Investigation Division uses
How the IRS uses the Federal Grand Jury to investigate cases
What basic defense strategies and techniques to consider during an IRS criminal investigation
How you should try your client's civil fraud case in the U.S. Tax Court
How the civil fraud penalty is applied in situations involving corporations and other entities
Comisky, Feld & Harris: Tax Fraud & Evasion Vol. 1, Offenses, Trials, Civil Penalties

Chapter 1: History

Chapter 2: Offenses Under the Internal Revenue Code

Chapter 3: Related Title 18 Offenses

Chapter 4: Criminal Investigations and Case Processing

Chapter 5: The Federal Grand Jury

Chapter 6: Pretrial Proceedings in Criminal Cases

Chapter 7: Trial Problems

Chapter 8: Civil Fraud Penalties

Chapter 9: Litigating the Taxpayer Civil Fraud Case

Chapter 10: Basic Defense Strategies and Techniques

Appendix A.
---