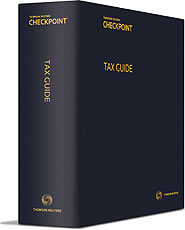 Tax Guide

Product Information
Brand:

Research Institute of America
Tax Guide is a concise reference manual focused on the tax implications of personal and business transactions. It contains analysis of over 6,000 different topics covering federal income, estate & gift, excise and employment (FICA/FUTA) taxes.
The Guide covers tax law in a summary fashion, organized by topic. Only the most relevant material to the professional community is included. The Guide underscores the implications of transactions for the current tax year, as well as those for the prior year and for future years.
Designed for practitioners who need a general overview of the Federal Tax system, this practical and functional reference manual will quickly help answer questions on tax issues, provide summary analysis of federal tax law, and alert you to the tax problems in everyday business and personal transactions.
Save valuable time - use keyword searching to locate topics of interest fast
"Fill-in the blank" locators make federal-specific citation templates easy to use
"Smart links" embedded in the text let you jump from document to document
Updates are delivered monthly
Editorial Guidance - top-quality analysis and editorial commentary from our RIA experts is the best in the industry
The Newsstand e-mail updates of the most critical federal tax news and developments delivered daily or weekly, as news occurs