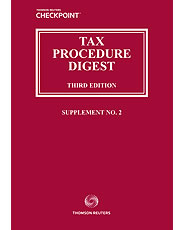 Tax Procedure Digest

Product Information
Frequency of Updates:




2 times/year

Author:

Daniel Feld

Brand:

WGL
Tax Procedure Digest is a easy-to-use desk reference containing concise abstracts of all the important cases and rulings on federal tax procedure issues rendered since 1954.
Each case digest gives you a concise factual summary; the holding and reasoning of the court; along with the name, volume, and page number of the law reporters where the full text of the decisions are printed. The detailed table of contents, index, and convenient tables of cases, statutory citations, and rulings save you even more research time.
The Digest is logically organized by topic, helping you locate the information you need quickly and easily. Chapters cover tax procedure in the IRS and in the federal courts.
Among the topics covered are:
Tax returns
Statutes of limitations
Interest
Civil penalties
Assessment procedures
Refund proceedings
Tax collection
Civil tax litigation in the Tax Court and other federal courts
IRS summonses
Criminal prosecutions for tax offenses
---