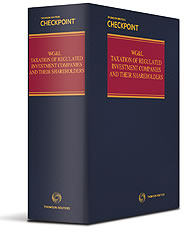 Taxation of Regulated Investment Companies and their Shareholders

A complete and practical guide to all aspects of federal taxation relating to regulated investment companies (RICs), including mutual funds, and their shareholders. It also provides in-depth coverage of non-tax regulatory aspects of RICs, where such aspects are critical to understanding the tax effects of regulated activities. Throughout, it provides solutions and strategies to deal with this area's unique and extremely complex tax issues.
Taxation of Regulated Investment Companies and Their Shareholders identifies planning opportunities where the law is unsettled or ambiguous. As such, it is an invaluable tool for all practitioners who face planning and compliance issues affected by operation of or investment in regulated investment companies.