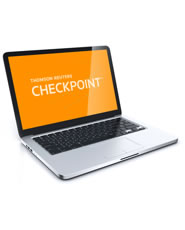 Thomson Reuters News and Insight: Home Page
Product Information
Frequency of Updates:

Daily

Brand:

TR News and Insights
Stay on top of what's new in tax and accounting as it unfolds, learn how developments are affecting companies and industries as well as the strategies being used in response.
DYNAMIC CURRENT AWARENESS AND NEWS DESIGNED TO KEEP UP WITH TAX AND ACCOUNTING PROFESSIONALS
By combining content from Thomson Reuters Checkpoint® the leading tax and accounting online information resouree, and Reuters, the world's premier news agency, Thomson Reuters News & Insight goes beyond the headlines to give professionals and decision-makers the insight needed to become even more knowledgeable and effective. Now available on your computer, smartphone and tablet.
THOMSON REUTERS NEWS & INSIGHT - HOME PAGE COMPLIMENTARY WITH CHECKPOINT SUBSCRIPTIONS
With the Thomson Reuters News & Insight Home Page, you'll have access to the following current awareness and news content -- expertly arranged and in one location:

TODAY'S FEDERAL TAX HIGHLIGHTS - Today's most important tax highlights from RIA's Federal Taxes Weekly Alert, covering developments in Congress, the courts, the Treasury, the IRS, and other federal agencies
TODAY'S ACCOUNTING HIGHLIGHTS - Today's most important accounting highlights from WG&L's Accounting and Compliance Alert
REUTERS TAX AND ACCOUNTING NEWS - Exclusive journalism on tax and accounting developments, including:
The political side of tax, including key conferences, speeches and committee meetings
Major developments around-the-clock
Influential lawmakers and figures in tax and accounting
The strategies that practitioners, businesses and industries are using to respond to legislative, administrative and judicial developments
High-profile corporate tax cases
REUTERS BUSINESS NEWS - General business, deals and small business news, updated in real-time