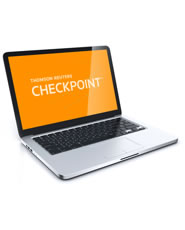 U.S. Tax Reporter Library Premier

Product Information
Frequency of Updates:

Ongoing

Brand:

Research Institute of America
The U.S. Tax Reporter Library w/Public Domain and ECS provides a comprehensive and up-to-date source of federal tax law, regulations, committee reports, complete case law library, rulings and explanations. Also included: Citator 2nd, federal and state forms and instructions (with links to IRS publications), and Elections and Compliance Statements.
The U.S. Tax Reporter Library w/Public Domain and ECS consists of:
United States Tax Reporter
CompareIt, the unique tax research tool that links you directly from a Federal provision to coverage of similar provisions in relevant states and vice versa (no more multiple searches!)
Go-To button, which allows you to type in a Code section and link directly to other relevant USTR components for that Code section that are keyword searchable
Comprehensive coverage of federal income, estate, gift and excise and international (U.S. based) taxes
A Table of Contents, so you can search the entire USTR on Checkpoint just the way you do Code-based research; it links all the components together to find what you need fast
Superior editorial Explanations from our on-staff experts that includes RIA commentary in the form of Observations, Examples, Cautions and Tax Tips providing real-world advice and professional insights that you cannot get anyplace else
Extensive cross references & linking, providing ready access to explanations, annotations, and source material related to your research
Search templates that allow you to search USTR components by keyword, retrieve USTR documents by citation, and more
Up-to-date information is critical to your research. That's why USTR updates its information "in place" - meaning you don't have to access a separate current developments page to make sure you're looking at the latest data. (Our competitor can't say that)
40% more annotations of cases and rulings, full-text reprints of cases, and headnotes than any other tax reporter
Annotations - organized by both Code section and legal issue - cite RIA's American Federal Tax Reports and other widely used case reporters. Plus, getting the latest opinions is easy, as all updates are always in one place - no current development areas to track down
Smart paragraph numbering system (based on code section numbers) tells you at a glance if the paragraph deals with the code section at hand. The researcher can tell the Code section from the paragraph number located in a hit list, the table of contents, or the topic index
Additional IRS practice aids: Market Segment Understandings (MSUs), Market Segment Specialization Program Guide (MSSPs), Industry Specialization Papers (ISPs), IRS Phone Directory and AICPA Ethical Materials
Proven practice tools, sample client letters, checklists of tax-saving opportunities and other practice aids to help you better serve your clients while generating revenue
The premier Federal Tax Weekly Alert newsletter and RIA Federal Tax Handbook for quick and direct answers to your day-to-day questions
The Complete Public Domain Library carries the most complete collection of federal tax case law and IRS rulings and memoranda available -- with Citator 2nd. Instantly access over 340 volumes of case law--over 100,000 cases--and over 70,000 private letter rulings with the Public Domain Library and Citator 2nd. Citator 2nd notes specific relationships between cases (i.e., if one case has overruled another). Citator is completely integrated and provides a quick and thorough cite check of all cases. Key case issues can be tracked across the entire breadth of the Citator's case inventory. Check the strength or weakness of a case or ruling quickly and accurately with Citator 2nd.
Complete judicial history of federal tax cases, rulings and Treasury decisions
Accurate, up-to-date evaluations of how each case or ruling has stood up in the courts
Full judicial history of each case below the case name for quick reference
Evaluations, written in plain English, clearly identified by the key legal issue
Imbedded Web-links from case name or citation to the pertinent Checkpoint reference
Parallel cites within RIA's case reporters as well as those of West and CCH
Elections & Compliance Statements also included provide complete documentation of over 500 elections and compliance statements.
Explanatory material providing clear and concise information regarding the fundamental rules governing Elections and Compliance statements
Cites to controlling points of authority and selected portions of analysis Fill-in and document assembly with specific taxpayer information
Users can link directly from any "Statement to Use" within a RIA federal tax research product to the specific Election or Compliance statement, or from an Election or Compliance statement to text, cited Code, or regulation
e-Form® RS is a Web-based product which takes advantage of the latest Internet technology to provide you with significant added benefits. Remote server technology allows you to use the Internet to access the most current forms immediately, without waiting for CD-ROM updates or forms.
Checkpoint Tax Research Demo

View