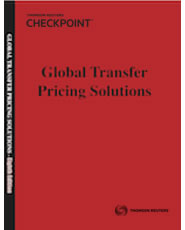 WTE - Global Transfer Pricing Solutions 9th Edition - Print
Product Information
Brand:

World Trade Executive

ISBN:

9781935128
When entering a global market, business professionals will encounter transfer pricing compliance policies that, without proper foresight and preparation, may compromise profit margins.
Now in its 9th Edition, WorldTrade Executive: Global Transfer Pricing Solutions, published by Thomson Reuters provides an important update concerning worldwide transfer pricing regimes. Regimes are constantly in flux, but they can have a critical impact on the profitability of your business.
For example, there are important transfer price regulatory developments under way now in Latin America, particularly in Colombia, Brazil, Panama and Peru. There are also important changes in Australia and China. For maquiladoras in Mexico, transfer pricing interaction with other tax legislation can have severe repercussions.It can determine whether a maquiladora creates a permanent establishment for its foreign principal. It can also determine whether or not the maquiladora qualifies for an income tax incentive.
Some countries follow OECD transfer pricing guidelines. Others such as Brazil do not, and there are important initiatives to change OECD guidelines.
Global Transfer Pricing Solutions garners insights from experienced practitioners at international legal and accounting firms and senior international transfer pricing professionals at the largest multinationals. Articles offer full coverage of changes to major worldwide transfer pricing regimes, with an in-depth analysis of steps needed for proactive transfer pricing management.
You will find expert insight into the critical issues affecting your transfer pricing strategies including:
Transfer Pricing Beyond the Tax Department
By Nathaniel Carden (Skadden, Arps, Slate, Meagher & Flom LLP)
The Transfer Pricing Implications of Currency Volatility
By Justin Radziewicz and Michael Hart (Ceteris)
Recent OECD Transfer Pricing Initiatives Portend Significant Consequences for Multinationals
By Rich Barrett, Greg Ossi, Joe Murphy, Steve Nauheim, Lili Kazemi, and Noel de Santos (PricewaterhouseCoopers)
Canadian Supreme Court Fashions "Business Reality Test" to Determine Adequate Transfer Price
By Dale Hill, Mark Kirkey and Pierre Alary (Gowling Lafleur Henderson LLP)
IRS Seeks Comments on Bilateral Transfer Pricing Safe Harbor
By Donald L. Korb, Andrew P. Solomon and Alan D. Kravitz (Sullivan & Cromwell LLP
Unwrapping the New Cost Sharing Regulations
By Rocco V. Femia, Mary W. Prosser and Kathryn Morrison Sneade (Miller & Chevalier Chartered)
Customs Valuation and Multinational Transfer Pricing: Can They Co-exist?
By Matthew Nolan (Arent Fox LLP)
Maquiladora Transfer Pricing (and Related Issues)
By Jaime Gonzalez-Bendiksen (BéndiksenLaw)
Main Changes in the Transfer Pricing Law in Colombia
By Diego González-Béndiksen and Diana Sofía Padrón Brunal
(Colombian Tax Administration – DIAN)
Transfer Pricing Perspectives in Brazil After Regulatory Instruction 1312
By Elen Peixoto Orsini and Daniel Gustavo Peixoto Orsini Marcondes (Orsini Consultoria )
New Rules for Transfer Pricing and Thin Capitalization in Brazil
By Lavinia Junqueira (Trench, Rossi e Watanabe Advogados, associated with Baker & McKenzie)
Chile's 2012 Tax Reform on Transfer Pricing
By Omar Morales (Montt y Cia. S.A.)
Recent Developments in Latin American Transfer Pricing: A Roundtable Discussion
By Jeffrey S. Korenblatt (DLA Piper LLP)
Australia Introduces Tough New Transfer Pricing Rules
By Jock McCormack (DLA Piper Australia)
Transfer Pricing in China: State Administration of Taxation Addresses Challenges with OECD Guidelines
By Windson Li (DLA Piper, Beijing)
Transfer Pricing:The SAT's Paper and the Reality of Transfer Pricing in China
By Daniel Chan, Patrice Marceau and Windson Li (DLA Piper, China)
Transfer Pricing: Choice of Comparables for Service Companies in India
By Mukesh Butani, Sivam Subramanian, Abhishek Gupta and Balaji Ravindran (BMR Advisors – Taxand India)
Japan Transfer Pricing:A Fresh Look at the Japan-US Bilateral APA Relationship
By Akio Miyamoto, Ryann Thomas and Michael Polashek (PricewaterhouseCoopers, Tokyo)
Malaysia's New Transfer Pricing Guidelines: Rules and Practices of the IRB Clarified!
By Foo Meng Huei (Crowe Horwath, Malaysia)
The New Philippine Transfer Pricing Regulations
By Romulo S. Danao, Jr. (SGV & Co. / Ernst & Young)
French Thin Cap Reform
By Jérôme Delaurière (Gibson, Dunn & Crutcher LLP)
New Transfer Pricing Rules in Russia
By Dmitri V. Nikiforov, Alyona N. Kucher and Anna S. Eremina
(Debevoise & Plimpton LLP)
Comparison of the New Russian Transfer Pricing Rules with OECD Guidelines
By Ruslan Vasutin and Ekaterina Kosheleva (DLA Piper)
The publisher, WorldTrade Executive, a part of Thomson Reuters, also publishes Practical International Tax Strategies, Practical Asian Tax Strategies, Practical Mexican Tax Strategies, Practical European Tax Strategies, Practical China Tax & Finance Strategies, Practical Latin American Tax Strategies and Latin American Law & Business Report, as well as other periodicals and reports covering international transactions.