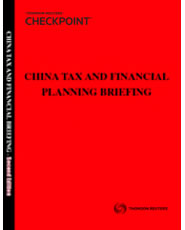 WorldTrade Executive: China Tax and Financial Planning Briefing

Product Information
Frequency of Updates:

Annually

Brand:

World Trade Executive
The China Tax and Financial Planning Briefing: Second Edition from our WorldTrade Executive experts delivers important information on recent changes to the PRC's tax and financial regulation, as well as new case studies and analyses from leading practitioners.
If you have responsibility for your company's operations in China, then you must take into account the legal and regulatory complexities of doing business there.
From managing transfer pricing . . . to finding tax efficient ways to operate a supply chain. . .to complying with the PRC's new M&A rules, to staying on top of the new Anti-Monopoly, Contract, and Employment Tax Regulations. . . to issues relating to China's Company Law, your decisions about China's business operations require an understanding of the country's tax and finance rules and regulations.