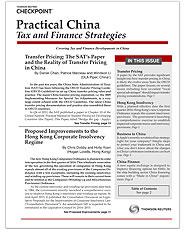 WorldTrade Executive: Practical China Tax and Finance Strategies
Product Information
Frequency of Updates:

Monthly

Brand:

World Trade Executive
Only Practical China Tax and Finance Strategies delivers expert insight into the proven strategies your colleagues are using to minimize their tax liability in the China markets. Every month, Strategies delves into how the region's tax and finance developments will affect your organization ... and what you can do about it right now.
Because of ever-changing regulations and continual reforms in the China market, even the most successful multinationals can be blindsided by local tax implications and financial developments when launching new operations or changing the business structure. Repercussions can paralyze your local operation and diminish your profit margin across all of your operations.
Whether you are exporting, licensing technology, or structuring a direct investment, tax and financial strategies can be critical to the success of your enterprise. And, only Practical China Tax and Finance Strategies brings you monthly insight from major law and accounting firms operating in China. These leading practitioners share solutions to the newest regulations, climate changes, and other critical market developments.
Every month, Strategies subscribers receive the insight and analysis they need to anticipate tax and finance developments in the China marketplace and plan a proactive strategy to minimize local tax burden. As a subscriber, you'll also gain access to this unrivaled network of peers at major corporations, law and accounting firms, people like you who are solving complex regional tax and finance problems every day. You'll discover strategies, innovative solutions, and best practices you won't find elsewhere, designed to help you best maximize ROI for your operations.