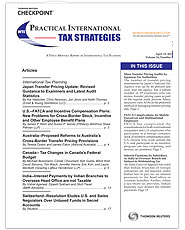 WorldTrade Executive: Practical International Tax Strategies

Product Information
Frequency of Updates:

Twice a month

Brand:

World Trade Executive
Proven Strategies to Help You Maximize After-Tax Profits for Your International Operations.
In Practical International Tax Strategies you will learn in clear business language how your colleagues at leading companies are reducing their tax burden in international transactions. You will join in the dialogue of leading practitioners who consider the best strategies for coping with important new tax rulings, regulations and court decisions, originating both from the US and international sources.
Because your company's financial health depends on prudent tax planning, Practical International Tax Strategies helps you stay on top of the latest tools and techniques available to minimize your international tax exposure.
Only Practical International Tax Strategies helps you anticipate tax and regulatory changes in the global markets and plan a proactive strategy to minimize your tax burden. As a subscriber, you'll gain access to an unrivaled network of peers at major corporations, law and accounting firms, people like you who are solving complex international tax and regulatory problems every day. You'll discover strategies, innovative solutions, and best practices you won't find elsewhere, designed to help you best maximize ROI for your operations.
Every issue brings you practical, easy-to-read insight into the latest tax laws, IRS rulings, and industry regulation changes to help you:
Structure your international manufacturing or sales operations to minimize tax liabilities.
Take maximum advantage of U.S. and international tax incentives.
Use alternative financing structures to optimize tax savings.
Avoid VAT pitfalls in cross border services and contract manufacturing.
Optimize tax planning surrounding joint ventures and strategic alliances.
Successfully manage issues related to holding companies, treaties, transfer pricing, expatriate taxes, VAT recovery, and much more.