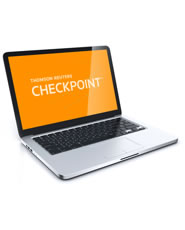 WorldTrade Executive Tax Library

Product Information
Brand:

World Trade Executive
Successful international executives rely on our WorldTrade Executive experts for their analysis on international tax, regulatory and financial developments that drive the markets. If you are looking for practical solutions to real challenges, you can now find them on Checkpoint®.
How will tax changes impact your business? Are your investment strategies in a particular country tax effective? Are you adequately planning for cross-border tax issues? The way you answer these questions can be critical to the success of your venture. To make sure that you are employing tax effective strategies, the Practical Tax Strategies Series was designed to deliver the best practices and strategies used by recognized practitioners in the field.
The Library consists of six essential guides to best practices for international corporate tax management:
Practical International Tax Strategies
Practical Asian Tax Strategies
Practical China Tax & Finance Strategies
Practical European Tax Strategies
Practical Latin American Tax Strategies
Practical Mexican Tax Strategies
The Practical Tax Strategies Series helps you anticipate tax and regulatory changes in the international marketplace and plan a proactive strategy to minimize your local tax burden. You'll gain access to an unrivaled network of peers at major corporations, law and accounting firms, people who are solving complex regional tax and regulatory problems every day. You'll discover strategies, innovative solutions, and best practices you won't find elsewhere, designed to help you maximize ROI for your operations.