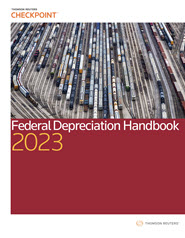 Federal Depreciation Handbook
Product Information
To order the 2017 edition of the Federal Depreciation Handbook (book or e-book) please call 1-800-950-1216.

Brand:

Practitioners Publishing
The Federal Depreciation Handbook from Thomson Reuters provides expert guidance on tax depreciation and other cost recovery issues to help tax practitioners make tax-efficient decisions and elections when an asset is placed in service. The Handbook also explains how to structure business property transactions to optimize federal income tax results when performing general tax planning or transactional consulting services.
The Federal Depreciation Handbook is an all-in-one resource for quick reference and in-depth coverage of depreciation and other cost recovery tax issues. It features detailed tax compliance guidance and is updated annually for legislative, regulatory, judicial, and administrative changes in the tax law, rules, and forms.
The Handbook provides the accurate answers you need quickly with:
Guidance addressing frequently encountered and often challenging depreciation and cost recovery issues.
Numerous quick-reference tables and charts providing easy access to key information, including easy-to-read depreciation tables for MACRS (with or without bonus depreciation), ADS, AMT, and ACRS.
Real-life examples that illustrate how the tax rules apply and how to report depreciation-related items on a tax return.
A 2017 Developments Summary section that summarizes significant tax law changes.
References to relevant Internal Revenue Code sections, IRS regulations and rulings, as well as court cases.
Coverage of property dispositions, including tricky tax rules for installment sales, like-kind exchanges, and depreciation recapture.
Guidance on applying the "tangible property regulations," which specify the allowable tax treatment of costs to acquire, repair, or improve tangible property.
Federal Depreciation Calculator (included with the Federal Depreciation Handbook on Checkpoint)
The Federal Depreciation Handbook comes with a Depreciation Calculator to perform quick and easy depreciation calculations for tax planning or for determining the most appropriate depreciation elections when an asset is placed into service. The Depreciation Calculator also generates a depreciation schedule for the life of the asset.
With the Depreciation Calculator tax practitioners will be able to:
Determine depreciation deductions for MACRS assets.
Generate printable, savable, and editable depreciation schedules for single assets — in handy RTF or PDF file format.
Enter User Notes to document conclusions (e.g., elections).
Practical Applications include:
Calculating General Depreciation System (GDS), Alternative Depreciation System (ADS) or Alternative Minimum Tax (AMT) deductions for a MACRS asset as well as depreciation deductions under available elections.
Determining the recovery period, depreciation system and convention that apply to a MACRS asset using guidance from the Federal Depreciation Handbook.
Calculating future tax depreciation amounts to include in tax planning and other financial projections.
Documenting conclusions to support how a MACRS asset will be depreciated.
The Federal Depreciation Handbook and Calculator on Checkpoint offer:
The only truly integrated depreciation guidance + calculator on the market today.
Actionable, relevant content, including tax return preparation guidance.
Links to and from primary law and all of your tax research products on Checkpoint.
Federal Depreciation Handbook

Chapter 1 DEPRECIATION BASICS

Chapter 2 DEPRECIABLE PROPERTY

Chapter 3 MACRS SUMMARY

Chapter 4 MACRS IN DEPTH

Chapter 5 BONUS DEPRECIATION IN DEPTH

Chapter 6 MACRS DEPRECIATION TABLES

Chapter 7 SECTION 179 EXPENSING

Chapter 8 VEHICLES AND LISTED PROPERTY

Chapter 9 REAL PROPERTY

Chapter 10 SALES AND DISPOSITIONS

Chapter 11 EXCHANGING PROPERTY

Chapter 12 CORRECTING DEPRECIATION ERRORS

Chapter 13 INTANGIBLE ASSETS

Chapter 14 OTHER DEPRECIATION METHODS

Chapter 15 ACRS IN DEPTH

Chapter 16 PRE-1981 RULES—IN GENERAL

Chapter 17 PRE-1981 RULES—CLASS LIFE ASSET DEPRECIATION RANGE (ADR) SYSTEM

Chapter 18 SELECTED IRS MATERIALS

Chapter 19 SELECTED REGULATIONS

Glossary

Index
---