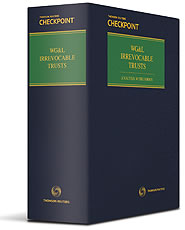 Irrevocable Trusts: Analysis with Forms

Get the expert guidance plus practical tools you need for the creation and management of irrevocable trusts with Irrevocable Trusts: Analysis with Forms, The book addresses virtually all irrevocable trusts, including those that have special uses, that professionals commonly recommend to their clients for managing their wealth. Included in this Treatise are forms that illustrate how to draft each type of trust to meet a client's needs. Designed to assist the practitioner in drafting accurate trust documents, these forms demonstrate the substance and structure of the clauses that should be included in a properly drafted trust.
Irrevocable Trusts: Analysis with Forms features:
Expert guidance with full citations to controlling authorities, including the impact of ATRA
Nearly 40 forms and checklists that streamline the trust design and implementation process to make your job easier
Revisions to the charitable remainder trust forms to comply with final regulations concerning valuation of non-publicly traded assets and timing of distributions
The sample trust forms are also available on an accompanying disk for the print version. Irrevocable Trusts: Analysis With Forms is regularly updated to remain current with all laws affecting irrevocable trusts.
Irrevocable Trusts: Analysis With Forms - Esperti, Peterson & Keebler

Chapter 1: Overview

Chapter 2: The Basic Irrevocable Trust

Chapter 3: Gift and Estate Taxation of Irrevocable Trust Transfers

Chapter 4: Income Taxation of Irrevocable Grantor and Nongrantor Trusts

Chapter 5: Generation-Skipping and Irrevocable Trusts

Chapter 6: Demand Right Trusts

Chapter 7: Short-Term Trusts

Chapter 8: Personal Residence Trusts

Chapter 9: Charitable Lead Trusts

Chapter 10: Charitable Remainder Trusts

Chapter 11: Special Needs Irrevocable Trusts

Chapter 12: Trustee Considerations in Irrevocable Trusts

Chapter 13: Total Return Trusts

Chapter 14: Domestic Asset Protection Trusts

Chapter 15: Irrevocable Dynasty Trusts

Chapter 16: Installment Sales to Grantor Trusts

Appendix A. Revised Uniform Principal and Income Act (1997)

Appendix B. Uniform Trustees' Powers Act

Appendix C. Valuation Tables

Appendix D. Uniform Prudent Investor Act (1994)
Irrevocable Trusts: Analysis with Forms Sample

View
---