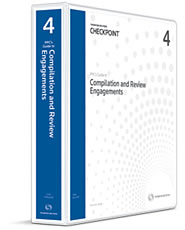 PPC's Guide to Compilation and Review Engagements

Product Information
Frequency of Updates:




Annually

Brand:

Practitioners Publishing
Place your order now for the 2017 edition of the Guide, updated throughout for SSARS No. 23 and the revised guidance in the newest edition of the AICPA Guide: Preparation, Compilation, and Review Engagements. Print version is scheduled to ship by end of July. Checkpoint version is scheduled to be available mid July.
Compilation and review engagements require comprehensive, up-to-date reference resources to help you ensure that you're complying with the latest accounting standards. PPC's Guide to Compilation and Review Engagements contains hundreds of practice aids, sample reports, sample disclosures, and financial statements to help you perform your engagements correctly and with maximum efficiency.
Dozens of timesaving tools will ensure you'll stay in compliance with professional standards and peer review requirements, reducing your risk of non-compliance. You'll be able to address nearly every situation you might encounter in a review or compilation engagement and have critical information and tools at hand, including:
The basics of compilation and review services
In-depth guidance for specific entities and unique engagements, such as personal financial statements and nonprofit organizations
Streamlined forms and checklists
Engagement and management representation letters
Accountant's reports and procedure checklists
Discussions to help you understand new accounting requirements
 
Authored by respected experts with decades of practice experience, PPC's Guide to Compilation and Review Engagements has been regarded as the authority for compilation and review engagements for more than 30 years.
Compilation and Review Engagements

INTRODUCTORY MATERIAL

Chapter 1 Background Information

Chapter 2 Engagement Administration

Chapter 3 Compilation Procedures and Checklists

Chapter 4 Review Procedures and Checklists

Chapter 5 Form and Presentation of Financial Statements

Chapter 6 Reporting on Compiled or Reviewed Financial Statements

Chapter 7 Interim Engagements

Chapter 8 Financial Statements Presented in Accordance with a Special Purpose Framework

Chapter 9 Personal Financial Statements

Chapter 10 Proprietorships

Chapter 11 Partnerships

Chapter 12 S Corporations

Chapter 13 Prescribed Forms

Chapter 14 Forecasts, Projections, and Similar Items

Chapter 15 Personal Financial Plans

Chapter 16 Estates and Trusts

INDEX

--A--

--B--

--C--

--D--

--E--

--F--

--G--

--I--

--K--

--L--

--M--

--N--

--O--

--P--

--Q--

--R--

--S--

--T--

--U--

--V--

--W--
---