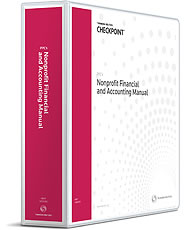 PPC's Nonprofit Financial and Accounting Manual

Product Information
Frequency of Updates:

Annually

Brand:

Practitioners Publishing
PPC's Nonprofit Financial and Accounting Manual provides you with comprehensive, how-to guidance on performing the accounting and recordkeeping function for a nonprofit organization.
It is written in plain language and focuses on areas of particular interest to you, the nonprofit accountant. The Manual includes step-by-step instructions, practical examples, questionnaires, checklists, and sample forms to use. It covers such relevant topics as:
The nonprofit environment.
The basic internal controls that nonprofit organizations should consider implementing.
The basics of nonprofit accounting and taxation.
Processing cash receipts and revenue, cash disbursements, payroll, and the general ledger.
Preparing nonprofit financial statements.
An overview of federal grant compliance and the single audit.
Selecting an outside CPA and providing assistance to outside CPAs in connection with the annual audit and tax return preparation.
Preparing a nonprofit organization budget.
Selecting accounting and fixed asset software and online accounting services.
The following features are included in the most recent edition:
The Nonprofit Environment Continues to Change. Accountability and oversight for nonprofit organizations are hot topics from the local organization level all the way to Congress with a few stops in the media in between. We've monitored the latest developments at the federal and state levels, looked at what's happening with various regulatory bodies, and reviewed the nonprofit industry's latest trends in self-regulation. We've taken all that information and boiled it down to what matters to you at the local organization level. We have also added new practice aids to help you understand how your organization is operating.
IRS and Regulatory Developments. The Manual includes overviews of many of the tax areas that impact nonprofit organizations, including current developments in oversight and enforcement by the IRS. Additionally, there is updated discussion regarding laws that affect nonprofit organizations.
Changes in Accounting and Auditing Requirements. Each year there are new accounting standards that impact nonprofit organizations. We take those accounting standards and translate them to an easy-to-understand explanation of the accounting literature you need to know to prepare accurate financial statements for your nonprofit organization quickly and easily. This year there were changes to the chapter Assisting Outside CPAs to reflect some pertinent items to be aware of regarding the clarified auditing standards your auditor will be following for your upcoming audit. We've also highlighted proposed changes that could impact which other services your auditor may provide to your organization.
Changes in Single Audit Requirements. The Federal government continues to scrutinize how federal dollars are spent by grant recipients and subrecipients. We've discussed that there are planned changes in this area and what current developments are on the table at this time including the changes in independence.
Changes in Payroll Requirements. A nonprofit organization's largest expense is often salaries. We've updated this edition of the Manual to include the latest payroll tax law changes. Our checklists are updated for the latest payroll tax forms and make it easy for you to accurately prepare your organization's numerous payroll filings.