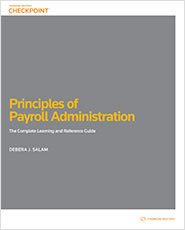 Principles of Payroll Administration

Principles of Payroll Administration is the original single-volume guide to payroll compliance, and for more than 30 years it has provided practitioners and those preparing for the payroll certification exams the most complete information available. The 2017 edition includes:

The new rules governing when employers don't need to correct small Form W-2 errors and updated 2017 Form W-2 reporting requirements
New rules governing direct deposit and an updated 2017 state survey
The latest guidance on what's required when issuing refunds of Social Security and Medicare tax employees
By popular demand, updated state surveys and state contact directories for child support withholding orders, wage-hour, recordkeeping, state unemployment insurance, state Form W-4 requirements, and much more.
New and revised IRS forms with filled-in examples.
Updated practice tests and study aids–must-have tools for anyone preparing for the CPP and FPC exams, or for those using the guide for payroll training.
Principles of Payroll Administration contains more than 2,000 pages of clear, concise information, including real-life examples, sample forms, state surveys and directories, and citations to government sources to support your every move. It is written by Debera J. Salam, CPP, who is director of Ernst & Young's Payroll Information and Process Services. The book also includes insights from other experienced tax and payroll professionals.

Free EY Payroll Newsflash™ with your subscription! Subscribers to Principles of Payroll Administration can now keep up to date throughout the year with insights on the latest federal and state payroll developments with these complimentary news alerts from Debera Salam and Ernst & Young LLP. EY Payroll Newsflash™ is conveniently emailed with a descriptive subject line that includes the jurisdiction and topic covered in the attached news alert.
List of Content (Click any title to expand the list)
CHAPTER 1 THE PAYROLL PROFESSION
CHAPTER 2 WHO ARE EMPLOYEES?
CHAPTER 3 WAGES AND BENEFITS
CHAPTER 4 WAGE-HOUR LAW AND FAMILY AND MEDICAL LEAVE
CHAPTER 5 GARNISHMENTS, LEVIES, AND OTHER DEDUCTIONS
CHAPTER 6 DISABILITY PLANS
CHAPTER 7 WITHHOLDING AND DEPOSITING TRUST FUND TAXES
CHAPTER 8 UNEMPLOYMENT TAXES
CHAPTER 9 WAGE AND TAX REPORTING
CHAPTER 10 REPORTING OPTIONS AND TAX INCENTIVE PROGRAMS
CHAPTER 11 PAYROLL ACCOUNTING AND INTERNAL CONTROL
CHAPTER 12 MANAGING PAYROLL
CHAPTER 13 PAYROLL SYSTEMS AND OTHER PROCESSING OPTIONS
CHAPTER 14 DIRECT DEPOSIT AND ELECTRONIC FUNDS TRANSFER
CHAPTER 15 HEALTH, CAFETERIA, PENSION, STOCK AND NONQUALIFIED DEFERRED COMPENSATION PLANS
CHAPTER 16 INTERNATIONAL PAYROLL: U.S. EMPLOYEES WORKING ABROAD AND NON-AMERICANS WORKING IN THE UNITED STATES
CHAPTER 17 GOVERNMENT PAYROLL (PUBLIC SECTOR)
CHAPTER 18 RECORD RETENTION
CHAPTER 19 THE IMMIGRATION REFORM AND CONTROL ACT OF 1986
CHAPTER 20 DICTIONARY OF TERMS AND ACRONYMS
CHAPTER 21 PREPARING FOR THE CPP AND FPC EXAMINATIONS
ANSWER KEY
TEST YOUR SKILLS
INDEX
FIGURES INDEX
---