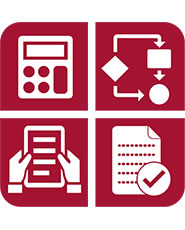 Quickfinder Tax & Financial Tools

Quickfinder Tax & Financial Tools contains hundreds of targeted tax and utility tools – tax calculators, tax worksheets, Affordable Care Act tools, client handouts and organizers, financial calculators,forms and flowcharts. Delivered with state of the art technology, Quickfinder's tools are arranged in an easy-to-use format with all the tax, small business and financial planning tools you need to assist in the preparation of tax returns, and advise your clients in tax, small business and financial planning matters. Plus, the client management system enables you to save files to client folders for future reference and use, as well as cut down on paper filing systems. Includes:
Tax Calculators/Planners - Two tax calculators: (1) a robust 2-year individual income tax calculator so you can estimate and project you client's income, and help identify tax saving opportunities and (2) an easy-to-use estate tax calculator so you can quickly and easily compute a client's federal estate tax.
Tax Worksheets - Over 50 essential individual and business tax worksheets that are sure to save you time with the tax computations you won't find in your tax preparation software 
Financial Calculators - Over 30 often-needed financial calculators for computing various loan, investment, and retirement amounts.
Tax Flowcharts - Over 40 flowcharts that walk you step-by-step through the maze of various tax matters that apply to your clients, saving you research time and getting you to the answer you need quickly.
Client Handouts - A wide variety of professionally designed handouts you can give your clients on various individual and business tax topics, customized with your business contact information.
Tax Organizers - Tax organizers geared specifically for special types of individual taxpayers that tax preparation software typically doesn't cover. Plus, you also get various tax organizers that will help your business clients gather the information you need to efficiently prepare their returns.
Tax Forms - Over a 100 federal and California state tax forms that you often can't get in your tax preparation software.
Plus - Health Care Reform Documents. The worksheets, flowcharts and forms you need to help your clients comply with the complex Affordable Care Act rules and regulations.
Sold as a site license for up to 5 users at one location for $230.  For additional users, please call 1-800-510-8997
1-800-510-8997 FREE. 
Quickfinder Tax & Financial Tools Brochure

View
---