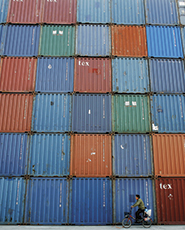 Basic Importing Guidebooks
Basic Principles of Tariff Classification
An intelligent look at the U.S. Harmonized Tariff (HTSUS) classification and valuation system. Learn speedy techniques that minimize error.
Duty Drawback
Learn how to receive money back from the government!
What every member of the trade community should know about drawback. Importers and exporters can receive money back from the government (even if the exporter did not pay duty), when material containing any imported component is exported from the United States.
GSP Guidebook
The GSP Guidebook offers a wealth of information including, frequently-asked questions, eligible countries, GSP-eligible tariff lines, and LDBDC-eligible tariff lines.
Howdy, Duty!
A simple, often humorous guide to navigating U.S. Customs and Border Protection.
Importers Manual USA
The most comprehensive single-source reference for importing to the U.S. Highly organized for ease-of-use. Divided into major sections, including Info Lists, International Law, International Banking, CBP Entry and Clearance, Packing, Shipping, and Insurance. Includes a large Commodity Index organized by HTSUS chapter.
Importer's Self-Assessment Handbook (ISA)
Initiated by Customs and Border Protection as part of the government-trade cooperation program.
Importing into the United States
Provides comprehensive advice concerning the major customs-related activities of commercial importers. 
Introduction to Customs Brokerage
The classic self-help book for learning the business of customs brokerage.
Recordkeeping Compliance Handbook
Be prepared before the audit!
Strategic Logistics
Dr. Tan Miller's classic study of how to apply rigorous analysis to your company's shipping practices has been revised and updated with even more solutions for efficient and cost-effective transportation.
When You Hafta Do Nafta
Practical solutions for the North American Free Trade Agreement.
---