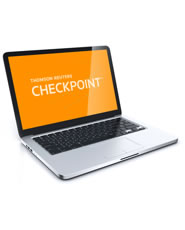 Core GAAP Library with AICPA, FASB Codification, and GAAP Reporter

With the Core GAAP Library, you'll get concise analysis and useful examples for different GAAP requirements, complete coverage of FASB and AICPA regulations, and expert guidance on major accounting topics, all easily accessed on Checkpoint.
Stay up-to-date on recent standard setting activity, link to relevant pronouncements and editorial analysis, and receive current news and developments by email filtered for the specific topics you select.
The Core GAAP Library with AICPA, FASB Codification, and GAAP Reporter includes:
Engagement Guidance and Editorial Analysis:
GAAP Reporter
The GAAP Reporter is a powerful research resource organized according to the structure of the FASB Codification, with detailed guidance in the form of Explanations for each section. These professional insights appear throughout the GAA P Reporter, and typically cover:
Common practice in applying the guidance in the Codification
Common pitfalls in applying the guidance
Recent or pending updates to the guidance
SEC comment letters
Differences between IFRS and U.S. GAAP
How to perform a calculation described in the guidance
Illustrative examples of required disclosures
In addition to comprehensive expert analysis and commentary, the GAAP Reporter also contains time-saving practice aids, including detailed annual and interim disclosure checklists, client letters, and memoranda.
PPC's Guide to GAAP
Save countless research hours by using the topical format and index, comprehensive disclosure checklists, and numerous practical considerations and examples. You'll get coverage of the Accounting Standards Updates of the FASB Accounting Standards Codification, as well as standards originally introduced through FASB Statements, Interpretations, and Technical Bulletins; APB Opinions; ARBs; and relevant AICPA Statements of Position, FASB EITF issues, and FASB Staff Positions.
GAAP Practice Manual by Allan B. Afterman
More than 2,100 pages deliver practical information on GAAP for all commercial and industrial businesses. This essential resource provides guidance on accounting for specialized and regulated industries, including insurance, petrochemical, banking/finance, real estate, and entertainment/ media. You'll also get updated coverage on all FASB's authoritative guidance. GAAP Practice Manual provides hundreds of practical examples to help eliminate guesswork from every aspect of financial statement preparation, from preparing journal entries to drafting disclosures.
CURRENT AWARENESS
Standards Tracker
Standards Tracker cuts down research time by enabling you to pull all recent standard setting activity from SEC, FASB, AICPA, COSO, PCAOB, GASB, and IASB into one chart. Sort and filter your results to speed research, and then link from the chart directly to the relevant pronouncements and standards or to our WG&L expert editorial analysis of those standards. The resulting chart not only lists the issuing body, document and summary, status, date issued, and date effective, but also lists SEC Forms/Items affected.
Accounting and Compliance Alert: Complete Edition
Now you can get continuously updated news alerts on all important developments at standard setting agencies and regulatory organizations, including the SEC, AICPA, PCAOB, FASB, GASB, IASB, Treasury Department, and the IRS.
You will receive up-to-the minute corporate and legislative news, events and developments from professional on-site news reporters, as well as:
Coverage of important company filings and disclosures, plus interviews with key executives
Feature articles providing expert guidance on the effect and application of new standards, rules, and regulations
E-mails with breaking news and links to full length articles and in-depth analyses
Links to relevant primary sources
Archive of past articles, easily searchable by date, subject or source
Ability to filter the news stories by topic or standard setting body so you get just the news you want, when you want, delivered online and right to your inbox
CORE STANDARDS AND REGULATIONS
AICPA Professional Library:
Professional Standards, including:
U.S. Auditing Standards (AU)
Attestation Standards (AT)
Accounting and Review Services (AR)
Code of Professional Conduct (ET)
Technical Practice Aids, including:

Statements of Position -Accounting (ACC)
Practice Bulletins (PB)
Statements of Position - Auditing and Attestation (AUD)
Practice Alerts (PA)
Audit and Accounting Guides
Audit Risk Alerts
FASB Accounting Standards Codification
Notice to Constituents
Codification - the codified standards
Prior Code - Codification as it existed before it was amended
Master Glossary
Accounting Standards Updates
Exposure D
Checkpoint SEC GAAP Demo

View