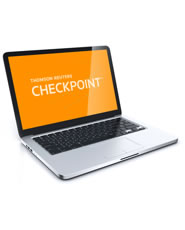 State and Local Tax Create-a-Chart Library Trial

Product Information
Brand:

Research Institute of America
Save valuable time with immediate access to up-to-date multistate tax comparison charts that are dynamically generated for all 50 states and District of Columbia.
Get quick answers directly from the chart as well as one-click access to primary law and detailed explanations in the State and Local Tax Reporters.
Track changes using date stamps highlighting any changes in the chart from the beginning of each calendar year. Red caution marks alert you to exact area of change.
Plan for the future and reflect on the past amendments through links to the current law, historical notes and pending legislation.
Chart Categories
Corporate Income
Sales and Use Tax
Personal Income
Partnership
Insurance
Property Tax
Cigarettes
Franchise Tax
Fuel Materials
Estate & Gift
Initial Taxes
Checkpoint SALT Create-A-Chart Library

View
---