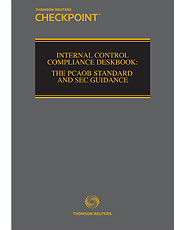 Internal Control Compliance Deskbook

Following several years of controversy over implementation costs and complexity, the PCAOB and the SEC have issued a revised auditing standard and new management guidance addressing internal control over financial reporting.
The new focus on a topdown, risk-based approach to compliance with Section 404 of the Sarbanes-Oxley Act is intended to drive costs down and improve public companies' efficiency and effectiveness. The detailed analysis of the new guidance provided by the Internal Control Compliance Deskbook will prove invaluable for smaller public companies ramping up for their initial year of Section 404 compliance and larger public companies striving to improve and streamline their systems of internal control.
The Internal Control Compliance Deskbook includes:
Paragraph-by-paragraph analysis of PCAOB Auditing Standard No. 5, An Audit of Internal Control Over Financial Reporting That Is Integrated with an Audit of Financial Statements
Detailed coverage of the SEC's Guidance Regarding Management's Report on Internal Control Over Financial Reporting
Paragraph-by-paragraph analysis of PCAOB Auditing Standard No. 4, Reporting on Whether a Previously Reported Material Weakness Continues to Exist
A glossary of key terms
Illustrative examples of how to implement the new guidance and the COSO internal control framework
Who is affected, how they are affected, and what actions they must take
The full text of the PCAOB and SEC guidance and related materials
---