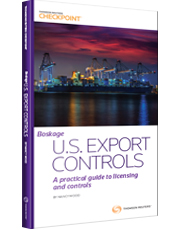 Export Compliance
Product Information
Brand:

Boskage

ISBN:

9781893495
This book examines key regulations including the export license application process. For the entry level to intermediate U.S. export practitioner, it provides the tools and resources necessary for navigating U.S. export controls with ease.
Highlights of this book include:
Identification of products that require licenses.
Selection of the appropriate agencies.
Classification using the ECCN, USML and CCL.
Explanation of Automated Export System.
Administration of End User and Denied-Party Screening.
136 pages
by Nancy Wood-Kouassi
---