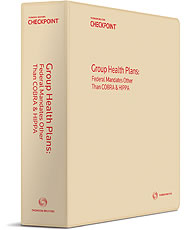 EBIA's Group Health Plans: Federal Mandates Other Than COBRA and HIPAA

Product Information
Frequency of Updates:

Quarterly

Brand:

EBIA
EBIA Group Health Plans: Federal Mandates Other Than COBRA & HIPAA covers important federal mandates for group health plans that are often overlooked: QMCSOs, the Mental Health Parity Act, minimum hospital stays for newborns and mothers, the Women's Health and Cancer Rights Act, federal employment laws affecting group health plans (FMLA, ADA, ADEA, USERRA, etc.), Medicare Part D notice requirements, Medicare Secondary Payer, HMO nondiscrimination requirements, etc. Also included are sample documents and EBIA Weekly on Checkpoint® (including archives).
Written and edited by experienced employee benefits attorneys, EBIA Group Health Plans: Federal Mandates Other Than COBRA & HIPAA on Checkpoint provides you with guidance on:
Medicare Part D. You'll find the "who, what, when, why, and how" of compliance with the Medicare Part D requirements, including details on creditable, noncreditable, and personalized disclosure notices and the coordination of benefits (COB) obligations.
Family and Medical Leave Act. Get answers to questions that health plan administrators get all the time, such as: What benefits must be maintained while an employee is on FMLA leave? How should premium payments be handled when coverage is paid for under a cafeteria plan? How does the FMLA work with other mandates, such as COBRA, HIPAA, the ADA, and the PDA?
USERRA. Find coverage on what health plan continuation and reinstatement requirements apply to employees who go on uniformed services leave, as well as analysis of the final regulations and at-a-glance tables comparing USERRA with COBRA and FMLA.
TRICARE. New incentive prohibition and nondiscrimination requirements apply beginning January 1, 2008. You'll find what group health plan sponsors need to know about the new requirements, including their impact on health FSAs and cafeteria plans.
Age Discrimination in Employment Act. Stay up-to-date on how the ADEA applies to health benefits, such as the EEOC's final "reverse discrimination" regulations, its proposed Medicare coordination regulations, and related litigation.
Americans with Disabilities Act. What is a "disability-based distinction" under a health plan? What health plan exclusions or limitations may raise ADA issues? Does compliance with HIPAA's nondiscrimination and wellness rules satisfy the ADA's requirements?
Qualified Medical Child Support Orders. Basics are explained, such as: What are QMCSOs? What benefits must be provided? And we delve deeply into tougher questions: Can the cost of coverage be paid pre-tax under a cafeteria plan? How do HIPAA and COBRA affect QMCSO coverage? Do state laws apply?
Mental Health Parity, Newborns' & Mothers' Health Protection,Women's Health and Cancer Rights. These laws require specific coverages, notices and disclosures. Analysis and compliance tools will help you comply.
Sample Documents. Sample documents for many of the above topics are included.
In addition, subscribers to the online edition will get access to primary source material including:
ERISA
ERISA History
Advance Notices of Proposed, Interim & Final DOL Rules
DOL Final Regulations and Interim Rules
Preambles to DOL Final Regulations and Interim Rules
DOL Proposed Regulations & Preambles
Selected US Code Provisions
Selected US Code Provisions History
Selected Final Federal Regulations
Preambles to Selected Final Federal Regulations
Selected Proposed Federal Regulations & Preambles
Other Selected Tax Documents & Releases
ERISA Opinion Letters
DOL Rulings & Releases
Other Miscellaneous Nontax Releases
Internal Revenue Code (1990 - present)
Code History
Final and Temporary Regulations
Advanced Notices of Proposed Rulemaking & Treasury Decisions
Prior Final and Temporary Regulations (Treasury Decisions)
Preambles to Final and Temporary Regulations (Treasury Decisions)
Preambles to Proposed Treasury Regulations (Treasury Decisions)
Prior Proposed Regulations & Preambles
Proposed Regulations and Preambles
IRS Publications
EBIA Committee Report Excerpts
PLRs and TAMs (1977 - present)
Revenue Rulings (1954 - present)
Revenue Procedures (1955 - present)
Announcements (1959 - present)
Notices (1980 - present)
Internal Revenue Manual