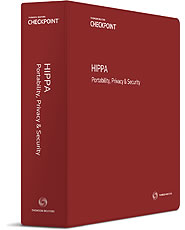 EBIA's HIPAA Portability, Privacy and Security

Product Information
Frequency of Updates:

Quarterly

Brand:

EBIA
EBIA HIPAA Portability, Privacy & Security includes comprehensive coverage of HIPAA's requirements for group health plans. It includes HIPAA's privacy and security rules (and EDI and other administrative simplification rules), and HIPAA's portability rules, including pre-existing condition exclusions (PCEs), HIPAA certificates, special enrollments, nondiscrimination, insurance market provisions, etc. Also included are sample documents and EBIA Weekly on Checkpoint® (including archives).
Written and edited by experienced employee benefits attorneys, EBIA HIPAA Portability, Privacy & Security on Checkpoint provides you with guidance on:
Privacy & security information specifically for employers. The section entitled "How the Privacy and Security Rules Affect Group Health Plans and Plan Sponsors" provides a wealth of information on the unique problems faced by employers and the group health plans they sponsor.
Security compliance. Every security standard and implementation specification is covered, including the "addressable" implementation specifications; the special issues that face "virtual" health plans that don't have their own employees, premises, or electronic information systems; and HHS guidance on the proper handling of "security incidents."
Business Associate Contracts. Coverage includes required and permitted contract terms, drafting tips and practical guidance on using business associates to perform plan functions.
Privacy notices. The who, what, when, and how of providing privacy notices, including sample documents.
Privacy and security compliance roadmap. A roadmap provides step-by-step guidance toward compliance as well as information on other helpful resources available from HHS and other government agencies.
Wellness programs. Final regulations provide specific criteria for permitted wellness programs and it's all covered here. What is a wellness program? Which wellness programs just have to be available to all similarly situated individuals? Which wellness programs are subject to five requirements?
Nondiscrimination. Group health plans may not discriminate with respect to eligibility or premiums based on a health status-related factor. What types of provisions are prohibited and what types are permissible under the final regulations?
Certificates of creditable coverage. The changes made by the final portability regulations, including the requirement that plans have written procedures are covered. Also discussed are the interplay between HIPAA Certificates, FMLA leaves, and COBRA termination notices.
Special enrollment and PCEs. The rules are explained, including coverage on what information must be communicated to whom, when the notices must be issued, who's required to issue the notices, and how notices should be distributed.
Portability compliance checklist. Includes a checklist of over 30 compliance items required by the final HIPAA portability regulations.
Sample Documents. Over 40 sample documents included.
In addition, subscribers to the online edition will get access to primary source material including:
ERISA
ERISA History
Advance Notices of Proposed, Interim & Final DOL Rules
DOL Final Regulations and Interim Rules
Preambles to DOL Final Regulations and Interim Rules
DOL Proposed Regulations & Preambles
Selected US Code Provisions
Selected US Code Provisions History
Selected Final Federal Regulations
Preambles to Selected Final Federal Regulations
Selected Proposed Federal Regulations & Preambles
Other Selected Tax Documents & Releases
ERISA Opinion Letters
DOL Rulings & Releases
Other Miscellaneous Nontax Releases
Internal Revenue Code (1990 - present)
Code History
Final and Temporary Regulations
Advanced Notices of Proposed Rulemaking & Treasury Decisions
Prior Final and Temporary Regulations (Treasury Decisions)
Preambles to Final and Temporary Regulations (Treasury Decisions)
Preambles to Proposed Treasury Regulations (Treasury Decisions)
Prior Proposed Regulations & Preambles
Proposed Regulations and Preambles
IRS Publications
EBIA Committee Report Excerpts
PLRs and TAMs (1977 - present)
Revenue Rulings (1954 - present)
Revenue Procedures (1955 - present)
Announcements (1959 - present)
Notices (1980 - present)
Internal Revenue Manual