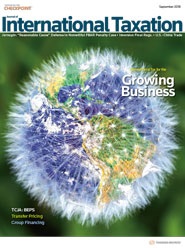 Journal of International Taxation

Product Information
Frequency of Updates:




Monthly

Brand:

Research Institute of America
As business becomes increasingly global, taxpayers and practitioners require more in-depth analysis and guidance on U.S. and non-U.S. international tax developments. Every month, Journal of International Taxation reports on the latest developments around the world and explains what they mean to your business and how to plan in accordance with the changes.
Some of the topics that international tax experts around the world cover regularly in this Journal include:
Transfer pricing
Cross-border M&A
FATCA and information reporting
Foreign tax credits
Treaties
Indirect tax and VAT
Customs and trade
Forms and compliance/procedure
BEPS
Along with comprehensive articles, the Journal's regular monthly columns include news features from Ernst & Young and a Customs & Trade report by a leading trade attorney.
This Journal is the only publication that covers these issues with a focus on helping you with practical strategies to limit your tax liability and avoid unnecessary tax penalties. It not only gives you immediate access to what's happening in the committee rooms of the Capitol and the halls of the Internal Revenue Service, it also shows you how to make tax laws in the U.S. and abroad affecting multinational transactions work for you.
The Journal is available in print and online. The online version includes a searchable archive back to 1991.
Journal of International Taxation (WG&L)

Journal of International Taxation

2017

Volume 28, Number 07, July 2017

Volume 28, Number 06, June 2017

Volume 28, Number 05, May 2017

Volume 28, Number 04, April 2017

Volume 28, Number 03, March 2017

Volume 28, Number 02, February 2017

Volume 28, Number 01, January 2017

2016

Volume 27, Number 12, December 2016

Advertisers for December 2016

Recent Developments

Articles

Columns

Volume 27, Number 11, November 2016

Volume 27, Number 10, October 2016

Advertisers for October 2016

Articles

Columns

Volume 27, Number 09, September 2016

Volume 27, Number 08, August 2016

Advertisers for August 2016

Articles

Columns

Volume 27, Number 07, July 2016

Volume 27, Number 06, June 2016

Advertisers for June 2016

Articles

Columns

Volume 27, Number 05, May 2016

Advertisers for May 2016

Articles

Columns

Volume 27, Number 04, April 2016

Advertisers for April 2016

Articles

Columns

Volume 27, Number 03, March 2016

Advertisers for March 2016

Articles

Columns

Volume 27, Number 02, February 2016

Advertisers for February 2016

Articles

Columns

Volume 27, Number 01, January 2016

Advertisers for January 2016

Articles

Columns

2015

Volume 26, Number 12, December 2015

Volume 26, Number 11, November 2015

Volume 26, Number 10, October 2015

Volume 26, Number 09, September 2015

Volume 26, Number 08, August 2015

Volume 26, Number 07, July 2015

Volume 26, Number 06, June 2015

Advertisers for June 2015

Recent Developments

Articles

Columns

Volume 26, Number 05, May 2015

Volume 26, Number 04, April 2015

Advertisers for April 2015

Recent Developments

Articles

Columns

Volume 26, Number 03, March 2015

Advertisers for March 2015

Articles

Columns

Volume 26, Number 02, February 2015

Advertisers for February 2015

Articles

Columns

Volume 26, Number 01, January 2015

Advertisers for January 2015

Articles

Columns

2014

Volume 25, Number 12, December 2014

Advertisers for December 2014

Articles

Columns

Volume 25, Number 11, November 2014

Volume 25, Number 10, October 2014

Volume 25, Number 09, September 2014

Volume 25, Number 08, August 2014

Volume 25, Number 07, July 2014

Volume 25, Number 06, June 2014

Recent Developments

Articles

Columns

Volume 25, Number 05, May 2014

Volume 25, Number 04, April 2014

Recent Developments

Articles

Columns

Volume 25, Number 03, March 2014

Recent Developments

Articles

Columns

Volume 25, Number 02, February 2014

Recent Developments

Articles

Columns

Volume 25, Number 01, January 2014

Recent Developments

Articles

Columns

2013

Volume 24, Number 12, December 2013

Recent Developments

Articles

Columns

Volume 24, Number 11, November 2013

Recent Developments

Articles

Columns

Volume 24, Number 10, October 2013

Advertisers for October 2013

Recent Developments

Articles

Columns

Volume 24, Number 09, September 2013

Advertisers for September 2013

Recent Developments

Articles

Columns

Volume 24, Number 08, August 2013

Recent Developments

Articles

Columns

Volume 24, Number 07, July 2013

Recent Developments

Articles

Columns

Volume 24, Number 06, June 2013

Advertisers for June 2013

Recent Developments

Articles

Columns

Volume 24, Number 05, May 2013

Volume 24, Number 04, April 2013

Recent Developments

Articles

Columns

Volume 24, Number 03, March 2013

Advertisers for March 2013

Recent Developments

Articles

Columns

Volume 24, Number 02, February 2013

Advertisers for February 2013

Articles

Columns

Volume 24, Number 01, January 2013

Advertisers for January 2013

Articles

Columns

2012

Volume 23, Number 12, December 2012

Volume 23, Number 11, November 2012

Recent Developments

Articles

Columns

Volume 23, Number 10, October 2012

Advertisers for October 2012

Recent Developments

Articles

Columns

Volume 23, Number 09, September 2012

Advertisers for September 2012

Recent Developments

Articles

Columns

Volume 23, Number 08, August 2012

Recent Developments

Articles

Columns

Volume 23, Number 07, July 2012

Advertisers for July 2012

Recent Developments

Articles

Columns

Volume 23, Number 06, June 2012

Advertisers for June 2012

Recent Developments

Articles

Columns

Volume 23, Number 05, May 2012

Advertisers for May 2012

Recent Developments

Articles

Columns

Volume 23, Number 04, April 2012

Advertisers for April 2012

Recent Developments

Articles

Columns

Volume 23, Number 03, March 2012

Advertisers for March 2012

Recent Developments

Articles

Columns

Volume 23, Number 02, February 2012

Recent Developments

Articles

Columns

Volume 23, Number 01, January 2012

Advertisers for January 2012

Recent Developments

Articles

Columns

2011

Volume 22, Number 12, December 2011

Advertisers for December 2011

Recent Developments

Articles

Columns

Volume 22, Number 11, November 2011

Recent Developments

Articles

Columns

Volume 22, Number 10, October 2011

Recent Developments

Articles

Columns

Volume 22, Number 09, September 2011

Advertisers for September 2011

Recent Developments

Articles

Columns

Volume 22, Number 08, August 2011

Recent Developments

Articles

Columns

Volume 22, Number 07, July 2011

Advertisers for July 2011

Articles

Columns

Volume 22, Number 06, June 2011

Advertisers for June 2011

Recent Developments

Articles

Columns

Volume 22, Number 05, May 2011

Advertisers for May 2011

Recent Developments

Articles

Columns

Volume 22, Number 04, April 2011

Advertisers for April 2011

Recent Developments

Articles

Columns

Volume 22, Number 03, March 2011

Advertisers for March 2011

Recent Developments

Articles

Columns

Volume 22, Number 02, February 2011

Advertisers for February 2011

Recent Developments

Articles

Columns

Volume 22, Number 01, January 2011

Advertisers for January 2011

Recent Developments

Articles

Columns

2010

Volume 21, Number 12, December 2010

Advertisers for December 2010

Recent Developments

Articles

Columns

Volume 21, Number 11, November 2010

Advertisers for November 2010

Recent Developments

Articles

Columns

Volume 21, Number 10, October 2010

Recent Developments

Articles

Columns

Volume 21, Number 09, September 2010

Advertisers for September 2010

Recent Developments

Articles

Columns

Volume 21, Number 08, August 2010

Recent Developments

Articles

Columns

Volume 21, Number 07, July 2010

Advertisers for July 2010

Recent Developments

Articles

Columns

Volume 21, Number 06, June 2010

Advertisers for June 2010

Recent Developments

Articles

Columns

Volume 21, Number 05, May 2010

Advertisers for May 2010

Recent Developments

Articles

Columns

Volume 21, Number 04, April 2010

Recent Developments

Articles

Columns

Volume 21, Number 03, March 2010

Advertisers for March 2010

Recent Developments

Articles

Columns

Volume 21, Number 02, February 2010

Advertisers for February 2010

Recent Developments

Articles

Columns

Volume 21, Number 01, January 2010

Advertisers for January 2010

Recent Developments

Articles

Columns

2009

Volume 20, Number 12, December 2009

Advertisers for December 2009

Recent Developments

Articles

Columns

Volume 20, Number 11, November 2009

Advertisers for November 2009

Recent Developments

Articles

Columns

Volume 20, Number 10, October 2009

Advertisers for October 2009

Recent Developments

Articles

Columns

Volume 20, Number 09, September 2009

Advertisers for September 2009

Recent Developments

Articles

Columns

Volume 20, Number 08, August 2009

Advertisers for August 2009

Recent Developments

Articles

Columns

Volume 20, Number 07, July 2009

Advertisers for July 2009

Recent Developments

Articles

Columns

Volume 20, Number 06, June 2009

Advertisers for June 2009

Recent Developments

Articles

Columns

Volume 20, Number 05, May 2009

Advertisers for May 2009

Articles

Columns

Volume 20, Number 04, April 2009

Advertisers for April 2009

Recent Developments

Articles

Columns

Volume 20, Number 03, March 2009

Advertisers for March 2009

Recent Developments

Articles

Columns

Volume 20, Number 02, February 2009

Advertisers for February 2009

Recent Developments

Articles

Columns

Volume 20, Number 01, January 2009

Advertisers for January 2009

Recent Developments

Articles

Columns

2008

Volume 19, Number 12, December 2008

Advertisers for December 2008

Recent Developments

Articles

Columns

Volume 19, Number 11, November 2008

Advertisers for November 2008

Articles

Columns

Volume 19, Number 10, October 2008

Advertisers for October 2008

Articles

Columns

Volume 19, Number 09, September 2008

Advertisers for September 2008

Recent Developments

Articles

Columns

Volume 19, Number 08, August 2008

Advertisers for August 2008

Recent Developments

Articles

Columns

Volume 19, Number 07, July 2008

Advertisers for July 2008

Recent Developments

Articles

Columns

Volume 19, Number 06, June 2008

Advertisers for June 2008

Recent Developments

Articles

Columns

Volume 19, Number 05, May 2008

Advertisers for May 2008

Recent Developments

Articles

Columns

Volume 19, Number 04, April 2008

Advertisers for April 2008

Recent Developments

Articles

Columns

Volume 19, Number 03, March 2008

Advertisers for March 2008

Recent Developments

Articles

Columns

Volume 19, Number 02, February 2008

Advertisers for February 2008

Recent Developments

Articles

Columns

Volume 19, Number 01, January 2008

Advertisers for January 2008

Recent Developments

Articles

Columns

2007

Volume 18, Number 12, December 2007

Advertisers for December 2007

Recent Developments

Articles

Columns

Volume 18, Number 11, November 2007

Advertisers for November 2007

Recent Developments

Articles

Columns

Volume 18, Number 10, October 2007

Advertisers for October 2007

Articles

Columns

Volume 18, Number 09, September 2007

Advertisers for September 2007

Recent Developments

Articles

Columns

Volume 18, Number 08, August 2007

Advertisers for August 2007

Recent Developments

Articles

Columns

Volume 18, Number 07, July 2007

Advertisers for July 2007

Articles

Columns

Volume 18, Number 06, June 2007

Advertisers for June 2007

Articles

Columns

Volume 18, Number 05, May 2007

Advertisers for May 2007

Recent Developments

Articles

Columns

Volume 18, Number 04, April 2007

Advertisers for April 2007

Articles

Columns

Volume 18, Number 03, March 2007

Advertisers for March 2007

Recent Developments

Articles

Columns

Volume 18, Number 02, February 2007

Advertisers for February 2007

Recent Developments

Articles

Columns

Volume 18, Number 01, January 2007

Advertisers for January 2007

Recent Developments

Articles

Columns

2006

Volume 17, Number 12, December 2006

Advertisers for December 2006

Recent Developments

Articles

Columns

Volume 17, Number 11, November 2006

Advertisers for November 2006

Recent Developments

Articles

Columns

Volume 17, Number 10, October 2006

Advertisers for October 2006

Recent Developments

Articles

Columns

Volume 17, Number 09, September 2006

Recent Developments

Articles

Columns

Volume 17, Number 08, August 2006

Advertisers for August 2006

Recent Developments

Articles

Columns

Volume 17, Number 07, July 2006

Advertisers for July 2006

Recent Developments

Articles

Columns

Volume 17, Number 06, June 2006

Recent Developments

Articles

Columns

Volume 17, Number 05, May 2006

Advertisers for May 2006

Articles

Columns

Volume 17, Number 04, April 2006

Advertisers for April 2006

Recent Developments

Articles

Columns

Volume 17, Number 03, March 2006

Advertisers for March 2006

Recent Developments

Articles

Columns

Volume 17, Number 02, February 2006

Advertisers for February 2006

Recent Developments

Articles

Columns

Volume 17, Number 01, January 2006

Advertisers for January 2006

Recent Developments

Articles

Columns

2005

Volume 16, Number 12, December 2005

Advertisers for December 2005

Recent Developments

Articles

Columns

Volume 16, Number 11, November 2005

Advertisers for November 2005

Recent Developments

Articles

Columns

Volume 16, Number 10, October 2005

Advertisers for October 2005

Recent Developments

Articles

Columns

Volume 16, Number 09, September 2005

Advertisers for September 2005

Recent Developments

Articles

Columns

Volume 16, Number 08, August 2005

Advertisers for August 2005

Recent Developments

Articles

Columns

Volume 16, Number 07, July 2005

Advertisers for July 2005

Recent Developments

Articles

Columns

Volume 16, Number 06, June 2005

Advertisers for June 2005

Articles

Columns

Volume 16, Number 05, May 2005

Advertisers for May 2005

Recent Developments

Articles

Columns

Volume 16, Number 04, April 2005

Advertisers for April 2005

Recent Developments

Articles

Columns

Volume 16, Number 03, March 2005

Advertisers for March 2005

Recent Developments

Articles

Columns

Volume 16, Number 02, February 2005

Advertisers for February 2005

Articles

Columns

Volume 16, Number 01, January 2005

Advertisers for January 2005

Recent Developments

Articles

Columns

2004

Volume 15, Number 12, December 2004

Advertisers for December 2004

Recent Developments

Articles

Columns

Volume 15, Number 11, November 2004

Advertisers for November 2004

Recent Developments

Articles

Columns

Volume 15, Number 10, October 2004

Advertisers for October 2004

Recent Developments

Articles

Columns

Volume 15, Number 09, September 2004

Advertisers for September 2004

Recent Developments

Articles

Columns

Volume 15, Number 08, August 2004

Advertisers for August 2004

Recent Developments

Articles

Columns

Volume 15, Number 07, July 2004

Advertisers for July 2004

Articles

Columns

Volume 14, Number 06, June 2004

Advertisers for June 2004

Recent Developments

Articles

Columns

Volume 15, Number 05, May 2004

Advertisers for May 2004

Recent Developments

Articles

Columns

Volume 15, Number 04, April 2004

Advertisers for April 2004

Recent Developments

Articles

Columns

Volume 15, Number 03, March 2004

Advertisers for March 2004

Recent Developments

Articles

Columns

Volume 15, Number 02, February 2004

Advertisers for February 2004

Recent Developments

Articles

Volume 15, Number 01, January 2004

Advertisers for January 2004

Recent Developments

Articles

Columns

2003

Volume 14, Number 12, December 2003

Advertisers for December 2003

Recent Developments

Articles

Columns

Volume 14, Number 11, November 2003

Advertisers for November 2003

Recent Developments

Articles

Columns

Volume 14, Number 10, October 2003

Advertisers for October 2003

Recent Developments

Articles

Columns

Volume 14, Number 09, September 2003

Advertisers for September 2003

Articles

Columns

Volume 14, Number 08, August 2003

Advertisers for August 2003

Recent Developments

Articles

Columns

Volume 14, Number 07, July 2003

Advertisers for July 2003

Recent Developments

Articles

Columns

Volume 14, Number 06, June 2003

Recent Developments

Articles

Columns

Volume 14, Number 05, May 2003

Volume 14, Number 04, April 2003

Volume 14, Number 03, March 2003

Recent Developments

Articles

Volume 14, Number 02, February 2003

Volume 14, Number 01, January 2003

Recent Developments

Articles

Columns

2002

Volume 13, Number 12, December 2002

Recent Developments

Articles

Columns

Volume 13, Number 11, November 2002

Recent Developments

Articles

Columns

Volume 13, Number 10, October 2002

Recent Developments

Articles

Columns

Volume 13, Number 09, September 2002

Recent Developments

Articles

Columns

Volume 13, Number 08, August 2002

Recent Developments

Articles

Columns

Volume 13, Number 07, July 2002

Recent Developments

Articles

Columns

Volume 13, Number 06, June 2002

Recent Developments

Articles

Columns

Volume 13, Number 05, May 2002

Recent Developments

Articles

Columns

Volume 13, Number 04, April 2002

Recent Developments

Articles

Columns

Volume 13, Number 03, March 2002

Volume 13, Number 02, February 2002

Volume 13, Number 01, January 2002

2001

Volume 12, Number 12, December 2001

Recent Developments

Articles

Columns

Volume 12, Number 11, November 2001

Recent Developments

Articles

Columns

Volume 12, Number 10, October 2001

Volume 12, Number 09, September 2001

Recent Developments

Articles

Columns

Volume 12, Number 08, August 2001

Volume 12, Number 07, July 2001

Recent Developments

Articles

Columns

Volume 12, Number 06, June 2001

Volume 12, Number 05, May 2001

Recent Developments

Articles

Columns

Volume 12, Number 04, April 2001

Volume 12, Number 03, March 2001

Recent Developments

Articles

Columns

Volume 12, Number 02, February 2001

Recent Developments

Articles

Columns

Volume 12, Number 01, January 2001

2000

Volume 11, Number 12, December 2000

Recent Developments

Articles

Columns

Volume 11, Number 11, November 2000

Volume 11, Number 10, October 2000

Recent Developments

Articles

Columns

Volume 11, Number 09, September 2000

Volume 11, Number 08, August 2000

Recent Developments

Articles

Columns

Volume 11, Number 07, July 2000

Recent Developments

Articles

Volume 11, Number 06, June 2000

Recent Developments

Articles

Columns

Volume 11, Number 05, May 2000

Recent Developments

Articles

Columns

Volume 11, Number 04, April 2000

Recent Developments

Articles

Columns

Volume 11, Number 03, March 2000

Recent Developments

Articles

Columns

Volume 11, Number 02, February 2000

Recent Developments

Articles

Volume 11, Number 01, January 2000

Recent Developments

Articles

Columns

1999

Volume 10, Number 12, December 1999

Recent Developments

Articles

Columns

Volume 10, Number 11, November 1999

Recent Developments

Articles

Columns

Volume 10, Number 10, October 1999

Recent Developments

Articles

Columns

Volume 10, Number 9, September 1999

Recent Developments

Articles

Volume 10, Number 8, August 1999

Recent Developments

Articles

Columns

Volume 10, Number 7, July 1999

Recent Developments

Articles

Volume 10, Number 6, June 1999

Recent Developments

Articles

Columns

Volume 10, Number 5, May 1999

Recent Developments

Articles

Columns

Volume 10, Number 4, April 1999

Recent Developments

Articles

Columns

Volume 10, Number 3, March 1999

Recent Developments

Articles

Columns

Volume 10, Number 2, February 1999

Recent Developments

Articles

Columns

Volume 10, Number 1, January 1999

Recent Developments

Articles

Columns

1998

Volume 9, Number 12, December 1998

Recent Developments

Articles

Volume 9, Number 11, November 1998

Recent Developments

Articles

Columns

Volume 9, Number 10, October 1998

Recent Developments

Articles

Columns

Volume 9, Number 9, September 1998

Recent Developments

Articles

Columns

Volume 9, Number 8, August 1998

Recent Developments

Articles

Columns

Volume 9, Number 1, July 1998

Recent Developments

Articles

Columns

Volume 9, Number 6, June 1998

Recent Developments

Articles

Columns

Volume 9, Number 5, May 1998

Recent Developments

Articles

Columns

Volume 9, Number 4, April 1998

Recent Developments

Articles

Volume 9, Number 3, March 1998

Recent Developments

Articles

Columns

Volume 9, Number 2, February 1998

Recent Developments

Articles

Columns

Volume 9, Number 1, January 1998

Recent Developments

Articles

Columns

1997

Volume 8, Number 12, December 1997

Recent Developments

Articles

Columns

Volume 8, Number 11, November 1997

Recent Developments

Articles

Columns

Volume 8, Number 10, October 1997

Recent Developments

Articles

Columns

Volume 8, Number 9, September 1997

Recent Developments

Articles

Volume 8, Number 8, August 1997

Recent Developments

Articles

Columns

Volume 8, Number 7, July 1997

Recent Developments

Articles

Columns

Volume 8, Number 6, June 1997

Recent Developments

Articles

Columns

Volume 8, Number 5, May 1997

Recent Developments

Articles

Columns

Volume 8, Number 4, April 1997

Recent Developments

Articles

Columns

Volume 8, Number 3, March 1997

Recent Developments

Articles

Columns

Volume 8, Number 2, February 1997

Recent Developments

Articles

Columns

Volume 8, Number 1, January 1997

Recent Developments

Articles

Columns

1996

Volume 7, Number 12, December 1996

Recent Developments

Articles

Columns

Volume 7, Number 11, November 1996

Recent Developments

Articles

Columns

Volume 7, Number 10, October 1996

Recent Developments

Articles

Columns

Volume 7, Number 9, September 1996

Recent Developments

Articles

Columns

Volume 7, Number 8, August 1996

Recent Developments

Articles

Columns

Volume 7, Number 7, July 1996

Recent Developments

Articles

Columns

Volume 7, Number 6, June 1996

Recent Developments

Articles

Columns

Volume 7, Number 5, May 1996

Recent Developments

Articles

Columns

Volume 7, Number 4, April 1996

Recent Developments

Articles

Columns

Volume 7, Number 3, March 1996

Recent Developments

Articles

Columns

Volume 7, Number 2, February 1996

Recent Developments

Articles

Columns

Volume 7, Number 1, January 1996

Recent Developments

Articles

Columns

1995

Volume 6, Number 12, December 1995

Recent Developments

Articles

Columns

Volume 6, Number 11, November 1995

Recent Developments

Articles

Columns

Volume 6, Number 10, October 1995

Recent Developments

Articles

Columns

Volume 6, Number 9, September 1995

Recent Developments

Articles

Columns

Volume 6, Number 8, August 1995

Recent Developments

Articles

Columns

Volume 6, Number 7, July 1995

Recent Developments

Articles

Columns

Volume 6, Number 6, June 1995

Recent Developments

Articles

Columns

Volume 6, Number 5, May 1995

Recent Developments

Articles

Columns

Volume 6, Number 4, April 1995

Recent Developments

Articles

Columns

Volume 6, Number 3, March 1995

Recent Developments

Articles

Columns

Volume 6, Number 2, February 1995

Recent Developments

Articles

Columns

Volume 6, Number 1, January 1995

Recent Developments

Articles

Columns

1994

Volume 5, Number 12, December 1994

Recent Developments

Articles

Columns

Volume 5, Number 11, November 1994

Recent Developments

Articles

Columns

Volume 5, Number 10, October 1994

Recent Developments

Articles

Columns

Volume 5, Number 9, September 1994

Recent Developments

Articles

Columns

Volume 5, Number 8, August 1994

Recent Developments

Articles

Columns

Volume 5, Number 7, July 1994

Recent Developments

Articles

Columns

Volume 5, Number 6, June 1994

Recent Developments

Articles

Columns

Volume 5, Number 5, May 1994

Recent Developments

Articles

Columns

Volume 5, Number 4, April 1994

Recent Developments

Articles

Columns

Volume 5, Number 3, March 1994

Recent Developments

Articles

Columns

Volume 5, Number 2, February 1994

Recent Developments

Articles

Columns

Volume 5, Number 1, January 1994

Recent Developments

Articles

Columns

1993

Volume 4, Number 12, December 1993

Recent Developments

Articles

Columns

Volume 4, Number 11, November 1993

Recent Developments

Articles

Columns

Volume 4, Number 10, October 1993

Recent Developments

Articles

Columns

Volume 4, Number 9, September 1993

Recent Developments

Articles

Columns

Volume 4, Number 8, August 1993

Recent Developments

Articles

Columns

Volume 4, Number 7, July 1993

Recent Developments

Articles

Columns

Volume 4, Number 6, June 1993

Recent Developments

Articles

Columns

Volume 4, Number 5, May 1993

Recent Developments

Articles

Columns

Volume 4, Number 4, April 1993

Recent Developments

Articles

Columns

Volume 4, Number 3, March 1993

Recent Developments

Articles

Columns

Volume 4, Number 2, February 1993

Recent Developments

Articles

Columns

Volume 4, Number 1, January 1993

Recent Developments

Articles

Columns

1992

Volume 3, Number 4, November/December 1992

Recent Developments

Articles

Columns

Volume 3, Number 3, September/October 1992

Recent Developments

Articles

Columns

Volume 3, Number 2, July/August 1992

Recent Developments

Articles

Columns

Volume 3, Number 1, May/June 1992

Recent Developments

Articles

Columns

Volume 2, Number 6, March/April 1992

Recent Developments

Articles

Columns

Volume 2, Number 5, January/February 1992

Recent Developments

Articles

Columns

1991

Volume 2, Number 4, November/December 1991

Recent Developments

Articles

Columns

Volume 2, Number 3, September/October 1991

Recent Developments

Articles

Columns

Volume 2, Number 2, July/August 1991

Recent Developments

Articles

Columns

Volume 2, Number 1, May/June 1991

Recent Developments

Articles

Columns

Volume 1, Number 6, March/April 1991

Recent Developments

Articles

Columns

Volume 1, Number 5, January/February 1991

Recent Developments

Articles

Columns
---