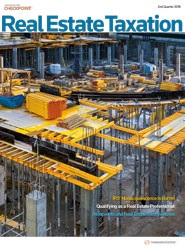 Real Estate Taxation

Real Estate Taxation gives you complete, ongoing coverage of all aspects of real estate tax planning. In-depth articles by leading attorneys, accountants, and real estate authorities keep you abreast of the latest developments and how they affect real estate tax planning.
An essential quarterly journal, Real Estate Taxation is a timely source of new ideas, trends and legal developments in real estate taxation. Written by renowned practitioners in the field, articles and columns focus on structuring clients' transactions to better improve after-tax profits.
Feature articles address a wide range of topics such as exchanges, partnerships, asset protection, REITs, and more. Regularly featured columns deal with recent developments, intrafamily transactions, and partnerships.
Real Estate Taxation highlights real problems and solutions by delivering valuable information you'll use to structure clients' transactions for increased after-tax profits. It shows you how to deal with virtually every real estate tax angle through feature articles, columns, and special reports on topics such as:
Syndications and other forms of ownership
Acquisitions and leasing
Depreciation and recapture
Land development
Passive activity losses
Tax-free real estate transactions
And much more
Advertise in this Journal
Real Estate Taxation [formerly Journal of Real Estate Taxation] (WG&L)

Journal of Real Estate Taxation

2017

Volume 44, Number 02, First Quarter 2017

Advertisers for First Quarter 2017

Articles

Columns

2016

Volume 44, Number 01, Fourth Quarter 2016

Advertisers for Fourth Quarter 2016

Articles

Columns

Volume 43, Number 04, Third Quarter 2016

Advertisers for Third Quarter 2016

Articles

Columns

Volume 43, Number 03, Second Quarter 2016

Advertisers for Second Quarter 2016

Articles

Columns

Volume 43, Number 02, First Quarter 2016

Advertisers for First Quarter 2016

Articles

Columns

2015

Volume 43, Number 01, Fourth Quarter 2015

Advertisers for Fourth Quarter 2015

Articles

Columns

Volume 42, Number 04, Third Quarter 2015

Advertisers for Third Quarter 2015

Articles

Columns

Volume 42, Number 03, Second Quarter 2015

Advertisers for Second Quarter 2015

Articles

Columns

Volume 42, Number 02, First Quarter 2015

Advertisers for First Quarter 2015

Articles

Columns

2014

Volume 42, Number 01, Fourth Quarter 2014

Volume 41, Number 04, Third Quarter 2014

Volume 41, Number 03, Second Quarter 2014

Volume 41, Number 02, First Quarter 2014

2013

Volume 41, Number 01, Fourth Quarter 2013

Volume 40, Number 04, Third Quarter 2013

Advertisers for Third Quarter 2013

Articles

Columns

Volume 40, Number 03, Second Quarter 2013

Volume 40, Number 02, First Quarter 2013

Advertisers for First Quarter 2013

Articles

Columns

2012

Volume 40, Number 01, Fourth Quarter 2012

Volume 39, Number 04, Third Quarter 2012

Volume 39, Number 03, Second Quarter 2012

Volume 39, Number 02, First Quarter 2012

2011

Volume 39, Number 01, Fourth Quarter 2011

Advertisers for Fourth Quarter 2011

Articles

Columns

Volume 38, Number 04, Third Quarter 2011

Volume 38, Number 03, Second Quarter 2011

Volume 38, Number 02, First Quarter 2011

Advertisers for First Quarter 2011

Articles

Columns

2010

Volume 38, Number 01, Fourth Quarter 2010

Volume 37, Number 04, Third Quarter 2010

Advertisers for Third Quarter 2010

Articles

Columns

Volume 37, Number 03, Second Quarter 2010

Volume 37, Number 02, First Quarter 2010

Advertisers for First Quarter 2010

Articles

Columns

2009

Volume 37, Number 01, Fourth Quarter 2009

Advertisers for Fourth Quarter 2009

Articles

Columns

Volume 36, Number 04, Third Quarter 2009

Advertisers for Third Quarter 2009

Articles

Columns

Volume 36, Number 03, Second Quarter 2009

Advertisers for Second Quarter 2009

Articles

Columns

Volume 36, Number 02, First Quarter 2009

Advertisers for First Quarter 2009

Articles

Columns

2008

Volume 36, Number 01, Fourth Quarter 2008

Advertisers for Fourth Quarter 2008

Articles

Columns

Volume 35, Number 04, Third Quarter 2008

Advertisers for Third Quarter 2008

Articles

Columns

Volume 35, Number 03, Second Quarter 2008

Advertisers for Second Quarter 2008

Articles

Columns

Volume 35, Number 02, First Quarter 2008

Advertisers for First Quarter 2008

Articles

Columns

2007

Volume 35, Number 01, Fourth Quarter 2007

Advertisers for Fourth Quarter 2007

Articles

Columns

Volume 34, Number 04, Third Quarter 2007

Advertisers for Third Quarter 2007

Articles

Columns

Volume 34, Number 03, Second Quarter 2007

Advertisers for Second Quarter 2007

Articles

Columns

Volume 34, Number 02, First Quarter 2007

Advertisers for First Quarter 2007

Articles

Columns

2006

Volume 34, Number 01, Fourth Quarter 2006

Advertisers for Fourth Quarter 2006

Articles

Columns

Volume 33, Number 04, Third Quarter 2006

Advertisers for Third Quarter 2006

Articles

Columns

Volume 33, Number 03, Second Quarter 2006

Advertisers for Second Quarter 2006

Articles

Columns

Volume 33, Number 02, First Quarter 2006

Advertisers for First Quarter 2006

Articles

Columns

2005

Volume 33, Number 01, Fourth Quarter 2005

Advertisers for Fourth Quarter 2005

Articles

Columns

Volume 32, Number 04, Third Quarter 2005

Advertisers for Third Quarter 2005

Articles

Columns

Volume 32, Number 03, Second Quarter 2005

Advertisers for Second Quarter 2005

Articles

Columns

Volume 32, Number 02, First Quarter 2005

Advertisers for First Quarter 2005

Articles

Columns

2004

Volume 32, Number 01, Fourth Quarter 2004

Advertisers for Fourth Quarter 2004

Articles

Columns

Volume 31, Number 04, Third Quarter 2004

Advertisers for Third Quarter 2004

Articles

Columns

Volume 31, Number 03, Second Quarter 2004

Advertisers for Second Quarter 2004

Articles

Columns

2003

Volume 31, Number 01, Fourth Quarter 2003

Advertisers for Fourth Quarter 2003

Articles

Columns

Volume 30, Number 04, Third Quarter 2003

Volume 30, Number 03, Second Quarter 2003

Volume 30, Number 02, First Quarter 2003

2002

Volume 30, Number 01, Fourth Quarter 2002

Volume 29, Number 04, Third Quarter 2002

Volume 29, Number 03, Second Quarter 2002

Volume 29, Number 02, First Quarter 2002

Recent Developments

Articles

Columns

2001

Volume 29, Number 1, Fourth Quarter 2001

Recent Developments

Articles

Columns

Volume 28, Number 4, Summer 2001

Recent Developments

Articles

Volume 28, Number 3, Spring 2001

Recent Developments

Articles

Volume 28, Number 2, Winter 2001

Recent Developments

Articles

2000

Volume 28, Number 1, Fall 2000

Recent Developments

Articles

Columns

Volume 27, Number 4, Summer 2000

Recent Developments

Articles

Columns

Volume 27, Number 3, Spring 2000

Recent Developments

Articles

Columns

Volume 27, Number 2, Winter 2000

Recent Developments

Articles

Columns

1999

Volume 27, Number 1, Fall 1999

Recent Developments

Articles

Columns

Volume 26, Number 4, Summer 1999

Recent Developments

Articles

Columns

Volume 26, Number 3, Spring 1999

Recent Developments

Articles

Columns

Volume 26, Number 2, Winter 1999

Recent Developments

Articles

Columns

1998

Volume 26, Number 1, Fall 1998

Recent Developments

Articles

Columns

Volume 25, Number 4, Summer 1998

Recent Developments

Articles

Columns

Volume 25, Number 3, Spring 1998

Recent Developments

Articles

Columns

Volume 25, Number 2, Winter 1998

Recent Developments

Articles

Columns

1997

Volume 25, Number 1, Fall 1997

Recent Developments

Articles

Columns

Volume 24, Number 4, Summer 1997

Recent Developments

Articles

Columns

Volume 24, Number 3, Spring 1997

Recent Developments

Articles

Columns

Volume 24, Number 2, Winter 1997

Recent Developments

Articles

Columns

1996

Volume 24, Number 1, Fall 1996

Recent Developments

Articles

Columns

Volume 23, Number 4, Summer 1996

Recent Developments

Articles

Columns

Volume 23, Number 3, Spring 1996

Recent Developments

Articles

Columns

Volume 23, Number 2, Winter 1996

Recent Developments

Articles

Columns

1995

Volume 23, Number 1, Fall 1995

Recent Developments

Articles

Columns

Volume 22, Number 4, Summer 1995

Volume 22, Number 3, Spring 1995

Volume 22, Number 2, Winter 1995

Recent Developments

Articles

Columns

1994

Volume 22, Number 1, Fall 1994

Volume 21, Number 4, Summer 1994

Recent Developments

Articles

Columns

Volume 21, Number 3, Spring 1994

Volume 21, Number 2, Winter 1994

1993

Volume 21, Number 1, Fall 1993

Volume 20, Number 4, Summer 1993

Recent Developments

Articles

Columns

Volume 20, Number 3, Spring 1993

Volume 20, Number 2, Winter 1993

1992

Volume 20, Number 1, Fall 1992

Recent Developments

Articles

Columns

Volume 19, Number 4, Summer 1992

Volume 19, Number 3, Spring 1992

Volume 19, Number 2, Winter 1992

1991

Volume 19, Number 1, Fall 1991

Recent Developments

Articles

Columns

Volume 18, Number 4, Summer 1991

Volume 18, Number 3, Spring 1991

Volume 18, Number 2, Winter 1991

Recent Developments

Articles

Columns
---