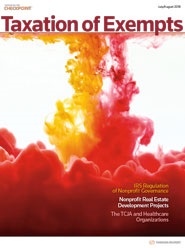 Taxation of Exempts

Product Information
Frequency of Updates:




6 times/year

Brand:

Research Institute of America
Taxation of Exempts provides tax analysis and guidance to members of the exempt organization community. It is directed to the professional advisors of these organizations and their contributors, as well as to members of the organizations' management.
Published bi-monthly, Taxation of Exempts offers in-depth analyses and updates by leading practitioners in an accessible and easy-to-read style. Articles cover such topics as:
Intermediate sanctions
Combinations and joint ventures
Health care organizations
Exemption and compliance
Private foundations
Political and lobbying activity
The unrelated business income tax
Charitable giving
Compensation
and much more
Taxation of Exempts goes behind the headlines to provide practical understanding and guidance on tax-related developments, such as knowing what to do in response and what is the best course of action.
Advertise in this Journal
Taxation of Exempts/Journal of Taxation of Exempt Organizations (WG&L)

Taxation of Exempts (WG&L)

2017

Volume 28, Number 06, May/June 2017

Volume 28, Number 05, March/April 2017

Volume 28, Number 04, January/February 2017

2016

Volume 28, Number 03, November/December 2016

Volume 28, Number 02, September/October 2016

Advertisers for September/October 2016

Articles

Columns

Volume 28, Number 01, July/August 2016

Volume 27, Number 06, May/June 2016

Advertisers for May/June 2016

Articles

Columns

Volume 27, Number 05, March/April 2016

Volume 27, Number 04, January/February 2016

Advertisers for January/February 2016

Articles

Columns

2015

Volume 27, Number 03, November/December 2015

Volume 27, Number 02, September/October 2015

Volume 27, Number 01, July/August 2015

Volume 26, Number 06, May/June 2015

Volume 26, Number 05, March/April 2015

Volume 26, Number 04, January/February 2015

2014

Volume 26, Number 03, November/December 2014

Volume 26, Number 02, September/October 2014

Volume 26, Number 01, July/August 2014

Volume 25, Number 06, May/June 2014

Volume 25, Number 05, March/April 2014

Volume 25, Number 04, January/February 2014

2013

Volume 25, Number 03, November/December 2013

Volume 25, Number 02, September/October 2013

Volume 25, Number 01, July/August 2013

Volume 24, Number 06, May/June 2013

Volume 24, Number 05, March/April 2013

Advertisers for March/April 2013

Articles

Columns

Volume 24, Number 04, January/February 2013

2012

Volume 24, Number 03, November/December 2012

Volume 24, Number 02, September/October 2012

Volume 24, Number 01, July/August 2012

Volume 23, Number 06, May/June 2012

Advertisers for May/June 2012

Articles

Columns

Volume 23, Number 05, March/April 2012

Advertisers for March/April 2012

Articles

Columns

Volume 23, Number 04, January/February 2012

Advertisers for January/February 2012

Articles

Columns

2011

Volume 23, Number 03, November/December 2011

Advertisers for November/December 2011

Articles

Columns

Volume 23, Number 02, September/October 2011

Advertisers for September/October 2011

Articles

Columns

Volume 23, Number 01, July/August 2011

Advertisers for July/August 2011

Articles

Columns

Volume 22, Number 06, May/June 2011

Advertisers for May/June 2011

Articles

Columns

Volume 22, Number 05, March/April 2011

Advertisers for March/April 2011

Articles

Columns

Volume 22, Number 04, January/February 2011

Advertisers for January/February 2011

Articles

Columns

2010

Volume 22, Number 03, November/December 2010

Volume 22, Number 02, September/October 2010

Advertisers for September/October 2010

Articles

Columns

Volume 22, Number 01, July/August 2010

Advertisers for July/August 2010

Articles

Columns

Volume 21, Number 06, May/June 2010

Volume 21, Number 05, March/April 2010

Advertisers for March/April 2010

Articles

Columns

Volume 21, Number 04, January/February 2010

Advertisers for January/February 2010

Articles

Columns

2009

Volume 21, Number 03, November/December 2009

Advertisers for November/December 2009

Articles

Columns

Volume 21, Number 02, September/October 2009

Volume 21, Number 01, July/August 2009

Volume 20, Number 06, May/June 2009

Volume 20, Number 05, March/April 2009

Volume 20, Number 04, January/February 2009

Advertisers for January/February 2009

Articles

Columns

2008

Volume 20, Number 03, November/December 2008

Advertisers for November/December 2008

Articles

Columns

Volume 20, Number 02, September/October 2008

Advertisers for September/October 2008

Articles

Columns

Volume 20, Number 01, July/August 2008

Volume 19, Number 06, May/June 2008

Volume 19, Number 05, March/April 2008

Advertisers for March/April 2008

Articles

Columns

Volume 19, Number 04, January/February 2008

Advertisers for January/February 2008

Articles

Columns

2007

Volume 19, Number 03, November/December 2007

Volume 19, Number 02, September/October 2007

Volume 19, Number 01, July/August 2007

Advertisers for July/August 2007

Articles

Columns

Volume 18, Number 06, May/June 2007

Volume 18, Number 05, March/April 2007

Advertisers for March/April 2007

Articles

Columns

Volume 18, Number 04, January/February 2007

Advertisers for January/February 2007

Articles

Columns

2006

Volume 18, Number 03, November/December 2006

Volume 18, Number 02, September/October 2006

Advertisers for September/October 2006

Recent Developments

Articles

Columns

Volume 18, Number 01, July/August 2006

Advertisers for July/August 2006

Articles

Columns

Volume 17, Number 06, May/June 2006

Advertisers for May/June 2006

Articles

Columns

Volume 17, Number 05, March/April 2006

Volume 17, Number 04, January/February 2006

Advertisers for January/February 2006

Articles

Columns

2005

Volume 17, Number 02, November/December 2005

Advertisers for November/December 2005

Articles

Columns

Volume 17, Number 01, September/October 2005

Volume 17, Number 01, July/August 2005

Volume 16, Number 06, May/June 2005

Volume 16, Number 05, March/April 2005

Volume 16, Number 04, January/February 2005

2004

Volume 16, Number 03, November/December 2004

Advertisers for November/December 2004

Articles

Columns

Volume 16, Number 02, September/October 2004

Advertisers for September/October 2004

Articles

Volume 16, Number 01, July/August 2004

Advertisers for July/August 2004

Articles

Columns

Volume 15, Number 06, May/June 2004

Recent Developments

Articles

Columns

Volume 15, Number 05, March/April 2004

Recent Developments

Articles

Columns

Volume 15, Number 04, January/February 2004

2003

Volume 15, Number 03, November/December 2003

Advertisers for November/December 2003

Articles

Volume 15, Number 02, September/October 2003

Volume 15, Number 01, July/August 2003

Volume 14, Number 06, May/June 2003

Volume 14, Number 05, March/April 2003

Volume 14, Number 04, January/February 2003

2002

Volume 14, Number 03, November/December 2002

Volume 14, Number 02, September/October 2002

Volume 14, Number 06, July/August 2002

Volume 13, Number 06, May/June 2002

Volume 13, Number 05, March/April 2002

Volume 13, Number 04, January/February 2002

2001

Volume 13, Number 03, November/December 2001

Volume 13, Number 02, September/October 2001

Recent Developments

Articles

Columns

Volume 13, Number 01, July/August 2001

Recent Developments

Articles

Columns

Journal of Taxation of Exempt Organizations (WG&L)

2001

Volume 12, Number 06, May/June 2001

Volume 12, Number 05, March/April 2001

Volume 12, Number 03, January/February 2001

2000

Volume 12, Number 02, November/December 2000

Recent Developments

Articles

Columns

Volume 12, Number 01, September/October 2000

Recent Developments

Articles

Columns

Volume 12, Number 01, July/August 2000

Volume 11, Number 06, May/June 2000

Volume 11, Number 05, March/April 2000

Volume 11, Number 04, January/February 2000

Recent Developments

Columns

1999

Volume 11, Number 03, November/December 1999

Volume 11, Number 02, September/October 1999

Volume 10, Number 5, March/April 1999

Volume 10, Number 4, January/February 1999

1998

Volume 10, Number 3, November/December 1998

Volume 10, Number 2, September/October 1998

Volume 10, Number 1, July/August 1998

Volume 9, Number 6, May/June 1998

Recent Developments

Articles

Columns

Volume 9, Number 5, March/April 1998

Recent Developments

Articles

Columns

Volume 9, Number 4, January/February 1998

1997

Volume 9, Number 3, November/December 1997

Recent Developments

Articles

Columns

Volume 9, Number 2, September/October 1997

Volume 9, Number 1, July/August 1997

Recent Developments

Articles

Columns

Volume 8, Number 6, May/June 1997

Volume 8, Number 5, March/April 1997

Volume 8, Number 4, January/February 1997

1996

Volume 8, Number 3, November/December 1996

Volume 8, Number 2, September/October 1996

Recent Developments

Articles

Columns

Volume 8, Number 1, July/August 1996

Volume 7, Number 6, May/June 1996

Volume 7, Number 5, March/April 1996

Volume 7, Number 4, January/February 1996

1995

Volume 7, Number 3, November/December 1995

Volume 7, Number 2, September/October 1995

Recent Developments

Articles

Columns

Volume 7, Number 1, July/August 1995

Volume 6, Number 6, May/June 1995

Recent Developments

Articles

Columns

Volume 6, Number 5, March/April 1995

Volume 6, Number 4, January/February 1995

1994

Volume 6, Number 3, November/December 1994

Recent Developments

Articles

Columns

Volume 6, Number 2, September/October 1994

Volume 6, Number 1, July/August 1994

Recent Developments

Articles

Columns

Volume 5, Number 6, May/June 1994

Volume 5, Number 5, March/April 1994

Volume 5, Number 4, January/February 1994

Recent Developments

Articles

Columns

1993

Volume 5, Number 3, November/December 1993

Recent Developments

Articles

Columns

Volume 5, Number 2, September/October 1993

Volume 5, Number 1, July/August 1993

Volume 4, Number 6, May/June 1993

Recent Developments

Articles

Columns

Volume 4, Number 5, March/April 1993

Recent Developments

Articles

Columns

Volume 4, Number 4, Jan/Feb 1993

Recent Developments

Articles

Columns

1992

Volume 4, Number 3, Nov/Dec 1992

Recent Developments

Articles

Columns

Volume 4, Number 2, Summer 1992

Volume 4, Number 1, Spring 1992

Volume 3, Number 4, Winter 1992

1991

Volume 3, Number 3, Fall 1991

Volume 3, Number 2, Summer 1991

Volume 3, Number 1, Spring 1991

Volume 2, Number 4, Winter 1991
---