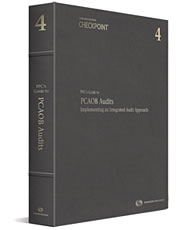 PPC's Guide to PCAOB Audits
Product Information
Brand:

Practitioners Publishing
PPC's Guide to PCAOB Audits is a time-tested, proven audit approach designed to perform a public company audit under PCAOB standards. The Guide is specifically tailored to meet PCAOB and SEC requirements, and it includes all the guidance and practice aids you need to perform both an integrated audit and a financial statement audit only.
PPC's Guide to PCAOB Audits is really more than a guide - it is a comprehensive service that keeps you up to date with the changing public company audit environment year-round. It includes two complete updates of the practice aids and text guidance each year (at mid-year and year-end), plus two comprehensive current development e-newsletters issued quarterly between Guide updates to cover current developments affecting your PCAOB audits.
The Guide provides detailed guidance and practice aids that address the  unique aspects of performing a PCAOB audit, including:?
Auditing internal control over financial reporting
SEC financial statement requirements under Regulation S-X and a combined SEC/GAAP financial statement disclosure checklist
SEC Regulation S-K disclosure requirements for other financial information, the auditor's responsibilities, and a disclosure checklist for other financial information in Form 10-K
Audit committee communications
Reporting under PCAOB standards
Performing interim reviews
Independence
Engagement quality review and partner rotation
Audit documentation and retention
Other PCAOB matters, including special audit issues, inspection results, and PCAOB registration and reporting