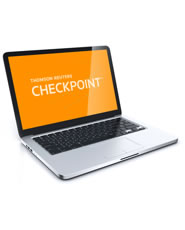 COSO Library

Get a comprehensive and powerful online solution to your financial compliance and internal control needs.
The COSO Library on Checkpoint is available as an add-on with a subscription to any RIA/WG&L product on Checkpoint.
COSO is dedicated to improving the quality of financial reporting through effective internal controls and corporate governance guidance for public companies and their auditors. Its internal control framework has been the standard followed by professionals in both public and private companies for years. For public companies, adoption of the COSO framework satisfies the SEC's criteria for implementing internal control standards, as mandated by the Sarbanes-Oxley Act.
By combining WG&L's renowned analysis of financial compliance topics with the COSO content on Checkpoint, you can comply with confidence and stay one step ahead in the ever-changing landscape of financial regulations.
Includes COSO's Internal Control - Integrated Framework (including Evaluation Tools) and Internal Control Issues in Derivatives Usage.
---