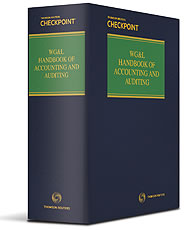 Handbook of Accounting and Auditing

Product Information
Frequency of Updates:




2 times/year

Brand:

WGL
The Handbook of Accounting and Auditing provides a well-rounded perspective on technical accounting issues in business.
You get encyclopedic guidance on accounting and auditing issues, with references to additional information in the professional literature produced by FASB, EITF, AICPA, SEC, and other related organizations.
In addition, there is accounting and auditing coverage for key industries, including financial services, construction, healthcare, not-for-profit, and media/entertainment. More than 16 chapters provide industryspecific accounting and auditing reviews.
---