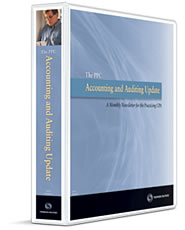 PPC's Accounting and Auditing Update

Product Information
Frequency of Updates:

Annually

Brand:

Practitioners Publishing
Each month, PPC's Accounting and Auditing Update delivers concise, timely articles that keep you informed without wasting your time. The Update consists of articles written in plain language that summarize new professional pronouncements and other changes in the profession and focus on what you need to know, when you need to know it.
The monthly Update includes coverage of hot topics that are important to your bottom line - from the rapidly changing standard-setting environment to ethics issues, to common audit concerns and financial statement pitfalls. The Update includes current developments relating to the following areas of interest to practitioners:
Accounting and financial reporting
Auditing and attestation
Compilation and review
Practice management and quality control
The SEC, PCAOB, and COSO
Accounting profession changes
In addition, the monthly Update includes the PPC Technology Update, a regular feature that provides information on the latest technology issues facing firms and practical tips on how to address them.
PPC's Accounting and Auditing Update Sample

View