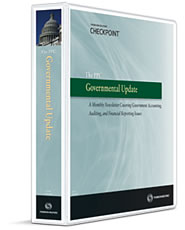 PPC's Governmental Update

Product Information
Frequency of Updates:

Annually

Brand:

Practitioners Publishing
Local government accounting professionals and auditors must stay aware of the constant changes affecting their specialized knowledge on governmental accounting and auditing. PPC's Governmental Update delivers up-to-the-minute information about government accounting, auditing, financial reporting, and single audits, assuring you that you will always be "in the know" - able to quickly respond to new requirements, avoid deficiencies, and manage your governmental practice to save time and increase profits! 
This newsletter delivers practical solutions to real problems and how-to guidance on applying new standards that affect you right now and in the future, such as coverage of:
All GASB standards, including exposure drafts and final statements.
All proposed and final changes to Government Auditing Standards, also known as the Yellow Book.
All proposed and final changes to the single audit requirements, including OMB Circular A-133, the Compliance Supplement, and the OMB cost circulars. 
Each month you get quick access to the most important ideas - not just a recitation of pronouncements, including highlighted tips to use right away.