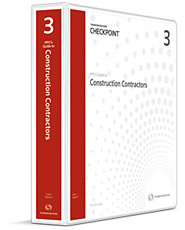 PPC's Guide to Construction Contractors

Product Information
Frequency of Updates:

Annually

Brand:

Practitioners Publishing
PPC's Guide to Construction Contractors combines discussions of authoritative GAAP, auditing, compilation, review, consulting, and tax requirements with "how-to" advice and specially tailored practice aids to help you provide a wide range of services to construction contractors. Although the chapters and practice aids were written with the independent CPA in mind, most of the Guide can be useful to both CPAs in public practice and industry accountants employed by construction contractors.

This Guide includes dozens of timesaving tools to help you comply with professional standards and peer review requirements. Plus, the practical suggestions from industry experts will help you efficiently and effectively serve your construction contractors. You'll get critical information and tools such as:
Answers to difficult accounting questions common to contractors
Guidance and complete practice aids for audit, compilation, and review engagements
Streamlined forms and checklists, including disclosure checklists
Confirmation, engagement, and management representation letters
Overview of contractor tax issues
Guidance on providing claim settlement and other consulting services
CPAs and accountants rely on guidance from our experts and PPC's Guide to Construction Contractors to provide a wide range of services to construction contractors.
 
List of Content (Click any title to expand the list)
TOC for CNC
INTRODUCTORY MATERIAL

PREFACE
PEER REVIEW OF THIS GUIDE
HOW TO USE THE GUIDE
ACKNOWLEDGMENTS
ACKNOWLEDGMENT OF COPYRIGHTS
ABOUT THE AUTHORS
LIST OF SUBSTANTIVE CHANGES AND ADDITIONS
CHAPTER 1: INDUSTRY OVERVIEW

100 CONTENT AND ORGANIZATION OF THIS GUIDE
101 INTRODUCTION

Scope of the Industry

The Role of the Accountant.

102 PARTICIPANTS IN THE CONSTRUCTION INDUSTRY

Owner
Design Professionals
Contractors

Highway Contractors.
Heavy Construction Contractors.
General Building Contractors.

Construction Manager
Developer-contractor

103 METHODS OF PROJECT CONSTRUCTION

Evolution of the Construction Industry
Traditional Bid Method

Description of the Traditional Bid Method.
Strengths and Weaknesses of the Traditional Bid Method.
Risk of the Traditional Bid Method to the Contractor.

Construction Management Approach

Description of the Construction Management Approach.
Strengths and Weaknesses of the Construction Management Approach.

Developer-contractor Approach

Description of the Developer-contractor Approach.
Range of Developer-contractor Services.

Summary

104 FORMS OF ORGANIZATION

Sole Proprietorships
Corporations
Noncorporate Ventures

Partnerships.
Taxation of Partnerships.
Undivided Interests.

Limited Liability Companies

General Tax Treatment.
Liability Considerations.
Accounting for LLCs.

Other Contractor Considerations

105 INVESTMENTS IN JOINT VENTURES

Advantages and Disadvantages of Joint Ventures

Financing.
Spreading of Risk.
Disadvantages.

Accounting for Investments in Joint Ventures

106 SERVICES PROVIDED BY CPAS

Traditional Services
Third Party Users
Level of Services

Surety Underwriters.
Contractor Licenses.
Lending Institutions.
Cost of the Engagement.

Independence

Performance of Nonattest Services.
General Activities That Impair Independence.
Tax Compliance Services.
Valuation, Appraisal, or Actuarial Services.
Forensic Accounting Services.
Extended Engagement and Internal Audit Assistance Services.
The Accountant's Ability to Perform the Requested Service.

Overview of Factors to Be Considered in Determining the Level of Service to Be Provided

107 CONSTRUCTION-RELATED ASSOCIATIONS
CHAPTER 2: CONSTRUCTION CONTRACTS

200 INTRODUCTION

Organization of This Chapter

201 CONTRACT DOCUMENTS

Bid Documents

Invitation to Bid.
Instructions to Bidders.
Bid Form.
Notice of Award.

Contract Agreement
General Conditions of the Contract
Project Plans
Addenda
Notice to Proceed

202 TYPES OF CONTRACTS

Lump-sum Contracts

Variations of the Lump-sum Contract.
AIA and Standard Lump-sum Contract.

Cost-plus Contracts

Calculating the Cost-plus Fee.
Standard Cost-plus Contract.

Other Standard Contracts

Advantages and Disadvantages of Standard Contracts.

Customized Contracts

Advantages and Disadvantages of Customized Contracts.

203 IMPORTANT CONTRACT CLAUSES

Change Orders
Changed Conditions
Retention (Retainage)
Claims
Alternative Dispute Resolution
Warranty
Bonds

Contract Bonds.
Types of Bonds.

Insurance

Workers' Compensation.
Public Liability.
Automobile Liability.
Excess Catastrophe Liability (Umbrella).
Builders' Risk.
Subcontractor Default.

Liquidated Damages
Extension of Time
Pay-when-paid
Termination Provisions
Contract Review

204 OBTAINING CONTRACT BONDS

Maintaining Contact with Bonding Agents and Sureties
Providing Information Needed by the Surety

Basic Financial Statements and Supplementary Schedules.
Interim Information.
Nonfinancial Statement Information.
Information about the Owners or Key Employees.

How Practitioners and Industry Accountants Can Help Contractors Secure Bonding

Developing Systems to Produce Timely and Accurate Records.
Analyzing Financial Statements.
Advising on the Impact of Proposed Transactions.

Options Available to Sureties When Contractors Do Not Fulfill Their Obligations under the Contract

Advantages and Disadvantages of the Finance Option.
Advantages and Disadvantages of the Takeover Option.
Advantages and Disadvantages of the Tender Option.
Advantages and Disadvantages of the Settlement Option.

Other Surety Considerations When Contractors Are Unable to Fulfill Contract Obligations

Surety Analysis.
Contract Considerations.
Business Considerations.

Practitioner and Industry Accountant Services Available When Contractors Do Not Fulfill Contract Obligations

Services Available to Contractors.
Providing Services to Sureties for Nonclient Contractors.
CHAPTER 3: ACCOUNTING FOR CONSTRUCTION CONTRACTS

300 OVERVIEW OF THE CHAPTER
301 GAAP FOR CONSTRUCTION CONTRACTORS

The FASB Accounting Standards Codification

The Organization of the Codification.
Changes to This Guide for the Codification.

What Is GAAP for Contractors?
Revenue Recognition Methods Used by Construction Contractors
Other Accounting Considerations Unique to Contractors

302 THE FINANCIAL REPORTING SYSTEM

Determining the Profit Center

General Rules for Combining Contracts.
General Rules for Segmenting Contracts.
Conclusion Regarding Combining and Segmenting Contracts.

Field Reports
Subsidiary Records
The General Ledger

The Direct P&L Approach.
The Construction-in-progress Approach.

Adjusting Financial Statements to a GAAP or Tax Basis

303 COST ACCUMULATION

GAAP Cost Accumulation Rules
Direct Costs

Direct Materials.
Leftover Materials.
Direct Labor.
Subcontractor Costs.
Other Direct Costs.

Indirect Costs
Other Cost Considerations

Costs in Cost-plus Contracts.
Equipment Costs.
Equipment Cost Pools.
Selling, General, and Administrative Expenses.
Precontract Costs.
Cost Adjustments Due to Back Charges.

Comparison of GAAP to Tax Cost Capitalization Rules

304 REVENUE RECOGNITION METHODS

Illustration of the Percentage-of-completion Method
Illustration of the Completed-contract Method
The Two Methods Contrasted
Percentage of Completion and Completed Contract Are Not Alternatives

Preferences Established by the Authoritative Literature.
Criteria for Reasonably Dependable Estimates.
Using Zero Profit Margin under the Percentage-of-completion Method.
When Completed Contract and Percentage of Completion Are Not Materially Different.

Does the Length of the Contract Affect the Method Chosen?
Departures from the Basic Revenue Recognition Policy
Deciding Which Method to Use for Interim Financial Reporting
Estimating Contract Costs and Revenues

Estimated Costs to Complete.
Estimated Total Contract Revenues.
Basic Contract Price.
Change Orders.
Options and Additions.
Claims Made by the Contractor against the Owner.

Provision for Anticipated Losses

Accrual of Anticipated Losses.
Revenue and Cost Recognition Issues Involving Loss Contracts.
Illustration Involving a Loss Contract.

Revenue Recognition--Joint Project of the FASB and IASB

305 THE PERCENTAGE-OF-COMPLETION METHOD

Determining the Percentage of Completion

Cost-to-cost Method.
Uninstalled Materials.
Conclusion Regarding the Determination of Percentage of Completion.

Determining Revenues and Costs to Be Recognized
Case Study Illustration

306 THE COMPLETED-CONTRACT METHOD

Determining the Point of Substantial Completion
Capitalization of General and Administrative Expenses

307 FINANCIAL STATEMENT CONSIDERATIONS

Deciding Whether to Present a Classified Balance Sheet

Operating Cycle of One Year or Less.
Operating Cycle Longer Than One Year.

Offsetting or Netting Amounts
Unique Disclosures for Construction Contractors
Supplementary Information That Is Sometimes Required
Derivative Instruments

Embedded Derivatives.
Disclosures.
Is a Construction Contract a Financial Instrument?
Weather Derivatives.

Fair Value Accounting Considerations

Recent Developments to Provide Further Guidance on Fair Value Measurements.
Pending Developments to Provide Further Guidance on Fair Value Measurements.
Common Fair Value Areas for Contractors.

Financial Guarantees

Recognition and Measurement Provisions.
Disclosure Provisions.

Environmental Cleanup Costs

Federal Environmental Laws.
Authoritative Literature.
Capitalization of Environmental Cleanup Costs.
Special Considerations for Construction Contractors.

Accruing Environmental Remediation Liabilities

Determining When to Accrue a Liability.
Estimating Environmental Remediation Costs.
Allocating Shared Costs among Responsible Parties.
Effect of Changes in Laws and Regulations.
Technology and Productivity Improvements.
Use of Discounting.
Claims for Recovery.
Effect on Property Impairment.

Impairment of Long-lived Assets

Classification of a Long-lived Asset.
Is an Impairment Assessment Necessary?
Assets to Be Held and Used or Held for Disposal Other Than by Sale.
Assets Held for Sale.

S Corporations

What Information Should Be Provided a Surety?
Illustrated Disclosures.

Discontinued Operations and Costs to Exit an Activity

Discontinued Operations.
Costs to Exit an Activity.
Disclosures.

Risks and Uncertainties

Nature of Operations.
Use of Estimates.
Certain Significant Estimates.
Should Construction Companies Using the Percentage-of-completion Method Always Include a Significant Estimate Disclosure?
Vulnerability Resulting from Concentrations.

Changes In Estimates
Comprehensive Income

Definition of Comprehensive Income.
Financial Statement Presentation Requirements.
Reclassification Adjustments.
Illustrative Financial Statement Presentation.
Disclosure Requirements.

Subsequent Events

Recognized (Type I).
Nonrecognized (Type II).
When Financial Statements are Issued and Available to be Issued.

Illustrated Notes to Financial Statements

308 INVESTMENTS IN VENTURES

Consolidation

Income Tax Considerations.

Variable Interest Entities

When to Consider Whether the Reporting Entity Has a Variable Interest in a Variable Interest Entity.
Other Considerations.
Determining Whether the Other Entity is a Variable Interest Entity.
Determining Whether the Reporting Entity Has a Variable Interest in a Variable Interest Entity.
Determining Whether Consolidation is Required.
Disclosures.
Effects of Applying This Guidance.
Construction Joint Ventures.
Applicability to Income Tax Basis Financial Statements.

Equity Method

Measurement Using the Equity Method.
An Example of Equity Calculations.
Expanded Equity Method.
Income Tax Considerations.

Cost Method
Prorata Combination
Summary of Accounting Methods for Investments in Ventures

309 ACCOUNTING FOR SIMILAR OPERATIONS

Accounting by Homebuilders

Income Recognition.
Construction Financing.
Points, Commitment Fees, and Closing Costs.
Financial Statements.

Applying Construction Contractor Accounting to Manufacturing Operations

310 COMMON PROBLEMS IN APPLYING CONTRACT ACCOUNTING RULES
APPENDIX 3A: Illustrative Financial Statements

APPENDIX 3A-1: Illustrative Financial Statements Contractor Using Percentage-of-completion Method
APPENDIX 3A-2: Illustrative Financial Statements Contractor Using Completed-contract Method
APPENDIX 3A-3: Illustrative Financial Statements--Homebuilder

APPENDIX 3B: Selected Notes to Financial Statements
APPENDIX 3C: Illustrated Field Report
CHAPTER 4: TAXATION OF CONSTRUCTION CONTRACTORS

400 INTRODUCTION

Changes in Tax Law and FASB Rules
An Overview of the Tax Law
Does the Taxpayer Have Any Long-term Contracts?
Are Any of the Contracts Manufacturing Contracts?
Were the Contracts Entered into after February 28, 1986?
Are Any of the Contracts Home Construction Contracts?

Home Construction Contracts That Meet the Small Contractor's Exemption.
Home Construction Contracts That Do Not Meet the Small Contractor's Exemption.

Manufacturing Contracts Are Not Allowed the Small Contractor's Exemption
Is the Small Contractor's Exemption Met?

Production Period Interest Must Be Capitalized.
Does the Small Contractor's Exemption Apply for Purposes of Alternative Minimum Tax (AMT)?
Is the Contract for Real Property?
The Exemption Does Not Apply to Manufacturing Contracts.

Has the Taxpayer Elected to Use the Percentage-of-completion Method?
Special 70/30 Rule for Residential Construction Contracts

AMT Is Computed Using the 100% PC Method.
Taxpayers with Exempt and Nonexempt Contracts within the Same Trade or Business.

Summary of IRC Sec. 460

How to Change to the Percentage-of-completion Method.
Tax Preparation Checklist.

Specific Applications of Accounting Rules for Long-term Contracts
More Detailed Tax Guidance for Contractors

401 IMPORTANT CONSIDERATIONS FOR SMALL CONTRACTORS

Methods of Accounting
The Completed-contract (CC) Method

When Is a Contract Completed?
Contract Disputes.
Cost Allocation Rules.
Is the Completed-contract Method a Good Choice?

The Percentage-of-completion (PC) Method (Old Rules)

Is the PC Method a Good Choice?

The Percentage-of-completion (PC) Method (IRC Sec. 460)
The Cash Method

Small Taxpayers Granted Relief.
Rev. Proc. 2002-28.
Availability of the Cash Method.
Recognition of Income and Expenses.
Fee Retainages.

The Accrual Method and Variations

When Is Income Earned under the Accrual Method?
When Are Expenses Incurred under the Accrual Method?
Overruns and Change Orders.
Fee Retainages.

The Hybrid Method
Alternative Minimum Tax and Look-back
Selection of an Accounting Method
When a Small Contractor Becomes a Large Contractor
Recap of the Rules for Small Contractors

402 ALLOCATION AND CAPITALIZATION OF COSTS

An Overview of the Cost Rules

Manufacturing and Home Construction Contracts.
Nonexempt Manufacturing Contracts.
Small Contractor's Exemption.
PC Taxpayers.
Simplified Cost-to-cost Method.

Costs to Be Capitalized

IRC Secs. 460(c) and 263A.
The Small Contractor's Cost Rules.
Simplified Cost-to-cost.
GAAP Allocation Rules.
Costs That Are Not Required to Be Capitalized.
Impact Fees.

Methods of Allocating Costs to Contracts

Production Period Interest.
Is Interest Capitalization Waived on Contracts of Less Than One Year or on Contracts with Costs under $1 Million?
Regulations Regarding Interest Capitalization.
Relationship of Tax Interest Rules to GAAP Interest Rules.
An Overview of the Interest Capitalization Rules.

Highway and Bridge Company--A Case Study

Background Information about HBC.
Workpaper Requirements.
Analytical Procedures before Work Begins.
Reconciliation of the General Ledger to the Detailed Cost Records.
Unrecorded Liabilities.
Overhead Allocation of Indirect Costs.
Production Period Interest.
Estimated Cost to Complete.
Summary.

403 THE PERCENTAGE-OF-COMPLETION METHOD

The Formula
The Formula Stated in Terms of Gross Profit
Total Contract Price
Total Contract Costs
Percentage-of-completion

Cost-to-cost Method.
Actual Contract Cost.
When Is an Actual Cost Incurred?
GAAP Requires Removal of Unused Material.
When Are Subcontractor Costs Included?

The Election to Use the 10% Method
An Illustration of the Percentage-of-completion Calculation
Comparisons of Taxable Income

404 SIMPLIFIED COST-TO-COST METHOD

When a Taxpayer Elects the Simplified Method, Do the Cost Allocation Rules in IRC Sec. 460(c) Still Apply?
The Formula for the Simplified Cost-to-cost Method

Should Percentage-of-completion Taxpayers Elect the Simplified Cost-to-cost Method?

405 PERCENTAGE OF COMPLETION-CAPITALIZED COST METHOD (PCCC)

Normal Method of Accounting
The PCCC Method Formula

The Accrual Method Must Be Used to Compute PC.
What Cost Allocation Rules Apply to the Normal Method of Accounting?

Illustration of the PCCC Method

406 CALCULATING CURRENT INCOME TAXES AND AMT

Computation of Regular Tax
Alternative Minimum Tax (AMT)

Exemption from AMT for Small Corporations.
Mandatory Percentage-of-completion Adjustment.
Computing AMT Percentage of Completion.
ACE Adjustment.

Illustrated AMT Calculations
The Final Current Tax Liability Is the Greater of Regular Tax or AMT
S Corporations and Partnerships
Losses
AMT Credit

407 LOOK-BACK

De Minimis (Small Contract) Exception
De Minimis Election
Simplified Marginal Impact Method

Mandatory and Elective Use.
Operation of SMIM.

Election to Use the 10% Method
Claims, Change Orders, Performance Bonuses, and Other Contingencies
Post-completion Revenue and Expenses

Delayed Application Rule.
Discounting.

Look-back Step One--Redetermination of Prior Year Gross Profit ("Hypothetical Contract Adjustment")
Look-back Step Two--Calculation of Hypothetical Over/Understatement of Tax
Look-back Step Three--Calculation of Look-back Interest
Look-back Calculations for Post-completion Adjustments
Filing Form 8697

Form 8697 Noncompliance Issues.

The Interest Refund/Expense Is a Taxable Item

408 ILLUSTRATED U.S. CORPORATION INCOME TAX RETURN
409 DEFERRED TAXES

Overview of GAAP Rules
Differences between Financial Reporting under GAAP and Income Tax Reporting

Permanent Differences.
Temporary Differences.

Temporary Differences Unique to Contractors
Which Rates to Use
Calculating the Deferred Tax Provision
Valuation Allowance

Positive and Negative Evidence.

Classified Balance Sheet
Accounting for Uncertain Tax Positions

The Effect on Current Tax Provisions.
The Effect on Deferred Tax Positions.
Uncertain Tax Positions Related to State Nexus.
New Guidance for Pass-through Entities.
Interest and Penalties.
Financial Statement Disclosures.

Illustration of Deferred Taxes on HBC

410 DOMESTIC PRODUCTION ACTIVITIES DEDUCTION

Qualified Production Activities (QPA)
Domestic Production Gross Receipts (DPGR)

What Are Gross Receipts?
De Minimis Gross Receipts.

Qualified Production Activities Income (QPAI)
Pass-through Entities
Accounting Issues

Impact on Deferred Taxes.

Example of the Calculation of the Qualifying Production Activities Deduction

411 OTHER TAX ISSUES FACING CONTRACTORS

Electing an Accounting Method
Changing an Accounting Method

Automatic Changes in Accounting Method.
Nonautomatic Changes in Accounting Method.
Sale or Other Disposition of Uncompleted Contracts.

Built-in Gains upon Conversion from C Corporation to S Corporation
Independent Contractor versus Employee

412 SMALL CONTRACTOR CASE STUDY

Background Information
Summary
CHAPTER 5: RISK ASSESSMENT PROCEDURES AND AUDIT PLANNING

500 INTRODUCTION AND AUTHORITATIVE LITERATURE

Authoritative Literature

Generally Accepted Accounting Principles.
Generally Accepted Auditing Standards.
Auditing Standards.
Quality Control Standards.
Clarity Project of the ASB.
Interpretive Publications.
Other Auditing Publications.

The Risk Assessment Standards
Organization of Chapter

501 PRE-ENGAGEMENT ACTIVITIES

Deciding Whether to Accept or Continue a Client

Ability to Accept Engagement.
Desirability of Engagement.
Deciding Whether to Retain an Existing Client.
Documenting Client Acceptance and Retention Decisions.

Establishing the Terms of the Engagement

502 AUDIT PLANNING

Objectives of Audit Planning
The Risk Assessment Process

Procedures Performed.
Understanding Obtained.
Decisions and Judgments Made.
Summary of Risk Assessment Process.

The Sequence of Audit Planning
Types of Risk Assessment Procedures

Nature, Timing, and Extent--General Considerations.
Gathering Other Information Needed to Identify Fraud Risks.
Using the Results of Risk Assessment Procedures Performed in Prior Periods.

Inquiries of Management and Others

Matters and Parties of Inquiry.
Fraud-related Inquiries.
Documentation.

Preliminary Analytical Procedures

Analytical Procedures Related to Revenue.
Profit Gain/Fade Analysis and Bid Spread Analysis.
Cash Flow Analysis by Contract.
Documentation.

Observation and Inspection
Discussion among the Engagement Team

Matters to Be Discussed.
Impact on Significant Audit Areas.
Who Should Attend the Discussion?
When Should the Discussion Occur?
Other Matters That May Be Discussed.
Documentation.

503 UNDERSTANDING THE CONTRACTOR AND ITS ENVIRONMENT

Components of the Understanding
Construction Entity, Industry, and Related Internal and External Factors

Types of Construction Projects.
Industry Economic Factors.
Contract Documents and Provisions.
Contract Disputes, Litigation, and Claims.
Other Factors.
Client Response to External Factors.

Industry Accounting Policies and Practices
Preliminary Review of Contracts Completed and in Progress
Fraud Risk Factors

Examples of Fraud Risk Factors.
Auditor's Considerations of Fraud Risk Factors.

504 CONSIDERATION OF FRAUD AND ILLEGAL ACTS UNIQUE TO CONTRACTORS

Types of Misstatements Caused by Fraud

Misstatement of Gross Profit on Contracts.
Omission of Other Revenue.
Misstatements Resulting from Misappropriation of Assets.

Detection of Illegal Acts
Fraud Consulting Services

505 THE UNDERSTANDING OF INTERNAL CONTROL

Components of Internal Control

Control Environment.
Risk Assessment.
Information and Communication.
Communication.
Monitoring.
Consideration of Internal Audit Function.
Control Activities.

Audit Procedures to Obtain an Understanding or Test Controls
Documentation

506 AUDIT PLANNING DECISIONS AND JUDGMENTS

Determining Materiality at the Financial Statement Level

Quantifying Planning Materiality.
Desirability of a Single Benchmark.
Recommended Benchmark.
Selecting a Percentage.
Audits of a Single Financial Statement.

Determining Materiality for Particular Items of Lesser Amounts
Determining Tolerable Misstatement
Trivial Misstatements
Differences from Approach to Materiality Judgments in a Small to Midsize Nonpublic Company

Impracticality of Using Audit Sampling.
Individually Significant Amounts.
Additional Materiality Concepts Needed for a Contractor Audit.

Materiality Worksheet for an Audit of a Construction Contractor
Using the Materiality Worksheet

Selection of Individually Significant Contracts.
Selection of Other Items.
Practice Issues in Using the Worksheet.

Assessing Risks of Material Misstatement at the Financial Statement Level

Responding to Risks at the Financial Statement Level.
Documentation.

Assessing Risks of Material Misstatement at the Relevant Assertion Level

The Audit Risk Model.
Risk of Material Misstatement.
Relevant Assertions.
Assessing the Risk of Material Misstatement at the Relevant Assertion Level.
Determining Significant Audit Areas.
Relative Significance to the Financial Statements.

Significant Risks in a Construction Contractor Audit

Significant Contract Risks.
Documenting Audit Risk Considerations.

Establishing an Overall Audit Strategy

Timing of Developing the Audit Strategy.
Communicating with Those Charged with Governance.
Documentation.

507 OVERALL TIMING OF ENGAGEMENT

Job Site Visits
Review of Contracts Completed and in Progress
Tests of Transactions for Costs Incurred

508 AUDIT SAMPLING

Audit Sampling for Tests of Transactions--General
Sample Size for Tests of Transactions
Sample Selection for Tests of Transactions

509 ESTIMATE OF AUDIT TIME AND BUDGET
510 SPECIAL CONSIDERATIONS IN AN INITIAL AUDIT

First Time Audit--No Predecessor
Prior Audit by a Predecessor
Audit Procedures for Initial Audits

511 SPECIAL CONSIDERATIONS FOR INTERIM REVIEWS

Standards and Conditions for Performing the Review

Definitions.
Applicability.
Is a Report Required?
Overall Objectives and Approach.

Interim Review Steps and Procedures

Assess Engagement Acceptance or Continuance.
Establish an Understanding with the Client.
Obtain or Update Knowledge of the Entity's Business and Internal Control.
Perform Analytical Procedures, Inquiries, and Other Review Procedures.
Obtain a Management Representation Letter.
Evaluate the Results of the Review Procedures Performed.
Communicate to Management and Those Charged with Governance.
Issue the Review Report, If Applicable.

Coordinating the Interim Review and Annual Audit
Practice Aids for an Interim Review

APPENDIX 5A: Illustration of a Completed "Contract Risk Assessment Summary Form" (CON-CX-7-1.1)
APPENDIX 5B: Examples of Common Tests of Controls for Construction Contractors
APPENDIX 5C: Common Control Objectives by Audit Area and Transaction Class
CHAPTER 6: AUDIT PROGRAMS AND PROCEDURES, AND CONCLUDING THE AUDIT

600 INTRODUCTION
601 DETAILED AUDIT PLANS--ORGANIZATION AND STRUCTURE

Determining the Audit Approach

Limited Procedures Approach.
Choosing between Core Audit Programs and Specified Risk Audit Programs.
Basic and Extended Approaches (Core).
Specified Risk Approach.
Documenting the Response.
Determining the Audit Approach for Contracts.

Organization of Audit Programs
Types of Substantive Procedures and Audit Strategies

Limited, Basic, and Extended Approaches.
Specified Risk Approach.

Other Audit Program Considerations

Can the Auditor Use a Combination of Core Audit Programs and Specified Risk Audit Programs?
Initial Audit Programs.

Documentation Requirements

602 CONTRACT BILLING AND COST-RELATED ACCOUNTS

Planning and Preparation

Financial Reporting System Considerations.
Preliminary Review of Contract Terms and Activity during the Period.

Contract Prices and Billings to Date
Contract Costs

Direct Costs Other Than Labor.
Direct Labor Costs.
Indirect Costs except Construction Period Interest.
Construction Period Interest.
Precontract Costs.

Revenue Recognition

Total Estimated Costs on Jobs in Progress.
Total Contract Price on Jobs in Progress.
Total Estimated Gross Profit on Jobs in Progress.
Loss Contracts.
Calculation--Completed-contract Method.
Calculation--Percentage-of-completion Method.

Workpapers

Calculation Workpaper.
Audit Program.

603 JOB SITE VISITS

Audit Objectives and Procedures for Job Site Visits
Determining the Number and Location of Sites to Visit

604 AUDIT WRAP-UP PROCEDURES

Commitments and Contingencies

Environmental Remediation Liabilities.
Financial Guarantees.

Risks and Uncertainties

Certain Significant Estimates.
Current Vulnerability Due to Concentrations.

Subsequent Events
Related Parties

VIEs.
Related Party Transactions and Fraud.

Going Concern Considerations

Proposed Accounting Standard on Going Concern.

Management Representation Letter

Audit Adjustments.
Materiality.

Considering the Accumulated Results of Audit Procedures

Reevaluating Risk Assessments.
Evaluating the Existence of Fraud.
Evaluating Significant Unusual Transactions.
Considering the Application of Significant Accounting Principles for Bias.
Documentation Requirements.

Analytical Procedures
Evaluation of Overall Materiality

605 CLIENT COMMUNICATIONS

Communicating Internal Control Related Matters

Definitions.
Examples of Deficiencies.
Identifying Control Deficiencies.
Evaluating Control Deficiencies.
Aggregation of Deficiencies.
Mitigating Effects of Compensating Controls.
Qualitative Considerations.
Prudent Official Test.
Control Deficiency Evaluation and Aggregation Worksheet.
Control Deficiency Comment and Management Point Development Worksheet.
Can the Auditor Draft the Financial Statements?
Communication Requirements.
Reporting When There Are No Significant Deficiencies.
Reporting When There Are No Material Weaknesses.
Illustrative Communications.

Additional Guidance on SAS No. 115
Communication with Those Charged with Governance

Matters to Be Communicated.
The Auditor's Responsibilities under GAAS.
Planned Scope and Timing of the Audit.
Significant Audit Findings.
Evaluation of the Adequacy of the Auditor's Communication.
Documentation of Communications.

Fraud and Illegal Acts

Communication about Possible Fraud and Illegal Acts.

Communication about the Entity's Ability to Continue as a Going Concern

606 AUDIT WORKPAPERS AND RELATED DOCUMENTATION

Support for Auditor's Report
Other Purposes of Workpapers
Basic Requirements for Content
Documenting Specific Items Tested and Other Procedures
Documenting the Identification of Preparer and Reviewer

Engagement Quality Control Review.

Documenting Significant Findings or Issues
Documenting Revisions after the Date of the Auditor's Report

Audit Report Date.
Report Release Date.
Documentation Completion Date.
Assembling and Completing the Audit File.
Making Changes to the Workpapers.
Audit Documentation Recommendations.

607 AUDIT REPORTS

Common Reasons for Other Than a Standard Report
Prequalification and Contractor License Applications
New Requirements When Reporting on Other or Supplementary Information

Additional Information in Documents Containing Audited Financial Statements (Other Than Required Supplementary Information).

APPENDIX 6A: Illustrative Auditor's Reports

APPENDIX 6A-1: Auditor's Report When Expressing a Qualified Opinion Because of a Departure from U.S. GAAP
APPENDIX 6A-2: Auditor's Report When Expressing a Qualified Opinion Because of a Scope Limitation
APPENDIX 6A-3: Auditor's Report with an Explanatory Paragraph Discussing the Company's Ability to Continue as a Going Concern
APPENDIX 6A-4: Auditor's Report Included in Prequalification and Contractor's Licensing Application When Schedules Are Reported on as Part of the Balance Sheet
APPENDIX 6A-5: Auditor's Report Included in Prequalification and Contractor's Licensing Application When Schedules Are Reported on as Supplementary Information
APPENDIX 6A-6: Auditor's Report Included in Prequalification and Contractor's Licensing Application Prepared in Accordance with a Regulatory Basis of Accounting

APPENDIX 6B: Audit Documentation Requirements
CHAPTER 7: COMPILATION AND REVIEW ENGAGEMENTS

700 INTRODUCTION

What Are Compilation and Review Engagements?
Organization of This Chapter

701 AUTHORITATIVE LITERATURE

Accounting Literature

Generally Accepted Accounting Principles.

Compilation and Review Literature
Engagement Conduct Standards
Quality Control Standards

702 PRE-ENGAGEMENT AND PLANNING ACTIVITIES

Evaluating Engagement Acceptance and Continuance

Management's Integrity and Reputation.
Communication with Predecessor Accountant.
Evaluating Risk Due to the Nature of the Engagement.
Evaluating Firm Competence, Capabilities, and Resources.
Compliance with Legal and Ethical Requirements.
Continuing Clients.
Engagement Acceptance Form.
Independence.

Evaluation of the Level of Service to Be Performed
Establishing Engagement Terms and Completing an Engagement Letter

Management-use-only Financial Statements.

Gaining Knowledge of the Client and Its Industry

Client Information Form.
The Trial Balance Preparation Checklist.
Income Tax Provision.

703 COMPILATION PROCEDURES

Compilation Performance Requirements

Other Accounting Services.
Actions Necessary When the Information Is Incorrect, Incomplete, or Otherwise Unsatisfactory.
Reading the Compiled Financial Statements.

Management-use-only Financial Statements
Checklists and Practice Aids

704 REVIEW PROCEDURES

Review Performance Requirements

Inquiries and Analytical Procedures.
Developing Expectations.
Documenting Expectations.
Appropriate Workpaper Documentation.
Use of Representation Letters.

Checklists and Practice Aids

705 WRAP-UP AND OTHER ENGAGEMENT ACTIVITIES

Documentation of Procedures

Disclosure Checklists.
Routing Instructions.
Procedures, Review, and Approval Forms.
Accounting and Engagement Issues.

Required and Suggested Workpapers for a Compilation of Third-party-use Financial Statements
Required and Suggested Workpapers for a Management-use-only Compilation Engagement
Required and Suggested Workpapers for a Review Engagement
Other Workpapers
Filing Instructions
Subsequent Discovery of Facts Existing at Date of Report
Communication of Fraud or Illegal Acts
Communication of Internal Control Related Matters

706 REPORTING ON COMPILED OR REVIEWED FINANCIAL STATEMENTS

Standard Reports

Required Elements of a Compilation Report Prior to the Implementation of SSARS No. 19.
Required Elements of a Compilation Report after the Implementation of SSARS No. 19.
Financial Statement Legends.
Illustrative Compilation Reports.
Required Elements of a Review Report Prior to the Implementation of SSARS No. 19.
Required Elements of a Review Report after the Implementation of SSARS No. 19.
Illustrative Review Reports.
Reference to Country of Origin.
Signature.

Interim Reporting
Reporting When the Statement of Cash Flows Is Omitted
Reporting on Prescribed Forms under SSARS No. 3
Reporting When There Are Departures from an OCBOA or GAAP
Reporting on Supplemental Financial Information

Supplementary Information Accompanying Compiled Financial Statements.
Supplementary Information Accompanying Reviewed Financial Statements.
Supplementary Information Presented Alone.

Reporting When Not Independent
Prequalification and Contractor License Applications

Compilations.
Reviews.
Schedules Included in Prequalification and Contractor License Application Filings.
Illustrative Accountant's Reports.

APPENDIX 7A: Illustrative Compilation Reports

APPENDIX 7A-1: Standard Compilation Report for a Corporation on the Accrual Basis (Prior to the Implementation of SSARS No. 19)
APPENDIX 7A-2: Standard Compilation Report with Compiled Supplementary Information Presented (Prior to the Implementation of SSARS No. 19)
APPENDIX 7A-3: Standard Compilation Report for a Corporation on the Accrual Basis (After the Implementation of SSARS No. 19)
APPENDIX 7A-4: Standard Compilation Report with Compiled Supplementary Information Presented (After the Implementation of SSARS No. 19)

APPENDIX 7B: Illustrative Review Reports

APPENDIX 7B-1: Standard Review Report for a Corporation on the Accrual Basis (Prior to the Implementation of SSARS No. 19)
APPENDIX 7B-2: Standard Review Report with Supplementary Information Covered by Review Procedures (Prior to the Implementation of SSARS No.19)
APPENDIX 7B-3: Standard Review Report with Supplementary Information Not Covered by Review Procedures (Prior to the Implementation of SSARS No. 19)
APPENDIX 7B-4: Standard Review Report for a Corporation on the Accrual Basis (After the Implementation of SSARS No. 19)
APPENDIX 7B-5: Standard Review Report with Supplementary Information Covered by Review Procedures (After the Implementation of SSARS No.19)
APPENDIX 7B-6: Standard Review Report with Supplementary Information Not Covered by Review Procedures (After the Implementation of SSARS No. 19)

APPENDIX 7C: Illustrative Prescribed Form Reports

APPENDIX 7C-1: Standard Prescribed Form Compilation Report Included in Prequalification and Contractor License Application Filings (Prior to the Conforming Changes for SSARS No. 19)
APPENDIX 7C-2: Standard Prescribed Form Compilation Report Included in Prequalification and Contractor License Application Filings (After the Conforming Changes for SSARS No. 19)
APPENDIX 7C-3: Prescribed Form Review Report Included in Prequalification and Contractor License Application Filings (Prior to the Implementation of SSARS No. 19)
APPENDIX 7C-4: Prescribed Form Review Report Included in Prequalification and Contractor License Application Filings (After the Implementation of SSARS No. 19)
CHAPTER 8: CONSULTING SERVICES

800 INTRODUCTION

Advertising Consulting Engagements

801 CONSULTING STANDARDS

Standards for Consulting Services

Independence and Consulting Services.

General Standards
Quality Control Standards and Peer Review Standards

802 OVERVIEW OF A SMALL BUSINESS CONSULTING PRACTICE
803 ENGAGEMENT INITIATION AND PLANNING

Identifying the Service Opportunity
Completing a Preliminary Survey
Obtaining an Understanding of the Company
Preparing an Engagement Plan and Budget
Preparing the Proposal

Basic Content of the Proposal.

Completing Engagement Acceptance Procedures
Presenting the Proposal
Starting the Engagement

804 ENGAGEMENT CONDUCT AND CONTROL

Developing Detailed Engagement Programs

Matters to Be Covered.
Determination of Staffing Requirements.

Collecting Data
Analyzing Data
Controlling Engagement Time
Meeting with Client
Assembling Workpapers

Objectives of Workpapers.
Extent of Documentation.
Documentation of the Consultant's Analytical Approach.
Legal Liability Considerations.

Preparing a Draft Report
Conferring with Client

805 ENGAGEMENT REVIEW, REPORTING, AND FOLLOW-UP

Engagement Review

Review of Workpapers.
Review of Report.
Engagement Review Checklist.

Report Approval and Production
Report Presentation and Distribution

Consulting Services Standards.
Report Format and Content.
Closing Letter.
Comprehensive Report.
Liability Considerations and Reporting.
Report Distribution.
Summary of Steps to Avoid Liability.

Engagement Follow-up

806 FINANCING SERVICES

Introduction
Practice Administration

Generating Engagements.
Staffing and Training.
Fee Considerations.

Determining the Client's Financing Needs

What Are the Funds Needed for?
How Much Funding Is Needed?
How Will the Funds Be Repaid?

What Costs Are Associated with Financing?
What Types of Financing Are Available?

Private Sources of Financing.
Short-term Financing.
Medium-term Financing.
Long-term Financing.
Choosing among Financing Alternatives.

Preparing a Financing Proposal

Proposal Summary.
Management Profiles.
Description of the Business.
Specific Information about the Loan Requested.
Company Financial Statements.
Personal Financial Statements of Guarantor.
Prescribed Forms.
Checklist of Contents for a Financing Proposal.

Negotiating the Financing

Guarantees.
CPA Participation in Negotiations.

Engagement Activities and Administration

Client Understanding--The Engagement Letter.
Detailed Engagement Work Program.
Representation Letter.
Reporting on a Financing Services Engagement.
Closing Letter.

807 CLAIM SETTLEMENT SERVICES

Introduction
Ways to Resolve Contractor Claims

Mediation.
Arbitration.
Combined Mediation/Arbitration.
Neutral Evaluation.
Other ADR Techniques.

Applicability of Remaining Guidance to Methods of Resolving Claims
Identifying Events or Conditions That May Result in Damages

Delays.
Disruption.
Changes in Scope.
Changed Conditions.
Termination.
Summary of Events or Conditions That May Cause Claims.
Other Considerations in Identifying Events or Conditions That May Result in Damages.

Calculating Contractor Damages

Total Cost Approach.
Modified Total Cost Approach.
Estimated Cost Approach.
Discrete Approach.
Labor and Labor-related Benefits/Burdens.
Equipment Use Costs.
Home Office Overhead.
Material and Supply Cost Overruns.
Field Office Overhead.
Profits or Markup on Direct Costs.
Revenue-based Costs.
Interest and Financing Costs.
Other Miscellaneous Costs.
Capturing and Documenting Costs.
Penalties for Submitting False Claims.

Engagement Activities and Administration

Characteristics of Claim Settlement Support Services That Affect Administration.
Staffing and Training.
Billing and Collection.
Generating Engagements.
Engagement Acceptance Considerations.
Engagement Letters.
Planning and Budgeting.
Written Reports.

APPENDIX 8A: Engagement Acceptance Form for Construction Contractors--Small Business Consulting
APPENDIX 8B: Construction Company Background Information Form--Small Business Consulting
APPENDIX 8C: Engagement Review Checklist for Construction Contractors--Small Business Consulting
APPENDIX 8D: Sample Engagement Letter for Construction Contractor Financing Services
APPENDIX 8E: Procedures and Reporting Checklist for Construction Contractor Financing Services
APPENDIX 8F: Data Collection Checklist for Construction Contractor Financing Services Engagements
APPENDIX 8G: Checklist of Contents for a Construction Contractor Financing Proposal
APPENDIX 8H: Sample Representation Letter for a Construction Contractor Financing Services Engagement
APPENDIX 8I: Transmittal Letter for a Construction Contractor Financing Proposal Accountants' Reports Included in Transmittal Letter
APPENDIX 8J: Closing Letter for a Construction Contractor Financing Proposal
APPENDIX 8K: Engagement Letter for Litigation Support Services--Drafting Form
APPENDIX 8L: Conflict of Interest Search Form
COMPILATION AND REVIEW PRACTICE AIDS (CON-CR)

CON-CR-1: Engagement Acceptance Form
CON-CR-2: Checklist for a Step-down Engagement (Audit to Review or Compilation/Review to Compilation)
CON-CR-3: Illustrative Engagement Letters

CON-CR-3.1: Illustrative Engagement Letter--Compilation
CON-CR-3.2: Illustrative Engagement Letter--Management-use-only Financial Statements
CON-CR-3.3: Illustrative Engagement Letter--Review

CON-CR-4: Client Information Form
CON-CR-5: Procedures, Review, and Approval Forms

CON-CR-5.1: Compilation Procedures, Review, and Approval Form
CON-CR-5.2: Compilation Procedures, Review, and Approval Form for Recurring Interim Engagements
CON-CR-5.3: Compilation Procedures, Review, and Approval Form for Management-use-only Financial Statements
CON-CR-5.4: Compilation Procedures, Review, and Approval Form for Recurring Interim Engagements to Provide Management-use-only Financial Statements
CON-CR-5.5: Review Procedures, Review, and Approval Form

CON-CR-6: Trial Balance Preparation Checklist
CON-CR-7: Inquiry and Analytical Procedures Forms

CON-CR-7.1: Inquiry and Analytical Procedures Program
CON-CR-7.2: Analytical Procedures Documentation Form

CON-CR-8: Reporting Checklists

CON-CR-8.1: Compilation Reporting Checklist
CON-CR-8.2: Review Reporting Checklist

CON-CR-9: Illustrative Representation Letter
CON-CR-10: Routing Instructions for Processing Financial Statements
FIRM POLICIES (CON-FP)

CON-FP-1: Audit Team Members
CHECKLISTS AND PRACTICE AIDS (CON-CX)
CON-CX-0.1: Application of Practice Aids to Engagements

CON-CX-1: Planning and Preliminary Engagement Activities

CON-CX-1.1: Engagement Acceptance Form
CON-CX-1.2: Engagement Continuance Form
CON-CX-1.3: ET Interpretation 101-3 Documentation Form

CON-CX-2: Financial Statement Materiality Worksheet for Planning Purposes
CON-CX-3: Understanding the Entity and Identifying Risks

CON-CX-3.1: Understanding the Entity and Identifying Risks
CON-CX-3.2: Engagement Team Discussion
CON-CX-3.3: Fraud Risk Inquiries Form
CON-CX-3.4: Audit Inquiries Summary Form

CON-CX-4: Understanding Internal Control

CON-CX-4.1: Understanding the Design and Implementation of Internal Control
CON-CX-4.2: Financial Reporting System Documentation Forms

CON-CX-4.2.1: Financial Reporting System Documentation Form--Significant Transaction Classes
CON-CX-4.2.2: Financial Reporting System Documentation Form--IT Environment and General Computer Controls

CON-CX-4.3: Walkthrough Documentation Table

CON-CX-5: Activity and Entity-level Control Forms

CON-CX-5.1: Entity-level Control Form for Control Environment
CON-CX-5.2: Entity-level Control Form for Risk Assessment
CON-CX-5.3: Entity-level Control Form for Information and Communication
CON-CX-5.4: Entity-level Control Form for Monitoring
CON-CX-5.5: Entity-level Control Form for General Computer Controls
CON-CX-5.6: Control Activities Form for Financial Close and Reporting
CON-CX-5.7: Control Activities Form for Cash
CON-CX-5.8: Control Activities Form for Accounts Receivable and Sales
CON-CX-5.9: Control Activities Form for Inventory
CON-CX-5.10: Control Activities Form for Property
CON-CX-5.11: Control Activities Form for Investments and Derivatives
CON-CX-5.12: Control Activities Form for Other Assets
CON-CX-5.13: Control Activities Form for Accounts Payable and Other Liabilities
CON-CX-5.14: Control Activities Form for Notes Payable and Long-term Debt
CON-CX-5.15: Control Activities Form for Income Taxes
CON-CX-5.16: Control Activities Form for Equity
CON-CX-5.17: Control Activities Form for Contract Billings and Cost-related Accounts
CON-CX-5.18: Control Activities Form for Income and Expenses (Other Than Contract Billings and Cost-related Accounts)

CON-CX-6: Identifying Risk

CON-CX-6.1: Entity Risk Factors
CON-CX-6.2: Fraud Risk Factors

CON-CX-7: Risk Assessment

CON-CX-7.1: Risk Assessment Summary Form

CON-CX-7.1.1: Contract Risk Assessment Summary Form

CON-CX-7.2: Inherent Risk Assessment Form

CON-CX-8: Planning Substantive Procedures

CON-CX-8.1: Planning Worksheet to Determine Extent of Substantive Procedures for Noncontract Accounts
CON-CX-8.2: Sampling Planning and Evaluation Form--Substantive Procedures for Noncontract Accounts
CON-CX-8.3: Sampling Worksheet for Testing Account Coding and Classifications

CON-CX-9: Analytical Procedures

CON-CX-9.1: Substantive Analytical Procedures Worksheet
CON-CX-9.2: Ratio Analysis Worksheet

CON-CX-10: Tests of Controls

CON-CX-10.1: Test of Controls Form
CON-CX-10.2: Test of Controls Sampling Planning and Evaluation Form

CON-CX-11: Other Checklists for Performing Further Audit Procedures

CON-CX-11.1: Inventory Counting Procedures
CON-CX-11.2: Confirmation Summary Form for Noncontract Accounts
CON-CX-11.3: Accounts Receivable Statistics Form
CON-CX-11.4: Not Used
CON-CX-11.5: Checklist for Determining Whether a Nonconstruction Contract Is a Derivative
CON-CX-11.6: Data Extraction Software Analysis Documentation Form
CON-CX-11.7: Construction Contractor's Tax Return Preparation Checklist
CON-CX-11.8: Percentage-of-completion Calculation Workpaper
CON-CX-11.9: Construction Contract Change Order Accounting Worksheet
CON-CX-11.10: Claims under Construction Contracts Accounting Worksheet
CON-CX-11.11: Construction Contract Options and Additions Accounting Worksheet
CON-CX-11.12: Investments in Joint Ventures by Construction Contractors Accounting Worksheet
CON-CX-11.13: Combining Construction Contracts Accounting Worksheet
CON-CX-11.14: Segmenting Construction Contracts Accounting Worksheet
CON-CX-11.15: Significant Contract Terms and Other Information

CON-CX-12: Evaluating Audit Differences

CON-CX-12.1: Closing Entry and Audit Adjustment Form
CON-CX-12.2: Audit Difference Evaluation Form

CON-CX-13: Disclosure Checklists

CON-CX-13.1: Disclosure Requirements for Financial Statements of Nonpublic Companies (Long-form Disclosure Checklist)
CON-CX-13.2: Additional Disclosures for Construction Contractors and Homebuilders

CON-CX-14: Supervision, Review, and Approval Form
CON-CX-15: Evaluating Internal Control Deficiencies

CON-CX-15.1: Control Deficiency Evaluation and Aggregation Worksheet
CON-CX-15.2: Control Deficiency Comment and Management Point Development Worksheet

CON-CX-16: Other Checklists for Concluding the Audit

CON-CX-16.1: Going Concern Checklist
CON-CX-16.2: Significant Estimates Identification Checklist
CON-CX-16.3: Concentrations Identification Checklist
CON-CX-16.4: Accounting and Engagement Issues

CON-CX-17: Engagement Administration

CON-CX-17.1: Client Billing Information
CON-CX-17.2: Engagement Status Report
CON-CX-17.3: Audit Time Summary
CON-CX-17.4: Confirmation and Correspondence Control
CONFIRMATION AND CORRESPONDENCE LETTERS (CON-CL)

CON-CL-1: Engagement Letters

CON-CL-1.1: Audit Engagement Letter
CON-CL-1.2: Engagement Letter Change Order Form
CON-CL-1.3: Resignation Letter--Drafting Form

CON-CL-2: Legal Letters

CON-CL-2.1: Request for Legal Representation--Lawyer Is Requested to Provide Information
CON-CL-2.2: Request for Legal Representation--Lawyer Is Requested to Confirm Information Provided by Client
CON-CL-2.3: Updating Request for Legal Representation

CON-CL-3: Management Representations

CON-CL-3.1: Management Representation Letter
CON-CL-3.2: Management Representation Letter When the Current Year Financial Statements Have Been Audited and the Prior Year Financial Statements Have Been Reviewed
CON-CL-3.3: Summary of Audit Differences
CON-CL-3.4: Updating Management Representation Letter

CON-CL-4: Internal Control Communications

CON-CL-4.1: Communication of Significant Deficiencies
CON-CL-4.2: Communication of Significant Deficiencies and Material Weaknesses
CON-CL-4.3: Communication of No Material Weaknesses in a Separate Report

CON-CL-5: Communications with Those Charged with Governance

Communication with those Charged with Governance during Planning
CON-CL-5.2: Communications with Those Charged with Governance at or Near the Conclusion of the Audit

CON-CL-6: Cash Confirmations and Letters

CON-CL-6.1: Standard Form to Confirm Account Balance Information with Financial Institutions
CON-CL-6.2: Receipt for Cash Counted by Auditor

CON-CL-7: Receivables Confirmations and Letters

CON-CL-7.1: Positive Accounts Receivable Confirmation Request--Itemized Statement Enclosed (See CON-CL-7.8 for Confirmation of Contract Receivables)
CON-CL-7.2: Positive Accounts Receivable Confirmation Request--Open Item (See CON-CL-7.8 for Confirmation of Contract Receivables)
CON-CL-7.3: Positive Accounts Receivable Confirmation Request--without a Statement (See CON-CL-7.8 for Confirmation of Contract Receivables)
CON-CL-7.4: Negative Accounts Receivable Confirmation Request (See CON-CL-7.8 for Confirmation of Contract Receivables.)
CON-CL-7.5: Blind Accounts Receivable Confirmation Request (See CON-CL-7.8 for Confirmation of Contract Receivables)
CON-CL-7.6: Confirmation Request for a Bill-and-hold Transaction
CON-CL-7.7: Confirmation of Note Receivable
CON-CL-7.8: Confirmation of Contract Billings, Accounts Receivable, and Retentions

CON-CL-8: Investments and Securities Confirmations and Letters

CON-CL-8.1: Receipt for Securities Counted by Auditor
CON-CL-8.2: Confirmation of Securities Held by Brokers
CON-CL-8.3: Confirmation of Securities Held by a Third Party

CON-CL-9: Inventory Confirmations and Letters

CON-CL-9.1: Confirmation of Inventories Held by a Third Party--Listing of Inventories Not Enclosed
CON-CL-9.2: Confirmation of Inventories Held by a Third Party--Listing of Inventories Enclosed

CON-CL-10: Payables and Debt Confirmations and Letters

CON-CL-10.1: Accounts Payable Confirmation (See CON-CL-10.8 for Confirmation of Subcontractor Accounts Payable and Retentions)
CON-CL-10.2: Note Payable Confirmation
CON-CL-10.3: Confirmation of Debt for Which No Written Loan Agreement Exists
CON-CL-10.4: Confirmation of Mortgage Debt
CON-CL-10.5: Confirmation of Compensating Balances
CON-CL-10.6: Confirmation of Line of Credit
CON-CL-10.7: Confirmation of Contingent Liabilities with Financial Institutions
CON-CL-10.8: Confirmation of Subcontractor Accounts Payable and Retentions

CON-CL-11: Defined Benefit Confirmations and Letters

CON-CL-11.1: Request for Defined Benefit Plan Information
CON-CL-11.2: Request for Plan Asset Information--Defined Benefit Pension and Other Postretirement Benefit Plans

CON-CL-12: Other Confirmations and Letters

CON-CL-12.1: Standard Confirmation Inquiry for Life Insurance Policies
CON-CL-12.2: Confirmation of Insurance Coverage (Except Life Insurance)
CON-CL-12.3: Confirmation of Lease Agreement
CON-CL-12.4: Related Party Confirmation
CON-CL-12.5: Data Request Letter
CON-CL-12.6: Client Assistance Request Letter

CON-CL-13: Predecessor/Successor Communications

CON-CL-13.1: Request for Predecessor Auditor to Release Information to Successor Auditor
CON-CL-13.2: Letter Granting Successor Auditors Access to Workpapers
CON-CL-13.3: Client Consent and Acknowledgment Letter
CON-CL-13.4: Communication with Predecessor Auditor Prior to Final Engagement Acceptance
CON-CL-13.5: Communication with Predecessor Auditor Prior to Engagement Proposal
CON-CL-13.6: Representation from Successor Auditor to Predecessor Auditor--Predecessor's Report Is Reissued

CON-CL-14: Principal and Other Auditor Communications

CON-CL-14.1: Request for Representations from Other Auditor Who Audits the Financial Statements of a Subsidiary, Division, or Branch
CON-CL-14.2: Request for Representations from Other Auditor Who Performs Audit Procedures on Certain Elements, Accounts, or Items in Financial Statements
CON-CL-14.3: Inquiry of Principal Auditor by Other Auditor
CON-CL-14.4: Principal Auditor's Response to Inquiries from Other Auditor
CON-CL-14.5: Letter from Principal Auditor to Other Auditors Regarding Related Parties
AUDIT PROGRAMS--CORE (CON-AP)

CON-AP-1: Audit Program for General Planning Procedures

Other General Planning Procedures

CON-AP-2: Audit Program for General Auditing and Completion Procedures

Other General Auditing and Completion Procedures

CON-AP-3: Audit Program for Cash
CON-AP-4: Audit Program for Accounts Receivable

Other Audit Procedures for Accounts Receivable

CON-AP-5: Audit Program for Inventory

Other Audit Procedures for Inventory

CON-AP-6: Audit Program for Inventory Observation

Other Audit Procedures for Inventory Observation

CON-AP-7: Audit Program for Property

Other Audit Procedures for Property

CON-AP-8: Audit Programs for Investments and Derivatives

Other Audit Procedures for Investments and Derivatives

CON-AP-9: Audit Program for Other Assets

Other Audit Procedures for Other Assets

CON-AP-10: Audit Program for Accounts Payable and Other Liabilities

Other Audit Procedures for Accounts Payable and Other Liabilities

CON-AP-11: Audit Program for Notes Payable and Long-term Debt
CON-AP-12: Audit Program for Income Taxes
CON-AP-13: Audit Program for Equity

Other Audit Procedures for Equity

CON-AP-14: Audit Program for Contract Billing and Cost-related Accounts

Other Audit Procedures for Contract Billing and Cost-related Accounts

CON-AP-15: Audit Program for Job Site Visits
CON-AP-16: Audit Program for Income Statement Accounts Other Than Contract Billings and Costs

Other Audit Procedures for Income Statement Accounts Other Than Contract Billings and Costs
AUDIT PROGRAMS--SPECIFIED RISK (CON-AP-S)

CON-AP-1-S: Audit Program for General Planning Procedures--Specified Risk
CON-AP-2-S: Audit Program for General Auditing and Completion Procedures--Specified Risk
CON-AP-3-S: Audit Program for Cash--Specified Risk
CON-AP-4-S: Audit Program for Accounts Receivable--Specified Risk
CON-AP-5-S: Audit Program for Inventory--Specified Risk
CON-AP-6-S: Audit Program for Inventory Observation--Specified Risk
CON-AP-7-S: Audit Program for Property--Specified Risk
CON-AP-8-S: Audit Program for Investments and Derivatives--Specified Risk Audit Program for Investments and Derivatives
CON-AP-9-S: Audit Program for Other Assets--Specified Risk Audit Program for Other Assets
CON-AP-10-S: Audit Program for Accounts Payable and Other Liabilities--Specified Risk
CON-AP-11-S: Audit Program for Notes Payable and Long-term Debt--Specified Risk
CON-AP-12-S: Audit Program for Income Taxes--Specified Risk
CON-AP-13-S: Audit Program for Equity--Specified Risk
CON-AP-14-S: Audit Program for Contract Billings and Cost-related Accounts--Specified Risk
CON-AP-15-S: Audit Program for Job Site Visits--Specified Risk
CON-AP-16-S: Audit Program for the Income Statement Accounts Other Than Contract Billings and Costs--Specified Risk
INITIAL AUDIT PROGRAMS (CON-IA)

CON-IA-1: Additional General Planning Procedures for an Initial Audit
CON-IA-2: Additional General Auditing and Completion Procedures for an Initial Audit
CON-IA-3: Additional Audit Procedures for Cash Beginning Balance in Initial Audit
CON-IA-4: Additional Audit Procedures for Accounts Receivable Beginning Balance in Initial Audit
CON-IA-5: Additional Audit Procedures for Inventory Beginning Balance in Initial Audit
CON-IA-6: Not Used
CON-IA-7: Additional Audit Procedures for Property Beginning Balance in Initial Audit
CON-IA-8: Additional Audit Procedures for Investments and Derivatives Beginning Balance in Initial Audit
CON-IA-9: Additional Audit Procedures for Other Assets Beginning Balance in Initial Audit
CON-IA-10: Additional Audit Procedures for Accounts Payable and Other Liabilities Beginning Balance in Initial Audit
CON-IA-11: Additional Audit Procedures for Notes Payable and Long-term Debt Beginning Balance in Initial Audit
CON-IA-12: Additional Audit Procedures for Income Taxes Beginning Balance in Initial Audit
CON-IA-13: Additional Audit Procedures for Equity Beginning Balance in Initial Audit
CON-IA-14: Additional Audit Procedures for Contract Billing and Cost-related Accounts Beginning Balance in Initial Audit
INTERIM REVIEW PRACTICE AIDS (CON-IR)

CON-IR-1: Audit Engagement Letter (Including Interim Reviews)
CON-IR-2: Interim Review Program
CON-IR-3: Interim Review Inquiries Checklist
CON-IR-4: Likely Misstatement Evaluation Form--Interim Review
CON-IR-5: Disclosure Requirements for Condensed Interim Financial Information of Nonpublic Businesses
CON-IR-6: Management Representation Letter--Interim Review
CON-IR-7: Supervision, Review, and Approval Form--Interim Review
Continuing Professional Education