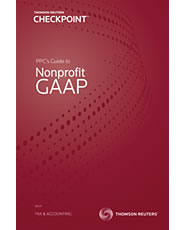 PPC's Guide to Nonprofit GAAP

Product Information
Frequency of Updates:

Annually

Brand:

Practitioners Publishing
The challenge of interpreting and implementing the authoritative literature comprising nonprofit GAAP is greater today than at any time in recent history. PPC's Guide to Nonprofit GAAP helps you meet that challenge.
The format of our Guide allows you to locate answers quickly and easily. You'll get:
Content that's arranged alphabetically in an easy-to-use topical format and provides in-depth coverage of the FASB Accounting Standards Codification (ASC) and recent Accounting Standards Updates affecting nonprofit organizations without requiring knowledge of the specific authoritative standards
Information that's included in the AICPA Audit and Accounting Guide, Not-for-Profit Entities
Guidance on the generally accepted accounting principles that all entities must follow from a nonprofit organization's perspective
Authoritative literature that applies to nonprofit organizations and provides references to the FASB ASC; we'll also alert you to new guidance that's soon to be applicable
A specialized disclosure checklist tailored just for nonprofit organizations. Our checklist will help you ensure you don't miss an important disclosure.
With its numerous examples and practical considerations, PPC's Guide to Nonprofit GAAP will help you confidently address almost every situation you might encounter in applying GAAP to nonprofit organizations.
List of Content (Click any title to expand the list)
INTRODUCTORY MATERIAL

PREFACE
PEER REVIEW OF THIS GUIDE
HOW TO USE THE GUIDE
ACKNOWLEDGMENTS
ABOUT THE AUTHORS . . .
NONPROFIT ORGANIZATION DEFINED
ACCOUNTING STANDARDS

Chapter 1: ACCOUNTING CHANGES AND ERROR CORRECTIONS

OVERVIEW
ACCOUNTING REQUIREMENTS

CHANGE IN ACCOUNTING PRINCIPLE

Definition of a Change in Accounting Principle

Circumstances That Are Not Changes in Accounting Principle.
Change in Components of Inventory Cost.
Changes Prescribed by New or Existing Accounting Standards.
Justifying Changes in Accounting Principles.

Accounting Treatment of a Change in Accounting Principle
Retrospective Application

Method of Application.
Impracticability.

Changes in Depreciation Method

Adopting a New Depreciation Method.
Planned Change in Depreciation Method.

Changes in Interim Periods

CHANGE IN ACCOUNTING ESTIMATE

Change in Salvage Value and Estimated Useful Life

CHANGE IN REPORTING ENTITY

Definition of a Change in Reporting Entity
Identifying a Change in Reporting Entity

PRIOR PERIOD ADJUSTMENTS

Adjustment Related to Prior Interim Periods of the Current Fiscal Year

DISCLOSURE REQUIREMENTS

ACCOUNTING CHANGES

Accounting Changes--Interim Periods
Future Accounting Changes

PRIOR PERIOD ADJUSTMENTS

Correction of an Error
Adjustment Related to a Prior Interim Period of the Current Fiscal Year

RELATED TOPICS

Chapter 2: ACCOUNTING POLICIES

OVERVIEW
DISCLOSURE REQUIREMENTS

SUMMARY OF SIGNIFICANT ACCOUNTING POLICIES

General Requirements
Applying the General Requirements
Specifically Required Accounting Policy Disclosures

RELATED TOPICS

Chapter 3: ACTIVITIES STATEMENT

OVERVIEW
ACCOUNTING REQUIREMENTS

COMPONENTS OF THE CHANGE IN NET ASSETS

Classifying Revenues, Expenses, Gains, and Losses

Revenues.
Expenses.
Gains and Losses.

Reclassifications

FINANCIAL STATEMENT PRESENTATION

Intermediate Measure of Operations
Sequencing of Components
Items Presented Separately

EXTRAORDINARY ITEMS

Examples of Items That Are Not Extraordinary Items
Statement of Activities Presentation
Adjustment of Prior Period Extraordinary Items

UNUSUAL OR INFREQUENT ITEMS
BUSINESS INTERRUPTION INSURANCE
COLLABORATIVE ARRANGEMENTS

DISCLOSURE REQUIREMENTS

FINANCIAL STATEMENT PRESENTATION
EXTRAORDINARY ITEMS
UNUSUAL OR INFREQUENT ITEMS
BUSINESS INTERRUPTION INSURANCE
COLLABORATIVE ARRANGEMENTS

RELATED TOPICS

Chapter 4: ADVERTISING

OVERVIEW
ACCOUNTING REQUIREMENTS

DIRECT-RESPONSE ADVERTISING
AMORTIZATION OF CAPITALIZED ADVERTISING COSTS
PERIODIC ASSESSMENT OF CAPITALIZED ADVERTISING COSTS
TANGIBLE ASSETS USED IN ADVERTISING
ADVERTISING BARTER TRANSACTIONS

DISCLOSURE REQUIREMENTS
RELATED TOPICS

Chapter 5: AGENCY TRANSACTIONS

OVERVIEW
ACCOUNTING REQUIREMENTS

DISTINGUISHING AGENCY TRANSACTIONS
REPORTING AGENCY TRANSACTIONS

Organizations Acting as Agents
Agent Organizations

Variance Power.
Presenting Information from Fund-raising Efforts.

Intermediary Organizations
Organizations That Are Financially Interrelated with Their Beneficiaries
Organizations Named as Beneficiaries
Reporting Other Transfers of Assets that Are Not Contributions
Transfers of Assets that Are Equity Transactions

DISCLOSURE REQUIREMENTS
RELATED TOPICS

Chapter 6: ASSET RETIREMENT AND ENVIRONMENTAL OBLIGATIONS

OVERVIEW
ACCOUNTING REQUIREMENTS

ASSET RETIREMENT OBLIGATIONS

Initial Recognition and Measurement of the Liability
Recognizing and Allocating Asset Retirement Cost
Subsequent Recognition and Measurement
Funding and Assurance Provisions

ENVIRONMENTAL REMEDIATION LIABILITIES

When to Accrue a Liability
Estimating Environmental Remediation Costs
Discounting Environmental Liabilities
Allocating Shared Costs among Responsible Parties
Claims for Recovery

DISCLOSURE REQUIREMENTS

ASSET RETIREMENT OBLIGATIONS
ENVIRONMENTAL REMEDIATION LIABILITIES

Accounting Policies
Accrued Liabilities
Unaccrued Contingencies
Unasserted Claims

RELATED TOPICS

Chapter 7: BUSINESS COMBINATIONS

OVERVIEW

BUSINESS COMBINATIONS
TRANSACTIONS BETWEEN ENTITIES UNDER COMMON CONTROL

ACCOUNTING REQUIREMENTS

BUSINESS COMBINATIONS

Types of Nonprofit Combinations

Definition of a Merger.
Definition of an Acquisition.

Distinguishing Between a Merger and an Acquisition
Accounting for a Merger under the Carryover Method

Recognizing and Measuring Assets and Liabilities in a Merger.
Financial Statement Presentation.

Accounting for an Acquisition under the Acquisition Method

Identifying the Acquirer.
Determining the Acquisition Date.
Recognizing Identifiable Assets Acquired, Liabilities Assumed, and Noncontrolling Interests.
Measuring Identifiable Assets Acquired, Liabilities Assumed, and Noncontrolling Interests.
Recognition and Measurement Exceptions.
Recognizing and Measuring Goodwill Acquired.
Recognizing and Measuring the Contribution Received.
Acquisitions Achieved in Stages.
Consideration Transferred in an Acquisition.
Measurement Period for an Acquisition.
Determining What Is Part of the Acquisition Transaction.
Accounting Subsequent to the Acquisition.
Financial Statement Presentation for an Acquisition.

TRANSACTIONS BETWEEN ENTITIES UNDER COMMON CONTROL

DISCLOSURE REQUIREMENTS

BUSINESS COMBINATIONS
TRANSACTIONS BETWEEN ENTITIES UNDER COMMON CONTROL

RELATED TOPICS

Chapter 8: CASH FLOWS STATEMENT

OVERVIEW
ACCOUNTING REQUIREMENTS

WHEN SHOULD THE STATEMENT BE PRESENTED?
DEFINITION OF CASH AND CASH EQUIVALENTS
BASIC ELEMENTS OF THE STATEMENT OF CASH FLOWS

Presenting Gross and Net Cash Flows

CASH FLOWS FROM OPERATING ACTIVITIES

What Is Included?
Formats for Presenting Cash Flows from Operating Activities

Direct Method.
Indirect Method.
Agency Transactions.

Extraordinary Items, Cumulative Accounting Adjustments, and Discontinued Operations
Other Adjustments to Arrive at Net Cash Flows from Operating Activities

CASH FLOWS FROM INVESTING ACTIVITIES

Noncash Investing Activities
Capital Expenditures
Collections Items
Contributions Donor-restricted for Long-term Purposes for Which Restrictions Are Not Yet Satisfied
Investments

Short-term Investments vs. Cash Equivalents.
Investments That Are Not Cash Equivalents.
Interest and Dividend Income.

Making Loans
Purchase (Sale) of a Subsidiary

CASH FLOWS FROM FINANCING ACTIVITIES

Noncash Financing Activities
Restricted Contributions
Restricted Investment Income
Short-term and Long-term Debt
Derivatives that Include a Financing Element

NONCASH INVESTING AND FINANCING ACTIVITIES

Assets Acquired by Assuming Liabilities
Gifts of Long-lived Assets
Issuance of Social or Country Club Membership Shares
Purchase (Sale) of a Subsidiary

EXAMPLE OF A STATEMENT OF CASH FLOWS

DISCLOSURE REQUIREMENTS
RELATED TOPICS

Chapter 9: COLLECTIONS

OVERVIEW
ACCOUNTING REQUIREMENTS

ALL COLLECTION ITEMS CAPITALIZED

Statement of Financial Position

COLLECTION ITEMS NOT CAPITALIZED

Statement of Activities
Statement of Financial Position
Statement of Cash Flows

COLLECTIONS CAPITALIZED PROSPECTIVELY

Statement of Financial Position

WORKS OF ART AND HISTORICAL TREASURES THAT ARE NOT COLLECTIONS

DISCLOSURE REQUIREMENTS
RELATED TOPICS

Chapter 10: COMMITMENTS

OVERVIEW
DISCLOSURE REQUIREMENTS

GENERAL
UNCONDITIONAL PURCHASE OBLIGATIONS

Unrecorded Unconditional Purchase Obligations
Recorded Unconditional Purchase Obligations

RELATED TOPICS

Chapter 11: COMPENSATION--GENERAL

OVERVIEW
ACCOUNTING REQUIREMENTS

COMPENSATED ABSENCES
DEFERRED COMPENSATION ARRANGEMENTS

DISCLOSURE REQUIREMENTS

COMPENSATED ABSENCES
DEFERRED COMPENSATION ARRANGEMENTS

RELATED TOPICS

Chapter 12: CONSOLIDATION

OVERVIEW
ACCOUNTING REQUIREMENTS

CONSOLIDATION PROCEDURES

Income Taxes

Consolidated Tax Return.
Separate Tax Returns.

Acquisition of Subsidiary during the Year
Disposition of Subsidiary during the Year
Deconsolidation of a Subsidiary or Derecognition of a Group of Assets
Fiscal Years of Parent and Subsidiaries (Affiliates) Differ
Noncontrolling Interests
Example of a Consolidation

COMBINED FINANCIAL STATEMENTS
PARENT ORGANIZATION STATEMENTS

DISCLOSURE REQUIREMENTS
RELATED TOPICS

Chapter 13: CONTINGENCIES

OVERVIEW
ACCOUNTING REQUIREMENTS

LOSS CONTINGENCIES

Contingencies Arising after the Financial Statement Date
Applying the Rules to Specific Loss Contingencies

Noncompliance with Donor Restrictions.
Potential Loss of or Pending Determination of Tax-exempt Status.
Uninsured Risks.
Expropriation of Assets.
Litigation, Claims, and Assessments.
Preacquisition Contingencies.

GAIN CONTINGENCIES
SUBSEQUENT EVENTS

DISCLOSURE REQUIREMENTS

LOSS CONTINGENCIES

Noncompliance with Donor Restrictions

GAIN CONTINGENCIES
SUBSEQUENT EVENTS

RELATED TOPICS

Chapter 14: CONTRIBUTIONS

OVERVIEW
ACCOUNTING REQUIREMENTS

DISTINGUISHING CONTRIBUTIONS FROM OTHER TRANSACTIONS

Agency Transactions
Exchange Transactions

MEASURING AND REPORTING CONTRIBUTIONS

Restricted Contributions
Expiration of Restrictions

Contributions Whose Restrictions Are Met in the Same Year.
Contributions with Two or More Temporary Restrictions.
Restricted Contributions Should Be Used First.

NONCASH CONTRIBUTIONS

Gifts-in-kind

Gifts of Inventory.
Gifts of Long-lived Assets.
Items Used for Fund-raising Purposes.

Contributed Services
Contributed Utilities or Use of Long-lived Assets
Beneficial Interests in Trusts

CONTRIBUTIONS MADE

DISCLOSURE REQUIREMENTS

ACCOUNTING POLICIES
CONTRIBUTED SERVICES
NONCOMPLIANCE WITH DONOR-IMPOSED RESTRICTIONS

RELATED TOPICS

Chapter 15: DEBT

OVERVIEW

OBLIGATIONS EXPECTED TO BE REFINANCED
CALLABLE OBLIGATIONS
PARTICIPATING MORTGAGE LOANS
PRODUCT FINANCING ARRANGEMENTS
MODIFICATIONS AND EXTINGUISHMENTS
TROUBLED DEBT RESTRUCTURINGS
INSURANCE-RELATED ASSESSMENTS

ACCOUNTING REQUIREMENTS

OBLIGATIONS EXPECTED TO BE REFINANCED
CALLABLE OBLIGATIONS

Subjective Acceleration Clauses

PARTICIPATING MORTGAGE LOANS

Accounting for Participation in the Mortgaged Asset's Appreciation
Interest Expense
Extinguishment of Participating Mortgage Loans

PRODUCT FINANCING ARRANGEMENTS

Characteristics of Product Financing Arrangements
Criteria for Treatment as a Product Financing Arrangement
Accounting for Product Financing Arrangements

MODIFICATIONS AND EXTINGUISHMENTS

Modifications to Line-of-credit Arrangements
Debt Extinguishments

TROUBLED DEBT RESTRUCTURINGS

Transfers of Assets in Full Settlement
Receipt of Equity Interest in Full Settlement
Modification of Terms
Combination of Types
Related Issues

Restructuring Costs.
Contingently Payable Amounts.

INSURANCE-RELATED ASSESSMENTS

Recognizing Insurance-related Assessments

Retrospective-premium-based Guaranty Fund Assessments.
Prospective-premium-based Guaranty Fund Assessments.
Prefunded-premium-based Guaranty Fund Assessments and Other Premium-based Assessments.
Loss-based Assessments.
Administrative-type Assessments.

Estimating Liabilities
Premium Tax Offsets and Policy Surcharges

DISCLOSURE REQUIREMENTS

LONG-TERM OBLIGATIONS--GENERAL
OBLIGATIONS EXPECTED TO BE REFINANCED
CALLABLE OBLIGATIONS
PARTICIPATING MORTGAGE LOANS
PRODUCT FINANCING ARRANGEMENTS
MODIFICATIONS AND EXTINGUISHMENTS
TROUBLED DEBT RESTRUCTURINGS
INSURANCE-RELATED ASSESSMENTS

RELATED TOPICS

Chapter 16: DERIVATIVES AND HEDGING

OVERVIEW
ACCOUNTING REQUIREMENTS

WHAT ARE DERIVATIVES?

Contracts Not Subject to the Guidance in This Chapter
Embedded Derivatives

FAIR VALUE HEDGES

Accounting for Fair Value Hedges

Hedge Ineffectiveness.
Foreign Currency Fair Value Hedges.

Illustration of Accounting for a Fair Value Hedge
Impairment

FOREIGN CURRENCY HEDGES OF A NET INVESTMENT IN A FOREIGN OPERATION

DISCLOSURE REQUIREMENTS
RELATED TOPICS

Chapter 17: EXCHANGE TRANSACTIONS

OVERVIEW
ACCOUNTING REQUIREMENTS

REVENUE RECOGNITION FOR EXCHANGE TRANSACTIONS

Receivables from Exchange Transactions
Deferred Revenue
Recognizing Revenue When a Right of Return Exists

REVENUE RECOGNITION FOR CONSTRUCTION CONTRACTS

Percentage-of-completion Method
Completed-contract Method
Selection of Method
Contract Claims
Provision for Anticipated Losses
Statement of Financial Position Accounts

DISCLOSURE REQUIREMENTS

EXCHANGE TRANSACTIONS
CONSTRUCTION CONTRACTS

General
Contract Claims
Percentage-of-completion Method
Completed-contract Method

RELATED TOPICS

Chapter 18: EXIT OR DISPOSAL COST OBLIGATIONS

OVERVIEW
ACCOUNTING REQUIREMENTS

RECOGNITION AND MEASUREMENT

One-time Termination Benefits

Not Required to Render Service.
Required to Render Service.
Changes to the Plan.
Voluntary and Involuntary Benefits.

Contract Termination Costs
Other Associated Costs

REPORTING

DISCLOSURE REQUIREMENTS
RELATED TOPICS

Chapter 19: EXPENSES--OTHER

OVERVIEW
ACCOUNTING REQUIREMENTS

START-UP COSTS
INSURANCE COSTS

General Rule
Retroactive Contracts
Claims-made Insurance Policies

Claims-Made Insurance Policies that Represent Purchased Retroactive Insurance Contracts.

Multiple-Year Retrospectively Rated Contracts

PROPERTY TAXES
BUSINESS AND TECHNOLOGY REENGINEERING

DISCLOSURE REQUIREMENTS
RELATED TOPICS

Chapter 20: FAIR VALUE MEASUREMENTS

OVERVIEW
ACCOUNTING REQUIREMENTS

FAIR VALUE MEASUREMENTS AFTER THE EFFECTIVE DATE OF ASU 2011-04

The Definition of Fair Value

The Assets or Liabilities.
The Transaction.
Market Participants.
The Price.
Nonfinancial Asset Valuation Considerations.
Liability Valuation Considerations.
Measurement Exception for Financial Assets and Financial Liabilities with Offsetting Positions in Market Risks or Counterparty Credit Risk.

Initial Recognition
Valuation Techniques
Valuation Inputs and the Fair Value Hierarchy

Level 1 Inputs.
Level 2 Inputs.
Level 3 Inputs.
Bid and Ask Prices.
Investments in Entities That Calculate Net Asset Value Per Share.

Inactive Markets

FAIR VALUE MEASUREMENTS BEFORE THE EFFECTIVE DATE OF ASU 2011-04

The Definition of Fair Value

The Assets or Liabilities.
The Price.
The Market.
Market Participants.
Asset Valuation Considerations.
Liability Valuation Considerations.

Initial Recognition
Valuation Techniques
Valuation Inputs and the Fair Value Hierarchy

Level 1 Inputs.
Level 2 Inputs.
Level 3 Inputs.
Bid and Ask Prices.
Investments in Entities That Calculate Net Asset Value Per Share.

Inactive Markets

DISCLOSURE REQUIREMENTS

FAIR VALUE MEASUREMENTS AFTER THE EFFECTIVE DATE OF ASU 2011-04
FAIR VALUE MEASUREMENTS BEFORE THE EFFECTIVE DATE OF ASU 2011-04
INVESTMENTS IN ENTITIES THAT CALCULATE NET ASSET VALUE PER SHARE
OTHER DISCLOSURES

RELATED TOPICS

Chapter 21: FINANCIAL INSTRUMENTS

OVERVIEW

FAIR VALUE OPTION
FINANCIAL INSTRUMENT DISCLOSURES

ACCOUNTING REQUIREMENTS

WHAT ARE FINANCIAL INSTRUMENTS?
FAIR VALUE OPTION

Nature and Objective of the Fair Value Option
Eligible Items
Applying the Fair Value Option

Election Dates.
Application to Instruments.

Insurance Contracts

DISCLOSURE REQUIREMENTS

CONCENTRATIONS OF CREDIT RISK

Financial Instruments Excluded from Concentrations of Credit Risk Disclosure Requirements
Optional Disclosures about Market Risk

FAIR VALUE OF FINANCIAL INSTRUMENTS

Financial Instruments Excluded from Fair Value Disclosure Requirements

FAIR VALUE OPTION

RELATED TOPICS

Chapter 22: FOREIGN CURRENCY MATTERS

OVERVIEW
ACCOUNTING REQUIREMENTS

OBJECTIVES

Functional Currency

Changing the Functional Currency.

TRANSLATING FOREIGN CURRENCY STATEMENTS

Remeasuring the Books of Record into the Functional Currency

Applying Lower of Cost or Market Rules to Remeasured Inventory.

Translating Foreign Currency Statements into the Reporting Currency
Foreign Entities in Highly Inflationary Economies

FOREIGN CURRENCY TRANSACTIONS

Certain Transaction Gains and Losses
Hedges of Firm Commitments

INCOME TAX CONSIDERATIONS
ELIMINATION OF INTRA-ENTITY PROFITS

DISCLOSURE REQUIREMENTS
RELATED TOPICS

Chapter 23: FUNCTIONAL REPORTING

OVERVIEW
ACCOUNTING REQUIREMENTS

PROGRAM SERVICE EXPENSES
SUPPORTING SERVICES EXPENSES

Payments to Related Local and National Organizations

ALLOCATING EXPENSES TO MORE THAN ONE FUNCTION
STATEMENT OF ACTIVITIES
STATEMENT OF FUNCTIONAL EXPENSES

DISCLOSURE REQUIREMENTS
RELATED TOPICS

Chapter 24: FUND ACCOUNTING

OVERVIEW
ACCOUNTING REQUIREMENTS
DISCLOSURE REQUIREMENTS
RELATED TOPICS

Chapter 25: FUND-RAISING AND JOINT ACTIVITIES

OVERVIEW
ACCOUNTING REQUIREMENTS

FUND-RAISING EXPENSES
COSTS OF ACTIVITIES THAT INCLUDE FUND-RAISING

Joint Activities
Incidental Activities
Allocation Methods

CONTRIBUTED ITEMS USED FOR FUND-RAISING PURPOSES
REPORTING SPECIAL EVENTS

DISCLOSURE REQUIREMENTS
RELATED TOPICS

Chapter 26: GUARANTEES

OVERVIEW
ACCOUNTING REQUIREMENTS

CONTRIBUTIONS
RESIDUAL VALUE GUARANTEES

DISCLOSURE REQUIREMENTS
RELATED TOPICS

Chapter 27: INCOME TAXES

OVERVIEW
ACCOUNTING REQUIREMENTS

NONPROFIT ORGANIZATION TAXATION

Unrelated Business Income Taxes
Federal Excise Taxes on Investment Income
Income Taxes on For-profit Subsidiaries

SUMMARY OF THE PROVISION FOR UNRELATED BUSINESS INCOME TAXES
IDENTIFYING TEMPORARY DIFFERENCES

Taxable vs. Deductible Temporary Differences

MEASURING DEFERRED TAX ASSETS AND LIABILITIES

Selecting a Tax Rate

Selecting a Tax Rate When Graduated Rates Are a Significant Factor.
Selecting a Tax Rate When Special Rates Apply.
Special Considerations When Tax Losses Are Expected during the Reversal Period.
Should Federal Alternative Minimum Tax Rates Be Considered?
Changes in Future Tax Rates.

Considering the Need for a Deferred Tax Asset Valuation Allowance

CALCULATING THE INCOME TAX PROVISION
FINANCIAL STATEMENT PRESENTATION

Classified Statements of Financial Position

Offsetting Assets and Liabilities.

Sequenced Statements of Financial Position
Intraperiod Tax Allocation

Allocating the Tax Benefits of Loss Carrybacks and Carryforwards.

SPECIAL AREAS

Federal Excise Taxes on Investment Income
Loss of Tax-exempt Status
Multiple Tax Jurisdictions
Discounting Deferred Taxes
Temporary Differences Whose Reversal Is Indefinite
Separate Financial Statements of an Affiliate
Interim Period Financial Statements

Changes in Tax Rates or New Tax Legislation.
Uncertainty in Income Taxes.

Accounting for Investment Tax Credits

UNCERTAINTY IN INCOME TAXES

DISCLOSURE REQUIREMENTS
RELATED TOPICS

Chapter 28: INTANGIBLES--GOODWILL AND OTHER

OVERVIEW
ACCOUNTING REQUIREMENTS

WHAT ARE INTANGIBLE ASSETS?
INTANGIBLE ASSETS OTHER THAN GOODWILL

Valuing Purchased or Internally Developed Intangibles

Purchased Intangibles.
Internally Developed Intangibles.

Accounting for Intangible Assets

Intangible Assets Subject to Amortization.
Intangible Assets Not Subject to Amortization.
Accounting for Impairment.
Intangible Assets Acquired in a Nonprofit Acquisition.

GOODWILL

Accounting for Goodwill

Determining the Reporting Unit.
Two-step Goodwill Impairment Test.
Testing by a Subsidiary.
Testing When a Noncontrolling Interest Exists.
Testing after Disposal of All or a Portion of a Reporting Unit.

ACCOUNTING FOR WEBSITE DEVELOPMENT COSTS

Planning the Website
Developing the Applications and Infrastructure
Developing Graphics
Developing Content
Operating the Site

DISCLOSURE REQUIREMENTS

INTANGIBLE ASSETS OTHER THAN GOODWILL
GOODWILL

RELATED TOPICS

Chapter 29: INTEREST

OVERVIEW

CAPITALIZED INTEREST
IMPUTED INTEREST

ACCOUNTING REQUIREMENTS

CAPITALIZED INTEREST

Why Capitalize Interest Costs?
Qualifying Assets
Determining the Amount of Interest Cost to Capitalize

Capitalization Period.
Capitalization Rate.
Average Accumulated Expenditures.
Considerations for Consolidated Entities.

Financing Qualifying Assets with Tax-exempt Borrowings

An Example with Tax-exempt Borrowings.

IMPUTED INTEREST

Determining the Appropriate Interest Rate
Discount and Premium

Amortization.
Financial Statement Presentation.

Illustration

DISCLOSURE REQUIREMENTS

CAPITALIZED INTEREST
IMPUTED INTEREST
STATEMENT OF CASH FLOWS

RELATED TOPICS

Chapter 30: INTERIM REPORTING

OVERVIEW
ACCOUNTING REQUIREMENTS

REVENUE AND EXPENSE RECOGNITION
INVENTORIES
CHANGES IN ACCOUNTING PRINCIPLES
ADJUSTMENTS RELATED TO PRIOR INTERIM PERIODS

DISCLOSURE REQUIREMENTS

DISCLOSURES FOR ACCOUNTING CHANGES AND ERROR CORRECTIONS

RELATED TOPICS

Chapter 31: INVENTORY

OVERVIEW
ACCOUNTING REQUIREMENTS

DEFINITION
INVENTORY VALUATION
IDENTIFYING PRODUCT COSTS

Methods Used to Charge Inventory to Cost of Sales or Other Expense
Lower of Cost or Market Rule
Stating Inventories above Cost
Donated Inventories

LOSSES ON FIRM PURCHASE COMMITMENTS
CONSIGNED INVENTORIES

DISCLOSURE REQUIREMENTS
RELATED TOPICS

Chapter 32: INVESTMENTS--DEBT AND EQUITY SECURITIES

OVERVIEW
ACCOUNTING REQUIREMENTS

RECOGNITION AND MEASUREMENT
GAINS AND LOSSES
CLASSIFYING GAINS AND LOSSES FROM DONOR-RESTRICTED ENDOWMENT FUNDS
INCOME AND EXPENSES

Investment Income
Investment Expenses

POOLING OF INVESTMENTS
INVESTMENT REVENUE RECORDED ON A TOTAL RETURN BASIS

DISCLOSURE REQUIREMENTS
RELATED TOPICS

Chapter 33: INVESTMENTS--EQUITY METHOD AND JOINT VENTURES

OVERVIEW
ACCOUNTING REQUIREMENTS

CRITERIA FOR USING THE EQUITY METHOD

Investments in In-substance Common Stock
Investments in Partnership Interests

Interests in Real Estate Entities.

APPLYING THE EQUITY METHOD

Accounting for Investee Losses When an Organization Has Other Investments in the Investee
Differences in Fiscal Years
Changing to or from the Equity Method
Investee Capital Transactions

DISCLOSURE REQUIREMENTS
RELATED TOPICS

Chapter 34: INVESTMENTS--OTHER

OVERVIEW
ACCOUNTING REQUIREMENTS

OTHER INVESTMENTS

Recognition and Measurement

Fair Value Option.
Cost Method Investments.
Institutions of Higher Education.
Voluntary Health and Welfare Organizations.
Other Nonprofit Organizations.

LIFE INSURANCE
INVESTMENTS IN LIFE SETTLEMENT CONTRACTS

DISCLOSURE REQUIREMENTS

LIFE INSURANCE
INVESTMENTS IN LIFE SETTLEMENT CONTRACTS

RELATED TOPICS

Chapter 35: LEASES

OVERVIEW

CLASSIFYING LEASES
ACCOUNTING FOR LEASES--LESSEES
ACCOUNTING FOR LEASES--LESSORS
OTHER LEASE TRANSACTIONS

ACCOUNTING REQUIREMENTS

TYPES OF LEASES

Classifying Leases--Lessees

Ownership Transfer Test.
Bargain Purchase Option Test.
The 75% Test.
The 90% Test.

Classifying Leases--Lessors

ACCOUNTING FOR LEASES--LESSEES

Capital Leases
Operating Leases

Contributed Use of Long-lived Assets in Lease-type Situations.
Contingent Rentals.
Right to Control the Use of the Asset Is Equivalent to Physical Use.
Lease Incentives.

Maintenance Deposits

ACCOUNTING FOR LEASES--LESSORS

Sales-type Leases
Direct Financing Leases
Operating Leases

Incentive Payments by Lessors.
Contingent Rentals.
Losses on Operating Leases.

CHANGES, EXTENSIONS, AND TERMINATIONS

Changes in Lease Provisions

Lessee Accounting.
Lessor Accounting.

Renewals and Extensions

Original Lease Contains a Guarantee or Penalty.
Original Lease Does Not Contain a Guarantee or Penalty.
Classifying Renewals or Extensions as Sales-type Leases.

Terminations
Changes in Estimates or Circumstances

TRANSFER OF LEASED PROPERTY, RENTAL PAYMENTS, OR RESIDUAL VALUE INTERESTS

Transfer of Leased Property or Rental Payments

Subject to Sales-type or Direct Financing Lease.
Subject to Operating Lease.

Acquisition of Residual Value Interest

LEASES INVOLVING REAL ESTATE

Leases Involving Land Only
Leases Involving Land and Buildings

Lease Transfers Ownership or Contains a Bargain Purchase Option.
Lease Does Not Transfer Ownership or Contain a Bargain Purchase Option.

Leases Involving Land, Buildings, and Equipment
Leases Involving Only Part of a Building

RELATED PARTY LEASES
SUBLEASES AND SIMILAR TRANSACTIONS

New Lessee Substituted through a New Agreement
New Lessee Substituted Under the Original Agreement--New Lessee Primarily Obligated
New Lessee Substituted Under the Original Agreement--Original Lessee Primarily Obligated (Sublease)

Original Lease Was an Operating Lease.
Original Lease Was a Capital Lease.

Losses on Subleases

BUSINESS COMBINATIONS
LEASES WITH GOVERNMENTAL ENTITIES

Fiscal Funding Clauses
Property Owned by a Governmental Unit or Authority

MONEY-OVER-MONEY LEASE TRANSACTIONS
SALE-LEASEBACK TRANSACTIONS

Purchaser-lessor Accounting
Seller-lessee Accounting

Sale-leaseback Transactions Involving Real Estate.

WRAP LEASE TRANSACTIONS
LEASES AND ASSET RETIREMENT OBLIGATIONS

DISCLOSURE REQUIREMENTS

GENERAL DISCLOSURES ABOUT LEASES
SALE-LEASEBACK TRANSACTIONS

RELATED TOPICS

Chapter 36: MEMBERS' EQUITY

OVERVIEW
ACCOUNTING REQUIREMENTS

CONTRIBUTED CAPITAL

Capital Stock

Mandatorily Redeemable Ownership Interests.

Additional Paid-in Capital
Stock Subscriptions Receivable
Treasury Stock

Acquiring Treasury Stock at a Price Significantly in Excess of Market Price.

DISCLOSURE REQUIREMENTS

CAPITAL STOCK

Mandatorily Redeemable Ownership Interests

CHANGES IN CAPITAL ACCOUNTS

RELATED TOPICS

Chapter 37: NET ASSETS

OVERVIEW
ACCOUNTING REQUIREMENTS

TEMPORARILY RESTRICTED NET ASSETS
PERMANENTLY RESTRICTED NET ASSETS
UNRESTRICTED NET ASSETS
PRESENTATION OF NET ASSETS

DISCLOSURE REQUIREMENTS
RELATED TOPICS

Chapter 38: NONMONETARY TRANSACTIONS OTHER THAN CONTRIBUTIONS

OVERVIEW
ACCOUNTING REQUIREMENTS

ACCOUNTING FOR NONMONETARY TRANSACTIONS

Exchanges Facilitating Sales to Customers or that Lack Commercial Substance
Nonreciprocal Transfers to Owners
Fair Value Not Determinable

DISCLOSURE REQUIREMENTS
RELATED TOPICS

Chapter 39: POSTEMPLOYMENT BENEFITS

OVERVIEW
ACCOUNTING REQUIREMENTS
DISCLOSURE REQUIREMENTS
RELATED TOPICS

Chapter 40: PRESENTATION OF FINANCIAL STATEMENTS

OVERVIEW
ACCOUNTING REQUIREMENTS

A COMPLETE SET OF FINANCIAL STATEMENTS

Reporting Endowment Funds

COMPARATIVE FINANCIAL STATEMENTS
DISCONTINUED OPERATIONS

Disposal of a Component of an Entity
Allocation of Interest to Discontinued Operations
Allocation of Overhead to Discontinued Operations
Long-lived Asset or Disposal Group Classified as Held for Sale

GOING CONCERN

DISCLOSURE REQUIREMENTS

GENERAL
COMPARATIVE FINANCIAL STATEMENTS
DISCONTINUED OPERATIONS

Disposal of a Component of an Entity
Assets Sold or Held For Sale

GOING CONCERN

RELATED TOPICS

Chapter 41: PROMISES TO GIVE

OVERVIEW
ACCOUNTING REQUIREMENTS

CONDITIONAL PROMISES TO GIVE

Intentions to Give
Conditions Met in Stages

UNCONDITIONAL PROMISES TO GIVE

Initial Recognition and Measurement of Unconditional Promises to Give

Promises to Give Due Within One Year.
Measuring the Fair Value of Promises to Give Cash.
Measuring the Fair Value of Promises to Give Noncash Assets.
Using Present Value Techniques to Measure Fair Value of Promises to Give.
Unconditional Promises to Give the Use of Long-lived Assets.

Subsequent Measurement of Long-term Unconditional Promises to Give

Changes in Quantity or Nature of Assets Expected to Be Received.
Changes in the Fair Value of Underlying Noncash Assets.

UNCONDITIONAL PROMISES TO GIVE TO OTHERS

DISCLOSURE REQUIREMENTS

CONDITIONAL PROMISES TO GIVE
UNCONDITIONAL PROMISES TO GIVE
UNCONDITIONAL PROMISES TO GIVE TO OTHERS

RELATED TOPICS

Chapter 42: PROPERTY, PLANT, AND EQUIPMENT

OVERVIEW
ACCOUNTING REQUIREMENTS

LONG-LIVED ASSETS, DEPRECIATION, AND IMPAIRMENT

Asset Cost

Contributions of Long-lived Assets.

Depreciation

Collections.
Estimated Useful Life.
Salvage Value.
Depreciation Methods.

Impairment or Disposal of Long-lived Assets

Assets to Be Held and Used.
Assets to Be Disposed of Other Than by Sale.
Long-lived Assets to Be Disposed of by Sale.

REAL ESTATE SALES (OTHER THAN RETAIL LAND SALES)

Scope
Methods of Accounting

Full Accrual Method.
Deposit Method.
Cost Recovery Method.
Installment Method.
Reduced Profit Method.
Percentage-of-completion Method.

Determining the Appropriate Method of Accounting

All Criteria for Revenue Recognition Have Been Met.
Sale Has Not Been Consummated.
Initial Investment Does Not Qualify.
Continuing Investment Does Not Qualify.
Receivable Subject to Future Subordination.
Seller Has Continuing Involvement.

DISCLOSURE REQUIREMENTS

LONG-LIVED ASSETS, DEPRECIATION, AND IMPAIRMENT

Long-lived Assets and Depreciation
Impairment
Assets Held For Sale

REAL ESTATE SALES (OTHER THAN RETAIL LAND SALES)

Installment Method
Cost Recovery Method
Deposit Method

RELATED TOPICS

Chapter 43: REAL ESTATE

OVERVIEW
ACCOUNTING REQUIREMENTS

RETAIL LAND SALES

Recognizing Gains from Retail Land Sales

Full Accrual Method.
Percentage-of-completion Method.
Installment Method.
Deposit Method.

DISCLOSURE REQUIREMENTS
RELATED TOPICS

Chapter 44: RECEIVABLES--OTHER

OVERVIEW
ACCOUNTING REQUIREMENTS

GENERAL

Uncollectible Receivables

LOAN IMPAIRMENT

When Is a Loan Impaired?
Measuring Impairment

Using the Expected Cash Flows Method to Measure the Loan.

Recognizing Income on Impaired Loans

DISCLOSURE REQUIREMENTS

GENERAL

Nonaccrual and Past Due Receivables
Allowance for Credit Losses Related to Loans
Credit Quality Information

LOAN IMPAIRMENT

RELATED TOPICS

Chapter 45: RELATED ENTITIES

OVERVIEW
ACCOUNTING REQUIREMENTS

OWNERSHIP INTERESTS IN FOR-PROFIT ENTITIES

Controlling Financial Interest

Control of Limited Partnerships and Similar Entities.
Special-purpose-entity Lessors.

Less Than a Majority Voting Interest

Reporting Interests at Fair Value.

INTERESTS IN NONPROFIT ORGANIZATIONS

Controlling Financial Interest
Economic Interest and Control

Economic Interest and Control through Majority Voting Interest in the Board.
Economic Interest and Control by Other Means.

DISCLOSURE REQUIREMENTS
RELATED TOPICS

Chapter 46: RELATED PARTY DISCLOSURES

OVERVIEW
DISCLOSURE REQUIREMENTS

DEFINITION OF A RELATED PARTY
DISCLOSURES

RELATED TOPICS

Chapter 47: REORGANIZATIONS

OVERVIEW
ACCOUNTING REQUIREMENTS

ACCOUNTING FOR A QUASI-REORGANIZATION
ACCOUNTING FOR OPERATIONS AFTER A QUASI-REORGANIZATION

DISCLOSURE REQUIREMENTS
RELATED TOPICS

Chapter 48: RESEARCH AND DEVELOPMENT

OVERVIEW
ACCOUNTING REQUIREMENTS

DEFINITION OF RESEARCH AND DEVELOPMENT ACTIVITIES
ACCOUNTING FOR RESEARCH AND DEVELOPMENT COSTS

Research and Development Assets Acquired in Business Combinations
Computer Software Costs

Software Purchased or Developed for Internal Use.
Software Purchased or Developed to Be Sold, Leased, or Otherwise Marketed.

RESEARCH AND DEVELOPMENT ARRANGEMENTS

Obligation Is a Liability to Repay the Other Parties
Obligation Is to Perform Contractual Services
Loans or Advances to the Other Parties

DISCLOSURE REQUIREMENTS
RELATED TOPICS

Chapter 49: RETIREMENT BENEFITS

OVERVIEW

DEFINED BENEFIT PLANS
DEFINED CONTRIBUTION PLANS

ACCOUNTING REQUIREMENTS

TYPES OF PLANS
ACCOUNTING FOR DEFINED BENEFIT PENSION PLANS

Recognizing Net Periodic Pension Cost

Service Cost.
Interest Cost.
Actual Return on Plan Assets.
Amortization of Prior Service Cost or Credit.
Gains and Losses.
Amortization of Net Transition Obligation or Asset.

Recognition of Liabilities and Assets

Measurement Date.
Annuity Contracts.
Business Combinations.

Employers with More Than One Defined Benefit Plan
Settlements and Curtailments of Defined Benefit Pension Plans

Settlements.
Curtailments.

Termination Benefits

ACCOUNTING FOR POSTRETIREMENT BENEFITS OTHER THAN PENSIONS

Determining the Net Periodic Postretirement Benefit Cost and Obligation

Service Cost.
Interest Cost.
Actual Return on Plan Assets.
Amortization of Prior Service Cost or Credit.
Gains and Losses.
Amortization of Net Transition Obligation or Asset.
Retrospective Adjustments.

Recognition of Liabilities and Assets

Measuring Plan Assets.
Insurance Contracts.
Measurement Date.
Business Combinations.

Employers with More Than One Defined Benefit Postretirement Plan
Settlements and Curtailments of Defined Benefit Postretirement Plans

Settlements.
Curtailments.

Termination Benefits
Accounting Related to the Medicare Prescription Drug, Improvement and Modernization Act of 2003

ACCOUNTING FOR DEFINED CONTRIBUTION PLANS
MULTIEMPLOYER PLANS
MULTIPLE-EMPLOYER PLANS
FOREIGN PLANS

DISCLOSURE REQUIREMENTS

DEFINED BENEFIT PENSION AND POSTRETIREMENT PLANS

Disclosure Requirements for Public Entities
Reduced Disclosure Requirements for Nonpublic Entities

MEDICARE PRESCRIPTION DRUG, IMPROVEMENT AND MODERNIZATION ACT OF 2003
DEFINED CONTRIBUTION PLANS
MULTIEMPLOYER BENEFIT PLANS

Disclosure Requirements for Years Ending on or before December 15, 2012
Disclosure Requirements for Employers That Participate in Multiemployer Plans That Provide Pension Benefits--Years Ending after December 15, 2012
Disclosure Requirements for Multiemployer Plans That Provide Postretirement Benefits Other Than Pensions--Years Ending after December 15, 2012

RELATED TOPICS

Chapter 50: RISKS AND UNCERTAINTIES

OVERVIEW
DISCLOSURE REQUIREMENTS

NATURE OF ACTIVITIES DISCLOSURES
USE OF ESTIMATES IN THE PREPARATION OF FINANCIAL STATEMENTS
CERTAIN SIGNIFICANT ESTIMATES
CURRENT VULNERABILITY DUE TO CERTAIN CONCENTRATIONS

RELATED TOPICS

Chapter 51: SPLIT-INTEREST AGREEMENTS

OVERVIEW
ACCOUNTING REQUIREMENTS

REVOCABLE SPLIT-INTEREST AGREEMENTS
IRREVOCABLE SPLIT-INTEREST AGREEMENTS

Initially Recording the Agreement
Recording Changes in Value during the Agreement Term
Accounting for the Termination of the Agreement
Common Types of Split-interest Agreements
Charitable Lead Trusts

Third Party Is Trustee.
Organization Is Trustee.
Organization Holds the Assets and There Is an Embedded Derivative.
Separately Accounting for the Debt Host and the Embedded Derivative.
Election to Measure the Obligation to the Noncharitable Beneficiary at Fair Value.

Charitable Remainder Trust

Third Party Is Trustee.
Organization Is Trustee.
Organization Holds the Assets and There Is an Embedded Derivative.

Charitable Gift Annuity
Pooled (Life) Income Fund

DISCLOSURE REQUIREMENTS

FINANCIAL STATEMENT PRESENTATION
DISCLOSURES

RELATED TOPICS

Chapter 52: STATEMENT OF FINANCIAL POSITION

OVERVIEW
ACCOUNTING REQUIREMENTS

THE STATEMENT OF FINANCIAL POSITION
CURRENT ASSETS AND CURRENT LIABILITIES

Current Assets
Current Liabilities

OFFSETTING ASSETS AND LIABILITIES

Offsetting Securities against Taxes Payable
Offsetting Derivative Instruments

Master Netting Arrangements.

Offsetting Receivables and Payables from Repurchase and Reverse Repurchase Agreements
Other Circumstances

DISCLOSURE REQUIREMENTS

FINANCIAL STATEMENT PRESENTATION
OFFSETTING ASSETS AND LIABILITIES
ADDITIONAL DISCLOSURES FOR FISCAL YEARS BEGINNING ON OR AFTER JANUARY 1, 2013

RELATED TOPICS

Chapter 53: TRANSFERS AND SERVICING

OVERVIEW
ACCOUNTING REQUIREMENTS

DEFINITION OF A FINANCIAL ASSET
TRANSFERS OF FINANCIAL ASSETS

Conditions for a Sale of Financial Assets
Accounting for Transfers of Financial Assets
Accounting for Transfers of Participating Interests
Agreements That Maintain Effective Control Over Transferred Assets
Financial Assets Subject to Prepayment
Transfers of Receivables with Recourse
Transfers of Leased Property or Rental Payments under Sales-type or Direct Financing Leases

ACCOUNTING FOR SECURED BORROWINGS
ACCOUNTING FOR SERVICING ASSETS AND LIABILITIES

DISCLOSURE REQUIREMENTS
RELATED TOPICS
NONPROFIT ORGANIZATION DISCLOSURE CHECKLIST
CROSS-REFERENCE TO FASB ACCOUNTING STANDARDS CODIFICATION
CROSS-REFERENCE TO AUTHORITATIVE STANDARDS
Guide to Nonprofit GAAP Sample

View