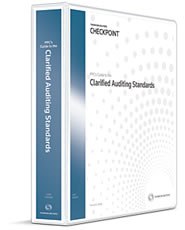 PPC's Guide to the Clarified Auditing Standards

Product Information
Frequency of Updates:




Annually

Brand:

Practitioners Publishing
The AICPA's clarified auditing standards are now effective for all audit engagements and those standards include more than just new terminology - they include new requirements. PPC's Guide to the Clarified Auditing Standards provides a roadmap to the new standards with detailed guidance and practical answers to help you sort out the significant changes that will affect your audit practice. The Guide explains each audit requirement and highlights differences from the previous standards. It also includes the following features:
Illustrative reports and other communications, with comparisons to prior reports and communications
Details of new terminology and how it changes current audit practice
Explanations of group audits and component auditors
Answers to common practitioner questions
PPC's Guide to the Clarified Auditing Standards is also an excellent tool for training your staff on the new requirements.
Clarified Auditing Standards

INTRODUCTORY MATERIAL

Chapter 1 Introduction

Chapter 2 General Principles and Responsibilities

Chapter 3 Risk Assessment and Response to Assessed Risks

Chapter 4 Audit Evidence

Chapter 5 Using the Work of Others

Chapter 6 AUDIT CONCLUSIONS AND REPORTING

Chapter 7 Special Considerations

Chapter 8 Special Considerations in the U.S.

INDEX

--A--

--C--

--D--

--E--

--F--

--G--

--I--

--L--

--M--

--O--

--P--

--Q--

--R--

--S--

--T--

--U--
---