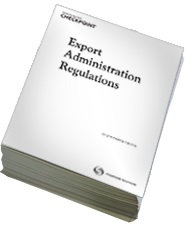 Export Regulations (EAR)

Export Administration Regulations
Required text for exporter's compliance.
A compilation of official regulations and policies governing the export licensing of commodities and technical data.
Online edition
Includes all updates free while subscription is active.
Print edition
Looseleaf Pages
2 Heavy Duty 4"" D-Ring Binders (not included in looseleaf purchase)
Laminated indexing tabs with section numbers for easy reference (not included in looseleaf purchase)
Free* government-published updates
Anticipated government release in December prior to, or January of, edition date
*Supplements will be included at this price. However, for any re-prints (comprising more than 50% of the original), such as those caused by new FTA's, Boskage reserves the right to update the publication with CD-ROM only."
---