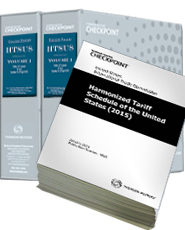 Harmonized Tariff Schedule of the U.S. (HTSUS) [2017]
The essential government-issued import tariff manual for use in classifying imported merchandise for rates of duty, quota, restrictions, and special programs. Source material for the Customs Broker License Exam.
Trust Boskage to provide you with the most timely delivery of the HTSUS. Order the HTSUS in print and we will send you an exclusive HTSUS CD-ROM. This disc will give you a complete electronic replication of the book for use with your printed edition. There is no additional cost to you - it's just another advantage of choosing Boskage.
Online edition
Includes all updates Free while subscription is active.
Print edition
Looseleaf Pages.
2 Heavy Duty 4" D-Ring Binders (not included in looseleaf purchase).
Laminated indexing tabs with section numbers for easy reference (not included in looseleaf purchase).
Free CD-ROM.
Free* government-published updates.
Released in January or February of edition date.

*Supplements will be included at this price. However, for any re-prints (comprising more than 50% of the original), such as those caused by new FTA's, Boskage reserves the right to update the publication with CD-ROM only.
Note: This is not the edition used for taking the Customs Broker Exam.
---