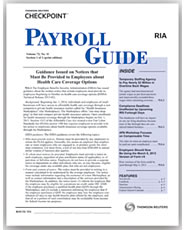 Payroll Guide Newsletter

Product Information
Frequency of Updates:




Twice a month

Brand:

Research Institute of America
A must-read periodical for the dedicated payroll practitioner.
Hands down, the best newsletter in the industry--entertaining, insightful, and comprehensive in its coverage of federal, state, and local payroll developments and trends, Payroll Guide Newsletter features extensive, in-depth coverage of hard payroll news, commentary and advice from top experts.
You will receive thorough coverage of superior court cases and administrative rulings and interpretations with timely updates. Here is everything you need to keep up-to-date with the rapidly changing world of payroll compliance.
Each issue of Payroll Guide Newsletter delivers in-depth news stories, news briefs, a Q&A section, court and agency ruling summaries, state payroll-related legislative and regulatory highlights, and "Payroll Sense," which is a regular contribution from a guest payroll expert offering practical compliance or other task-related advice.
Payroll Guide Newsletter Sample

View
---