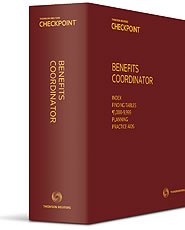 Benefits Coordinator

Product Information
Frequency of Updates:




Twice a month

Brand:

Research Institute of America
To properly design, revise, implement, and administer non-pension employee benefits plans requires a high level of expertise. The seven-volume Benefits Coordinator provides you with the high level of expertise needed to succeed. The Coordinator includes a comprehensive analysis of everything you need to know about employee welfare benefit plans, including health care reform, COBRA, family and medical leave, fringe benefits, and more. 
The Coordinator is efficiently organized on a benefit-by-benefit basis, with all applicable rules expertly analyzed for each subject area. Search aids quickly guide you to what you need to know about group health insurance, cafeteria plans, and other non-pension benefits. The Coordinator includes:
In-depth analysis of the Internal Revenue Code, ERISA, regs, rulings, cases, and other developments
Reprints of relevant provisions of the Code, ERISA, and regulations
Full-text reproductions of government rulings and releases
Model welfare benefit plan documents
Sample forms, checklists, clauses, and other valuable aids
Summaries of state laws affecting employee benefit plans, including mandated benefits and time off requirements
The Benefit Coordinator's biweekly supplementation, and the accompanying Pension and Benefits Week weekly newsletter will keep you apprised of new developments and serve as a one-stop reference service.
List of Content (Click any title to expand the list)
Partial Table of Contents:
Topic Index
Finding Tables
Planning Practice Aids
Benefits Covered: Health Insurance and Health Care; Life Insurance; Death; Dependent Care; Education; Legal Services; Time Off
Tax, ERISA, and Other Laws Generally Governing Benefits
ERISA Administration, Compliance and Termination
Benefit Plans and Clauses
Applicable Primary Source Materials
---