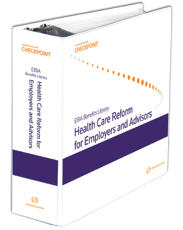 EBIA Health Care Reform for Employers and Advisors
Written and edited by experienced employee benefits attorneys, EBIA Health Care Reform is your essential partner for employer plan compliance, and provides up-to-date expert analysis of the key requirements that affect employers, advisors, and insurers. It features in-depth coverage of legal requirements and information critical to effective decision-making - with examples, tables, implementation timelines, sample documents, and practical tips that will help you comply with the myriad of complex rules. You'll get guidance on:
Which employer plans are subject to health care reform and related mandates, and which benefits are excepted. Special rules for grandfathered health plans, plus noncompliance consequences.
Various plan design and administration reforms, plus fees and other tax rules for both employer plans and insurers.
Which employers are subject to the employer shared responsibility penalty (also referred to as the "play or pay" penalty). Understanding "eligible employer-sponsored plans" and the "minimum value" and "affordability" conditions for avoiding the penalty.
Penalty for individuals who do not have health insurance (also referred to as the "individual mandate"). How Exchanges and the individual mandate impact employers (including required notices, reporting, and the relationship to employer shared responsibility penalty).
And much more.
The online edition is updated monthly to keep pace with evolving ACA rules and requirements.
In addition, subscribers to the online edition will get access to primary source material including:
ERISA
ERISA History
Advance Notices of Proposed, Interim & Final DOL Rules
DOL Final Regulations and Interim Rules
Preambles to DOL Final Regulations and Interim Rules
DOL Proposed Regulations & Preambles
Selected US Code Provisions
Selected US Code Provisions History
Selected Final Federal Regulations
Preambles to Selected Final Federal Regulations
Selected Proposed Federal Regulations & Preambles
Other Selected Tax Documents & Releases
ERISA Opinion Letters
DOL Rulings & Releases
Other Miscellaneous Nontax Releases
Internal Revenue Code (1990 - present)
Code History
Final and Temporary Regulations
Advanced Notices of Proposed Rulemaking & Treasury Decisions
Prior Final and Temporary Regulations (Treasury Decisions)
Preambles to Final and Temporary Regulations (Treasury Decisions)
Preambles to Proposed Treasury Regulations (Treasury Decisions)
Prior Proposed Regulations & Preambles
Proposed Regulations and Preambles
IRS Publications
EBIA Committee Report Excerpts
PLRs and TAMs (1977 - present)
Revenue Rulings (1954 - present)
Revenue Procedures (1955 - present)
Announcements (1959 - present)
Notices (1980 - present)
Internal Revenue Manual
---