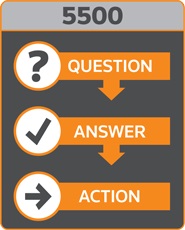 PPC's 5500 Deskbook - now with Interactive Practice Aids

Product Information
Frequency of Updates:




Annually

Brand:

Practitioners Publishing
PPC's 5500 Deskbook provides line-by-line guidance for completing the Form 5500 series returns (Forms 5500, 5500-SF, 5500-EZ, 8955-SSA) and the related schedules. Guidance focused on the tax return includes real-life examples and illustrations of filled-in forms, as well as practice aids, to enable you to prepare returns accurately and efficiently.
The Deskbook goes beyond providing instructions on correctly completing the forms by providing a timesaving approach to determining filing requirements, obtaining the information needed to complete the reporting requirements, completing an annual plan compliance check-up, and determining when a plan should use one of the correction programs available to resolve qualification issues.
With this Deskbook, you not only have detailed, easy to understand guidance, you'll also get:
Quick reference tables to help you find an amount or rate, filing, reporting, and disclosure requirements; and compliance limits that apply to qualified plans
Sample reports, statements, and worksheets to make it easier to efficiently prepare the return
Checklists to help complete the return accurately the first time
Basic concepts of nondiscrimination, coverage, participation, and compliance to enable you to better understand the questions and information required to prepare the returns
Processing alerts to help prevent DOL filing errors
Authored by respected internal and external industry experts with decades of practice experience, PPC's Form 5500 Deskbook is an industry leading guide. Whether you're just starting out or are a seasoned benefit professional, you'll find the Deskbook a must-have resource for completing the Form 5500 series returns.
5500 Deskbook

INTRODUCTORY MATERIAL

Filing the Form 5500

Chapter 1: Filing Requirements

Chapter 2: Getting Started

Chapter 3: Form 5500, Annual Return/Report of Employee Benefit Plan

Chapter 4: Sample Form 5500s

Schedules A through D

Chapter 5: Schedule A, Insurance Information

Chapter 6: Schedule C, Service Provider Information

Chapter 7: Schedule D, DFE/Participating Plan Information

Schedules G, H, and I

Chapter 8: Schedules G, H, and I Financial Information

Schedules MB through R and Form 8955-SSA

Chapter 9: Schedules MB and SB, Actuarial Information

Chapter 10: Schedule R, Retirement Plan Information

Chapter 11: Form 8955-SSA, Reporting Separated Participants

Form 5500-EZ and Form 5500-SF

Chapter 12: Form 5500-EZ and Form 5500-SF

Other Reporting and Disclosure Requirements

Chapter 13: Other Reporting and Disclosure Requirements

Compliance Issues and Answers

Chapter 14: Annual Retirement Plan Compliance Checkup

Chapter 15: Nondiscrimination Requirements

Chapter 16: Contribution, Benefit, and Deduction Limits

Fiduciary Matters, Prohibited Transactions, Plan Qualification and Modifications

Chapter 17: Fiduciary Matters and Prohibited Transactions

Chapter 18: Plan Qualification and Modifications

Participation, Vesting, and Distributions

Chapter 19: Age and Service Rules and Vesting Standards

Chapter 20: Plan Distributions

Avoiding Penalties and Correcting Plan Failures

Chapter 21: Avoiding Penalties

Chapter 22: Correcting Plan Failures

FORM 5500 SERIES

FORMS 5500, 5500-EZ, AND 5500-SF

OTHER FORMS

PREPARATION RESOURCES

BEGINNING THE ENGAGEMENT

DATA GATHERING

CLIENT MANAGEMENT TOOLS

PRACTICE MANAGEMENT TOOLS

RETURN ASSEMBLY AND TRANSMITTAL

CHECKLISTS

PREPARATION CHECKLISTS

COMPLIANCE CHECKLISTS

OTHER CHECKLISTS

QUICK REFERENCE TABLES

INFLATION ADJUSTED AMOUNTS

FILING, REPORTING, AND DISCLOSURE REQUIREMENTS

PENALTIES AND CORRECTIVE MEASURES

IRS AUDIT GUIDELINES

COMPLIANCE REQUIREMENTS

LIFE EXPECTANCY TABLES

STATEMENTS

WORKSHEETS

NONDISCRIMINATION

FINANCIAL STATEMENT RECONCILIATIONS

PLAN COSTS

EARNED INCOME FROM SELF-EMPLOYMENT

PARTICIPANT DEFERRAL

SAMPLE REPORTS, NOTICES, AND ELECTIONS

SUMMARY ANNUAL REPORTS

SAMPLE NOTICES

Roadmaps to Forms 5500, 5500-SF, and 5500-EZ and Related Schedules

INDEX

--A--

--B--

--C--

--D--

--E--

--F--

--G--

--H--

--I--

--L--

--M--

--N--

--O--

--P--

--Q--

--R--

--S--

--T--

--U--

--V--

--W--

--Y--
---