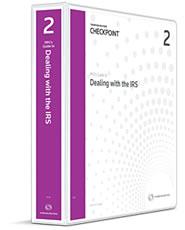 PPC's Guide to Dealing with the IRS

Product Information
Frequency of Updates:

Annually

Brand:

Practitioners Publishing
Unlike other publications that just repeat the rules, PPC's Guide to Dealing with the IRS shows you how to apply the rules for your clients' benefit with more than 150 tools and practice aids that enable you and your staff to efficiently and effectively work with the IRS. With this Guide, you and your staff can:
Use the updated identity theft discussion and a new client profile that provides guidance on what to do if a client becomes a victim
Make sense of the foreign reporting rules with comprehensive guidance on who must file a FBAR or Form 8938 and what must be reported on the form  
Know how to respond to IRS notices that are especially pertinent for exams and collection cases
Request a Taxpayer Assistance Order that can help clients who might be suffering hardship due to the fact that the IRS will not release a bank levy or take action on a refund claim or amended return
Take advantage of the Fresh Start Initiative to help clients who owe taxes and/or penalties, such as by obtaining a streamlined installment agreement for the client, or getting the IRS to withdraw a tax lien
Address the impact of the IRS imposing more penalties with discussions of penalty defenses and steps for appealing a penalty
Understand how to comply with Circular 230 rules with revised chapters on rules of practice in this area
List of Content (Click any title to expand the list)
TOC for IRS
INTRODUCTORY MATERIAL

ABOUT THE AUTHORS AND REVIEWERS . . .
CHAPTER 1: OVERVIEW OF IRS PRACTICE

100 INTRODUCTION
101 OVERVIEW OF THE INTERNAL REVENUE SERVICE

IRS Mission and Oversight
IRS Oversight Board
IRS Commissioner
IRS Organizational Chart
Treasury Inspector General for Tax Administration
The Four Operating Divisions
Areas and Territories
Service Centers
Appeals
Chief Counsel
Criminal Investigation
Whistleblower Office
Taxpayer Advocate
Registration and Regulations of Practitioners
The IRS Website

102 CURRENT IRS ACTIVITIES AND PRIORITIES

IRS Strategic Plan
IRS Commissioner's Priorities
Current IRS Priorities
2011 IRS Data Book

Returns Filed, Taxes Collected, and Refunds Issued.
Examination Activity.
Information Reporting and Verification.
Collections, Penalties, and Criminal Investigation.
Taxpayer Advocate and Appeals Offices.
IRS Budget and Workforce.

Priority Guidance Plan
IRS Oversight Board Reports to Congress

2011 Annual Report to Congress.
2011 Report to Congress on Electronic Filing.
2011 Taxpayer Attitude Study.

National Taxpayer Advocate

Mid-year Report to Congress.
Annual Report to Congress.

Treasury Inspector General for Tax Administration
2011 Advisory Council Report
Transactional Records Access Clearinghouse Reports

103 TAXPAYER RIGHTS

Original Taxpayer Bill of Rights
Taxpayer Bill of Rights II
Taxpayer Bill of Rights III

Approval Required for Jeopardy and Termination Assessments and Jeopardy Levies.
IRS Employee Contacts.
Use of Pseudonyms by IRS Employees.
Listing of Local IRS Telephone Numbers and Addresses.
Service of Summons to Third-party Recordkeeper by Mail.
Conditions under Which a Taxpayer's Return Information May Be Disclosed.

Additional Taxpayer Bill of Rights Legislation

104 TAXPAYER ASSISTANCE ORDERS

What a Taxpayer Assistance Order Can Do
Determining Significant Hardship
Step-by-step Guidance for Applying for a TAO
Suspension of the Statute of Limitations
Requests Meeting Taxpayer Advocate Criteria
Requests Not Meeting Taxpayer Advocate Criteria

105 GETTING THE IRS TO RESPOND TO A PROBLEM

Dealing with the IRS Electronically
Resolving a Problem by Telephone
Practitioner Priority Service
Resolving a Problem by Correspondence
Dealing with the Taxpayer Advocate by Telephone
Dealing with the Taxpayer Advocate by Correspondence
Frequently Used Telephone Numbers

106 USING PPC'S GUIDE TO DEALING WITH THE IRS
APPENDIX 1A: IRS Organizational Chart
APPENDIX 1B: IRS Head Count and Funding
APPENDIX 1C: List of Taxpayer Bill of Rights Provisions
APPENDIX 1D: Practitioner Tools for Dealing with the IRS
APPENDIX 1E: Client Letter on Requesting Help from the Taxpayer Advocate
APPENDIX 1F: Factors to Be Considered in Determining Whether Significant Hardship Exists
APPENDIX 1G: IRS Contact Information
APPENDIX 1H: IRS Abbreviations and Acronyms
CHAPTER 2: TAX OVERPAYMENTS AND INTEREST

200 INTRODUCTION
201 CREDITS OR REFUNDS OF OVERPAYMENTS

Refund Opportunities for New Clients
What Is an Overpayment?
Determining the Amount of the Overpayment
Offsetting Overpayments against Other Liabilities
Refunding the Remaining Overpayment
Erroneous Refunds or Credits
Treatment of Stolen or Misplaced Refunds
IRS Website Tracks Tax Refunds
Avoiding Tax Refund Scams
Questionable/Fraudulent Refunds
Identity Theft
Prepaid Debit Card Refund Program

202 WHO CAN RECOVER AN OVERPAYMENT?

Dividing Refund Proceeds between Spouses
Allocating Joint Tax Return Overpayments against Separate Tax Liabilities of Spouses

General Rule.
Special Rule for Community Property States.
Divorced Taxpayers.

Allocating Joint Estimated Tax Overpayment to Separate Returns
Applying Joint Return Overpayments to Nontax Debts
IRS Not Responsible for Ex-spouse Not Receiving Refund
Taxpayer's Representative Can Receive Refund
Overpayment by a Fiduciary
Overpayment by Decedent
Overpayment by Business Entity
Withheld Income and Employment Taxes
Voluntary Overpayments
Refunds under U.S.C. Section 1346(a)(1)
Supreme Court Revisits Non-code Remedy in 2007

203 LIMITATIONS ON CREDITS AND REFUNDS OF OVERPAYMENTS

Distinguishing Tax Payments from Tax Deposits
Payment of Tax
Postponement of Deadlines under IRC Secs. 7508 and 7508A
Statute of Limitations for Filing the Claim
Tolling of the Statute of Limitations Due to a Disability
Limitation on the Amount of the Credit or Refund
Claiming a Refund When the Return Is Late or Unfiled
Application of Mailbox Rule to Refund Claim
Receipt of Notice of Deficiency before Filing a Delinquent Return
Effect of Amending the Original Return
Saturday, Sunday, or Holiday
Leap Year
Special Rule When Taxpayer Extends Statute of Limitations
Other Special Rules
Limitations Period for Erroneous Refunds
Extension of Limitations Period Due to Hobby Loss Election

204 FILING THE CLAIM FOR REFUND

Use of Official IRS Forms
Preparing the Claim for Refund
Requirements for a Valid Claim
Filing Requirements

Private Delivery Services (PDS).
Only Taxpayer Can File.

Informal Claims for Refund
Protective Claims
Amending a Claim for Refund
Quick Carryback Refunds
Claim of Right Adjustments
Quick Refund of Corporate Estimated Taxes
IRS Processing of Claims for Refund
Closing the Claim for Refund Case
Suits for Refund

205 INTEREST ON UNDERPAYMENTS AND OVERPAYMENTS

Deducting Interest on Tax Deficiency
Determining the Interest Rate
Interest Netting
Interest on Underpayments
Cash Deposit to Stop the Accrual of Interest
Suspension of Interest
Interest on Overpayments
Refunding or Crediting the Overpayment
Overpayment from a Delinquent Return
Overpayment Resulting from a Carryback
Overpayment Refund Resulting from IRS-initiated Adjustment
Crediting Overpayments against Underpayments or Estimated Taxes
Penalties and Interest on Erroneous Refunds

APPENDIX 2A: Letter to New Client Discussing Refund Opportunity
APPENDIX 2B: Refund Claimed by Person Other Than Surviving Spouse or Personal Representative
APPENDIX 2C: Statutes of Limitation for Filing Claims for Credit or Refund
APPENDIX 2D: Checklist for Preparing Form 1120X (Amended U.S. Corporation Income Tax Return)
APPENDIX 2E: Form 843 (Claim for Refund and Request for Abatement)
APPENDIX 2F: Checklist for Preparing Form 843 (Claim for Refund and Request for Abatement)
APPENDIX 2G: Checklist for Preparing Form 1045 (Application for Tentative Refund)
APPENDIX 2H: Checklist for Preparing Form 1139 (Corporation Application for Tentative Refund)
APPENDIX 2I: Citation of Sources Used in This Chapter
CHAPTER 3: STATUTES OF LIMITATIONS

300 INTRODUCTION
301 STATUTE OF LIMITATIONS ON ASSESSMENT OR PROSECUTION

Three-year Statute of Limitations
When a Return Is "Filed"

Private Delivery Services.
U.S. Postal Service (USPS).
Hand-carried Returns.

Application of the Mailbox Rule to Other Documents
Returns Postmarked from Foreign Countries
Electronically Filed Returns
Filing Early or Filing an Extended Return
Saturday, Sunday, or Legal Holiday
Defining a Return
Returns That Start the Running of the Statute of Limitations
Six-year Statute of Limitations
No Statute of Limitations
Prompt Assessment
Transferee Liability
Electing to File a Joint Return
Activities Not Engaged in for Profit (Hobby Losses)
Involuntary Conversion
Extended Limitations Period for Disclosure Violations

Disclosure of Certain Foreign Transfers.

Statute of Limitations for Certain Criminal Prosecutions

302 STATUTE OF LIMITATIONS ON COLLECTION
303 SUSPENSION OF THE RUNNING OF THE STATUTE OF LIMITATIONS

Notice of Deficiency
Taxpayer outside the United States
Extension of Time to Pay Estate Tax
Taxpayer Assistance Orders
Wrongful Seizure of Property
Bankruptcy and Receivership Cases
Summonses
Transferee Liability
Taxpayer's Assets under Court Control
Postponing Tax Deadlines

304 VOLUNTARY EXTENSION OF THE STATUTES OF LIMITATIONS AND WAIVER OF RESTRICTIONS ON ASSESSMENT AND COLLECTION

Consent to Extend the Statute of Limitations on Assessment
When the IRS Will Request a Consent
Requirements for a Valid Consent
Common Consent Forms
Partnership Consent Forms
Consents Covering Restricted Issues
Alteration of Consent Forms
Assessment of Estate Tax
Consent to Extend the Statute of Limitations on Collection
Waiver of Restrictions on Assessment and Collection of Tax

305 STATUTES OF LIMITATIONS AND PASS-THROUGH ENTITIES

Statute of Limitations on Assessment
Suspension of the Statute of Limitations
Extension of the Limitations Period for Assessment
Expiration of the Limitations Period for Assessment
TMP as a Debtor in Bankruptcy
Non-TEFRA Partnership Exception
S Corporations

306 STATUTES OF LIMITATIONS FOR ESTATE AND GIFT TAX

Valuation of Gifts for Gift Tax Purposes
Reporting Incomplete Gifts
Some Nongifts Should Be Reported, Too
Filing a Return When the Gift Is under the Annual Exclusion
Omitted Gifts
Valuation of Gifts for Estate Tax Purposes

307 MITIGATION OF THE STATUTE OF LIMITATIONS

Computation of Adjustment

308 ESTABLISHING TAX RECORDS AND RETENTION POLICIES

How Long Must Records Be Kept?
Requirements for Maintaining Computer Records
Electronic Storage Systems

APPENDIX 3A: Table of Various Statute of Limitations Rules for Assessing Tax
APPENDIX 3B: Completed Form 872 (Consent to Extend the Time to Assess Tax)
APPENDIX 3C: Completed Form 872-A (Special Consent to Extend the Time to Assess Tax)
APPENDIX 3D: Mitigating the Statute of Limitations
APPENDIX 3E: Sample Client Letter on Retaining Income Tax Records
APPENDIX 3F: Recommended Document Retention Time Periods
APPENDIX 3G: Extension Forms Used for Returns
APPENDIX 3H: Sample Client Letters on Postponing Tax Actions
APPENDIX 3I: Citation of Sources Used in This Chapter
CHAPTER 4: AUDIT PROCEDURES AND TAXPAYER RIGHTS

400 INTRODUCTION
401 TAXPAYER RIGHTS AND IRS RESPONSIBILITIES

Right to Be Free from Unnecessary Examination

Reopening a Closed Case.
Repetitive Audits.
Examination Changes Involving Two or More Tax Years.

Right to Be Furnished with an Explanation of the Audit Process
Right to Obtain Taxpayer Information
Right to Be Represented
Taxpayer Assistance Orders (TAO)
Right Not to Be Interviewed and the Right to Record the Interview
Right to Abatement or Suspension of Penalties or Interest
Right to Appeal an Examination Decision
Right to Net Interest
Joint Income Tax Returns
Right to Be Notified Prior to Any Third-party Contacts
Disclosing Tax Return Information
Additional Taxpayer Rights in the Future

402 OVERVIEW OF IRS PROCESSING PROCEDURES

Master Files
Scoring of Tax Returns

National Research Program (NRP).

Classification of Tax Returns
Increasing Role of Automated (Correspondence) Examinations
Correspondence Audits May Not Address Root Cause of Tax Gap
Current Tax Gap Estimate
Survey versus Compliance Check versus Examination
Quality Review Function

403 CONFIDENTIALITY PRIVILEGE TO TAXPAYER COMMUNICATIONS

Limits on the Privilege

General.
Criminal Cases.
Registered Tax Return Preparers.
Communications outside the IRS.
Tax Shelters.
Waiving the Privilege.

Use of Nonfederally Authorized Tax Practitioners
Responding to Summons or Other Requests for Protected Communications
Actions to Increase the Likelihood That Communications Will Be Deemed Privileged

404 PLANNING FOR THE TAXPAYER INTERVIEW

Handling Taxpayer Interviews
Conducting the Interview

405 EXAMINATION STANDARDS

Probes for Unreported Income
Large, Unusual, or Questionable Items
Examination Depth and Records Examined
Required Filing Checks

406 TRANSFERRING THE BURDEN OF PROOF TO THE IRS

Credible Evidence Requirement
Substantiation and Maintaining Records Requirement
Cooperation by the Taxpayer Requirement
Net Worth Requirement
Burden When the IRS Uses Statistical Income Information
Imposition of Penalties
Claims for Refund

407 REFERRING PRACTITIONERS TO THE OFFICE OF PROFESSIONAL RESPONSIBILITY
APPENDIX 4A: Sample Questions of Interview with Taxpayer
APPENDIX 4B: Checklist to Maintain Confidentiality Privilege
APPENDIX 4C: Common Errors That Can Waive the Practitioner/Taxpayer Confidentiality Privilege
APPENDIX 4D: IRS Audit Engagement Work Program
APPENDIX 4E: Client Letter on Transferring the Burden of Proof to the IRS
APPENDIX 4F: Client Letter on the Confidentiality Privilege
APPENDIX 4G: Tax Gap Map for Tax Year 2006
APPENDIX 4H: Application for Taxpayer Assistance Order That Refund Be Issued
APPENDIX 4I: Citation of Sources Used in This Chapter
CHAPTER 5: AUDITS OF INDIVIDUAL RETURNS

500 INTRODUCTION
501 SERVICE CENTER CORRESPONDENCE AUDIT PROGRAM

Information Returns Matching Program

CP-2000 Notice.
Soft Notices.
Schedule K-1 Matching.
Other Letters and Notices.

Responding to an Underreporter (CP-2000) Notice
DIF CORR Program
Unallowable Items
Mathematical Errors
Other Errors That Can Delay Processing
Responding to an Examination Notice
Agreement with the Proposed Changes
Taxpayer Requests Additional Information or Clarification of the Issues
Taxpayer Explains Discrepancy or Disagrees with the Proposed Changes
No Response to the Correspondence
Taxpayer Requests a Conference
Strategies for Handling a Correspondence Audit
Closing a Correspondence Audit

502 INITIATION OF AN OFFICE AUDIT
503 SCOPE OF THE OFFICE AUDIT

Issues Covered in an Office Audit
Minimum Income Probes

504 INITIAL OFFICE AUDIT CONTACT AND PRELIMINARY MATTERS

Pre-audit Procedures
Recording the Interview
Client Attending the Examination
Repetitive Examinations
Managing the Office Audit Engagement

505 CHANGING EXAMINERS OR THE TIME AND PLACE OF AN AUDIT

Time of Examination
Place of Examination

506 AUDIT STRATEGIES--PREPARING FOR THE AUDIT

Preparing for an Audit--the Organized Approach
Strengths and Weaknesses of the Auditor
Consider Alternative Means of Verification
Review the Return for Potential Issues

507 AUDIT STRATEGIES--MEETING AND DEALING WITH THE AUDITOR

Practical Steps for Handling an Audit
Concluding the First Meeting

508 FOLLOW-UP TO THE FIRST MEETING

Alerting the IRS about Erroneous Information
Settling the Case with the Auditor
Role of the Group Manager

509 CLOSING THE OFFICE AUDIT

No-change Audit
The Client Agrees with the Proposed Adjustments
Closing an Agreed Case
The Client Completely or Partially Disagrees with the Proposed Audit Adjustments
Closing an Unagreed Case
Closing a Partially Agreed Case
Issuance of the 30-day Letter
Audit Reconsideration
Reopening an Audit
Considerations in Deciding Whether to Exercise Appeal Rights
Taxpayer Engagement Management

510 CURRENT IRS INITIATIVES FOR INDIVIDUALS

National Research Program
Tax Scams and Schemes
Tax Shelters and Reportable Transactions
Foreign Accounts and Transactions

Foreign Account Tax Compliance Act (FATCA).

Executive Compensation and Fringe Benefits
S Corporation Basis and Compensation

Calculating Basis.
Paying Inadequate Compensation.

Partnership Loss Limitation Rules
Other Issues that Attract the IRS's Attention

Claiming Large Charitable Deductions.
Claiming a Home Office Deduction.
Deducting Travel and Entertainment Expenses.
Deducting Vehicle Expenses.
Sole Proprietor (Hobby) Losses.
Sole Proprietor Consulting Practices.

APPENDIX 5A: Sample Letter on Responding to an IRS Underreporter Notice
APPENDIX 5B: Tips on Responding to a CP-2000 Notice
APPENDIX 5C: Sample Letter for Client at Start of IRS Audit
APPENDIX 5D: Potential Issues on Nonbusiness Individual Returns
APPENDIX 5E: Sample Letter to a Client Who Has Agreed to an IRS Interview
APPENDIX 5F: Sample Client Letter Previewing IRS Examination Report
APPENDIX 5G: Citation of Sources Used in This Chapter
CHAPTER 6: AUDITS OF BUSINESS RETURNS

600 INTRODUCTION
601 SCOPE OF THE FIELD AUDIT

Large Business and International Examinations
Examination Technique Guidelines
Required Filing Checks
Prior and Subsequent Year Returns
Related-party Transactions
Other Issues to Consider

Imputed Interest.
Unreasonable Compensation.
Personal Benefit/Personal Use of Company Property.
Shareholder Withdrawals Are Distributions.
Basis for Pass-through Purposes.
Compensation and Fringe Benefits.

Report of Foreign Bank and Financial Accounts (FBAR)
Information Returns (Form 1099)
Employment Tax Returns
The Revenue Agent
Engineer Specialist
Employee Plan Specialist
Criminal Investigation Division Agents

602 INITIAL AUDIT CONTACT AND PRELIMINARY MATTERS

Taxpayer Examination Rights
Setting the Time and Place of the Audit
Taxpayer Interviews
Preparing for an Audit at the Taxpayer's Business
Review the Return and Information Requested
Preparing for the Initial Meeting
Information Control
Alternative Arguments
Managing the Field Audit Engagement

603 SCHEDULING THE TIME OR PLACE OF A FIELD EXAMINATION

Changing IRS Agents
Time and Date of the Examination
Place of Examination
Inspection of the Taxpayer's Business

604 CONDUCTING THE AUDIT

Instant Response
Modified Response
Providing the Books and Records
Electronic Accounting Records
Dealing with the Agent during the Examination
Considering Peripheral and Related Matters
Performing Work for the Agent
Producing Accountant's Workpapers
Unreasonably Delaying or Hindering the Audit
IRS Audit Technique Guides
Industry Specialization Program (ISP)
Industry Issue Resolution (IIR) Program

605 FOLLOW-UP TO THE FIRST MEETING

Subsequent Meetings
Requesting Technical Advice

606 CLOSING THE FIELD AUDIT

Settling Issues with the Revenue Agent
No-change Audit
Closing an Agreed Case
The Client Totally or Partially Disagrees with the Proposed Adjustments
Closing an Unagreed Case
Closing a Partially Agreed Case
Issuance of the 30-day Letter
Considerations in Deciding Whether to Exercise Appeal Rights

607 AUDITS OF PASS-THROUGH ENTITIES

Entities Exempt from TEFRA Provisions
Basics of the TEFRA Provisions
Role of the Tax Matters Partner (TMP)
Notice Partners
Initiation and Conduct of the Partnership Audit
Appeal of the Agent's Determination
Final Partnership Administrative Adjustment
Multiple Litigation
Settling TEFRA Cases
Request for Administrative Adjustment

Change in Method of Filing.
Amending Returns for Small Partnerships.
Substituted Return.
Claim for Refund.
AAR Disallowed by the IRS.
Filing Form 1040X.

Correcting Schedule K-1 Information with Form 8082 Disclosure
Statute of Limitations
Innocent Spouse Relief

608 EXAMINATION TECHNIQUES FOR BUSINESS ENTITIES

Evaluating the Taxpayer's Internal Controls
Examining the Books and Records
Analyzing Balance Sheet Items
Testing Gross Receipts or Sales
Verifying Income of a Cash Intensive Business
Internet and/or E-commerce Activity

609 COMPLIANCE INITIATIVES AND CURRENT DEVELOPMENTS

Increased Focus on International Issues
Codification of Economic Substance Doctrine
Disclosing Uncertain Tax Positions
Tax Shelters and Reportable Transactions

Reportable Transactions.
Material Advisors.
Material Advisor List Maintenance Requirements.
Reportable Transaction Participant Disclosure Statement.

Executive Compensation and Fringe Benefits
Constructive Dividends
Partnership and S Corporation Compliance Initiatives

Partnerships.
Qualified Joint Ventures.
S Corporations.

APPENDIX 6A: What to Do When the Audit Notice Arrives
APPENDIX 6B: Sample Audit Lead Sheets for Small Corporate Returns
APPENDIX 6C: Contact Log
APPENDIX 6D: Sample Field Audit Appointment Letter
APPENDIX 6E: Designation of Tax Matters Partner (TMP)
APPENDIX 6F: Filled-in Form 8082 When Partner Has Not Received a Schedule K-1
APPENDIX 6G: Filled-in Form 8082 Requesting Administrative Adjustment
APPENDIX 6H: Balance Sheet Examination Techniques
APPENDIX 6I: Identifying Constructive Dividends to Shareholders
APPENDIX 6J: Citation of Sources Used in This Chapter
CHAPTER 7: AUDITS OF OTHER RETURNS

700 INTRODUCTION
701 DEALING WITH A WORKER CLASSIFICATION AUDIT

Other Worker Classification Initiatives
Common Law Control Rules
Applying Common Law Control Rules to Professionals
Importance of Contract Language
Requesting a Worker Classification Ruling
Initiation of Employment Tax Examination
Employment Tax Examination Procedures

Scope of Examination.
Place of Examination.
Audit Techniques.

Concluding the Examination

No-change Case.
Agreed Cases.
Unagreed Cases.

Employment Tax Return Preparer Case Procedures

702 QUALIFYING FOR SECTION 530 RELIEF

Reasonable Basis Requirement to Be Liberally Construed
Court Case or Published Ruling Safe Harbor
IRS Prior Audit Safe Harbor
Long-standing Industry Practice Safe Harbor

Industry.
Significant Industry Segment.
Long-standing Practice.

Reliance on Advice of Attorney or Accountant
Shifting the Burden of Proof

703 EVALUATING THE PAYROLL TAX ALTERNATIVES

Classification Settlement Program (CSP)
Voluntary Classification Settlement Program (VCSP)
Early Referral Procedure for Appeals
Tax Court Jurisdiction to Review IRS Worker Determinations

704 HANDLING A QUALIFIED RETIREMENT PLAN AUDIT

Preparing for an IRS Examination
Understanding the IRS Examination Process
Employee Plans Compliance Resolution System (EPCRS)
When the Plan Is under Examination
Correction on Audit (Audit CAP)

705 ESTABLISHING REASONABLE CAUSE FOR FILING INFORMATION RETURNS WITH MISSING OR INCORRECT NAMES OR IDENTIFICATION NUMBERS

Failure to File Information Return(s)

Amount of Penalty.
Penalty for Intentional Disregard.
Exceptions to the Penalty.
Electronic Filing Exception.

Failure to Furnish Correct Payee Statement(s)

Exception to the Penalty.

Reasonable Cause
Handling a Missing or Incorrect Name/TIN Case

Missing or Incorrect TIN/Name Combinations for Independent Contractors.
Missing or Incorrect TIN/Name Combinations for Employees.

706 HANDLING AN ESTATE TAX AUDIT

Initiating the Examination Process
How the Examiner Approaches the Examination
Meeting and Dealing with the Examiner
Concluding the Examination

No-change Audit.
Executor Agrees with Proposed Adjustments.
Executor Disagrees with Proposed Adjustments.
Statute of Limitations.
Penalties.

Estate Tax Return Preparer Procedures
Executor's Liability for Payment of Decedent's Taxes

Request for Prompt Assessment.
Request for Discharge of Personal Liability.

Estate Tax Closing Letter

707 PRESERVING AN ORGANIZATION'S TAX-EXEMPT STATUS

Examination versus Compliance Check

Correspondence Examinations.
Field Examinations.
Compliance Checks.

Examination Objectives and Guidelines

Section 501(c)(3) Organizations.
Examination Initiatives.

Excess Benefit Transactions
Revocation or Modification of Exempt Status
Revocation of Exempt Status for Failure to File Annual Return
Pursuing Judicial Remedies

APPENDIX 7A: How the IRS Applies the Common Law Control Rules
APPENDIX 7B: Initiating the Employment Tax Examination
APPENDIX 7C: Sample Completed CSP Closing Agreement
APPENDIX 7D: Notice of Determination Concerning Worker Classification under IRC Sec. 7436
APPENDIX 7E: Employee Plans Examination Process
APPENDIX 7F: Comparison of Qualified Retirement Plan Correction Programs
APPENDIX 7G: IRS Governance Check Sheet
APPENDIX 7H: Citation of Sources Used in This Chapter
CHAPTER 8: APPEALS AND ALTERNATIVE DISPUTE RESOLUTION

800 INTRODUCTION
801 OVERVIEW OF APPEALS PROCESS

Appeals Process Flowchart
Start of the Appeals Process
Effect of Issuance of a 90-day Letter
Filing the Protest
Authority to Settle
Conclusion of Appeals Process
Request for Technical Advice

Presubmission Conference.

Client Letter on the Appeals Process

802 ALTERNATIVES TO THE TRADITIONAL APPEALS PROCEDURES

Early Referral Procedures

Early Referral Procedure.
Worker Classification Early Referral.

Alternative Dispute Resolution (ADR) Procedures
Benefits of Alternative Dispute Resolution
Fast Track Mediation and Settlement
Compliance Assurance Program
Prefiling Agreements and Comprehensive Case Resolution
Industry Issue Resolution Program
Post-Appeals Mediation

803 JURISDICTION OF THE APPEALS OFFICE

Jurisdiction Rules for Penalties
Nondocketed Cases
Docketed Cases
Proposed Amendments to Statement of Procedural Rules
Other Limitations on Subject Matter Jurisdiction
Cases with Special Issues

Appeals Technical Guidance (ATG) Program.
Coordinated Issues.
Compliance Coordinated Issues.
Emerging Issues.
Special Issues.

804 NEW ISSUES RAISED BY THE APPEALS OFFICER
805 ADVANTAGES AND DISADVANTAGES OF USING THE APPEALS PROCESS

Deciding Whether to File an Appeals Protest
Considerations in Signing a Closing Agreement

806 FILING THE WRITTEN PROTEST

Extensions of Time to File a Protest
Filing and Contents of the Protest
Considerations in Preparing the Protest
Use of Affidavits and Supporting Documents

807 THE APPEALS CONFERENCE

Ex Parte Communications
Scheduling the Conference
Return of Case to Examination Division
Deciding Whether the Taxpayer Should Attend
Preparing for the Appeals Conference
Weight of Authority
Hazards of Litigation
Making a Qualified Offer
Conference Strategies

808 SETTLING APPEALS ISSUES

Proposing a Settlement
IRS Acceptance of a Settlement Offer
Types of Settlements
Docketed Tax Court Case
Nondocketed Appeals Case
Appeals Agreement Form 870
Appeals Agreement Form 870-AD
Comparison of Forms 870 and 870-AD
Modification of Forms
Other Considerations in Settling Appeals Cases
Installment Agreements

809 ENTERING INTO A CLOSING AGREEMENT

Characteristics and Prerequisites of a Closing Agreement
Types of Closing Agreements
Contents of a Closing Agreement
Reopening the Closing Agreement
Pitfalls in Using a Closing Agreement

810 UNRESOLVED ISSUES AFTER THE APPEALS PROCESS

Listed Transactions
Procedure If a Lawsuit Is Not Filed
Filing Suit in Tax Court
Tax Court Small Case Procedure
Advantages and Disadvantages of Various Courts
Practitioner's Role in Lawsuit

811 ALTERNATIVE DISPUTE RESOLUTION

Arbitration

Participants to the Arbitration.
Selecting the Arbitrator.
Issues to Be Arbitrated.
Setting the Arbitration Hearing.
Confidentiality and Disclosure.
Arbitrator Disqualification.
Withdrawal of the Arbitrator.
Arbitrator's Findings and Report.
The Arbitration Hearing.
Conclusion.

Mediation

Overview of Mediation Process.
Selecting the Mediator.
Initiation of Mediation.
Practitioner's Role.
Conclusion.

812 COLLECTION APPEALS

Collection Due Process and Collection Appeal Procedures

Collection Due Process (CDP).
Collection Appeals Program (CAP).

Notice of Federal Tax Lien Procedures
Notice of Intent to Levy Procedures
Meeting the 30-day Deadline
Lien and Levy Hearing Procedures
Requesting a Face-to-face Hearing
Regulations Explain Collection Appeal Rights
Requesting an Equivalent Hearing
Judicial Review of the Lien or Levy Appeal Hearing
Collection Appeals Program
Differentiating Exam and Collection Appeals

APPENDIX 8A: IRS Appeals Engagement Work Program
APPENDIX 8B: Appeals Process Flowchart
APPENDIX 8C: Sample 30-day Letter
APPENDIX 8D: Letters and Notices Offering an Appeal
APPENDIX 8E: Client Letter on the IRS Appeals Process
APPENDIX 8F: Submitting a Request for Early Referral to Appeals
APPENDIX 8G: Checklist for a Collection Due Process (CDP) Hearing
APPENDIX 8H: Preparing a Written Protest to the Appeals Office
APPENDIX 8I: Qualified Offer
APPENDIX 8J: Client Letter Confirming Practitioner's Settlement Authority
APPENDIX 8K: Sample Tax Court Petition for Small Tax Case
APPENDIX 8L: Request for a Collection Due Process Hearing
APPENDIX 8M: Citation of Sources Used in This Chapter
CHAPTER 9: ASSESSMENTS AND ABATEMENTS

900 INTRODUCTION
901 ASSESSMENT--THE BASIC RULES

Summary Assessment and Deficiency Assessment
Other Types of Assessments
Statute of Limitations Implications
Method and Time of Assessment
Requesting Transcript and Other Assessment Information
IRS Reliance on Information Returns
Assessment and Collection of Criminal Restitution

902 SUMMARY ASSESSMENT OF TAX

Tax Due on Return

Assessment Process for Most Taxpayers.
Notice of Intent to Levy.

Substitute for Return
Other Types of Summary Assessments
Mathematical or Clerical Errors

903 DEFICIENCY ASSESSMENT OF TAX

Definition of a Deficiency
Underpayment Interest and Penalties
Payment or Deposit to Stop Accrual of Interest
Deficiency Procedures
Computation of 90-day Period
Extension of 90-day or 150-day Period
Contents of Notices of Deficiency
Taxpayer's Last Known Address
Updating Address Information from Postal Service Records
Notice of Deficiency Sent by Certified or Registered Mail
Separated or Divorced Taxpayers
Deceased Taxpayer
Notice of Deficiency Mailed to Old Address
Changing the Address of Record
Processing the Change of Address Notification

904 RESCINDING A NOTICE OF DEFICIENCY

When the IRS Will Grant a Request to Rescind
When the IRS Will Deny a Request to Rescind
Procedures for Rescinding a Notice of Deficiency
IRS Denies Request to Rescind Notice

905 PROMPT ASSESSMENT

Requesting a Prompt Assessment
Executor's Request for Prompt Assessment

906 JEOPARDY AND TERMINATION ASSESSMENTS

Prerequisites for an Assessment
Procedural Rules
Possessor of Large Amounts of Cash

907 ABATEMENT OF AN ASSESSMENT

Mathematical or Clerical Errors
Abatement of Tax
Abatement of Interest
Steps to Request an Abatement of Interest
Abatement of Penalties Based on Erroneous IRS Advice
Steps to Request a Penalty Abatement Based on Written Advice
Abatement of Penalties for Reasonable Cause
Suspension of Interest and Penalties
Erroneous Abatement

APPENDIX 9A: IRS Explanation of Notice of Balance Due
APPENDIX 9B: Sample Notice of Deficiency
APPENDIX 9C: Letter to Client Who Received a Notice of Deficiency
APPENDIX 9D: Checklist for Responding to a Statutory Notice of Deficiency
APPENDIX 9E: Completed Copy of Form 8822 (Change of Address)
APPENDIX 9F: Letter Advising Divorcing Clients to Notify IRS of Address Change
APPENDIX 9G: Request for Prompt Assessment by Dissolved Corporation
APPENDIX 9H: Excerpts from IRS Math Error Notice
APPENDIX 9I: Requesting the Abatement of a Math or Clerical Error Assessment
APPENDIX 9J: Citation of Sources Used in This Chapter
CHAPTER 10: COLLECTION PROCEDURES, INSTALLMENT AGREEMENTS, AND THIRD-PARTY COLLECTION ISSUES

1000 INTRODUCTION

Selected Collection Developments

1001 PAYMENT OF TAX

Payment in Full
Payment by Credit Card
Refund Offset
Error in the Taxpayer's Favor
Cannot Pay the Bill in Full
Delayed Collection
Extension of Payment Due to Undue Hardship
Accounts Currently Not Collectible
Audit Reconsideration
Allocation of Partial Payment of Assessed Taxes

1002 INITIATION OF THE COLLECTION CASE

Three Stages of the Collection Process
Delinquency Investigations versus Delinquent Account
Responding to IRS Notices
Problems with Current Collection Process
Appealing Certain Collection Actions

1003 THE AUTOMATED COLLECTION SYSTEM (ACS)

First Contact with the Client and Dealing with ACS
Step-by-step Approach to an ACS Case

1004 DEALING WITH THE REVENUE OFFICER

Contact by the Revenue Officer
Effective First Contact
Taxpayer Rights
Fair Debt Collection Practices Act
Transcript of Accounts
Step-by-step Approach When Dealing with the Revenue Officer
Possible Revenue Officer Actions

1005 THE COLLECTION INFORMATION STATEMENT

Collection Information Statement
Preparation of the Collection Information Statement
Analysis of Taxpayer's Financial Condition
Allowable Expenses
Necessary Expenses
Conditional Expenses
Collection Due Process Hearings
Dealing with the IRS Expense Rules
Providing Information to the Revenue Officer
Monetary Damages for Wrongful Collection Action

1006 INSTALLMENT PAYMENT AGREEMENTS

User Fees for Installment Agreements
Initiating an Installment Agreement Request
Automated (Online) Payment Agreement
Streamlined Procedures for Installment Agreements
Statutory Right to Installment Agreement
Agreements Providing for Partial Payment
Step-by-step Approach for Obtaining an Installment Agreement
Determining the Amount and Due Date of the Required Payments
Executing the Required Forms
Pending Installment Agreements
Termination of the Installment Agreement
Collection by Levy Suspended
Borrowing from a Commercial Lender

1007 A STEP-BY-STEP APPROACH FOR RESOLVING A COLLECTION CASE

Step 1 First Contact with the Client

First Contact with an Individual Who Owes Taxes.
First Contact with a Business That Owes Taxes.
First Contact with a Taxpayer Preparing for Marriage.
First Contact with a Divorced Taxpayer.
First Contact with the Estate of a Decedent Who Owes Taxes.

Step 2 Interview of Taxpayer
Step 3 Cost of Representation
Step 4 Engagement Agreement
Step 5 Factual Statement
Step 6 Determine Type and Amount of Taxes Owed
Step 7 Determine the Status of the Taxpayer's Case
Step 8 Verify That the IRS Has Followed Proper Procedure
Step 9 Verify That the Amount Owed Is Correct
Step 10 Contact with IRS
Step 11 Collection Information Statement
Step 12 Explore Alternatives with the Taxpayer
Step 13 Basic Rules for Representing All Taxpayers

1008 TRANSFEREE LIABILITY

Liabilities to Which IRC Sec. 6901 Applies
Determining Who Is a Transferee
Establishing Transferee Liability
Transferee Liability at Law
Transferee Liability in Equity
Extent of Transferee Liability
Statute of Limitations
Assessment and Collection of Transferee Liability
Defenses to Imposition of Transferee Liability
Protecting a Client from Transferee Liability

1009 PERSONAL LIABILITY OF BENEFICIARIES AND DONEES

Third-party Liability Imposed by the Estate Tax Lien
Third-party Liability Imposed by the Gift Tax Lien

1010 PERSONAL LIABILITY OF FIDUCIARIES

Fiduciary Liability
Liability for Income and Gift Tax
Liability for Estate Tax

APPENDIX 10A: Final Notice of Intent to Levy and Notice of Your Right to a Hearing
APPENDIX 10B: Payments That Can Be Made by Credit Card
APPENDIX 10C: Transcript of a Taxpayer's Account
APPENDIX 10D: Completed Form 433-B (Collection Information Statement for Businesses)
APPENDIX 10E: Guidance to Client on Preparing Form 433-A
APPENDIX 10F: Information Needed to Complete and Support Forms 433-A and 433-B
APPENDIX 10G: Sample Decision IA Printout
APPENDIX 10H: Information Needed to Prepare and Review an Installment Agreement
APPENDIX 10I: Client Letter Explaining an Installment Agreement
APPENDIX 10J: Form 433-D (Installment Agreement)
APPENDIX 10K: IRS Collection Engagement Work Program--Installment Agreement
APPENDIX 10L: Transaction Codes for Interpreting IRS Transcripts
APPENDIX 10M: Citation of Sources Used in This Chapter
CHAPTER 11: LIENS, LEVIES, SEIZURES, AND SALE OF TAXPAYER'S PROPERTY

1100 INTRODUCTION
1101 CREATION OF THE FEDERAL TAX LIEN

Prerequisites to Creation of the Statutory Lien
The Relation Back Doctrine
Continuance of the Lien
Special Tax Liens Applicable to Estates and Gifts

1102 PROPERTY SUBJECT TO THE FEDERAL TAX LIEN

Effect of State Law
Property Subject to an IRS Lien or Levy
Alter Ego Liens

1103 FILING AND RECORDING THE NOTICE OF FEDERAL TAX LIEN

Place for Filing the Lien
When the Lien Will Not Be Filed
Form of the Required Notice
Completing the Required Form
Filing the Notice of Federal Tax Lien
Errors in Notice of Federal Tax Lien
Lien Filing Threshold
Refiling Requirements
Withdrawing a Public Notice of Tax Lien
Withdrawal of Lien Notice after Release
Withdrawal of Lien Notice in Direct Debit Installment Agreement Situations

1104 LIEN PRIORITIES
1105 RELIEF FROM THE FEDERAL TAX LIEN

Request for Balance Due for a Lien Release
Certificate of Nonattachment
Certificate of Release of Erroneously Filed Lien
Certificate of Release of Paid or Unenforceable Lien
Certificate of Discharge
Certificate of Subordination
Foreclosure Sale of Taxpayer Property by Third Parties

Judicial Foreclosure Sales.
Nonjudicial Foreclosure by Senior Competing Lien.

Civil Action by Third Party for Erroneous Lien
Damages for the IRS's Failure to Release Lien
Action to Quiet Title Filed by the Government
Suit to Foreclose the Tax Lien

1106 LEVYING ON THE TAXPAYER'S PROPERTY

Effect of a Levy
Notice of Intent to Levy
Notice of Levy
Notice of Seizure
Uneconomical Levies

1107 PROPERTY SUBJECT TO A FEDERAL TAX LEVY

Property Exempt from Levy
Limited Exemption for Wages, Salary, and Other Income
Continuing Levy on Salaries, Wages, and Other Amounts
Special Rules for Bank Accounts
Bank Account 21-day Waiting Period
Special Rules for Life Insurance
Levy on Retirement Accounts

1108 LEVY PROCEDURE

Seizure of Tangible Property
Seizure of a Taxpayer's Residence or Business
IRS Managerial Approval for Seizure Actions
Notice of Seizure
Loss to Taxpayer from IRS's Failure to Collect
Conducting the Seizure
Sale of Seized Property
Practical Considerations
Levy on Intangible Property
Complying with a Wage Levy
Surrender of Property to the IRS

1109 RELIEF FROM A FEDERAL TAX LEVY

Statute of Limitations
Administrative Release of Levy
Administrative Relief in Case of a Wrongful Levy
Returning Levied Property
Taxpayer Advocate
Judicial Actions Filed by Taxpayer
Judicial Actions Filed by Third Party
Wrongful Levy Actions under 28 U.S.C. 1346(a)(1)
Suspension of Collection by Levy

APPENDIX 11A: IRS Forms Related to Federal Tax Lien
APPENDIX 11B: Overview of the Lien Recording Process
APPENDIX 11C: Form 12277--Application for Withdrawal of Filed Form 668(Y), Notice of Federal Tax Lien
APPENDIX 11D: Using IRS Addresses Listed in Publication 4235
APPENDIX 11E: Publication 4235, Technical Services (Collection Advisory) Group Addresses
APPENDIX 11F: Publication 1450, Instructions on How to Request a Certificate of Release of Federal Tax Lien
APPENDIX 11G: Overview of the Automated Lien Release Process
APPENDIX 11H: Publication 783, Instructions on How to Apply for a Certificate of Discharge of Property from Federal Tax Lien
APPENDIX 11I: Publication 784, How to Prepare an Application for a Certificate of Subordination of Federal Tax Lien
APPENDIX 11J: Publication 786, Notice of Nonjudicial Sale of Property and Application for Consent to Sale
APPENDIX 11K: Publication 1494, Tables for Figuring Amount Exempt from Levy on Wages, Salary, and Other Income
APPENDIX 11L: Citation of Sources Used in This Chapter
CHAPTER 12: INNOCENT SPOUSE RELIEF

1200 INTRODUCTION
1201 THE INNOCENT SPOUSE RULES
1202 INNOCENT SPOUSE RELIEF FROM AN UNDERSTATEMENT OF INCOME--SECTION 6015(b)

Joint Return
Understatement
Knowledge of the Innocent Spouse
Defense of Mentally and Physically Abused Spouse
Inequitable to Hold Innocent Spouse Liable
Electing Relief within Two Years of Collection Activity

1203 SEPARATE LIABILITY ELECTION RULES--SECTION 6015(c)

Allocating the Understatement of Tax
Rules Limiting the Use of the Election

1204 EQUITABLE RELIEF--SECTION 6015(f)

Determinations Granting Equitable Relief

1205 CLAIMS FOR REFUND UNDER THE INNOCENT SPOUSE PROVISIONS

Refunds under IRC Sec. 6015(b) and (c)
Refunds under IRC Sec. 6015(f)
Limitations of Refunds

1206 APPLYING FOR INNOCENT SPOUSE RELIEF

Requesting Relief from the IRS

Two-year Rule.
Collection Activity.
Notification of Nonrequesting Spouse.
Victims of Domestic Violence.
Collection while Request for Relief Is Pending.
Suspension of Statute of Limitations.
Effect of Bankruptcy.

Intervention by Other Spouse
IRS Letters to Requesting or Nonrequesting Spouse
Potential Conflict of Interest in Representing Spouses

1207 FINAL DETERMINATION LETTERS AND TAX COURT REVIEW
1208 STEPS IN HANDLING AN INNOCENT SPOUSE CASE

Handling an Innocent Spouse Case

Step 1 Determine Whether Relief Is Available.
Step 2 Develop the Evidence.
Step 3 Complete the Necessary Forms.
Step 4 Present Your Case.
Step 5 Appealing an Adverse Decision.
Step 6 Petitioning the Tax Court.

Apportionment of Relief
Special Relief for Community Property Income

Section 66(a) Relief (the "Living Apart Rules").
Section 66(b) Relief (the "No Notification Rules").
Section 66(c) Relief (the "Traditional and Equitable Relief Rules").
Requesting Relief.

1209 WAYS TO AVOID PAYING THE OTHER SPOUSE'S TAX

Filing Status Issues

Potential Filing Statuses.
Head of Household Status.

Determining Efforts to Collect from Other Spouse
If Innocent Spouse Relief Is Granted, the Tax Is Not Abated

APPENDIX 12A: Flowchart of Innocent Spouse Rules
APPENDIX 12B: Requirements for Innocent Spouse Relief
APPENDIX 12C: Form 8857 (Request for Innocent Spouse Relief)
APPENDIX 12D: Sample Notice of Determination from IRS Denying Relief
APPENDIX 12E: Factors for Determining Whether Equitable Relief Warranted
APPENDIX 12F: Commonly Used IRS Innocent Spouse Letters
APPENDIX 12G: Letter to Client Discussing Innocent Spouse Relief
APPENDIX 12H: Citation of Sources Used in This Chapter
CHAPTER 13: OFFERS IN COMPROMISE

1300 INTRODUCTION
1301 OFFERS IN COMPROMISE--THE BASICS

1998 Legislative Changes
2006 Legislative Changes
Application Fee
Liabilities to Be Compromised
Grounds for Acceptance or Rejection
Effective Tax Administration
Executing the Required Forms
Submission and Processability Rules
Where to Send the Offer
When to Make the Offer
Advantages of an Offer In Compromise
Disadvantages of the Program

1302 STEP-BY-STEP APPROACH FOR PREPARING AN OIC
1303 SUBMITTING AN OFFER IN COMPROMISE

Filing Form 656 (Offer in Compromise)
OICs Based on Doubt as to Liability
OICs Based on Doubt as to Collectibility

Future Income Potential.
Dissipated Assets.

Streamlined Offer in Compromise
OICs Based on Other Factors--Effective Tax Administration
Calculating the Amount to Offer
Computing the Future Income Component

1304 IRS PROCESSING OF AN OFFER IN COMPROMISE

IRS Review of the OIC
Corporate Trust Fund Offers
Collection Action While the Offer Is Pending
Withdrawing an Offer
Accepted Offers
Rejected Offers
Mediation and Arbitration
Revising an Accepted Offer

APPENDIX 13A: Checklist Covering What to Submit with an Offer in Compromise
APPENDIX 13B: IRS Collection Engagement Work Program--Offer in Compromise (OIC)
APPENDIX 13C: Offer in Compromise Payment Options
APPENDIX 13D: Client Letter Describing Offer in Compromise
APPENDIX 13E: Form 656-L--Offer in Compromise (Doubt as to Liability)
APPENDIX 13F: Request to Revise an Existing Offer
APPENDIX 13G: Citation of Sources Used in This Chapter
CHAPTER 14: THE TRUST FUND RECOVERY PENALTY

1400 INTRODUCTION
1401 WHAT IS THE TRUST FUND RECOVERY PENALTY?

Definition of Trust Fund Taxes
When the Trust fund Recovery Penalty Applies
IRS Early Intervention Program
Separate Account Arrangements
Monthly Filing
Criminal Penalties

1402 WHEN IS A PERSON "RESPONSIBLE" AND "WILLFUL"?

Responsible Persons
Sale of a Business with an Existing Tax Delinquency
Attempting to Rescue a Failing Company
Willfulness
Reasonable Cause

1403 AMOUNT AND PAYMENT OF THE TRUST FUND RECOVERY PENALTY

Amount of the TFRP
Voluntary Payments
Other Payment Rules
Application of Other Penalties

1404 COLLECTION AND APPEALS

Starting the Investigation
Interviewing Possible Responsible Persons
Documentation Supporting a Penalty Recommendation
Collectibility
Assessment Procedures
Appeals Office Consideration
Stay of Collection

1405 STRATEGIES AND DEFENSES FOR MINIMIZING THE PENALTY

Statute of Limitations
Representing a Potentially Responsible and Willful Person

Step 1: Prepare for Client Meeting.
Step 2: Meet with the Client.
Step 3: Obtain Affidavits from Other Parties.
Step 4: Confirm that the Limitations Period Remains Open.
Step 5: Verify the Amount of the Potential Liability.
Step 6: Contact the Revenue Officer.
Step 7: Negotiate with the Revenue Officer.
Step 8: Conclude the Engagement.

Spreading the Blame
Designation of Payments by Employer
Employer Installment Agreement
Seeking Contribution from Other Responsible Persons

1406 THIRD PARTIES PAYING OR PROVIDING FOR WAGES

Lender Pays Wages Directly
Lender Supplies Funds to Pay Employer's Wages
Comparison of IRC Secs. 3505 and 6672

APPENDIX 14A: Records the IRS Examines in Trust Fund Recovery Penalty Cases
APPENDIX 14B: Information Required on Form 4180 (Report of Interview with Individual Relative to Trust Fund Recovery Penalty or Personal Liability for Excise Tax), Version 7-2007
APPENDIX 14C: Client Letter on Appealing the Trust Fund Recovery Penalty
APPENDIX 14D: IRS Collection Engagement Work Program--Trust Fund Recovery Penalty
APPENDIX 14E: Sample Letter to the IRS Regarding Others Who Have Been Assessed with the Trust Fund Recovery Penalty
APPENDIX 14F: Sample Letter to the IRS Designating Payments for Trust Fund Taxes
APPENDIX 14G: Trust Fund Recovery Penalty Investigations Involving Third-party Payers
APPENDIX 14H: Citation of Sources Used in This Chapter
CHAPTER 15: BANKRUPTCY

1500 INTRODUCTION
1501 THE BASIC BANKRUPTCY RULES

The Automatic Stay
Exceptions to the Automatic Stay
Duration of the Automatic Stay
Violation of the Automatic Stay
Creation of a Separate Bankruptcy Estate
Property of the Bankruptcy Estate
Tax Returns Due after Bankruptcy Filing

1502 TYPES OF BANKRUPTCIES

Chapter 7, Liquidation
Benefits and Detriments of Filing under Chapter 7
Chapter 11, Reorganization
Benefits and Detriments of Filing under Chapter 11
Chapter 13, Adjustment of Debts of an Individual with Regular Income

Liquidation Test.
Disposable Income Test.

Chapter 13 versus Installment Agreement
Benefits and Detriments of Filing under Chapter 13

1503 IRS PRE AND POSTPETITION PROOF OF CLAIMS

Filing the Proof of Claim
Amending a Claim

1504 CLASSIFICATION OF TAX CLAIMS

Priority of Tax Claims
Prepetition Secured Tax Claims
Administrative Tax Claims
Gap Taxes
Prepetition Unsecured Priority Claims
Priority Income Taxes

The Three-year Rule.
The 240-day Rule.
Unassessed, but Legally Assessable Rule.
Tolling.

Priority Withholding Taxes
Prepetition General Unsecured Claims

1505 DISCHARGE IN BANKRUPTCY

Dischargeable Taxes
Dischargeable Taxes in Chapter 7 Cases
Dischargeable Taxes in Chapter 11 Cases
Dischargeable Taxes in Chapter 13 Cases
Dischargeable Penalties
Designation of Payments to Nondischargeable Taxes
Collection Efforts after Discharge or Dismissal

1506 PREPARING THE CLIENT TO FILE BANKRUPTCY

Timing the Bankruptcy Petition
Closing the Tax Year
Tax Consequences of Filing Bankruptcy
Payment of Tax and Receipt of Refunds
Practitioner's Fees

1507 FILING REQUIREMENTS AND TAX STRATEGIES

Tax Filing Obligations
Filing Delinquent Tax Returns
Filing Joint or Separate Tax Return
Designation of Payments
Handling Bankrupt Taxpayer's Debt Discharge Income
Challenging a Tax Liability

1508 BANKRUPTCY PLANNING FOR BUSINESSES

Prebankruptcy Planning
S Corporation Issues
Partnership Issues
Limited Liability Company Issues
Practitioner Services during Bankruptcy

APPENDIX 15A: Checklist of Tax Considerations in Bankruptcy
APPENDIX 15B: Common Bankruptcy Terms
APPENDIX 15C: Sample Letter 4067--Final Notice of Intent to Levy
APPENDIX 15D: Treatment of an IRS Claim
APPENDIX 15E: Tax Dischargeability Flowchart
APPENDIX 15F: Citation of Sources Used in This Chapter
CHAPTER 16: REPRESENTING NONFILERS

1600 INTRODUCTION
1601 NONFILER PROGRAMS AND INITIATIVES

IRS Nonfiler/Frivolous Return Guidance
Document Matching Initiatives
High Income and International Initiatives
Exempt Organization Nonfilers
Offshore Income Initiative
Civil and Criminal Penalties
Claiming Refunds on Delinquent Returns

1602 IRS NONFILER PROCEDURES

Delinquent Return Refund Hold Program
Delinquent Return Program
Contacting the Nonfiler
Securing Delinquent Returns
Revenue Officer Options
Referral to the Automated Substitute for Return Unit
Section 6020(a) and 6020(b) Returns
Building of Cases by the Examination Division
Auditing Standards--Nonfiler Returns
Filing Returns after the Nonfiler Has Been Summoned
Referral to Criminal Investigation

1603 PRACTITIONER'S INITIAL CONTACT WITH A NONFILER

IRS Voluntary Disclosure Practice
Multistate Voluntary Disclosure Program
Initial Contact

1604 DISCLOSURE OF TAXPAYER OR TAX RETURN INFORMATION

Unauthorized Disclosure of Taxpayer Information
Federal Tax Practitioner-client Privilege
Attorney-client Privilege

1605 THE NONFILER ENGAGEMENT

Practitioner Employed by an Attorney
Practitioner Employed by the Nonfiler
Nonfiler Work Program
Practical Considerations

1606 FILING THE DELINQUENT RETURNS

Reconstructing Income
How Many Delinquent Returns to File
How to File the Delinquent Return
Married Taxpayers
Business Nonfilers
Including Penalties with the Return

APPENDIX 16A: Client Letter on IRS Voluntary Disclosure Practice
APPENDIX 16B: Steps to Follow When Contacted by a Nonfiler
APPENDIX 16C: Sample Letter Documenting Advice to Seek Legal Counsel
APPENDIX 16D: Sample Engagement Letter Confirming Understanding with Attorney
APPENDIX 16E: Sample Engagement Letter Confirming Understanding with Client
APPENDIX 16F: Nonfiler Work Program
APPENDIX 16G: Warning Client about Limit of Privilege
APPENDIX 16H: Citation of Sources Used in This Chapter
CHAPTER 17: TAXPAYER AND PREPARER PENALTIES

1700 INTRODUCTION
1701 ACCURACY-RELATED AND ERRONEOUS REFUND PENALTIES

Filing a Qualified Amended Return
Coordination of Penalties
Substantial Understatement Penalty

Computation of Understatement and Underpayment.
Insubstantial Understatement Defense.
Substantial Authority Defense.
Adequate Disclosure Defense.
Reasonable Cause/Good Faith Defense.

Negligence and Disregard of the Rules and Regulations

Defenses against the Negligence Prong.
TurboTax Defense.
Defenses against the Disregard of Rules or Regulations Prong.

Income Tax Substantial Valuation Misstatement
Estate or Gift Tax Valuation Understatement
Transaction Lacking Economic Substance
Undisclosed Foreign Financial Asset Understatement
Erroneous Refund Claims

1702 REPORTABLE TRANSACTION PENALTIES

Identifying Reportable and Listed Transactions
Reasonable Cause Defense to Section 6662A Penalty
Rescission of Section 6707A Penalty

1703 FAILURE TO FILE AND FAILURE TO PAY PENALTIES

Failure to File Penalty

Pass-through Entities.
Reasonable Cause.

Extending Individual Returns without Payment
Failure to File Information Returns
Failure to File Form 8938 or TD F 90-22.1 (FBAR)
Failure to Pay Penalty
Avoiding the Failure to File or Failure to Pay Penalties
Taxpayers in Bankruptcy

1704 FAILURE TO DEPOSIT TAXES

Waiver of Penalty for First-time Depositors
Computation of the Penalty
When the Penalty Applies
How Deposits Are Credited
Reasonable Cause for Failure to Deposit
Deposits by Electronic Funds Transfers

1705 CIVIL FRAUD PENALTY

Coordination with Other Penalties
Fraudulent Failure to File
Special Rule for Joint Returns
Proving Civil Fraud
Practical Considerations

1706 OVERVIEW OF TAX RETURN PREPARER PENALTIES

Understanding the Basic and Increased Preparer Penalties

Basic Penalty--Understatement Due to Unreasonable Position.
Increased Penalty--Willful or Reckless Conduct.

Definition of Return
Definition of Return Preparer
Scope of the Preparer Penalty Rules
Necessity for an Understatement of Tax
Substantial Authority and Adequate Disclosure
Computing the Preparer Penalty
Firm Responsibility and Liability
Good Faith Reliance
Reasonable Cause and Good Faith
Willful, Reckless, or Intentional Disregard
Interplay between Taxpayer and Preparer Penalties
Handling Conflicts between the Penalty Rules
Earned Income Credit Due Diligence
Disclosure and Use of Tax Return Information by Tax Preparers
Circular 230 Tax Advice and Preparation Standards

1707 AVOIDING PREPARER PENALTIES

Avoiding the Non-willful (Basic) Return Preparer Penalty

Reliance on Another Person.
Not Unreasonable Position Defense.
Adequate Disclosure Defense.
Reasonable Cause/Good Faith Defense.

Avoiding the Willful Understatement Preparer Penalty

Defenses against the Willful Understatement Prong.
Defenses against the Disregard of Rules or Regulations Prong.

Avoiding Other Assessable Penalties under IRC Sec. 6695
Avoiding Penalties for Promoting Abusive Tax Shelters

1708 PROCEDURES FOR EXAMINERS WHEN OPENING AND WORKING PREPARER PENALTY CASES

Income Tax Return Penalty Cases
Employment Tax Return Preparer Cases
Estate and Gift Tax Return Penalty Cases
Excise Tax Return Penalty Cases

1709 ASSESSMENT AND COLLECTION OF TAXPAYER AND PREPARER PENALTIES

Penalties Subject to Deficiency Procedures
Appeals Office Procedures

Preassessment Appeals Office Review.
Postassessment Appeals Office Review.

Filing a Preparer Penalty Claim for Refund

1710 RESEARCHING AND WEIGHING AUTHORITY

Weighing Authorities

Regulations versus Courts.
Two Courts' Interpretations Conflict.

Tailor the Research to the Confidence Level Desired

Disclosed Tax Return Position.
Undisclosed Tax Return Position.

APPENDIX 17A: Taxpayer and Return Preparer Penalties
APPENDIX 17B: Meeting the Substantial Authority Test
APPENDIX 17C: Avoiding a Section 6694 Return Preparer Penalty
APPENDIX 17D: Disclosure to Avoid Accuracy-related Penalty on Form 8275
APPENDIX 17E: Disclosure of Position Contrary to a Regulation on Form 8275-R
APPENDIX 17F: Checklist for Preparing Forms 8275 and 8275-R
APPENDIX 17G: Reasonable Cause for Avoiding Penalties
APPENDIX 17H: Form 8938 and FBAR Reporting Requirements
APPENDIX 17I: Citation of Sources Used in This Chapter
CHAPTER 18: CRIMINAL PENALTIES

1800 INTRODUCTION
1801 CURRENT CRIMINAL INVESTIGATION (CI) ACTIVITY

Offshore Voluntary Disclosure Initiative
Categories of Tax Crimes
Common Tax Crimes

Attempt to Evade or Defeat Tax.
Willful Failure to Collect or Pay Tax.
Willful Failure to File Return.
Making False Statements on a Return.
Foreign Asset Reporting.
Willfulness.
Burden of Proof.
Additional Tax Owing.
Civil Penalties.

Statutes of Limitations for Tax Offenses

1802 LIFE CYCLE OF A CRIMINAL INVESTIGATION

Investigation for Possible Criminal Activity
Whistleblower Program
Commencement of a Criminal Investigation

Examination Referrals.
Miranda and Other Rights.

Tools of the Criminal Investigation Division
Interview
Importance of Establishing Cash on Hand
Specific Item Method of Proof
Indirect Methods of Proof
Net Worth Method of Proof
Expenditures Method of Proof
Bank Deposits Method of Proof
Percentage Method of Proof
Unit and Volume Methods of Proof
Summons
Search Warrants
Grand Juries
Referral and Conference Procedures
Prosecution Standards

Voluntary Disclosure.
Health, Age, and Mental Condition.
Solicitation of Returns.

IRS Attempts to Compromise a Tax Professional's Tax Liability

1803 INDICATIONS OF A CRIMINAL INVESTIGATION

Badges of Fraud
Signs That a Referral Is Being Contemplated
Suspension of the Examination
Tax Audit Headed for Criminal Investigation

1804 PROTECTING THE CLIENT AND PRACTITIONER IN A CRIMINAL TAX CASE

Steps to Take When the Special Agent Arrives
Investigative Disclosure
Dealing with the Special Agent

1805 ASSISTING ATTORNEYS IN A CRIMINAL TAX CASE

Information Gathering

Production of Documents.
Proof of Income.

Developing and Presenting the Defense

APPENDIX 18A: Outline of Interview with Return Preparer
APPENDIX 18B: Badges of Fraud
APPENDIX 18C: Net Worth Computation Excerpted from the Special Agents Handbook
APPENDIX 18D: Expenditures Computation Excerpted from the Special Agents Handbook
APPENDIX 18E: Bank Deposit Analysis Excerpted from the Special Agents Handbook
APPENDIX 18F: Worksheet for the Net Worth Method of Proving Income
APPENDIX 18G: Worksheet for the Expenditures Method of Proving Income
APPENDIX 18H: Sample Engagement Letter for Criminal Investigation Work
APPENDIX 18I: Criminal Tax Engagement Work Program
APPENDIX 18J: Citation of Sources Used in This Chapter
CHAPTER 19: RULES OF PRACTICE

1900 INTRODUCTION
1901 PRACTICE BEFORE THE IRS

Who Can Practice before the IRS
What Constitutes Practice?
Professional Responsibility and Return Preparer Offices
Sanctions for Violating the Circular 230 Rules
Preparer Tax Identification Number (PTIN) Requirement
Updating Contact Information
Provisional PTINs
Supervised Preparers Relieved from Competency Testing
Mandatory Electronic Filing (E-filing) Requirements

1902 PRACTICE BY TAX RETURN PREPARERS

Overview of Application and Renewal Process

Competency Exam.
Continuing Education.

Scope of Return Preparer Designation
Solicitation and Advertising
Ethical Standards
Public Database

1903 PRACTICE BY ATTORNEYS, CPAs, AND ENROLLED AGENTS

Enrolled Agent Written Examination
Special Enrollment Rules for Former IRS Employees
Application for Enrollment
Temporary Recognition to Practice
Renewal of Enrollment Status

1904 RULES OF PRACTICE

Basic Prohibitions
Knowledge of Omission
Due Diligence
Unreasonable Delay
Using a Disbarred or Suspended Practitioner
Former Government Employees
Notary Public
Fees
Return of Client Records
Conflicts of Interest
Solicitation and Advertising
Negotiation of Checks
Written Tax Advice (Covered Opinions)

Best Practices.
Covered Opinion Disclosure Requirements.
Exclusions.
Other Written Advice.

Practical Implications of the Covered Opinion Rules
Individuals with Oversight Responsibility
Return Preparation Standards

1905 SANCTIONS AND MONETARY PENALTIES FOR VIOLATING THE CIRCULAR 230 RULES

Technical Incompetence
Disreputable Conduct
Return Preparation and Application of Rules to Others
Sanctions for Circular 230 Violations
Monetary Penalties for Circular 230 Violations

Amount of Penalty.
Mitigating Factors.
Penalty against Firm or Employer.

Refusing to Comply with Circular 230
Actions against Clients
Initiation of Disciplinary Action
Statute of Limitations
Expedited Suspension Procedures
Reinstatement

APPENDIX 19A: Checklist of the Circular 230 Advertising and Solicitation Requirements
APPENDIX 19B: Guide to Sanctions for Circular 230 Violations
APPENDIX 19C: Checklist for Determining Whether Written Tax Advice Is a Covered Opinion
APPENDIX 19D: Summary of Tax Return Preparer Requirements
APPENDIX 19E: Restrictions During Suspension or Disbarment from Practice
APPENDIX 19F: Citation of Sources Used in This Chapter
CHAPTER 20: ACCESS TO INFORMATION

2000 INTRODUCTION
2001 POWER OF ATTORNEY

When a Power of Attorney (POA) Is Required
Tax Return and Third-party Designees
Required Form and Contents of a POA
Taxpayer Signature Requirements
Centralized Authorization File (CAF) System
Ineligible Representatives
Revocation of a POA
Practical Considerations

2002 OBTAINING INFORMATION FROM THE IRS

Information That Must Be Made Available
Information That Need Not Be Made Available
Information about the Taxpayer
Information about PTIN Holders
Form of FOIA Request
IRS Review of FOIA Requests
Required Release of IRS Field Service Advice
Requesting Copies of Returns and Return Information

2003 REGULATIONS, RULINGS, AND OTHER OFFICIAL PRONOUNCEMENTS

Regulations
Revenue Rulings
Other Official Guidance
Obtaining a Private Letter Ruling

Preparing and Filing a Private Letter Ruling Request.
Private Letter Ruling Request Process.
Withdrawing a Private Letter Ruling Request.

2004 WRONGFUL DISCLOSURE OF TAXPAYER INFORMATION

Definition of Return Information
Effect of the Privacy Act and Freedom of Information Act
Exceptions to the Nondisclosure Rule
State/Federal Partnership to Share Information
Disclosure Seriously Impairing Tax Administration
Monetary Damages for Unauthorized Disclosure
Use and Disclosure of Tax Return Information by Preparers

Key Terms and Definitions.
Permitted Disclosure and Use--Exceptions to the General Rule.
Taxpayer Consent Requirements.
Format of Consent.
Penalties.

2005 HOW THE IRS OBTAINS INFORMATION FROM TAXPAYERS

Responding to Document or Information Requests

2006 IRS SUMMONS AUTHORITY AND PROCEDURE

Use of a Summons
Summons Formalities
Rights and Privileges of Persons Summoned
Dual Representation
Complying with a Summons
Contesting the Issuance of a Summons
Third-party Summonses
Third-party Contacts
John Doe Summonses
Designated Summonses

APPENDIX 20A: Completed Form 2848 (Power of Attorney and Declaration of Representative)
APPENDIX 20B: Common Reasons for Rejection of Powers of Attorney
APPENDIX 20C: Sample Freedom of Information Act (FOIA) Request Letter
APPENDIX 20D: Sample Format for a Private Letter Ruling Request
APPENDIX 20E: Sample Consent for Disclosure of Form 1040 Tax Return Information
APPENDIX 20F: Sample Consent for Use of Form 1040 Tax Return Information
APPENDIX 20G: Permissible Disclosures under IRC Sec. 7216 Not Requiring Consent
APPENDIX 20H: Citation of Sources Used in This Chapter
CHAPTER 21: MANAGING AN IRS ENGAGEMENT

2100 INTRODUCTION
2101 DUE DILIGENCE IN CLIENT ACCEPTANCE

Determining the Prospective Client's Motives
Obtaining Information to Make Acceptance Decision
Deciding Whether to Accept the Engagement

2102 MANAGING CLIENT MATTERS DURING AN IRS REPRESENTATION ENGAGEMENT

Use of Written Engagement Letters
Drafting the Engagement Letter
Use of Work Programs
Pre-engagement Conference with Client
Reviewing the Issues and Documents
Contacting the IRS
Client Management during the Engagement
Closing the Engagement
Cost to the Client of the Proposed Resolution
Executing the Required Documents
Follow-up
Dealing with State Tax Issues
Marketing Tax Services
Retaining Client Documents
Online Practitioner Services

2103 MANAGING IRS MATTERS DURING THE ENGAGEMENT

Keeping Track of Deadlines
Managing Information during the Engagement
Presenting the Information
Copying Information
Reimbursement for Summons Expenses
Documenting Meetings during the Engagement
Closing the Engagement
Dealing with IRS Personnel
Requesting a Meeting with the Group Manager
IRS Misconduct
Reporting Suspicious Emails to the IRS

2104 BILLING AND COLLECTION

Amount of the Fee
Circular 230 Provisions on Fees
Use of a Retainer
Clients in Financial Difficulty
Billing for the Engagement
Special Considerations in Representing Nonfilers
Cash Reporting Requirements
Bartering Transactions
Suing a Client over an Unpaid Fee

2105 IRS ENGAGEMENT RISK MANAGEMENT

Understanding Professional Standards
Communicating with the Client
Assignment of Personnel
Referral to Another Practitioner
Terminating the Client Relationship
Handling a Malpractice Claim

APPENDIX 21A: Sample Engagement Letter to Represent Client in Audit
APPENDIX 21B: Sample Engagement Letter to Represent Client in Appeal
APPENDIX 21C: Sample Engagement Letter to Represent Client in Collection Matter
APPENDIX 21D: Sample Engagement Letter for Offer in Compromise
APPENDIX 21E: Sample Engagement Letter for Installment Agreement
APPENDIX 21F: Sample Engagement Letter for Trust Fund Recovery Penalty
APPENDIX 21G: Sample Letter to Revenue Agent Requesting Workpapers
APPENDIX 21H: Sample Transmittal to Revenue Agent of POA and Confirmation of Appointment
APPENDIX 21I: Sample Audit Results Letter to Client
APPENDIX 21J: Sample Letter Confirming Practitioner's Authority to Sign Documents
APPENDIX 21K: Audit Chronology for Tracking Deadlines
APPENDIX 21L: Record of Telephone Conversation/Meeting
APPENDIX 21M: Sample Cover Letter Transmitting Invoice
APPENDIX 21N: Sample Client Letter Terminating an Audit Representation Engagement
APPENDIX 21O: New Client Acceptance Form
APPENDIX 21P: Citation of Sources Used in This Chapter
CHAPTER 22: CLIENT PROFILES

2200 INTRODUCTION
2201 IRS EXAMINATION BY REVENUE AGENT

Client Profile
Planning Action

Audit Strategy.
Meeting with the Client.
Handling the Audit.
Closing the Case.
Post Engagement.

2202 HANDLING A TRUST FUND RECOVERY PENALTY CASE

Client Profile
Planning Action

Start of the Engagement.
Handling the Negotiations.
Concluding the Engagement.

2203 HANDLING AN IRS APPEAL

Client Profile
Planning Action

Start of the Engagement.
The Appeals Conference.
Closing the Engagement.

2204 MAKING AN OFFER IN COMPROMISE

Client Profile
Planning Action
STEP 1 Gathering Information
STEP 2 Engagement Agreement
STEP 3 Analyzing Alternatives
STEP 4 Developing the Basis of the Offer
STEP 5 Preparation of Forms 433-A (OIC) and 433-B (OIC)
STEP 6 Calculating the Amount to Offer
STEP 7 Is the Taxpayer Current on All Filings and Payments of Present Taxes?
STEP 8 Completion of Form 656
STEP 9 Attaching Supporting Statement to the Form
STEP 10 Submitting the Offer to the IRS
STEP 11 Follow up after Submission of the Offer
STEP 12 After Acceptance of the Offer
STEP 13 If the Offer Is Rejected

2205 REPRESENTING NONFILERS

Client Profile
Practitioner's Initial Contact with Nonfiler
Planning Action

2206 OBTAINING INNOCENT SPOUSE RELIEF FROM JOINT TAX RETURN LIABILITY

Client Profile
Planning Action

2207 ADVISING CLIENTS WHO CANNOT PAY THEIR TAXES

Client Profile
Planning Action

Filing a Valid Extension.
Extending the Return without Paying the Tax.
Obtaining an Installment Agreement.
Borrowing to Pay the Tax.
Paying by Credit Card.

2208 AVOIDING PENALTIES FOR IMPROPER DISCLOSURE AND USE OF TAX RETURN INFORMATION

Client Profile
Planning Action

General Rule and Key Terms.
Consent Requirements.
Penalties.

2209 MEETING THE REQUIREMENTS OF A REGISTERED TAX RETURN PREPARER

Client Profile
Planning Action

Registered Tax Return Preparer Requirements.
Scope of the RTRP Designation.

2210 ASSISTING A VICTIM OF IDENTITY THEFT

Client Profile
Planning Action

APPENDIX 22A: Sample Memorandum of Discussion
APPENDIX 22B: Sample Letter to IRS Summarizing Trust Fund Penalty Defenses
APPENDIX 22C: Sample Appeal Protest Letter
APPENDIX 22D: Completed Form 656, Offer in Compromise
APPENDIX 22E: Completed Form 433-A (OIC), Collection Information Statement for Wage Earners and Self-employed Individuals
APPENDIX 22F: Letter Transmitting Offer in Compromise and Describing Terms and Conditions of Offer
APPENDIX 22G: Sample Consent for Disclosure of Form 1040 Tax Return Information
APPENDIX 22H: Citation of Sources Used in This Chapter