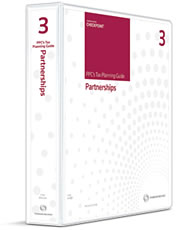 PPC's Guide to Tax Planning: Partnerships

Product Information
Frequency of Updates:

Annually

Brand:

Practitioners Publishing
Increase your value with planning advice!
PPC's Tax Planning for Partnerships will help you and your staff respond to client questions and capitalize on this steady growth in partnership filing and planning.
The 2012 edition includes:
Proposed regulations issued in November 2011, which provide a new definition of limited partnership interests for passive activity purposes.
Final regulations on partnership debt-for-equity exchanges, which include a safe harbor rule for when the FMV of the exchanged partnership interest is deemed to equal its liquidation value.
The inflation-adjusted $139,000 Section 179 deduction, which under current law falls to $25,000 for tax years beginning in 2013, and 50% bonus depreciation, which under current law falls to zero in calendar year 2013.  
Tangible property temporary regulations published in December 2011, which will change the method of accounting for materials and supplies, repairs, and related dispositions of property.
The 2013 Medicare surtax, which starting on January 1, 2013, will apply to dispositions by higher income partners of their partnership interests.
A revised discussion on partnership bankruptcy, providing more information on topics such as creditors' claims and resolution of bankruptcy proceedings.
Partnership transactions that "flip" partner profits and loss allocations.
The chapters are written and updated by experienced practitioners, with important concepts illustrated with real-life examples. The chapters include checklists, worksheets, and other practice aids to promote an accurate, efficient, and consistent approach to handling partner and partnership transactions. In addition, the Form 1065 and Schedule K and K-1 roadmaps identify potential tax planning strategies and reference relevant coverage in the Guide, which can be used by practitioners (and staff members) to solidify their relationship with existing clients and set them apart when meeting new clients.
With the 2012 edition of the Guide, you don't get stuck trying to decipher the rules and regulations, and you don't pay for a lot of generic discussion you could have gotten for free from an IRS publication. We've already done the analysis for you, and at a great price.
Tax planning is a service that can save your clients thousands of dollars. Now in its 26th edition, PPC's Tax Planning Guide-Partnerships is the one resource you need to profitably serve your clients and grow your partnership tax practice.