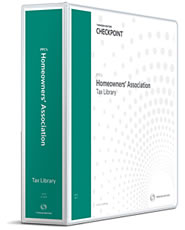 PPC's Homeowners' Association Tax Library

Product Information
Frequency of Updates:

Annually

Brand:

Practitioners Publishing
PPC's Homeowners' Association Tax Library offers comprehensive, complete, up-to-date text of relevant tax citations affecting common interest realty associations (CIRAs) - from Code sections to private letter rulings to tax court cases.
The Library covers citations specifically related to CIRAs in -
The Internal Revenue Code
Committee Reports
Tax Court Cases
Treasury Regulations
Revenue Rulings
Private Letter Rulings
General Counsel Memoranda
Revenue Procedures
Other Rulings, including National Office Technical Advice Memoranda, Actions on Decision, Treasury Decisions, Announcements, Field Service Advice Memoranda, IRS Information Letters, and Chief Counsel Advice
Each CIRA-related citation includes the specific topics addressed, cross-references to other related citations for those topics, and a summary of the citation. In addition, the Library includes a comprehensive cross-reference table, indicating whether each Library citation is applicable to IRC §528; IRC §277; Subchapter T; 501(c)(4); and/or 501(c)(7). 
This resource will simplify your research of complex IRS tax issues associated with CIRAs. In addition, citations referred to in PPC's Guide to Homeowners' Associations (HOA) are linked to the complete text of those citations in the Library.