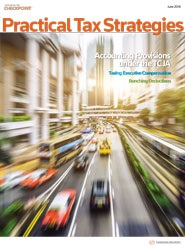 Practical Tax Strategies

Product Information
Frequency of Updates:




Monthly

Click Try free for 30 days below to download a free sample issue on ProView.

Brand:

Research Institute of America
Practical Tax Strategies alerts readers to timely tax issues, focusing on practical strategies to reduce client taxes and satisfy statutory and regulatory compliance mandates.
Practical Tax Strategies provides easy-to-read analysis and innovative planning strategies that can be used by the seasoned tax professional looking to expand his or her expertise, as well as non-tax practitioners in need of coherent explanations for complicated tax concepts and changes.
Articles are written by tax practitioners who understand the real-world demands of servicing clients. Concise summaries of recent developments are arranged by subject areas and slice into the ever-changing tax scene.
Coverage includes the following areas:
Practicing before the IRS
Estate planning
Tax accounting
Compensation
Corporations
Personal
Partnerships and LLCs
Real estate
Practical Tax Strategies subscribers receive:
Complete, relevant information on recent tax developments and their implications--a concise overview supplemented with analysis and commentary
Expert, step-by-step advice on how to maximize savings and minimize risk in every major tax area, including partnerships, S corporations, limited liability companies, real estate, accounting, corporations, estate planning, personal transactions and compensation and benefits--with checklists to highlight new techniques and opportunities
Insight by columnists who describe new developments in practicing before the IRS and help readers assess their own knowledge of critical tax concepts, as well as a Newsline of late-breaking developments
Advertise in this Journal
Practical Tax Strategies/Taxation for Accountants (WG&L)

Practical Tax Strategies

Preview Issue in Progress

2017

Volume 98, Number 06, June 2017

Recent Developments

Articles

Columns

Volume 98, Number 05, May 2017

Advertisers for May 2017

Recent Developments

Articles

Columns

Volume 98, Number 04, April 2017

Advertisers for April 2017

Recent Developments

Articles

Columns

Volume 98, Number 03, March 2017

Advertisers for March 2017

Recent Developments

Articles

Columns

Volume 98, Number 02, February 2017

Advertisers for February 2017

Recent Developments

Articles

Columns

Volume 98, Number 01, January 2017

Advertisers for January 2017

Recent Developments

Articles

Columns

2016

Volume 97, Number 06, December 2016

Advertisers for December 2016

Recent Developments

Articles

Columns

Volume 97, Number 05, November 2016

Advertisers for November 2016

Recent Developments

Articles

Columns

Volume 97, Number 04, October 2016

Advertisers for October 2016

Recent Developments

Articles

Columns

Volume 97, Number 03, September 2016

Advertisers for September 2016

Recent Developments

Articles

Columns

Volume 97, Number 02, August 2016

Advertisers for August 2016

Recent Developments

Articles

Columns

Volume 97, Number 01, July 2016

Advertisers for July 2016

Recent Developments

Articles

Columns

Volume 96, Number 06, June 2016

Advertisers for June 2016

Recent Developments

Articles

Columns

Volume 96, Number 05, May 2016

Advertisers for May 2016

Recent Developments

Articles

Columns

Volume 96, Number 04, April 2016

Advertisers for April 2016

Recent Developments

Articles

Columns

Volume 96, Number 03, March 2016

Advertisers for March 2016

Recent Developments

Articles

Columns

Volume 96, Number 02, February 2016

Advertisers for February 2016

Recent Developments

Articles

Columns

Volume 96, Number 01, January 2016

Advertisers for January 2016

Recent Developments

Articles

Columns

2015

Volume 95, Number 06, December 2015

Advertisers for December 2015

Recent Developments

Articles

Columns

Volume 95, Number 05, November 2015

Advertisers for November 2015

Recent Developments

Articles

Columns

Volume 95, Number 04, October 2015

Advertisers for October 2015

Recent Developments

Articles

Columns

Volume 95, Number 03, September 2015

Advertisers for September 2015

Recent Developments

Articles

Columns

Volume 95, Number 02, August 2015

Advertisers for August 2015

Recent Developments

Articles

Columns

Volume 95, Number 01, July 2015

Advertisers for July 2015

Recent Developments

Articles

Columns

Volume 94, Number 06, June 2015

Advertisers for June 2015

Recent Developments

Articles

Columns

Volume 94, Number 05, May 2015

Advertisers for May 2015

Recent Developments

Articles

Columns

Volume 94, Number 04, April 2015

Advertisers for April 2015

Recent Developments

Articles

Columns

Volume 94, Number 03, March 2015

Advertisers for March 2015

Recent Developments

Articles

Columns

Volume 94, Number 02, February 2015

Advertisers for February 2015

Recent Developments

Articles

Columns

Volume 94, Number 01, January 2015

Advertisers for January 2015

Recent Developments

Articles

Columns

2014

Volume 93, Number 06, December 2014

Advertisers for December 2014

Recent Developments

Articles

Columns

Volume 93, Number 05, November 2014

Advertisers for November 2014

Recent Developments

Articles

Columns

Volume 93, Number 04, October 2014

Advertisers for October 2014

Recent Developments

Articles

Columns

Volume 93, Number 03, September 2014

Advertisers for September 2014

Recent Developments

Articles

Columns

Volume 93, Number 02, August 2014

Advertisers for August 2014

Recent Developments

Articles

Columns

Volume 93, Number 01, July 2014

Advertisers for July 2014

Recent Developments

Articles

Columns

Volume 92, Number 06, June 2014

Advertisers for June 2014

Recent Developments

Articles

Columns

Volume 92, Number 05, May 2014

Advertisers for May 2014

Recent Developments

Articles

Columns

Volume 92, Number 04, April 2014

Advertisers for April 2014

Recent Developments

Articles

Columns

Volume 92, Number 03, March 2014

Advertisers for March 2014

Recent Developments

Articles

Columns

Volume 92, Number 02, February 2014

Advertisers for February 2014

Recent Developments

Articles

Columns

Volume 92, Number 01, January 2014

Advertisers for January 2014

Recent Developments

Articles

Columns

2013

Volume 91, Number 06, December 2013

Advertisers for December 2013

Recent Developments

Articles

Columns

Volume 91, Number 05, November 2013

Advertisers for November 2013

Recent Developments

Articles

Columns

Volume 91, Number 04, October 2013

Advertisers for October 2013

Recent Developments

Articles

Columns

Volume 91, Number 03, September 2013

Advertisers for September 2013

Recent Developments

Articles

Columns

Volume 91, Number 02, August 2013

Advertisers for August 2013

Recent Developments

Articles

Columns

Volume 91, Number 01, July 2013

Advertisers for July 2013

Recent Developments

Articles

Columns

Volume 90, Number 06, June 2013

Advertisers for June 2013

Recent Developments

Articles

Columns

Volume 90, Number 05, May 2013

Advertisers for May 2013

Recent Developments

Articles

Columns

Volume 90, Number 04, April 2013

Advertisers for April 2013

Recent Developments

Articles

Columns

Volume 90, Number 03, March 2013

Advertisers for March 2013

Recent Developments

Articles

Columns

Volume 90, Number 02, February 2013

Advertisers for February 2013

Recent Developments

Articles

Columns

Volume 90, Number 01, January 2013

Advertisers for January 2013

Recent Developments

Articles

Columns

2012

Volume 89, Number 06, December 2012

Advertisers for December 2012

Recent Developments

Articles

Columns

Volume 89, Number 05, November 2012

Advertisers for November 2012

Recent Developments

Articles

Columns

Volume 89, Number 04, October 2012

Advertisers for October 2012

Recent Developments

Articles

Columns

Volume 89, Number 03, September 2012

Advertisers for September 2012

Recent Developments

Articles

Columns

Volume 89, Number 02, August 2012

Advertisers for August 2012

Recent Developments

Articles

Columns

Volume 89, Number 01, July 2012

Advertisers for July 2012

Recent Developments

Articles

Columns

Volume 88, Number 06, June 2012

Advertisers for June 2012

Recent Developments

Articles

Columns

Volume 88, Number 05, May 2012

Advertisers for May 2012

Recent Developments

Articles

Columns

Volume 88, Number 04, April 2012

Advertisers for April 2012

Recent Developments

Articles

Columns

Volume 88, Number 03, March 2012

Advertisers for March 2012

Recent Developments

Articles

Columns

Volume 88, Number 02, February 2012

Advertisers for February 2012

Recent Developments

Articles

Columns

Volume 88, Number 01, January 2012

Advertisers for January 2012

Recent Developments

Articles

Columns

2011

Volume 87, Number 06, December 2011

Advertisers for December 2011

Recent Developments

Articles

Columns

Volume 87, Number 05, November 2011

Advertisers for November 2011

Recent Developments

Articles

Columns

Volume 87, Number 04, October 2011

Advertisers for October 2011

Recent Developments

Articles

Columns

Volume 87, Number 03, September 2011

Advertisers for September 2011

Recent Developments

Articles

Columns

Volume 87, Number 02, August 2011

Advertisers for August 2011

Recent Developments

Articles

Columns

Volume 87, Number 01, July 2011

Advertisers for July 2011

Recent Developments

Articles

Columns

Volume 86, Number 06, June 2011

Advertisers for June 2011

Recent Developments

Articles

Columns

Volume 86, Number 05, May 2011

Advertisers for May 2011

Recent Developments

Articles

Columns

Volume 85, Number 04, April 2011

Advertisers for April 2011

Recent Developments

Articles

Columns

Volume 86, Number 03, March 2011

Advertisers for March 2011

Recent Developments

Articles

Columns

Volume 86, Number 02, February 2011

Advertisers for February 2011

Recent Developments

Articles

Columns

Volume 86, Number 01, January 2011

Advertisers for January 2011

Recent Developments

Articles

Columns

2010

Volume 85, Number 06, December 2010

Advertisers for December 2010

Recent Developments

Articles

Columns

Volume 85, Number 05, November 2010

Advertisers for November 2010

Recent Developments

Articles

Columns

Volume 85, Number 04, October 2010

Advertisers for October 2010

Recent Developments

Articles

Columns

Volume 85, Number 03, September 2010

Advertisers for September 2010

Recent Developments

Articles

Columns

Volume 85, Number 02, August 2010

Advertisers for August 2010

Recent Developments

Articles

Columns

Volume 85, Number 01, July 2010

Advertisers for July 2010

Recent Developments

Articles

Columns

Volume 84, Number 06, June 2010

Advertisers for June 2010

Recent Developments

Articles

Columns

Volume 84, Number 05, May 2010

Advertisers for May 2010

Recent Developments

Articles

Columns

Volume 84, Number 04, April 2010

Advertisers for April 2010

Recent Developments

Articles

Columns

Volume 84, Number 03, March 2010

Advertisers for March 2010

Recent Developments

Articles

Columns

Volume 84, Number 02, February 2010

Advertisers for February 2010

Recent Developments

Articles

Columns

Volume 84, Number 01, January 2010

Advertisers for January 2010

Recent Developments

Articles

Columns

2009

Volume 83, Number 06, December 2009

Advertisers for December 2009

Recent Developments

Articles

Columns

Volume 83, Number 05, November 2009

Advertisers for November 2009

Recent Developments

Articles

Columns

Volume 83, Number 04, October 2009

Advertisers for October 2009

Recent Developments

Articles

Columns

Volume 83, Number 02, September 2009

Advertisers for September 2009

Recent Developments

Articles

Columns

Volume 83, Number 02, August 2009

Advertisers for August 2009

Recent Developments

Articles

Columns

Volume 83, Number 01, July 2009

Advertisers for July 2009

Recent Developments

Articles

Columns

Volume 82, Number 06, June 2009

Advertisers for June 2009

Recent Developments

Articles

Columns

Volume 82, Number 05, May 2009

Advertisers for May 2009

Recent Developments

Articles

Columns

Volume 82, Number 04, April 2009

Advertisers for April 2009

Recent Developments

Articles

Columns

Volume 82, Number 03, March 2009

Advertisers for March 2009

Recent Developments

Articles

Columns

Volume 82, Number 02, February 2009

Advertisers for February 2009

Recent Developments

Articles

Columns

Volume 82, Number 01, January 2009

Advertisers for January 2009

Recent Developments

Articles

Columns

2008

Volume 81, Number 06, December 2008

Advertisers for December 2008

Recent Developments

Articles

Columns

Volume 81, Number 05, November 2008

Advertisers for November 2008

Recent Developments

Articles

Columns

Volume 81, Number 04, October 2008

Advertisers for October 2008

Recent Developments

Articles

Columns

Volume 81, Number 03, September 2008

Advertisers for September 2008

Recent Developments

Articles

Columns

Volume 81, Number 02, August 2008

Advertisers for August 2008

Recent Developments

Articles

Columns

Volume 81, Number 01, July 2008

Advertisers for July 2008

Recent Developments

Articles

Columns

Volume 80, Number 06, June 2008

Advertisers for June 2008

Recent Developments

Articles

Columns

Volume 80, Number 05, May 2008

Advertisers for May 2008

Recent Developments

Articles

Columns

Volume 80, Number 04, April 2008

Advertisers for April 2008

Recent Developments

Articles

Columns

Volume 80, Number 03, March 2008

Advertisers for March 2008

Recent Developments

Articles

Columns

Volume 80, Number 02, February 2008

Advertisers for February 2008

Recent Developments

Articles

Columns

Volume 80, Number 01, January 2008

Advertisers for January 2008

Recent Developments

Articles

Columns

2007

Volume 79, Number 06, December 2007

Advertisers for December 2007

Recent Developments

Articles

Columns

Volume 79, Number 05, November 2007

Advertisers for November 2007

Recent Developments

Articles

Columns

Volume 79, Number 04, October 2007

Advertisers for October 2007

Recent Developments

Articles

Columns

Volume 79, Number 03, September 2007

Advertisers for September 2007

Recent Developments

Articles

Columns

Volume 79, Number 02, August 2007

Advertisers for August 2007

Recent Developments

Articles

Columns

Volume 79, Number 01, July 2007

Advertisers for July 2007

Recent Developments

Articles

Columns

Volume 78, Number 06, June 2007

Advertisers for June 2007

Recent Developments

Articles

Columns

Volume 78, Number 05, May 2007

Advertisers for May 2007

Recent Developments

Articles

Columns

Volume 78, Number 04, April 2007

Advertisers for April 2007

Recent Developments

Articles

Columns

Volume 78, Number 03, March 2007

Advertisers for March 2007

Recent Developments

Articles

Columns

Volume 78, Number 02, February 2007

Advertisers for February 2007

Recent Developments

Articles

Columns

Volume 78, Number 01, January 2007

Advertisers for January 2007

Recent Developments

Articles

Columns

2006

Volume 77, Number 06, December 2006

Advertisers for December 2006

Recent Developments

Articles

Columns

Volume 77, Number 05, November 2006

Advertisers for November 2006

Recent Developments

Articles

Columns

Volume 77, Number 04, October 2006

Advertisers for October 2006

Recent Developments

Articles

Columns

Volume 77, Number 03, September 2006

Advertisers for September 2006

Recent Developments

Articles

Columns

Volume 77, Number 02, August 2006

Advertisers for August 2006

Recent Developments

Articles

Columns

Volume 77, Number 01, July 2006

Advertisers for July 2006

Recent Developments

Articles

Columns

Volume 76, Number 06, June 2006

Advertisers for June 2006

Recent Developments

Articles

Columns

Volume 76, Number 05, May 2006

Advertisers for May 2006

Recent Developments

Articles

Columns

Volume 76, Number 04, April 2006

Advertisers for April 2006

Recent Developments

Articles

Columns

Volume 76, Number 03, March 2006

Advertisers for March 2006

Recent Developments

Articles

Columns

Volume 76, Number 02, February 2006

Advertisers for February 2006

Recent Developments

Articles

Columns

Volume 76, Number 01, January 2006

Advertisers for January 2006

Recent Developments

Articles

Columns

2005

Volume 75, Number 06, December 2005

Advertisers for December 2005

Recent Developments

Articles

Columns

Volume 75, Number 05, November 2005

Advertisers for November 2005

Recent Developments

Articles

Columns

Volume 75, Number 04, October 2005

Advertisers for October 2005

Recent Developments

Articles

Columns

Volume 75, Number 03, September 2005

Advertisers for September 2005

Recent Developments

Articles

Columns

Volume 75, Number 02, August 2005

Advertisers for August 2005

Recent Developments

Articles

Columns

Volume 75, Number 01, July 2005

Advertisers for July 2005

Recent Developments

Articles

Columns

Volume 74, Number 06, June 2005

Advertisers for June 2005

Recent Developments

Articles

Columns

Volume 74, Number 05, May 2005

Advertisers for May 2005

Recent Developments

Articles

Columns

Volume 74, Number 04, April 2005

Advertisers for April 2005

Recent Developments

Articles

Columns

Volume 74, Number 03, March 2005

Advertisers for March 2005

Recent Developments

Articles

Columns

Volume 74, Number 02, February 2005

Advertisers for February 2005

Recent Developments

Articles

Columns

Volume 74, Number 01, January 2005

Advertisers for January 2005

Recent Developments

Articles

Columns

2004

Volume 73, Number 06, December 2004

Advertisers for December 2004

Recent Developments

Articles

Columns

Volume 73, Number 05, November 2004

Advertisers for November 2004

Recent Developments

Articles

Columns

Volume 73, Number 04, October 2004

Advertisers for October 2004

Recent Developments

Articles

Columns

Volume 73, Number 03, September 2004

Advertisers for September 2004

Recent Developments

Articles

Columns

Volume 73, Number 02, August 2004

Advertisers for August 2004

Recent Developments

Articles

Columns

Volume 73, Number 01, July 2004

Advertisers for July 2004

Recent Developments

Articles

Columns

Volume 72, Number 06, June 2004

Advertisers for June 2004

Recent Developments

Articles

Columns

Volume 72, Number 05, May 2004

Advertisers for May 2004

Recent Developments

Articles

Columns

Volume 72, Number 04, April 2004

Advertisers for April 2004

Recent Developments

Articles

Columns

Volume 72, Number 03, March 2004

Advertisers for March 2004

Recent Developments

Articles

Columns

Volume 72, Number 02, February 2004

Advertisers for February 2004

Recent Developments

Articles

Columns

Volume 72, Number 01, January 2004

Advertisers for January 2004

Recent Developments

Articles

Columns

2003

Volume 71, Number 06, December 2003

Advertisers for December 2003

Recent Developments

Articles

Columns

Volume 71, Number 05, November 2003

Advertisers for November 2003

Recent Developments

Articles

Columns

Volume 11, Number 04, October 2003

Advertisers for October 2003

Recent Developments

Articles

Columns

Volume 71, Number 03, September 2003

Advertisers for September 2003

Recent Developments

Articles

Columns

Volume 71, Number 02, August 2003

Advertisers for August 2003

Recent Developments

Articles

Columns

Volume 71, Number 01, July 2003

Advertisers for July 2003

Recent Developments

Articles

Columns

Volume 70, Number 06, June 2003

Recent Developments

Articles

Columns

Volume 70, Number 05, May 2003

Recent Developments

Articles

Columns

Volume 70, Number 04, April 2003

Recent Developments

Articles

Columns

Volume 70, Number 03, March 2003

Recent Developments

Articles

Columns

Volume 70, Number 02, February 2003

Recent Developments

Articles

Columns

Volume 70, Number 01, January 2003

Recent Developments

Articles

Columns

2002

Volume 69, Number 06, December 2002

Recent Developments

Articles

Columns

Volume 69, Number 05, November 2002

Recent Developments

Articles

Columns

Volume 69, Number 04, October 2002

Recent Developments

Articles

Columns

Volume 69, Number 03, September 2002

Recent Developments

Articles

Columns

Volume 69, Number 02, August 2002

Recent Developments

Articles

Columns

Volume 69, Number 01, July 2002

Recent Developments

Articles

Columns

Volume 68, Number 05, June 2002

Recent Developments

Articles

Columns

Volume 68, Number 05, May 2002

Recent Developments

Articles

Columns

Volume 68, Number 04, April 2002

Recent Developments

Articles

Columns

Volume 68, Number 03, March 2002

Recent Developments

Articles

Columns

Volume 68, Number 02, February 2002

Recent Developments

Articles

Columns

Volume 68, Number 01, January 2002

Recent Developments

Articles

Columns

2001

Volume 67, Number 06, December 2001

Recent Developments

Articles

Columns

Volume 67, Number 05, November 2001

Recent Developments

Articles

Columns

Volume 67, Number 04, October 2001

Recent Developments

Articles

Columns

Volume 67, Number 03, September 2001

Recent Developments

Articles

Columns

Volume 67, Number 02, August 2001

Recent Developments

Articles

Columns

Volume 67, Number 01, July 2001

Recent Developments

Articles

Columns

Volume 66, Number 06, June 2001

Recent Developments

Articles

Columns

Volume 66, Number 05, May 2001

Recent Developments

Articles

Columns

Volume 66, Number 04, April 2001

Recent Developments

Articles

Columns

Volume 66, Number 03, March 2001

Recent Developments

Articles

Columns

Volume 66, Number 02, February 2001

Recent Developments

Articles

Columns

Volume 66, Number 01, January 2001

Recent Developments

Articles

Columns

2000

Volume 65, Number 06, December 2000

Recent Developments

Articles

Columns

Volume 65, Number 05, November 2000

Recent Developments

Articles

Columns

Volume 65, Number 04, October 2000

Recent Developments

Articles

Columns

Volume 65, Number 03, September 2000

Recent Developments

Articles

Columns

Volume 65, Number 02, August 2000

Recent Developments

Articles

Columns

Volume 65, Number 01, July 2000

Recent Developments

Articles

Columns

Volume 64, Number 06, June 2000

Recent Developments

Articles

Columns

Volume 64, Number 05, May 2000

Recent Developments

Articles

Columns

Volume 64, Number 04, April 2000

Recent Developments

Articles

Columns

Volume 64, Number 03, March 2000

Recent Developments

Articles

Columns

Volume 64, Number 02, February 2000

Recent Developments

Articles

Columns

Volume 64, Number 01, January 2000

Recent Developments

Articles

Columns

1999

Volume 63, Number 6, December 1999

Recent Developments

Articles

Columns

Volume 63, Number 5, November 1999

Recent Developments

Articles

Columns

Volume 63, Number 4, October 1999

Recent Developments

Articles

Columns

Volume 63, Number 3, September 1999

Recent Developments

Articles

Columns

Volume 63, Number 2, August 1999

Recent Developments

Articles

Columns

Volume 63, Number 1, July 1999

Recent Developments

Articles

Columns

Volume 62, Number 6, June 1999

Recent Developments

Articles

Columns

Volume 62, Number 5, May 1999

Recent Developments

Articles

Columns

Volume 62, Number 4, April 1999

Recent Developments

Articles

Columns

Volume 62, Number 3, March 1999

Recent Developments

Articles

Columns

Volume 62, Number 2, February 1999

Recent Developments

Articles

Columns

Volume 62, Number 1, January 1999

Recent Developments

Articles

Columns

1998

Volume 61, Number 6, December 1998

Recent Developments

Articles

Columns

Volume 61, Number 5, November 1998

Recent Developments

Articles

Columns

Taxation for Accountants

1998

Volume 61, Number 4, October 1998

Recent Developments

Articles

Columns

Volume 61, Number 3, September 1998

Recent Developments

Articles

Columns

Volume 61, Number 2, August 1998

Recent Developments

Articles

Columns

Volume 61, Number 1, July 1998

Recent Developments

Articles

Columns

Volume 60, Number 6, June 1998

Recent Developments

Articles

Columns

Volume 60, Number 5, May 1998

Recent Developments

Articles

Columns

Volume 60, Number 4, April 1998

Recent Developments

Articles

Columns

Volume 60, Number 3, March 1998

Recent Developments

Articles

Columns

Volume 60, Number 2, February 1998

Recent Developments

Articles

Columns

Volume 60, Number 1, January 1998

Recent Developments

Articles

Columns

1997

Volume 59, Number 6, December 1997

Recent Developments

Articles

Columns

Volume 59, Number 5, November 1997

Recent Developments

Articles

Columns

Volume 59, Number 4, October 1997

Recent Developments

Articles

Columns

Volume 59, Number 3, September 1997

Recent Developments

Articles

Columns

Volume 59, Number 2, August 1997

Recent Developments

Articles

Columns

Volume 59, Number 1, July 1997

Recent Developments

Articles

Columns

Volume 58, Number 6, June 1997

Recent Developments

Articles

Columns

Volume 58, Number 5, May 1997

Recent Developments

Articles

Columns

Volume 58, Number 4, April 1997

Recent Developments

Articles

Columns

Volume 58, Number 3, March 1997

Recent Developments

Articles

Columns

Volume 58, Number 2, February 1997

Recent Developments

Articles

Columns

Volume 58, Number 1, January 1997

Recent Developments

Articles

Columns

1996

Volume 57, Number 6, December 1996

Recent Developments

Articles

Columns

Volume 57, Number 5, November 1996

Recent Developments

Articles

Columns

Volume 57, Number 4, October 1996

Recent Developments

Articles

Columns

Volume 57, Number 3, September 1996

Recent Developments

Articles

Columns

Volume 57, Number 2, August 1996

Recent Developments

Articles

Columns

Volume 57, Number 1, July 1996

Recent Developments

Articles

Columns

Volume 56, Number 6, June 1996

Recent Developments

Articles

Columns

Volume 56, Number 5, May 1996

Recent Developments

Articles

Columns

Volume 56, Number 4, April 1996

Recent Developments

Articles

Columns

Volume 56, Number 3, March 1996

Recent Developments

Articles

Columns

Volume 56, Number 2, February 1996

Recent Developments

Articles

Columns

Volume 56, Number 1, January 1996

Recent Developments

Articles

Columns

1995

Volume 55, Number 6, December 1995

Recent Developments

Articles

Columns

Volume 55, Number 5, November 1995

Recent Developments

Articles

Columns

Volume 55, Number 4, October 1995

Recent Developments

Articles

Columns

Volume 55, Number 3, September 1995

Recent Developments

Articles

Columns

Volume 55, Number 2, August 1995

Recent Developments

Articles

Columns

Volume 55, Number 1, July 1995

Recent Developments

Articles

Columns

Volume 54, Number 6, June 1995

Recent Developments

Articles

Columns

Volume 54, Number 5, May 1995

Recent Developments

Articles

Columns

Volume 54, Number 4, April 1995

Recent Developments

Articles

Columns

Volume 54, Number 3, March 1995

Recent Developments

Articles

Columns

Volume 54, Number 2, February 1995

Recent Developments

Articles

Columns

Volume 54, Number 1, January 1995

Recent Developments

Articles

Columns

1994

Volume 53, Number 6, December 1994

Recent Developments

Articles

Columns

Volume 53, Number 5, November 1994

Recent Developments

Articles

Columns

Volume 53, Number 4, October 1994

Recent Developments

Articles

Columns

Volume 53, Number 3, September 1994

Recent Developments

Articles

Columns

Volume 53, Number 2, August 1994

Recent Developments

Articles

Columns

Volume 53, Number 1, July 1994

Recent Developments

Articles

Columns

Volume 52, Number 6, June 1994

Recent Developments

Articles

Columns

Volume 52, Number 5, May 1994

Recent Developments

Articles

Columns

Volume 52, Number 4, April 1994

Recent Developments

Articles

Columns

Volume 52, Number 3, March 1994

Recent Developments

Articles

Columns

Volume 52, Number 2, February 1994

Recent Developments

Articles

Columns

Volume 52, Number 1, January 1994

Recent Developments

Articles

Columns

1993

Volume 51, Number 6, December 1993

Recent Developments

Articles

Columns

Volume 51, Number 5, November 1993

Recent Developments

Articles

Columns

Volume 51, Number 4, October 1993

Recent Developments

Articles

Columns

Volume 51, Number 3, September 1993

Recent Developments

Articles

Columns

Volume 51, Number 2, August 1993

Recent Developments

Articles

Columns

Volume 51, Number 1, July 1993

Recent Developments

Articles

Columns

Volume 50, Number 6, June 1993

Recent Developments

Articles

Columns

Volume 50, Number 5, May 1993

Recent Developments

Articles

Columns

Volume 50, Number 4, April 1993

Recent Developments

Articles

Columns

Volume 50, Number 3, March 1993

Recent Developments

Articles

Columns

Volume 50, Number 2, February 1993

Recent Developments

Articles

Columns

Volume 50, Number 1, January 1993

Recent Developments

Articles

Columns

1992

Volume 49, Number 6, December 1992

Recent Developments

Articles

Columns

Volume 49, Number 5, November 1992

Recent Developments

Articles

Columns

Volume 49, Number 4, October 1992

Recent Developments

Articles

Columns

Volume 49, Number 3, September 1992

Recent Developments

Articles

Columns

Volume 49, Number 2, August 1992

Recent Developments

Articles

Columns

Volume 49, Number 1, July 1992

Recent Developments

Articles

Columns

Volume 48, Number 6, June 1992

Recent Developments

Articles

Columns

Volume 48, Number 5, May 1992

Recent Developments

Articles

Columns

Volume 48, Number 4, April 1992

Recent Developments

Articles

Columns

Volume 48, Number 3, March 1992

Recent Developments

Articles

Columns

Volume 48, Number 2, February 1992

Recent Developments

Articles

Columns

Volume 48, Number 1, January 1992

Recent Developments

Articles

Columns

1991

Volume 47, Number 6, December 1991

Recent Developments

Articles

Columns

Volume 47, Number 5, November 1991

Recent Developments

Articles

Columns

Volume 47, Number 4, October 1991

Recent Developments

Articles

Columns

Volume 47, Number 3, September 1991

Recent Developments

Articles

Columns

Volume 47, Number 2, August 1991

Recent Developments

Articles

Columns

Volume 47, Number 1, July 1991

Recent Developments

Articles

Columns

Volume 46, Number 6, June 1991

Recent Developments

Articles

Columns

Volume 46, Number 5, May 1991

Recent Developments

Articles

Columns

Volume 46, Number 4, April 1991

Recent Developments

Articles

Columns

Volume 46, Number 3, March 1991

Recent Developments

Articles

Columns

Volume 46, Number 2, February 1991

Recent Developments

Articles

Columns

Volume 46, Number 1, January 1991

Recent Developments

Articles

Columns
---