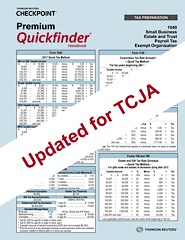 Premium Quickfinder Handbook

With more than 500 pages, the Premium Quickfinder Handbook is your trusted source for quick reference to tax principles that apply when preparing individual, business and fiduciary income, estate and gift, tax-exempt organization, and payroll tax returns. It covers the essentials of preparing these tax filings, including detailed, true-to-life examples with filled-in forms and line-by-line explanations, and addresses tax law changes and IRS developments, all in a concise, easy-to-use format.
The 2014 print and ProView eBook tax year editions will be available in December 2014. Pre-order your edition today. To order the current 2013 tax year edition, please call us at 800-510-8997.
With this Handbook, you'll be on top of the ever-changing tax rules that apply your individual, business, fiduciary, estate and gift, tax-exempt, and payroll reporting clients. Whether determining how the tax rules apply to a particular transaction or event, or how to report a particular tax item on the return, or simply looking up an amount or rate, the Handbook gets you the accurate answers you need quickly. Here's what you'll get with this useful tool:  
Material that's organized in a unique tab structure based on the IRS tax forms plus topics you'll encounter when preparing individual, business, fiduciary, estate and gift, tax-exempt, and payroll tax returns
Loads of quick reference tables and charts to get you the answers you're looking for quickly
Examples throughout to illustrate how the tax rules apply and how to report items on the return
A What's New tab that summarizes significant current-year tax changes that are addressed throughout the Handbook, so you can quickly get up to speed on what's changed
References throughout the Handbook to relevant Internal Revenue Code sections, IRS regulations and rulings, and court cases so you can dig deeper into a subject if needed
Authored by tax professionals with many years of experience, the Quickfinder Handbooks have been the industry leader for more than 40 years. Whether you're just starting out, or you're a seasoned tax professional, you'll find the Handbook an invaluable, indispensable, and irreplaceable tax resource.
---