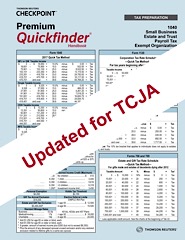 Premium Quickfinder Handbook
Product Information
The 2017 tax year editions will be available in December 2017. Pre-order your editions today.

Brand:

Quickfinder
The Premium Quickfinder Handbook is your trusted source for quick reference to tax principles that apply when preparing individual, business and fiduciary income, estate and gift, tax-exempt organization, and payroll tax returns. It covers the essentials of preparing these tax filings, including detailed, true-to-life examples with filled-in forms and line-by-line explanations, and addresses tax law changes and IRS developments, all in a concise, easy-to-use format.
Whether determining how the tax rules apply to a particular transaction or event, or how to report a particular tax item on the return, or simply looking up an amount or rate, the Handbook gets you the accurate answers you need quickly. Here's what you'll get with this useful tool:
Material that's organized in a unique tab structure based on the IRS tax forms plus topics you'll encounter when preparing individual, business, fiduciary, estate and gift, tax-exempt, and payroll tax returns
Loads of quick reference tables and charts to get you the answers you're looking for quickly
Examples throughout to illustrate how the tax rules apply and how to report items on the return
A What's New tab that summarizes significant current-year tax changes that are addressed throughout the Handbook, so you can quickly get up to speed on what's changed
References throughout the Handbook to relevant Internal Revenue Code sections, IRS regulations and rulings, and court cases so you can dig deeper into a subject if needed
See information above for new edition availability. To order the current or prior tax year editions, please call us at 800-510-8997
800-510-8997 FREE.
Premium Quickfinder Handbook 2015

Premium Quickfinder Handbook

Tab 1—2015 Tax Table and EIC Table

Tab 2—2015 States Quick Reference

Tab 3—Quick Facts, Worksheets, Where to File

Tab 4—2015 Form 1040—Line-By-Line

Children of Divorced or Separated Parents

Tab 5—Schedule A—Itemized Deductions and Schedule B—Interest and Dividends

Schedule A—Itemized Deductions

Investment Interest Expense

Other Mortgage Interest Deduction Rules

Casualty and Theft Losses

Miscellaneous Itemized Deductions

Work-Related Education Costs

Schedule B—Interest and Dividends

Foreign Accounts and Trusts

Imputed Interest on Below Market Loans

Bond Discount and Premium

Tab 6—Schedules C, F and SE

Schedule C—Profit/Loss From Business

Business vs. Hobby Losses

Schedule SE— Self-Employment Tax

Schedule F—Profit/Loss From Farming

Domestic Producer Deduction (DPD)

Tab 7—Schedule D; Form 4797; Sales and Exchanges

Schedule D/Form 8949— General Rules

Stocks and Other Securities

Sales of Business Property

Business or Rental Use of Home

Tab 8—Schedule E, Passive Activities, At-Risk

Partners and S Corporation Shareholders

Special Passive Loss Rules for Rental Activities

Tab 9—Form 2106, Travel, Meals and Entertainment

Substantiation Requirements

Tab 10—Depreciation

Special Depreciation Allowance

Alternative Minimum Tax Adjustments

Alternative Depreciation System

General Asset Account (GAA) Depreciation

Change of Use of MACRS Property

Property Contributed to a Partnership or Corporation

Tab 11—Autos and Listed Property

Deducting Vehicle Expenses

Credits for Plug-In Vehicles

Tab 12—Credits, AMT, NII Tax and Special Taxpayers

Adoption Credit or Benefit Exclusion

Child and Dependent Care Credit

First-Time Homebuyer Credit

Residential Energy Tax Credits

Small Employer Health Insurance Credit

Alternative Minimum Tax (AMT)

3.8% Net Investment Income Tax

U.S. Taxpayers Working Abroad

Tab 13—Children, Education and Divorce

Savings Bonds Interest Exclusion

Student Loan Interest Deduction

Tuition and Fees Deduction

Qualified Tuition Programs

Education Savings Accounts

Scholarships and Fellowships

Tab 14A—Retirement

Deducting Traditional IRA Contributions

Withdrawals and Distributions

Required Minimum Distributions

Simplified Employee Pensions (SEPs)

Qualified Retirement Plans

Losses From IRAs and Pensions

Tab 14B—Social Security

Contacting the Social Security Administration (SSA)

Family and Survivor Benefits

Supplemental Security Income

Tab 15—Reference Materials and Worksheets

Tab 16—Partnerships

Partnership Income and Expenses

Partnership Distributions

Tab 17—Corporations

Section 1244 Stock Losses

Earnings and Profits (E&P)

Corporate Income and Expenses

Losses and Miscellaneous Items

Tab 18—S Corporations

Tab 19—Tax-Exempt Organizations

Basics of Tax-Exempt Organizations

Becoming an Exempt Organization

Form 990, 990-EZ or 990-N

Contributions to Tax-Exempt Organizations

Unrelated Business Income Tax (Form 990-T)

Tab 20—Other Business Entities

Limited Liability Company (LLC)

LLCs and Entity Classification

LLC Creation and Conversions

LLCs—Other Considerations

Limited Liability Partnership (LLP)

Personal Service Corporation (PSC)

Personal Holding Company (PHC)

Tab 21—Fiduciary Tax Returns (Form 1041)

Overview of Income Taxation of Trusts and Estates

Simple Trust—Detailed Example

Complex Trust—Detailed Example

Tab 22—Estate and Gift Tax Returns

Taxable Income in the Year of Death

Gift Tax Return (Form 709)

Estate Tax Return (Form 706)

Comprehensive Example—Portability Election

Tab 23—Payroll Tax Returns

Payroll Tax Deposit Requirements

Withholding Methods and Examples

Trust Fund Recovery Penalty

Tab 24—Deductions, Credits and Books vs. Tax

U.S. Production Deduction

Selected Energy Tax Incentives for Businesses

Net Income per Books vs. Taxable Income

Tab 25—What's New

Affordable Care Act—New for 2015

Tab 26—Tax Practice Survey

Tab 27—IRS Circular 230

31 U.S.C. §330. Practice before the Department

Subpart A—Rules Governing Authority to Practice

Subpart B—Duties and Restrictions Relating to Practice Before the Internal Revenue Service

Subpart C—Sanctions for Violation of the Regulations

Subpart D—Rules Applicable to Disciplinary Proceedings

Subpart E—General Provisions

Supplemental Tax Organizers

Back Cover
---