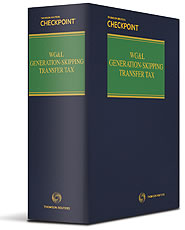 Generation-Skipping Transfer Tax

Generation-Skipping Transfer Tax provides all the tools and strategies needed to minimize or eliminate the application of the generation-skipping transfer tax.
Written by leading tax practitioners Howard M. Zaritsky renowned author and lecturer on taxation and estate planning issues, Carol Harrington, who has chaired the American Bar Association Committee on Generation-Skipping Transfers, and Lloyd Leva Plaine, former Chair of the Estate and Gift Taxes Committee of the Section of Taxation of the ABA, this excellent reference details their strategies on how to reduce or eliminate the tax an heir might have to pay on an estate.
Generation-Skipping Transfer Tax closely examines all options, consequences and possibilities associated with all manner of impositions of the generation-skipping transfer tax, including: the allocation of $1 million GST tax exemption; the drafting of trusts to avoid or minimize the application of the GST tax; the application of GST tax to life insurance trusts, charitable lead trusts, retained annuity trusts, personal residence trusts and various gift trusts, and much more.
The Appendix includes sample tax returns as well as practice-proven forms for will and trust provisions that can be customized to meet specific client needs.
Generation-Skipping Transfer Tax - Harrington, Plaine & Zaritsky

Chapter 1: An Introduction to the Generation-Skipping Transfer Tax

Chapter 2: Key Definitions

Chapter 3: Computation of the Generation-Skipping Transfer Tax

Chapter 4: The $1 Million GST Exemption

Chapter 5: Other Exemptions, Deductions, Exclusions, and Coordinating Provisions

Chapter 6: Generation-Skipping Transfers by Nonresident Aliens

Chapter 7: Effective-Date Generation-Skipping Trusts

Chapter 8: Reporting and Collecting the Generation-Skipping Transfer Tax

Chapter 9: Planning and Drafting for the Generation-Skipping Transfer Tax

Chapter 10: Repairing a Generation-Skipping Transfer Tax Estate Plan

Appendix A. Sample Tax Returns

Appendix B. Sample Forms

Appendix C. Special Report: GST Tax Rules Under the Tax Relief Unemployment Insurance Reauthorization and Job Creation Act of 2010 and the American Taxpayer Relief Act of 2012
---