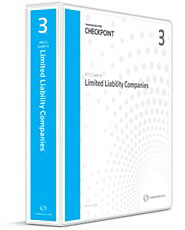 PPC's Guide to Limited Liability Companies

Product Information
Frequency of Updates:

Annually

Brand:

Practitioners Publishing
LLCs are the only entities combining limited liability for all owners with the flexibility of partnership taxation. To help you capitalize on this "entity of choice," PPC's Guide to Limited Liability Companies addresses the issues you and your staff will encounter when answering client questions or planning transactions, such as:
Recognizing the opportunities (and pitfalls) presented by recent tax law changes, such as the new taxes on earned and unearned income
Structuring contributions to and distributions from an LLC to avoid unexpected gain recognition by the members or the LLC
Ensuring that allocations of income and expenses to the members are respected for tax purposes
Maximizing the member's ability to deduct losses that flow through from the LLC under the basis, at-risk, and passive activity loss rules
Navigating the special fringe benefit rules applicable to LLCs taxed as partnerships in order to provide medical, disability, retirement, or other tax-favored benefits to members and employees
Providing valuable estate tax and asset protection planning services to the members.
Analyzing the issues that arise upon the liquidation of the LLC, or the disposition of a member's interest by death, sale, or liquidation
Since state LLC law is so important, the Guide has LLC-related information for each state (organized in a uniform format for easy comparison between the states). For each state, there is a reproduction of provisions in the LLC statute, a table of default provisions of the statute, and selected state forms. In addition, tax planning roadmaps enable you and your staff to identify planning opportunities, which can solidify your relationship with clients and set you apart from the competition when meeting potential clients.
List of Content (Click any title to expand the list)
INTRODUCTORY MATERIAL

ABOUT THE AUTHORS . . .
LIST OF SUBSTANTIVE CHANGES AND ADDITIONS
CHAPTER 1: INTRODUCTION TO LLC ENGAGEMENTS

100 INTRODUCTION TO LLCs
101 CHOOSING LLC STATUS FOR YOUR CLIENTS
102 LLC ENGAGEMENTS

Tax Practice Considerations

Importance of Due Diligence.
Disclosing and Using Tax Return Information.
Application of Circular 230 Rules to Return Preparation.

103 RECENT TAX LEGISLATION AFFECTING LLCs

Medicare Tax on Investments
Medicare Tax on Wages
Provisions that Take Effect in 2013

APPENDIX 1A: Sample Tax Return Engagement Letter
APPENDIX 1B: New Tax Client Acceptance Form
APPENDIX 1C: Tax Client Evaluation (Continuance) Form
APPENDIX 1D: Client Tax Research Documentation
APPENDIX 1E: LLC Overall Due Diligence Review Checklist
APPENDIX 1F: Sample Tax Planning Engagement Letter
APPENDIX 1G: LLC Short-form Organizer
APPENDIX 1H: Quick Guide to Subchapter K
APPENDIX 1I: Provisions That Take Effect in 2013
CHAPTER 2: CHOOSING TO DO BUSINESS AS AN LLC

200 INTRODUCTION
201 UNDERSTANDING THE ADVANTAGES AND DISADVANTAGES OF USING AN LLC

Formation

Articles of Organization Required.
No Requirement for Operating Agreement.
Some States Restrict Purpose of LLC.
No Restrictions on Ownership.
Cost of Forming an LLC and Maintaining LLC Status.
State Taxes.
Securities Registration May Be Required.

Returns, Accounting Methods, Tax Year, and Elections Available to LLCs

Restrictions on Use of the Cash Method.
LLC Elections.
Election to Adjust Basis of LLC Property.
Restrictions on LLC Tax Year.

Contributions
Liability for LLC Debts

Need for Limited Liability.
Members' Financial Obligations.
Limits on Limited Liability.

Allocations of Income and Loss

General Rule for Allocating LLC Profits and Losses.

Ability to Obtain Financing
Deductibility of Acquisition Interest
Determination of Basis

Basis from LLC Debt.
Loans Made or Guaranteed by Members or Member Affiliates.
Optional Basis Adjustment.

Compensation of Owners and Fringe Benefits

Compensation of Members.
Member's Compensation May Be Self-employment (SE) Income.
Nontaxable Fringe Benefits Not Available to Members.
Nontaxable Employee Benefits Available to Members.
Special Deduction for Health Insurance.

Special Corporate Taxes
Management

Opportunity for Limited Liability Coupled with Management Participation.

Taxation of Distributions
Retirement or Death of Owners
Liquidations and Terminations

Liquidations.
Terminations.
Technical Termination.
State Law Provisions Regarding Dissolution.

Availability of LLC Status
Operating in Multiple States and Foreign Countries

Multi-state Operations.
Doing Business Abroad.

Unresolved or Unique Tax Issues

At-risk Rules.
Passive Activity Loss (PAL) Rules.
Tax Matters Partner.
Cash Method of Accounting.
Retirement Payments to Members.

Application of Electing Large Partnership Rules
State Law Requirements
Availability to Creditors

202 USING A LIMITED LIABILITY PARTNERSHIP (LLP) AS THE ENTITY OF CHOICE

Differences between LLCs and LLPs
Key Tax and Nontax Considerations

Formation.
Insurance Requirements.
Liability for Debts.
Provisions of Governing Laws.
Single-member Entities.
LLP Compliance Necessary.

203 MARITAL AND COMMUNITY PROPERTY
204 INVESTIGATING THE USE OF SERIES LLCs

Benefits of Using a Series LLC
Qualification Requirements
IRS Treatment
Proposed Regulations on Series LLCs
Flexibility in Business Arrangements

205 WHAT TYPES OF BUSINESSES MIGHT DECIDE TO OPERATE AS AN LLC?

Natural Resources
Real Estate
Agriculture
Professionals
Venture Capital Arrangements
International Activities
Family Businesses
High-tech Companies
Subsidiary Businesses
Joint Ventures between Corporations
Joint Ventures with Tax-exempts
Single-purpose Entities
Vehicle for Reverse Exchange
Other Businesses

APPENDIX 2A: Comparison of Various Business Entities
APPENDIX 2B: Table of LLP Liability Protection by State
APPENDIX 2C: Client Letter Comparing LLC Status and S Corporation Status
APPENDIX 2D: Summary of Revised Uniform Limited Liability Company Act
APPENDIX 2E: Client Letter--Conversion of Sole Proprietorship to LLC
APPENDIX 2F: SE and FICA Tax Treatment of Pass-through Income and Owner Wage Payments
APPENDIX 2G: Client Letter Addressing the Formation of a Series LLC
APPENDIX 2H: Treatment of Partners/Members and More-than-2% S Corporation Shareholders for Various Fringe Benefits
APPENDIX 2I: Client Letter Addressing the Choice of Business Entity
APPENDIX 2J: Comparison of Forms of Concurrent Ownership in Common Law States
APPENDIX 2K: Liability Protection of Partners, LLC Members, and Shareholders
APPENDIX 2L: Citation of Sources Used in This Chapter
CHAPTER 3: CONVERTING AN EXISTING BUSINESS TO AN LLC

300 INTRODUCTION

Issues Affecting the Decision to Convert to LLC Status

301 ISSUES TO CONSIDER WHEN CONVERTING ANY ENTITY INTO AN LLC

Choosing a Governing State LLC Statute

Merger of Entities Formed in Different States.

Notification of Creditors and Franchisors
Notification of Customers, Clients, and Others
Transfer Taxes
Reassessment of Real Property Values
Application of Securities Laws
Short Tax Years
Transferee Liability
Administrative Items
Financial Statement Presentation

302 CONVERSION OF A SOLE PROPRIETORSHIP

Possible Loss Recapture Due to Application of the At-risk Rules
Contribution of Assets
Available Accounting Methods
Self-employment Tax

303 CONVERSION OF A GENERAL OR LIMITED PARTNERSHIP

Conversion by Certificate
Conversion by Merger
Transfer of Partnership Interests to LLC in Exchange for Membership Interests
Contribution of Assets from Partnership to LLC; Distribution of LLC Interests to Partners
Liquidation of Partnership Followed by Contribution of Assets to LLC by Partners
Alternative to Limited Partnership Conversion
Consent to Conversion

Disclosure to Limited Partners.
Consent to Merger.

Reductions in the Basis of Owners May Result from Conversion

Impact on Converting Limited Partnerships.
Impact on Converting General Partnerships.

Change in Number or Identity of Partner/Members
Possible Loss Recapture Due to Application of At-risk Rules
Limitation on Use of Cash Method
Organization and Start-up Costs of New LLC
Converting an LLC Classified as a Partnership to Single-member LLC
Converting a Single-member LLC to an LLC Classified as a Partnership
Converting a Partnership to an LLP

Conversion of Partnership.
Conversion of Corporation to Limited Liability Partnership.

304 CONVERSION OF A C CORPORATION

Taxation of C Corporation Liquidation

Tax on Corporation.
Tax on Shareholder.

Determining If Conversion Is Desirable
Goodwill or other Intangibles Owned by the Shareholder(s)
Ways to Structure C Corporation Conversion

305 CONVERSION OF AN S CORPORATION

Taxation of S Corporation Liquidation

Tax on Corporation.
Tax on Shareholder.
S Corporation Holding Built-in Gains Property.

Determining If Conversion Is Desirable
Goodwill or Other Intangibles Owned by the Shareholder(s)
Ways to Structure S Corporation Conversion

306 CONVERSION OF TRUST TO LLC
307 CONVERSION OF LLC TO CORPORATION
APPENDIX 3A: Conversion of Sole Proprietorship Checklist
APPENDIX 3B: Conversion of Partnership Checklist
APPENDIX 3C: Conversion of Corporation Checklist
APPENDIX 3D: Suggested Disclosure to Limited Partners Prior to Conversion
APPENDIX 3E: Statement to Be Attached to the First LLC Return Filed after Conversion
APPENDIX 3F: Diagrams of Possible Partnership to LLC Conversions
APPENDIX 3G: Diagrams of Possible Corporation to LLC Conversions
APPENDIX 3H: Quick Reference Guide to Basis and Holding Period Rules for Incorporation of an LLC Classified as a Partnership
APPENDIX 3I: Citation of Sources Used in This Chapter
CHAPTER 4: CLASSIFICATION ISSUES

400 INTRODUCTION
401 DETERMINING IF A SEPARATE ENTITY EXISTS

Joint Ownership Arrangements
Single-member Entities
Spousal Joint Ventures

402 CLASSIFICATION OPTIONS FOR SEPARATELY RECOGNIZED ENTITIES

Entities for Which Status as a Disregarded Entity Is Not Available
Classification as a Corporation
Listed Foreign Entities
Dually Chartered Entities
Foreign Disregarded Entities

403 CLASSIFICATION OF BUSINESS ENTITIES THAT ARE NOT CORPORATIONS

Default Rule for Newly Formed Domestic Entities
Default Rule for Newly Formed Foreign Entities
Default Rule for Existing Domestic or Foreign Entities
Information Reporting for Foreign Disregard Entities
Treatment of Series in a Series LLC
Special Rule for Exempt Organizations
Special Rule for Real Estate Investment Trust (REIT)
Special Rule for S Corporations

Deemed Classification Election.
One Class of Stock Issues.

Special Rule for Technical Terminations

404 CLASSIFICATION AFTER A CHANGE IN NUMBER OF MEMBERS
405 MAKING A CLASSIFICATION ELECTION
406 CHANGING AN ENTITY'S CLASSIFICATION

Tax Consequences of Changes in Classification
Deemed Treatment of Elective Classification Changes

Deemed Transaction.
Deemed Date of Transfer.
Federal Identification Number.
Tax Liabilities of Disregarded Entities.
Optional Basis Adjustment.
Incorporation versus Making Classification Election.

407 IMPLICATIONS FOR LLCs

Structural Flexibility
LLCs Classified as Corporations and Disregarded Entities
Limited Liability for Sole Proprietors
Avoidance of Consolidated Return Rules

APPENDIX 4A: Flowchart of Classification Process under Check-the-box Regulations
APPENDIX 4B: Sample Client Letter--Check-the-box Regulations
APPENDIX 4C: Filing an Entity Classification Election
APPENDIX 4D: Citation of Sources Used in This Chapter
CHAPTER 5: FORMING AN LLC

500 INTRODUCTION
501 DETERMINING THE STATE OF ORGANIZATION
502 LEGAL REQUIREMENTS FOR FORMATION

Requirements for Formation
Failure to Comply with Statutory Requirements
Separate Legal Entity
Securities Issues
Comparison to Corporation or Partnership Formation
State Taxation

503 ARTICLES OF ORGANIZATION

General Filing Requirements
Standardized versus Individualized Forms
Issues Required to Be Covered in Articles

Name of the LLC.
Identification as an LLC.
Name and Address of a Registered Agent.
Date of Dissolution.
Names and Addresses of Managers or Members.
Purpose of the LLC.
Continuation of the LLC after Dissolution.
Admission of New Members.
Capital Requirements.
Limitation on Agency Authority.
Inclusion of Other Items.

Organizers and Their Liability

504 OTHER FILING REQUIREMENTS

Filing Fees
Publication Requirement
State and Local Filing Requirements
Taxpayer Identification Number
Payroll Taxes
Initial Year Form 1065 Considerations

505 ACCOUNTING FOR BUSINESS TRANSACTIONS
506 ORGANIZATIONAL MEETING
507 FOLLOW-UP REQUIREMENTS

Adoption of the Operating Agreement
Capital Requirements

508 REGISTERING AN OUT-OF-STATE (FOREIGN) LLC
APPENDIX 5A: Formation Checklist
APPENDIX 5B: Initial Year Checklist--Form 1065
APPENDIX 5C: Citation of Sources Used in This Chapter
CHAPTER 6: REVIEWING LLC DOCUMENTS

600 INTRODUCTION
601 GETTING STARTED

Major Areas to Consider
Effect of State Law
Adoption and Amendment of the Operating Agreement

602 START-UP AND FORMATION ISSUES

Classification of the LLC as a Partnership
Provisions Governing Capitalization

Types of Contributions.
Deferred Compensation Rules.
Valuation of Contributions.
Contributions of Future Services.
Required Future Contributions.
Compromise of Capital Contribution Obligation.
Discretionary Contributions.
Preferential Returns.
Effect of Contributions on Members' Rights.
Member Loans.
Review for Conflicting Provisions.

603 MANAGEMENT ISSUES

Member-managed LLCs

Consent Requirements.
Member's Authority to Bind the LLC.
Meetings.
Indemnification of Members.

Manager-managed LLCs

Number and Eligibility.
Consent Requirements.
Manager Meetings.
Election of Managers.
Resignation, Removal, or Dismissal of Managers.

Powers of the Managers

Limitations on Powers of Managers.
Rights of Members Who Are Not Managers.
Execution of Documents.
Prohibitions on Acts of Managers.
Indemnification of Managers.
Manager Transacting Business with the LLC.
Standard of Care.
Compensation of Managers.
Maintenance of Books and Records.
Required Disclosure.
Managers' Authority to Bind the LLC.

604 MEMBER ISSUES

Protection of Minority Members
Admission of Members
Management by Members
Member Withdrawal, Termination, and Assignment

Withdrawal of Member.
Assignment of Membership Interests.
Assignments to Creditors.
Other Transfers of Interests.
Buy/Sell Provisions.
LLC's Right to Terminate Member's Interest.
Payments to Withdrawing Member.
Noncompete Provisions.

Member Meetings
Family LLC Considerations

605 ECONOMIC ISSUES

Compensation of Members

Compensation for Capital.
Compensation for Services.

Allocation of Income and Loss
Distributions

Timing of Distributions.
Amount of Distribution.
Noncash Distributions.
Distributions Resulting in the LLC's Insolvency.
Members' Rights to Distributions.

606 TAX ISSUES

Allocations of Income and Loss
Members' Basis
Tax Elections
Classification of Members under Passive Activity Loss (PAL) Rules
Transfers That Terminate the LLC
Application of TEFRA Audit Rules
Allocation of Precontribution Gain or Loss
Self-employment Tax
Disguised Sales
Proposed Rules on Compensatory Transfers of LLC Interests

607 DISSOLUTION

Dissolution Events
Notice
Ability to Bind LLC during Dissolution Process
Distributions upon Dissolution
Liquidating Distributions in Kind
Accounting to Members
Consent to Dissolve
Continuation after Event of Dissolution

608 LEGAL ISSUES

Amendment of Operating Agreement
Maintaining Books and Records
Member's Ability to Bind the LLC
Other Restrictions
Dispute Resolution
Choice of Laws
Venue for Litigation
Membership Certificates and Units
Bankruptcy
Trust Fund Recovery Penalty

609 SPECIAL CONSIDERATIONS FOR CERTAIN BUSINESSES

Professional LLCs
Single-purpose Entities
International Ventures
Series LLCs

610 OPERATING AGREEMENTS FOR SINGLE-MEMBER LLCs
APPENDIX 6A: Interview Checklist
APPENDIX 6B: LLC Document Review Checklist
APPENDIX 6C: Citation of Sources Used in This Chapter
CHAPTER 7: CAPITALIZING AN LLC

700 INTRODUCTION
701 STATE LAW PROVISIONS REGARDING CONTRIBUTIONS
702 CONTRIBUTIONS OF PROPERTY

General Nonrecognition Rule
Contrast to Corporate Rules
Exceptions to the Nonrecognition Rule
Timing and Valuation of Property Contributions
Contribution of Property with Related Optional Basis Adjustment
Transactions Resulting in Deemed Contributions
Documentation of Contribution
K-1 Reporting
Contributing Appropriate Assets to an LLC

Marketable Securities.
Real Estate.
Closely Held Stock.
Business Assets.
Life Insurance.
Inappropriate Assets to Contribute to an LLC Classified as a Partnership.

Considering Alternatives to Contributing Property

Loaning Money to the LLC.
Selling Property to the LLC.
Leasing Property to the LLC.

703 CONTRIBUTIONS OF INTANGIBLE PROPERTY

What Constitutes Property
Contribution of Patents
Contribution of Debt Guarantees

Valuing the Contribution.
Timing of Contribution.

Contribution of Long-term Contracts

704 CONTRIBUTIONS OF ENCUMBERED PROPERTY

Effect of LLC Members' Limited Liability on Contributed Debt
Effect of Liabilities on Contributing Member
Effect of Existing LLC Liabilities
Effect of Liabilities on Existing Members and the LLC
Contribution of Cash Basis Liabilities
Abusive Transactions Involving Liability Assumptions

Contribution of Reg. 1.752-7 Liabilities.
Tiered Ownership Structures.

705 APPLICATION OF THE DISGUISED SALE RULES
706 APPLICATION OF THE INVESTMENT COMPANY RULES

LLC Interests Offered by Underwriters

707 CONTRIBUTIONS OF SERVICES

Income Recognition by the Member Contributing Services

Receipt of a Capital Interest.
Receipt of a Profits Interest.

Determining If an Interest is a Profits or Capital Interest
Valuation of the Transferred Interest

Capital Interests.
Profits Interests.

Receipt of a Restricted Interest

Tax Effect of Restricted Interest.
Defining Restricted Property.
Determining If a Substantial Risk of Forfeiture Exists.

Election to Be Taxed upon Receipt of Restricted Property

Benefits of the Election.
Risks of Making the Election.
Effect on Member.
Effect on LLC.
Making the Election.
Revoking the Election.

Treatment as Income in Respect of a Decedent
Effect on LLC
Effect on Book and Tax Capital Accounts

Transfer of Capital Interest.
Transfer of a Profits-only Interest.
Deductible Expense versus Capital Expenditure.

Proposed Regulations and Notice 2005-43 on Compensatory Transfers of LLC Interests

LLC's Gain or Loss.
Timing of LLC's Deduction.
Capital Account Treatment.
Nonmember Status of Service Provider.
Forfeiture of Certain Compensatory Interests.
Availability of Closing of the Books Method.
Safe Harbor for Valuing Transferred Interest.

Planning for Contributions of Services
Nonqualified Deferred Compensation Plan Rules

708 CONTRIBUTIONS OF NOTES

Contribution of a Third Party's Notes
Subscription Notes
Contribution of LLC's Own Note

709 CONTRIBUTION OF RECAPTURE PROPERTY

Effect on Contributing Member
Effect on the LLC

710 CONTRIBUTIONS OF APPRECIATED OR DEPRECIATED PROPERTY
711 TAX EFFECTS ON CONTRIBUTING MEMBER

Member's Basis in the LLC Interest
Holding Period of Member's LLC Interest
Character of Gain to Contributing Member

712 CONTRIBUTED PROPERTY IN THE HANDS OF THE LLC

Basis of Contributed Property to the LLC
LLC's Holding Period for Contributed Assets
Character of Gain or Loss on Subsequent Sale of Contributed Property by LLC
Accounting Methods
Depreciation Methods
Suspended Losses

APPENDIX 7A: Contribution of Property Checklist
APPENDIX 7B: Contribution of Services Checklist
APPENDIX 7C: Carryforward Worksheet for Contributions of Property
APPENDIX 7D: Worksheet for Computing Gain on Contribution of Encumbered Property
APPENDIX 7E: Section 83(b) Election
APPENDIX 7F: Sample Transmittal Letter for Section 83(b) Election
APPENDIX 7G: Sample Capital Contribution Agreement
APPENDIX 7H: Client Letter Discussing the Formation of an LLC by Contributing Property
APPENDIX 7I: Sample Client Letter on Contributions of Services
APPENDIX 7J: Client Letter Discussing the Formation of an LLC by Contributing Appreciated or Depreciated Property
APPENDIX 7K: Citation of Sources Used in This Chapter
CHAPTER 8: CHOOSING THE LLC'S TAX YEAR, ACCOUNTING METHODS, AND ELECTIONS

800 INTRODUCTION
801 DETERMINING THE LLC'S TAX YEAR

The Required Year Rules
Majority Interest Required Year Rule
Principal Members Required Year Rule
Least Aggregate Deferral of Income Required Year Rule
Tax Years of LLCs with Foreign Members

802 CHANGES IN TAX YEARS

Procedures and Required Statement When LLC's Required Year Changes
Impact of Members' Year-end Changes on LLC's Required Year
Automatic Approval Process for Adoption, Change, or Retention of Tax Year

803 THE NONCONFORMING TAX YEAR RULES
804 NATURAL BUSINESS YEAR EXCEPTION

Annual Business Cycle Test
Seasonal Business Test
Gross Receipts Test

805 FACTS AND CIRCUMSTANCES BUSINESS PURPOSE EXCEPTION
806 REQUESTING A YEAR BASED ON A BUSINESS PURPOSE

When to File
Where to File
User Fee
Audit Protection

807 NONCONFORMING YEAR BASED ON A SECTION 444 ELECTION

When Is a Section 444 Election Beneficial?
Electing a Tax Year under IRC Sec. 444
Backup Section 444 Elections
Terminating a Section 444 Election
Effect of Tiered LLCs
Required Payments When a Section 444 Election Is Made

808 SELECTION OF ACCOUNTING METHODS

Changing Accounting Methods
Selecting or Changing Accounting Methods to Save Taxes

Changes Relating to Depreciation.

809 AVAILABILITY OF THE CASH METHOD OF ACCOUNTING

General Rule

Qualifying under Rev. Proc. 2001-10.
Treating Inventories as Materials and Supplies.
Qualifying under Rev. Proc. 2002-28.
Changing Accounting Methods.

Tax Shelter Limitation

Registered Securities.
Syndicate.
Tax Avoidance Motive.

LLCs with C Corporation Members

Personal Service Corporations (PSCs).

Exception for Small LLCs with Corporate Members
LLCs Engaged in Farming Business
LLCs with Inventories
Segregating Activities Involving Good and Merchandise

810 USING THE ACCRUAL METHOD

Payments to Related Persons
Recognition of Income from Advance Payments
Economic Performance
Accruing a Deduction for Employee Bonuses
31/2-Month Safe Harbor Rule
Payment Must Occur for Certain Expenses to Be Deducted
When Is Payment Considered Made?
Ratable Accrual Election for Real Property Taxes
Recurring Item Exception to Economic Performance Rules

Materiality Concept.
Better Matching Concept.

Items Ineligible for Recurring Item Exception
Electing the Recurring Item Exception Method
Payment for Services to be Provided the Following Tax Year

811 OTHER ACCOUNTING METHODS

Hybrid Accounting Methods
Reporting Income from Long-term Contracts

Percentage-of-completion Method.
Completed Contract Method.
Manufacturing Contracts.

Nonaccrual Experience Method
Treatment of a Material Item

Automatic Changes under Tangible Property Regulations.

812 OTHER LLC ACCOUNTING ISSUES

Interest Capitalization Rules for Pass-through Entities

Deferred Asset versus Substitute Cost Method.
De Minimis Rule.

Mid-contract Changes for LLC's Long-term Contract
Domestic Production Activities Deduction Pass-through Rules

Allocating Costs to Gross Receipts.
Determining a Member's Share of W-2 Wages.

Temporary Regulations on What Constitutes Repairs vs Improvements

Expensing Materials and Supplies.
Materials and Supplies Defined.
Economic Useful Life.
Election to Capitalize and Depreciation.
Optional Method for Rotable and Temporary Spare Parts.
Electing to Apply the De Minimis Rule.
Treatment of Capital Expenditures.
Caution.
Capitalizing Amounts Paid to Improve Tangible Property.
Identifying Units of Property.
Handling Building and Structural Components.
Property Other Than Buildings.
Safe Harbor for Routine Maintenance on Property Other Than Buildings.
Betterment of a Unit of Property.
Restoration of a Unit of Property.
Adapting a Unit of Property.
Accounting and Disposition Rules for MACRS Property.
Handling Single Asset and Multiple Asset Accounts.

Employer-Provided Cell Phones

813 LLC TAX ELECTIONS

Election out of the Partnership Tax Provisions
Electing Large LLCs

Definition of Electing Large LLC.
Simplified Flow-through.
Computation of LLC Taxable Income.
Elections and Limitations.
Other Specially Treated Items.

Other LLC Elections

APPENDIX 8A: Checklist to Determine Permissible Year-ends for a Newly Formed (First-year) LLC
APPENDIX 8B: Checklist to Determine If Existing LLC Can Change (or Retain) Its Year-end
APPENDIX 8C: Form 1128 for an LLC Requesting a Natural Business Year-end
APPENDIX 8D: Computation of Section 444 Required Payment
APPENDIX 8E: Summary of LLC Tax Year Considerations
APPENDIX 8F: Summary of LLC Accounting Method Considerations
APPENDIX 8G: Treatment of Commonly Encountered Items under Cash and Accrual Methods
APPENDIX 8H: Form 3115 Requesting Cash to Accrual Method Change
APPENDIX 8I: Election for Adopting the Recurring Item Method for Certain Expenses
APPENDIX 8J: Election for Ratable Accrual of Real Property Taxes
APPENDIX 8K: Contractor Revenue and Cost Recognition Requirements
APPENDIX 8L: Citation of Sources Used in This Chapter
CHAPTER 9: ENSURING TAX ALLOCATIONS ARE RESPECTED

900 INTRODUCTION
901 VALID METHODS FOR MAKING ALLOCATIONS

Members' Interests in the LLC
Substantial Economic Effect Safe Harbor
Economic Substance Requirement and Anti-abuse Regulations

Application of the Anti-abuse Regulations.
Application of Economic Substance Doctrine.

902 THE PRACTITIONER'S ROLE IN REVIEWING LLC ALLOCATIONS

Time for Reporting Distributive Share
Oral Modifications to the LLC's Articles or Operating Agreement
Reviewing the Organizational Documents
Reviewing the Tax Return

903 THE TWO SAFE HARBOR RULE TESTS
904 ECONOMIC EFFECT UNDER THE SAFE HARBOR RULES

Deficit Restoration Requirements
Qualified Income Offset Rules

General Rules.
Special Adjustments.
Making Income Allocations.

905 MAINTAINING BOOK CAPITAL ACCOUNTS UNDER THE SAFE HARBOR RULES

Book Capital Accounting for Specific Items
Allocations of Depreciation and Amortization

906 REVALUATIONS OF PROPERTY UNDER THE SAFE HARBOR RULES

Mandatory Revaluations of Certain Property
Optional Revaluations of All Property
Revaluations in a Depressed Market
Mechanics of Revaluing LLC Property

907 APPLYING THE CEILING RULE
908 SUBSTANTIAL EFFECT UNDER THE SAFE HARBOR RULES

Shifting Allocations
Transitory Allocations
Chargebacks Involving Gain or Loss from the Sale of Property
Tiered Ownership
Examination Techniques

909 ALLOCATING NONRECOURSE DEDUCTIONS

Determining Whether the Old or New Allocation Regulations Apply
Option to Use Safe Harbor Rules or Members' Interests in the LLC
The Concept of Minimum Gain
Calculating Minimum Gain

Minimum Gain Generated by True Nonrecourse Liabilities.
Minimum Gain Generated by Exculpatory Debt.

Allocation of Nonrecourse Deductions

Determining the Amount of an LLC's Nonrecourse Deductions.
Minimum Gain Chargeback.
Exceptions to Minimum Gain Chargeback Requirements.

Distributions of Proceeds from Nonrecourse Liabilities

Effect of Revaluing Book Capital Accounts.

910 ALLOCATING TAX CREDITS AND FOREIGN TAXES

Allocating Tax Credits
Allocating Foreign Taxes

911 INTERACTION OF ALLOCATION RULES WITH LOSS LIMITATION PROVISIONS
912 ALLOCATIONS BASED ON MEMBERS' INTERESTS IN THE LLC (THE PIP RULES)

Regulations Governing Members' Interests in the LLC
Using Capital Accounts to Analyze PIP
Allocation of Nonrecourse Deductions
Tiered Ownership Arrangements

913 MAKING ALLOCATIONS WITH RESPECT TO CONTRIBUTED PROPERTY

Effective Dates of Regulations
Abusive Transactions Involving Liability Assumptions

Treatment as Section 704(c) Item of Built-in Loss.
Tiered Ownership Structures.

Selection of Method to Use for Section 704(c) Allocations

Restriction on Aggregating Property.
Special Rule for Securities.
Using the Undivided Interests Method.
Tracking Carryforwards.

Planning Opportunities for Allocating Built-in Gains

Why Is Choice of Method Important?

Exceptions for Small Disparities
Application of the Ceiling Rule

914 THE TRADITIONAL METHOD
915 THE TRADITIONAL METHOD WITH CURATIVE ALLOCATIONS
916 THE REMEDIAL ALLOCATION METHOD

Allocation of Depreciation and Amortization

Remedial Allocations When Amortizing Section 197 Intangibles.
Optional Basis Adjustments.

917 SPECIAL RULES FOR SECTION 704(c) ALLOCATIONS

Application of IRC Sec. 704(c) to Depreciation Recapture among Members
Allocations of Unrecaptured Section 1250 Gain
Section 704(c) Allocations after a Technical Termination
Application of Section 704(c) Principles under the Substantial Economic Effect Safe Harbor Rules
Application of IRC Sec. 704(c) to Section 263A Property
Anti-abuse Rule

918 ALLOCATIONS WHEN MEMBERS' INTERESTS CHANGE

Transactions That Terminate the Transferor's LLC Tax Year
Permissible Allocation Methods

Allowable Conventions.
Proposed Regulations on the Varying Interests Rules.

Partial Sales, Exchanges, and Liquidations
Transfers at Death
Liquidation Payments to Retiring Member
Transfers by Gift
Retroactive Allocation Schemes

Special Rules for Cash Basis Items.

Determining Which Method to Use
Flip LLC Transactions that Change Member Profit and Loss Allocations

APPENDIX 9A: Summary of Effective Date Provisions for Safe Harbor Nonrecourse Deduction Allocation Rules
APPENDIX 9B: Checklist for Validity of LLC P&L Allocations
APPENDIX 9C: Worksheet to Compute Section 704(b) Book Capital Account
APPENDIX 9D: Section 704(b) Minimum Gain Calculation
APPENDIX 9E: Section 704(c) Carryforward
APPENDIX 9F: Summary of Tax Allocation Rules When Members' Interests Change
APPENDIX 9G: Sample Letter Outlining Difficulty of Complying with Safe Harbor Rules
APPENDIX 9H: Sample Letter Explaining Methods for Allocating LLC Income When the LLC's Tax Year Closes for Certain Members
APPENDIX 9I: Guidelines for Application of the Economic Substance Doctrine by IRS Examiners
APPENDIX 9J: Citation of Sources Used in This Chapter
CHAPTER 10: MONITORING EACH MEMBER'S BASIS

1000 INTRODUCTION
1001 DETERMINING WHEN THERE IS A DIFFERENCE IN INSIDE AND OUTSIDE BASIS

Balance of Inside and Outside Basis

Exceptions to Balance of Inside and Outside Basis.
Equalizing Inside and Outside Basis.
Temporary Basis Imbalance.

1002 DETERMINING A MEMBER'S INITIAL BASIS

Contribution of Services
Basis of LLC Interest Following Conversion of Existing Business
Basis of LLC Interest Acquired by Purchase, Gift, or Bequest
Analyzing the effect of Subscription Notes on Basis

1003 UNDERSTANDING THE EFFECT OF LIABILITIES ON BASIS

What Constitutes an LLC Liability?

Amounts Owed to Members.
Contingent Debt.
Debts of Cash Basis LLCs.
Short Sales of Securities.
Tax-deferred Exchanges.
Determining if True Debt Exists.

Abusive Transactions Involving Liability Assumptions

Contribution of Reg. 1.752-7 Liabilities.
Exceptions for Certain Transactions.
Effect of Transfer on Contributing Member's Basis.
Effect of Liquidating Distribution on Contributing Member's Basis.
Effect on Basis of Reg. 1.752-7 Liability Assumption by a Member Other Than the Contributing Member.
Notification Requirements.
Tiered Ownership Structures.

1004 GENERAL RULES FOR ALLOCATING LLC LIABILITIES AMONG MEMBERS TO DETERMINE OUTSIDE BASIS

Grandfather Rules
Duty of Consistency Principle
Effect of LLC Termination on Grandfathered Debt
Effect of Material Debt Modifications on Grandfathered Debt
Cites Used in This Discussion
Distinguishing between Recourse and Nonrecourse Liabilities

Determining the Types of LLC Debt.
Recourse Liabilities.
Nonrecourse Liability.
Bifurcated Debt.

1005 ALLOCATING RECOURSE DEBTS

Determining a Member's Economic Risk of Loss
No Value Liquidation Defined
Calculating a Member's Payment Obligation

Payment Obligation Limited to Property.

Direct Member Loans and Guarantees

1006 ALLOCATING NONRECOURSE DEBTS

Three-tiered Allocation
Members' Shares of Minimum Gain
Members' Shares of Section 704(c) Minimum Gain
Selection of Section 704(c) Method
Members' Shares of Excess Nonrecourse Liabilities
Allocating a Single Nonrecourse Liability among Multiple Properties
Allocating Nonrecourse Debt on a "Tax Basis"

1007 ALLOCATING EXCULPATORY DEBTS
1008 MEMBER AND MEMBER AFFILIATE LOANS AND GUARANTEES

Allocating Debt Owed to Members and Member Affiliates

De Minimis Rule.
Impact of Member Affiliate Loans.
Definition of Member Affiliate.
Favorable Wrapped Debt Rule.

Effects of Guarantees and Similar Arrangements

Guarantee of Recourse Debt.
Guarantee of Nonrecourse Debt.
De Minimis Rule.
Interest Guarantees.
Arrangements Tantamount to a Guarantee.

1009 ADDITIONAL PROVISIONS FOR ALLOCATING LLC DEBT

Netting Liabilities
Allocations in Tiered Ownership Arrangements
Allocating Liabilities of a Disregarded Entity
Relationship between Debt Allocation Rules and Rules for Allocating Nonrecourse Deductions
Effect of Liabilities on Initial Basis

Contributions of Encumbered Property.
Effect on Other Members.

Effect of Subsequent Increases and Decreases in LLC Debt

Distributions of Encumbered Property.
Changes in Profit and Loss Sharing Ratios and Admission of New Members.
Payment or Cancellation of LLC Debt.
Changes in LLC Minimum Gain.

1010 ADJUSTMENTS TO INITIAL BASIS

Outside Basis Adjustment Ordering Rules for LLC Operations

Outside Basis Adjustment for Noncash Distribution.
Abusive Transactions Involving Liability Assumptions.

The Zero Basis Rule

Suspended Losses Due to Lack of Basis.
Composition of Suspended Loss.
Interaction with At-risk and Passive Activity Loss Limitations.
Effect of Deferred Losses on Outside Basis.
Examination Techniques.

Member's Basis for AMT Purposes

1011 ALTERNATIVE METHOD FOR CALCULATING BASIS
1012 RELATIONSHIP BETWEEN BASIS AND CAPITAL ACCOUNT
APPENDIX 10A: Carryforward Worksheet--Member's Outside Basis Calculation
APPENDIX 10B: Carryforward Balance Sheet for Tracking the Inside Basis of LLC Assets
APPENDIX 10C: Summary of Effective Date Rules of Old and New Provisions for Allocating LLC Liabilities to Members
APPENDIX 10D: Worksheet for Allocating Nonrecourse Debt
APPENDIX 10E: Carryforward Worksheet for Suspended Losses under IRC Sec. 704(d)
APPENDIX 10F: Client Letter on Ways to Create Additional Basis
APPENDIX 10G: Client Letter on Keeping Track of Basis in an LLC Interest
APPENDIX 10H: Ways to Increase Member Basis
APPENDIX 10I: Citation of Sources Used in This Chapter
CHAPTER 11: PLANNING FOR CURRENT DISTRIBUTIONS FROM AN LLC

1100 INTRODUCTION

Tax Planning Using LLC Distributions

1101 NONTAX ISSUES TO CONSIDER WHEN PLANNING CURRENT DISTRIBUTIONS

Prohibited Distributions
Amount and Timing of Distributions
Distributions in Kind
Restrictions in Loan Documents

1102 TAX ISSUES TO CONSIDER WHEN PLANNING CURRENT DISTRIBUTIONS
1103 GENERAL RULES FOR TAXING CURRENT DISTRIBUTIONS

Nonrecognition of Gain on Distributions of Property
Basis of Distributed Property
Allocations to Unrealized Receivables
Distributions of Depreciable Property

Potential for Depreciation Recapture.
Determining FMV on the Date of Distribution.
Interaction of IRC Sec. 751 and the Recapture Rules.
Basis, Holding Period, and Depreciation Methods for Distributed Depreciable Property.

Potential Recognition of Gain on Distributions of Cash
Planning the Order of Cash and Property Distributions
Planning the Type of Property to Distribute

Accounts Receivable and Inventory.
Cash and Marketable Securities.

Time at Which Determination of Gain on Distribution Is Made
Partial Liquidations

1104 DISTRIBUTIONS OF MARKETABLE SECURITIES

Definition of Marketable Securities
Exceptions for Certain Marketable Securities
Anti-stuffing Rule
Definition of Investment LLC
Definition of Eligible Member
Application of Look-through Concept
Limitation on Gain Recognized
Basis Issues
Anti-abuse Rule
Interaction with Other Provisions

1105 ADDITIONAL RULES FOR TAXING CURRENT DISTRIBUTIONS

Distributions Resulting in a Change in a Member's Share of LLC Debt
Distributions of Encumbered Property
Distribution of Controlling Interest in Corporation to Corporate Member
Distributions of Equity Interests in an LLC Member
Distribution of Property with Related Basis Adjustment
Distribution of a Long-term Contract
Abusive Transactions Involving Liabilities
Distributions of Qualified Small Business Stock (QSBS)
Distributing Member Debt

Analyzing the Distribution of Member Subscription Notes.
Analyzing the Distribution of a Member's Ordinary Loan.
Analyzing the Distribution of Member Debt Acquired from a Third Party.

Analyzing Preferred Distributions

1106 DISTRIBUTIONS SUBJECT TO HOT ASSET RULES

Distributions Not Subject to IRC Sec. 751
Definition of Hot Assets

Unrealized Receivables.
Substantially Appreciated Inventory.
Determining If Inventory Is Substantially Appreciated.

Determining the FMV of Hot Assets

Valuing Rights to Receive Payments for Services.
Valuing Rights to Receive Payments for Goods.
Valuing Potential Recapture.
Valuing Inventory.

Disproportionate Distributions of LLC Property

Identifying a Disproportionate Distribution.

Analyzing Disproportionate Distributions
Admission of a New Member and IRC Sec. 751
Reporting Section 751(b) Transactions

1107 DISGUISED SALES
1108 DISTRIBUTIONS OF CONTRIBUTED PROPERTY

Distributions of Built-in Loss Property
Required Basis Adjustments
Successors to the Contributing Member
Exceptions to the Rule Requiring Gain Recognition

Exception for Distributions of Like-kind Property.
Deemed Distributions Resulting from a Technical Termination.
Assets-over Mergers.

Other Exceptions

1109 DISTRIBUTIONS TO CONTRIBUTORS OF APPRECIATED PROPERTY

Exceptions to the Rules Requiring Gain Recognition
Determination of Gain Recognized by Distributee Member
Adjustments to Basis Resulting from Gain Recognition
Distributions of Previously Contributed Property
Distributions in Connection with a Technical Termination
Interaction of IRC Secs. 737 and 704(c)(1)(B)
Planning Opportunities for Section 737 Distributions
Anti-abuse Rule

1110 BASIS ADJUSTMENTS RESULTING FROM CURRENT DISTRIBUTIONS

Calculating the Amount of the Optional Basis Adjustment
Allocating the Optional Basis Adjustment to LLC Assets
Allocations of Optional Basis Adjustments to Section 197 Intangibles
Allocations to Stock of Corporate Member
Making a Section 754 Election
Filing and Recordkeeping Requirements
Revocation of a Section 754 Election
Mandatory Adjustments for Substantial Basis Reductions

1111 SECTION 732(d) ELECTIONS

Calculating the Amount of a Basis Adjustment under IRC Sec. 732(d)
Allocating a Section 732(d) Basis Adjustment to a Member's Assets
Filing the Section 732(d) Election
Mandatory Section 732(d) Adjustments

APPENDIX 11A: Current Distribution Checklist
APPENDIX 11B: Worksheet for Computing Member's Basis in Property Received in LLC Distribution
APPENDIX 11C: Worksheet for Applying IRC Sec. 751 to a Current Distribution
APPENDIX 11D: Sample Exchange Table
APPENDIX 11E: Sample Statement to Be Attached to the Tax Return of an LLC Pursuant to Reg. 1.751-1(b)(5)
APPENDIX 11F: Sample Statement to Be Attached to the Tax Return of a Distributee Member Pursuant to Reg. 1.751-1(b)(5)
APPENDIX 11G: Distributions of Property--Determining and Allocating Basis Adjustments Resulting from Section 754 Elections
APPENDIX 11H: Worksheet to Determine the Value of Section 197 Intangibles under IRC Sec. 755
APPENDIX 11I: Sample Section 754 Election
APPENDIX 11J: Sample Section 754 Basis Adjustment Allocation Statement
APPENDIX 11K: Sample Member Election to Adjust the Basis of Distributed Property under IRC Sec. 732(d)
APPENDIX 11L: Sample Client Letter on Making LLC Distributions
APPENDIX 11M: Sample Client Letter Explaining the Hot Asset Rules
APPENDIX 11N: Sample Client Letter Regarding the Basis of Property Distributed from an LLC Classified as a Partnership
APPENDIX 11O: Distributions of Contributed Property--Computing Contributing Member's Gain or Loss and Distributee's Basis in Property
APPENDIX 11P: Distributions to Contributors of Appreciated Property--Computing Gain to Distributee Member and Tax Basis of Property
APPENDIX 11Q: Sample Client Letter on Avoiding the Disguised Sale Rules When Distributing Cash
APPENDIX 11R: Citation of Sources Used in This Chapter
CHAPTER 12: PLANNING FOR TRANSACTIONS WITH MEMBERS

1200 INTRODUCTION
1201 SINGLE-MEMBER LLCs
1202 OVERVIEW OF RULES

Member Acting as a Third Party
Guaranteed Payments to Members
Member Acting as a Member
Related Party Rules

1203 LOANS BETWEEN MEMBERS AND LLCs

Requirement for Bona Fide Debt
Self-charged Interest Rules
Imputed Interest
Treatment of Interest Expense Paid by Accrual Basis LLC to Cash Basis Member
Write-off of Bad Debts

1204 PAYMENTS TO MEMBERS FOR SERVICES

Differentiating a Member from an Employee

Exceptions to General Rule.

Services Provided by a Member Acting as a Third Party
Services Provided by a Member Acting as a Member
Recharacterization of Payments for Services as Payments to Nonmembers
Self-charged Rules Not Applied to Services

1205 GUARANTEED PAYMENTS

Tax Treatment of Member

Guaranteed Payments under the PAL Rules.
Employment Taxes.
Impact on Recipient's Capital Account.

Tax Treatment of LLC
Guaranteed Payments of Property
Guaranteed Payments Based on a Formula
Using an Established Standard to Calculate Guaranteed Payments
Payment of Health Insurance Premiums Treated as Guaranteed Payments
Using Stock of a Corporate Member as Compensation

1206 RENTALS OF PROPERTY

Possible Disallowance of Rent Expense Deduction
Application of Self-charged Rent Rules

1207 APPLICATION OF THE DISGUISED SALE RULES TO TRANSFERS BETWEEN MEMBERS AND LLCs

Disguised Sales of Property
General Rule
Application to Nonsimultaneous Transfers--the Two-year Rule
Special Rules for Priority or Preferential Distributions

Guaranteed Payments for Capital.
Preferred Returns.
Distributions of Operating Cash Flow.
Reimbursements of Preformation Expenses.

Treatment of Liabilities under the Disguised Sale Rules

Determining Members' Shares of Transferred Liabilities.
LLC Debt Used to Fund a Distribution.
Effect in Tiered LLC Situations.
Netting of Liabilities.

Impact of Disguised Sale on Member's Basis and Capital Account
Tax Return Disclosure Requirements
Disguised Sales of Partnership Interests

1208 RELATED PARTY RULES AND OTHER MEMBER/LLC ISSUES

Loss Disallowance Rules

Proportionate Disallowance of Losses under IRC Sec. 267.

Capital Gain Disallowance Rule
Restrictions on Deduction of Expenses between Cash Basis and Accrual Basis Taxpayers
Installment Sale Limitations
Like-kind Exchange Limitations
Application of Constructive Ownership Rules
LLC Expenses Incurred by Members
Use of Office in Member's Home

Quick Summary of Rules for Home Office Deductions.
Side Benefits of Deductible Home Office.

Member's Liability for Unpaid Trust Fund Taxes
Assessment of Other Taxes against Members
Member Earning Income outside the LLC
Family Employment within a Family-owned LLC

LLC Operates as a Sole Proprietorship.
LLC Operates as a Partnership.
LLC Operates as a Corporation.

Deemed (Constructive) Distributions

APPENDIX 12A: Questionnaire for Determining If a Transaction between Member and LLC Requires Special Treatment
APPENDIX 12B: Determining "Related Persons" under IRC Sec. 707(b)(1) and (b)(2)
APPENDIX 12C: Determining "Related Persons" under IRC Sec. 267(a)(2)
APPENDIX 12D: Form 8275 (Disclosure Statement) for Potential Disguised Sale Transaction
APPENDIX 12E: Summary of Interest Tracing Rules
APPENDIX 12F: Sample Letter on Hiring Children to Work for Parent's Wholly-owned LLC
APPENDIX 12G: Citation of Sources Used in This Chapter
CHAPTER 13: LIMITATIONS ON DEDUCTING MEMBER LOSSES

1300 INTRODUCTION
1301 BASIS LIMITATION

Specific Ordering of Basis Adjustments
Treatment of Suspended Losses
Interaction with Other Loss Limitation Provisions
Ways to Increase Basis

1302 AT-RISK LIMITATION--GENERALLY

Determining What Constitutes a Separate At-risk Activity

Original At-risk Activities.
Other Activities That Constitute a Single Trade or Business.
Real Estate Activities.

Advantage of Aggregating At-risk Activities

1303 CALCULATING A MEMBER'S AMOUNT AT RISK

Including LLC Debt in a Member's Amount at Risk
Loan Guarantees
Amounts Borrowed from Related Taxpayers
Deficit Restoration Obligations

1304 SPECIAL AT-RISK RULES FOR REAL ESTATE--QUALIFIED NONRECOURSE FINANCING

Definition of Qualified Nonrecourse Financing
Tiered Ownership and Disregarded Entities
Treatment of Wraparound Mortgage
Determining If a Loan Is Commercially Reasonable
Allocation of Qualified Nonrecourse Financing

1305 OTHER AT-RISK PROVISIONS

Carryover of Suspended At-risk Losses
Transfer of At-risk Activity in Nonrecognition Transaction

Gift of At-risk Activity.
Bequest of At-risk Activity.
Transfer of At-risk Activity to Bankruptcy Estate.

Recapture of Previously Deducted At-risk Losses
Reporting At-risk Losses

LLC Reporting.
Member Reporting.
Large Partnerships.

1306 PASSIVE ACTIVITY LIMITATIONS--GENERALLY

Definition of Activity
Potential Application of Limited Partner Activity Rules to LLC Members
Groupings by LLCs or Partnerships
Disclosure of Groupings

Exception for Pass-through Entities.
Exception for Preexisting Groupings.

IRS Has Right to Challenge Activity Groupings
Trade or Business Activities
Support Activities
Rental Activities
Planning Alternatives to Minimize Passive Activity Loss Limitations

1307 DETERMINING A MEMBER'S PARTICIPATION IN LLC ACTIVITIES

Exceptions to Material Participation Rules

Work Not Customarily Performed by an Owner.
Participation as an Investor.
Limited Partners.
Application of Limited Partner Restriction to LLC Members.

Documenting Participation

1308 SPECIAL RULES GOVERNING TREATMENT OF SELF-CHARGED INTEREST

Summary of the Self-charged Interest Rules
Election out of the Self-charged Interest Rules
Loans from Members to LLCs
Loans from LLCs to Members
Back-to-back Loans
Identically-owned Pass-through Entities

1309 PASSIVE LOSSES OF REAL ESTATE PROFESSIONALS

Eligible Members
Application of Limited Partner Rule
Grouping Interests Held by LLCs Classified as Partnerships

1310 OTHER PAL PROVISIONS

Transactions between an LLC and Its Members

Sales of Property between Member and LLC.
Payments in Liquidation of a Member's Interest in an LLC.

Disposing of Property Used in a Passive Activity
Recharacterization of Income Rules

Rental of Nondepreciable Property.
Developer Sales of Rental Property.
Rental of Property from a Member.
Other Recharacterization Situations.

Special Rule for Oil and Gas Working Interests
Reclassifying Activity as Passive or Nonpassive Is Not Accounting Method Change
Applying the PAL Rules to Sales of LLC Interests
Treatment of Gain on Distribution for PAL Purposes
Treatment of Cancellation of Debt (COD) Income
Treatment of Casualty Losses
Effect of Passive Activity Loss Limitations on Self-employment Tax Calculation

1311 TREATMENT OF LOSSES SUSPENDED UNDER THE PAL RULES

Disposition of a Passive Activity

1312 REPORTING INFORMATION REGARDING PASSIVE ACTIVITIES

General Reporting Requirements

Reporting Multiple Activities.
Reporting Self-charged Interest.

Electing Large Partnerships

APPENDIX 13A: Carryforward Worksheet for Determining Member's Amount at Risk
APPENDIX 13B: Carryforward Worksheet for Calculating Deductible At-risk Losses and Tracking Suspended At-risk Losses
APPENDIX 13C: Schedule K-1 Attachment Reporting By-activity Information Needed to Comply with At-risk and Passive Loss Rules
APPENDIX 13D: Filled-in Form 6198 Showing Member's At-risk Calculation
APPENDIX 13E: Worksheet for Grouping Activities under the Passive Loss Rules
APPENDIX 13F: Documenting Member Participation
APPENDIX 13G: Tax Treatment of Suspended Losses on Disposition of a Passive Activity
APPENDIX 13H: Sample Log to Document Participation
APPENDIX 13I: Client Letter Describing At-risk Rules that Limit the Deductibility of Losses
APPENDIX 13J: Tax Treatment of Suspended At-risk Losses upon Disposition of Interest in LLC
APPENDIX 13K: Citation of Sources Used in This Chapter
CHAPTER 14: SPECIAL PROBLEMS OF LLCs

1400 INTRODUCTION
1401 SELF-EMPLOYMENT TAX AND LLCs

Proposed Regulations

Service LLCs.
Special Rule for Holders of More Than One Class of LLC Interest.

Exception for Certain Members Participating More Than 500 Hours
Options for Determining Members' SE Tax
Using Corporate Ownership to Reduce SE Taxes
Related SE Tax Issues Facing LLCs

Guaranteed Payments.
Retirement Payments.
Rental Payments.
Personal Service Businesses.
Application of Anti-abuse Regulation.

1402 THE USE OF LLCs IN FOREIGN TRANSACTIONS

Taxation of Foreign Owners

Filing Requirements.
Income Tax Withholding.
Branch Profits Tax.
Effect of U.S. Income Tax Treaties.
Estate Taxes.
Use of Disregarded Entities.

Taxation of Foreign LLCs
Foreign Tax Credits
Foreign Bank Accounts or Financial Assets

1403 TAX-EXEMPT ORGANIZATIONS AS LLC MEMBERS

Concerns of Tax-exempt Members

Unrelated Business Taxable Income.
Unrelated Debt-financed Income.
Leases Involving Tax-exempt Entities.
Excise Taxes on Reportable Transactions.
Effect of LLC Investment on Exempt Status.

Qualifying an LLC as a Tax-exempt Organization
Using an LLC to Provide Ancillary Services
Low-profit LLCs

1404 SINGLE-MEMBER LLCs

Classification of Single-member LLCs
Using Single-member LLCs

Liability for Federal Taxes.
Liability for Transfer Taxes.

Adding Members to a Single-member LLC
Filing Issues Created by Disregarded Single-member LLCs
Employing Family Members
Using Single-member LLCs in Tax-free Exchanges
Corporate Acquisitions or Reorganizations Involving Single-member LLCs
Single-member LLC as an S Corporation Shareholder or Subsidiary
Pension Plans Sponsored by Single-member LLCs
Use of Single-member LLCs by Charitable Organizations
Allocating Liabilities of Disregarded Single-member LLCs

Timing of the Net Value Determination.
Allocation Date.

Foreign Tax Treatment

Conduit Financing Provisions.

1405 MISCELLANEOUS LLC TAX ISSUES

Properly Accounting for Organization Costs
Properly Accounting for Syndication Costs
Properly Accounting for Start-up Costs

Start-up Expenses Relating to an Investment Activity.
Determining the Proper Treatment of Start-up Expenditures upon the Acquisition or Expansion of a Trade or Business.

Claiming the Section 179 Expense Deduction

Taxable Income Limitation.
Effect on Basis.
No Proration Required.

Claiming Bonus Depreciation

Eligible Property.
Qualified Property.
Original Use.
Applicable Acquisition Time Period.
Placed in Service Test.
Qualified Leasehold Improvement Property.
Bonus Depreciation after Technical Termination.
Electing Out of Bonus Depreciation.
Fiscal-year LLCs.
AMT Implications.

Bonus and Section 179 Deduction Planning
Claiming the Small Employer Health Insurance Credit

Eligible Small Employer.
Excluded Employees.
Additional Coverage.

1406 MISCELLANEOUS OPERATING ISSUES FACING AN LLC

Banking Issues

Authority to Open Accounts and Borrow Money.
Opening an LLC Bank Account.
LLC Lending Policies.
Single-purpose Entities.

Transfer of Title to Real Property
Records Maintenance
Workers' Compensation
Schedule K-1 Matching
Estimated Taxes
Form 1065 Return Preparation Issues

Required Form 1065 Disclosures.
Preparing Schedule M-3.
Schedule K-1 Reporting.
Electronic Schedule K-1 Delivery.
Extending the LLC Income Tax Return.
Signature on Form 1065.

Relief from Late-filing Penalties
Members' Liability for Employment Taxes

1407 PROVIDING BENEFITS TO EMPLOYEES AND MEMBERS

Fringe Benefits
Providing Section 132 Fringe Benefits

No-additional-cost Services.
Qualified Employee Discounts.
Working Condition Fringe Benefits.
De Minimis Fringe Benefits.

Automobile Expenses
Insured or Uninsured Medical Plans

Payments for Employees.
Payments for Members.
Long-term Care Insurance.
Self-employed Insurance Deduction.
Self-insured Medical Plans.
Deduction for Medicare Premiums.

Health Reform Act Provisions
Cafeteria Plans
Providing a Disability Plan
Establishing and Maintaining Health Savings Accounts

Handling Contributions and Distributions.
Rollovers to an HSA.
Making Contributions for Members.
Meeting the Comparability Rules.

Comparing HSA with Flexible Spending Account
Adopting a Retirement Plan

Qualified Plans.
Nonqualified Plans.

Contributions to a Retirement Plan

Determining the Amount of the Contribution.
Deadline for Making Contributions.
Reporting the Deduction.
Simplified Employee Pensions (SEPs).
Savings Incentive Match Plans for Employees (SIMPLE Plans).

Deferred Compensation Plans

1408 ASSET PROTECTION

Charging Order Remedy

Placing Personal Residence in LLC.

Recognizing the Limits on Limited Liability

Piercing the Veil.
Liability for Delinquent Taxes of Transferor.
Liability for Trust Fund Recovery Penalty.

Fraudulent Transfers
Series Partnerships and LLCs
Family Limited Liability Companies

1409 OPTIONS TO ACQUIRE LLC INTERESTS

Proposed Regulations on Noncompensatory Options
Characterization of Noncompensatory Option Holders
OID Issues Related to Noncompensatory Options
Guidance on Compensatory Options

APPENDIX 14A: Recommended Document Retention
APPENDIX 14B: Form 1065 Filing Requirements for Foreign LLCs Classified as a Partnership
APPENDIX 14C: Summary of Retirement Plan Options for 2013
APPENDIX 14D: Analysis of LLC with Exempt and For-profit Members
APPENDIX 14E: Sample Client Letter Regarding Types of Retirement Plans
APPENDIX 14F: Sample Client Letter on the Asset Protection Characteristics of LLCs
APPENDIX 14G: Tax Treatment of Fringe Benefits Provided to LLC Employees and Members
APPENDIX 14H: Health Reform Legislation Effective in 2013 and 2014
APPENDIX 14I: Summary Table for Tax Treatment of Preopening Expenses
APPENDIX 14J: Consent to Electronic Delivery of Schedule K-1
APPENDIX 14K: Section 179 Quick Reference Sheet
APPENDIX 14L: Citation of Sources Used in This Chapter
CHAPTER 15: SALE OR EXCHANGE OF A MEMBER'S INTEREST

1500 INTRODUCTION
1501 NONTAXABLE TRANSFERS OF MEMBER INTERESTS

Gifts of LLC Interests
Bequests of LLC Interests
Contribution of LLC Interest to Another LLC or Partnership

Section 704(c) Allocations.

Like-kind Exchange

Fractional Shares.
Depreciating Replacement Property.

Transfers Incident to a Divorce
Using Spin-offs to Transfer LLC Ownership

1502 TAXABLE TRANSFERS--SALES AND EXCHANGES

Compliance with State Law Requirements
Computation of Gain or Loss

General Rule.
Holding Period.
Application of Hot Asset Rules.
Effect of Negative Tax Basis Capital Account.

Abusive Transactions Involving Liability Assumptions

Transfer of Interest by Member Contributing Reg. 1.752-7 Liabilities.
Liquidating Distribution to Member Contributing Reg. 1.752-7 Liabilities.
Assumption of Reg. 1.752-7 Liability by a Member Other Than the Contributing Member.
LLC Mergers and Divisions.
Depreciation of Capitalized Amounts.
Notification Requirements.
Tiered Ownership Structures.

Sale of Partial Interest
Conversion from Multi-member to Single-member LLC or Vice Versa
Sale of Stock in Corporate Member
Application of Hot Asset Rules

General Rule.
Interaction of IRC Secs. 1250 and 751.
Reporting Requirements.
Member Required to Notify the LLC.
LLC Required to File Form 8308.
Tax Return Statement of Transferor Member.
Availability of Installment Method.

Determining When the Unearned Income Medicare Contribution Tax Applies
Special Look-through Rules for Sales of LLC Interests

Collectibles Gain.
Unrecaptured Section 1250 Gain.
Residual Gain.
Reporting Rules.

Sale to Related Party
Ancillary Effects of Sale

Effect on Suspended At-risk Losses.
Effect of Disposition on Suspended Passive Losses.
Effect of Disposition on Losses Suspended Due to Lack of Basis.
Section 197 Intangibles.
Minimizing Business Credit Recapture upon the Disposition of LLC Interest.

Liquidation of Interest

General Rule.
Comparison to Sale.
Documenting the Transaction.

Distribution of Interest

General Deemed Sale Rule.
Distribution from LLC, Partnership, or Corporation.
Distribution from Estate or Trust.

Buy/Sell Agreements
Using a Noncompete Agreement

Using a Consulting Agreement Instead.

Selling Assets as an Alternative to Selling LLC Interest

Structuring an Asset Sale.
Installment Sale of Assets.
Liquidating the Selling LLC.

1503 SECTION 754 BASIS ADJUSTMENTS AFTER A SALE OR EXCHANGE

Purpose and Availability of Election

Purpose of Election.
Availability of Election.

Computation of Overall Adjustment

General Rule.
Effect of Allocation Due to Contributed Appreciated Property.
Technical Terminations.
Mergers.
Negative Basis Adjustments.

Allocation of Basis Adjustment to Specific LLC Assets

General Rule.
Transferred Basis Exchanges.
Subsequent Transfers.
Application to Tiered Ownership Structure.
Allocations of Basis to LLC Goodwill.
Amortization of Basis Adjustment Allocable to Goodwill.
Recapture of Intangibles Amortization.
Impact of the Anti-churning Rules.
Adjusting the Basis of a Long-term Contract.

Special Rules Applicable upon Death of a Member
Making the Section 754 Election

Other Filing Requirements.

Revocation of the Section 754 Election
Depreciation of an Optional Adjustment
Recapture Allocation to Member with Basis Adjustment
Basis Adjustment Recordkeeping
Mandatory Adjustments for Certain Transfers

Electing Investment LLCs (EIPs).
Making the Election to Be an EIP.
Tiered Ownership Structures.
Securitization LLCs.
Reporting Requirements.

1504 RECOGNIZING IRS AUDIT ISSUES

Sales or Exchanges of Interests
Gift of an LLC Interest

APPENDIX 15A: Worksheet for Determining Gain or Loss on Disposition of an LLC Interest
APPENDIX 15B: Form 8308 (Report of a Sale or Exchange of Certain Partnership Interests)
APPENDIX 15C: Table Comparing Sale of Interest versus Liquidation of a Retiring (or Deceased) Member's Interest
APPENDIX 15D: Transfers of LLC Interests--Determining and Allocating Basis Adjustments Resulting from Section 754 Elections for Sales or Exchanges
APPENDIX 15E: Worksheet for Allocating a Basis Adjustment Resulting from a Transfer to Goodwill under IRC Sec. 755
APPENDIX 15F: Notification to Member Selling LLC Interest Involving Sections 1250 and 751 Property
APPENDIX 15G: Notification to LLC by Transferee Member for Transfers
APPENDIX 15H: LLC Basis Adjustment Allocation Statement for Transfers
APPENDIX 15I: Notification Statement When LLC Satisfies a Reg. 1.752-7 Liability
APPENDIX 15J: Election to Be Treated as an Electing Investment Partnership (EIP) under IRC Sec. 743(e)
APPENDIX 15K: Required Annual Statement by Electing Investment LLC
APPENDIX 15L: Table Summarizing Tax Treatment of LLC Interest Dispositions
APPENDIX 15M: Sample Client Letter Discussing the Sale of an LLC Interest
APPENDIX 15N: Sample Client Letter on the Availability of the Optional Basis Adjustment on the Transfer of an LLC Interest
APPENDIX 15O: Work Program for Using an Asset Sale to Transfer Ownership of an LLC
APPENDIX 15P: Worksheet for Determining Applicability of IRC Sec. 751 to Sale or Exchange and Calculation of Gain or Loss
APPENDIX 15Q: Quick Comparison of Transfer Options
APPENDIX 15R: Work Program for Selling an Interest in an LLC Classified as a Partnership
APPENDIX 15S: Work Program for Liquidating an Interest in an LLC Classified as a Partnership
APPENDIX 15T: Citation of Sources Used in This Chapter
CHAPTER 16: RETIREMENT OR DEATH OF A MEMBER

1600 INTRODUCTION

Death of a Member

LLC's Tax Year.
Income in Respect of Decedent (IRD).
LLC Interest Included in Estate Tax Return.

Disposition of Retiring or Deceased Member's LLC Interest

1601 DEATH OF A MEMBER--TREATMENT OF LLC INCOME IN YEAR OF DEATH

Income Taxation of LLC Income in Decedent's Final Return

Buy/Sell Agreement.
Death of a Member in a Two-person LLC.
LLC Ceases to Do Business on Date of Death.

Deceased Member's Final Schedule K-1

Self-employment Income in the Year of Death.

1602 DEATH OF A MEMBER--IMPACT ON DECEASED MEMBER'S ESTATE

Valuation of LLC Interest

Alternate Valuation Date versus Date of Death Valuation.
Valuation Method.
Use of Buy/Sell Agreement to Establish Value.
Estate Freezes.

Income in Respect of a Decedent

Liquidating Payments under IRC Sec. 736.
Calculation of Estate Tax Attributable to IRD.

Amounts Included on Form 1041

Deduction for Taxes Paid on IRD.

Distribution of LLC Interest to Estate's Beneficiary

Treated as Sale or Exchange.
Effect on Allocation of LLC Income.

1603 TREATMENT OF SUSPENDED LOSSES UPON MEMBER'S DEATH

Losses Suspended Due to Basis Limitation

Losses Suspended Due to At-risk Limitations.
Losses Suspended Due to Passive Loss Rules.

1604 BASIS ADJUSTMENTS WITH REGARD TO DECEASED MEMBER'S INTEREST

LLC Interest Basis Step up to Date of Death Value

General Rule.
Joint Tenancy.
Effect of IRD Rules.
Effect of Decedent's Negative Capital Account.

Section 754 Election to Step up Basis of LLC Assets

General Rule.
Effect of IRD on Optional Basis Adjustment.
Distribution of Interest to Satisfy a Pecuniary Bequest.

Mandatory Adjustments for Certain Transfers

1605 LIQUIDATION OF A DECEASED OR RETIRED MEMBER'S INTEREST

Liquidation versus Sale of an LLC Interest
Continuation of the LLC
Tax Treatment of Liquidating Payments--General Rule

Limitations on Section 736(a) Payments.

Exception for Section 736(a) Payments by Service Businesses

When Capital Is Not a Material Income Producing Factor.
When a Member Is Equivalent to a General Partner.
When Payments Clearly Are Not for LLC Property.

Section 736(b) Payments for LLC Property

Allocation between Section 736(a) and Section 736(b) Payments.
Payments for Goodwill Treated as Section 736(b) Payments.
Payments for Hot Assets.

Section 736(a) Payments for Unrealized Receivables and Goodwill
Treatment of Variable Liquidating Payments

Variable Payments Based on LLC Income.
Payments That Are Fixed in Total But Vary from Year to Year.
Availability of SE Tax Exemption.

Significance of a Written Agreement

Payments for Goodwill.
Allocating Payments by Agreement.

Treatment of LLC Liabilities
Abusive Transactions Involving Liability Assumptions

Liquidating Distributions to Members Contributing Reg. 1.752-7 Liabilities.
Notification Requirements.
Tiered Ownership Structures.

Noncash Payments in Liquidation of Retiring Member's Interest
Effect of a Section 754 Election
Mandatory Basis Adjustments for Distributions Resulting in Substantial Basis Reductions
Planning for Liquidation Payments to Members
State Taxes on Nonresident Members' Retirement Payments

APPENDIX 16A: Worksheet--Allocation of Fixed LLC Liquidation/Retirement Payments between IRC Sec. 736(a) and IRC Sec. 736(b)
APPENDIX 16B: Worksheet--Allocation of Variable LLC Liquidation/Retirement Payments between IRC Sec. 736(a) and IRC Sec. 736(b)
APPENDIX 16C: Carryforward Schedule--LLC Liquidation/Retirement Payments
APPENDIX 16D: Sample Statement for LLC Making a Liquidating Distribution Requiring a Mandatory Basis Adjustment under IRC Sec. 734(a)
APPENDIX 16E: Tax Treatment of Section 736 Payments in Liquidation of a Member's Interest in an LLC Classified as a Partnership
APPENDIX 16F: Client Letter on Planning for a Member's Death
APPENDIX 16G: Sample Client Letter Addressing Retirement of an LLC Interest
APPENDIX 16H: Tax Effects Resulting from the Death of a Member
APPENDIX 16I: Prorating Basis Recovery upon Liquidation of an Interest in an LLC Classified as a Partnership
APPENDIX 16J: Citation of Sources Used in This Chapter
CHAPTER 17: TERMINATION, LIQUIDATION, MERGER, OR DIVISION OF AN LLC

1700 INTRODUCTION
1701 TERMINATION OF AN LLC

Discontinuation of Business

Cessation of the LLC's Business Activities.
Addressing Nontax Issues Arising from Discontinuation of an LLC's Business.
Administrative Issues on Dissolution.

Sale of LLC Interests Resulting in Single Member
Termination of Two-member LLC

Estate Continues as Member.
Liquidating Payments Made under IRC Sec. 736.
Planning for the Continuation of a Two-person LLC.

Ceasing to Do Business in Partnership Form
Tax Effects of Termination

1702 DETERMINING IF A TECHNICAL TERMINATION OCCURS

"Sale or Exchange" for Purposes of the Technical Termination Rules
Determining if 50% or More of Capital and Profits Interests Have Been Sold or Exchanged

Determining a Member's Interest in Profits and Capital.
Multiple Sales within a 12-month Period.
Effect of Tiered Ownership Structures.

1703 TAX CONSEQUENCES OF A TECHNICAL TERMINATION

No Gain or Loss Recognition
Tax Basis of LLC Interest Received in Deemed Distribution
Tax Basis of Contributed Assets to New LLC
Depreciation after Deemed Distribution and Recontribution
Holding Period for Contributed Assets and Distributed LLC Interests
Tax Year of the LLC
Elections in Effect
Continuing Liability for Payroll Taxes
Effect on Section 1031 Exchange
LLC Organization, Syndication, and Start-up Costs
Section 704(b) "Book" Capital Accounts
Minimum Gain
Suspended Losses
Retirement or Liquidation Payments to Members
Installment Sales
Section 197 Intangibles
Retirement Plans
Precontribution Gain or Loss
Investment Credit Recapture
Documenting Termination Issues

1704 PLANNING TO AVOID THE TECHNICAL TERMINATION RULES
1705 REPORTING A TECHNICAL TERMINATION
1706 LIQUIDATION OF AN LLC

Tax Effects of LLC Liquidation

Possibility of Gain Recognition.
Tax Basis of Property Received.
Depreciation Methods Available after Liquidating Distribution.
Holding Period for Distributed Assets.
Suspended Losses.
Planning the Type of Property to Distribute.
Nontax Considerations.

Abusive Transactions Involving Liability Assumptions

1707 LLC MERGERS

Determining the Continuing Entity
Deemed Sequence of Events
Transferring Appreciated or Depreciated Property
Basis and Gain Recognition Issues
Tax Accounting Periods, Methods, and Elections
Transfer of Reg. 1.752-7 Liabilities
Other Issues
Addressing Nontax Issues

Legal Requirements.
Administrative Requirements.

1708 LLC DIVISIONS

Reporting Requirements
Tax Effect of Division
Transferring Appreciated or Depreciated Property

Application of IRC Sec. 704(c)(1)(B) or 737.
Transfers of Marketable Securities.

Transfer of Reg. 1.752-7 Liabilities
Addressing Nontax Issues

APPENDIX 17A: Checklist--Termination of an LLC under IRC Sec. 708
APPENDIX 17B: Worksheet for Calculating Gain or Loss on Liquidation of LLC
APPENDIX 17C: Worksheet for Determining Continuing Entity in LLC Merger or Division
APPENDIX 17D: Statement Required to Be Filed by Continuing LLC in a Merger or Consolidation
APPENDIX 17E: Statement Required to Be Filed by Continuing LLC in an LLC Division
APPENDIX 17F: Sample Client Letter on Winding Up a Terminating LLC (Classified as a Partnership)
APPENDIX 17G: Citation of Sources Used in This Chapter
CHAPTER 18: BANKRUPTCY, INSOLVENCY, AND ABANDONMENT

1800 INTRODUCTION
1801 PROVIDING SERVICES TO AN LLC IN BANKRUPTCY

Helping a Troubled LLC Make the Decision to File

Advantages of Filing for Bankruptcy.
Disadvantages of Filing for Bankruptcy.

Common Bankruptcy Misconceptions
Prebankruptcy Planning
Services Provided by a Practitioner in a Bankruptcy Proceeding
Administering the Engagement

1802 BANKRUPTCY--THE BASIC RULES

Filing the Petition
Scope of the Automatic Stay
Creation of the Bankruptcy Estate
Payment of Creditor's Claims
Resolution of Bankruptcy Case

1803 BANKRUPTCY PROBLEMS SPECIFIC TO LLCs

Who Files the Petition for Bankruptcy?

LLC Treated as Partnership.
LLC Treated as Corporation.

Does Bankruptcy Cause a Dissolution of the LLC?
How Does the Bankruptcy of a Member Affect an LLC?

Claims of Member's Creditors.
Applicability of Automatic Stay on an LLC where a Member Files Bankruptcy.
Assumption of All Member Rights by the Bankruptcy Trustee.
Operating Agreement Provisions.
Single-member LLCs.

Collateral Issues in LLC Bankruptcy

1804 CANCELLATION OF DEBT INCOME

Transfer of Property to Satisfy Debt
Effect of Tiered Ownership
Payment of Debt by Withdrawing Member
Timing of Gain Recognition
Contested Liability Exception
Other Exceptions to COD Income Recognition
Applying the COD Rules to a Bankrupt or Insolvent LLC
Bankruptcy Exclusion
Insolvency Exclusion
Reducing Tax Attributes of a Bankrupt or Insolvent Member
Purchase Price Adjustment

1805 QUALIFIED REAL PROPERTY BUSINESS DEBT
1806 OTHER DEBT MODIFICATION ISSUES

Deferral of Debt Forgiveness Income on the Repurchase of Debt
Acquisitions of Related-party Debt
Transfer of LLC Interest to Satisfy Debt

LLC Debt-for-equity Basics.
Safe Harbor for Valuation.
Liquidation Value of the LLC Interest.
New Section 721 Regulations.
New Section 704 Gain Chargeback Regulations.

1807 TRUST FUND RECOVERY PENALTY

Who Is a Responsible Person?
Willful Failure
Assessment against More Than One Person
Voluntary versus Involuntary Payments

1808 SUMMARIZING THE DEBT DISCHARGE AND FORECLOSURE RULES
1809 ABANDONMENT OF AN LLC INTEREST
APPENDIX 18A: Comparison of Chapter 7 and Chapter 11 Bankruptcies
APPENDIX 18B: IRS Handling of LLC Bankruptcy Claims
APPENDIX 18C: Worksheet for Calculating the Amount of a Member's Insolvency
APPENDIX 18D: Worksheet for Determining Qualification for and Calculating the Amount of the Exclusion for Qualified Real Property Business Debt
APPENDIX 18E: Worksheet for Calculating Reduction of Member's Tax Attributes
APPENDIX 18F: Schedule K-1 Reporting Discharge of Debt Income
APPENDIX 18G: Statement on Reduction of Member Basis
APPENDIX 18H: Client Letter on Recognizing COD Income
APPENDIX 18I: Citation of Sources Used in This Chapter
CHAPTER 19: IRS AUDIT AND REPRESENTATION ISSUES

1900 INTRODUCTION
1901 LLC AUDIT AND COLLECTION ISSUES

Package Audit Procedures
Related-party Transactions
Partnership Audit Technique Guide
Common Partnership/LLC Audit Issues
Schedule K-1 Matching
Common Single-member LLC Audit Issues
Collection Issues

1902 PRACTITIONER ISSUES IN IRS AUDITS

Shifting the Burden of Proof
Confidentiality Privileges
Circular 230 Rules of Practice

Knowledge of Omission.
Due Diligence.
Return Preparation Standards.
Written Tax Advice.
Individuals with Oversight Responsibility.
Competence.

Taxpayer Rights and Other Audit Considerations

One Bite at the Apple.
Right to Be Represented.
Right Not to Be Interviewed.
Third-party Contacts.
Time and Place of Examination.

Inspection of Taxpayer's Business

1903 DESIGNATION AND DUTIES OF THE TAX MATTERS PARTNER (TMP)

Who Is the TMP?
Designation of the TMP
Revocation of TMP Designation
Resignation of TMP
Termination of TMP Designation
Who Is the TMP When the LLC Has Not Made a Designation?

1904 AN OVERVIEW OF THE CONSOLIDATED PARTNERSHIP AUDIT PROCEDURES

Exception for Small LLCs
LLC versus Non-LLC Items

What Is an LLC Item?
When Does an LLC Item Become a Non-LLC Item?
Reporting Inconsistent Treatment of an LLC Item.
Innocent Spouse Relief.

Initiation of an LLC Audit
Notice to Members

TMP Required to Notify IRS of New Member Information.
LLCs with More Than 100 Members.
Pass-through and Indirect Members.
Failure by IRS to Provide Timely Notice.

Rights of Members to Participate in Audit
Information the TMP Must Provide to Members
TMP's Right to Bind Nonnotice Members
Appeal of the Agent's Determination
Final Partnership Administrative Adjustment
Petitioning the Courts for Readjustment

Petition by Member Other Than TMP.
Formation of a 5% Group.
Tax Court versus Other Courts.

1905 AUDITS OF ELECTING LARGE LLCs

Audit Adjustments
Consistent Reporting Requirement
Statute of Limitations
Designated Representative

1906 STATUTE OF LIMITATIONS FOR LLC ITEMS

Extended Statute for Substantial Understatement
Unlimited Statute of Limitations
LLC Items Become Non-LLC Items
Listed Transactions
Extension of Statute
Reopening the Statute of Limitations

1907 TAX RETURN PREPARER PENALTIES

Types of Returns Subject to a Penalty
Return Preparers Subject to a Penalty
Preparers of Pass-through Entity Returns
Member Who Prepares LLC's Tax Return
Firm Liability for Preparer's Actions
Substantial Authority and Adequate Disclosure
Good Faith Reliance on Others
Reasonable Cause and Good Faith
Willful, Reckless, or Intentional Disregard
What to Do When a Penalty is Assessed
Internal Revenue Code and Circular 230 Sanctions
Monetary Penalties under Circular 230
Use and Disclosure of Tax Return Information

1908 IRS REGISTRATION AND REGULATION OF TAX RETURN PREPARERS

Definition of a Tax Return Preparer
PTIN Renewals for 2013 Filing Season
Registered Tax Return Preparers

Provisional PTINs.
Supervised Preparers Relieved from Competency Testing.

Return Preparation Standards
Due Diligence Requirements

APPENDIX 19A: Audit Issues for LLCs Taxed as Partnerships
APPENDIX 19B: Audit Issues for Single-member LLCs
APPENDIX 19C: Designation of Tax Matters Partner (TMP)
APPENDIX 19D: Checklist to Maintain Confidentiality Privilege
APPENDIX 19E: Internal Revenue Code and Circular 230 Rules of Practice
APPENDIX 19F: Meeting the Substantial Authority Test
APPENDIX 19G: Checklist for Preparing Forms 8275 and 8275-R
APPENDIX 19H: Reporting Inconsistent Treatment on Form 8082
APPENDIX 19I: Citation of Sources Used in This Chapter
CHAPTER 20: ESTATE PLANNING FOR LLC MEMBERS

2000 INTRODUCTION

Estate Planning Goals and Objectives

2001 CONSEQUENCES OF A MEMBER'S DEATH

Termination of LLC under State Law
LLC Tax Year
Reporting the Distributive Share in Year of Death
Computation of Self-employment Income in Year of Death
Estate Tax Valuation
Income in Respect of a Decedent
Basis Adjustments
Modified Carryover Basis Rules for Certain Estates
Suspended Losses

2002 LIFETIME PLANNING

Lifetime Gifting

Advantages of Lifetime Gifts.
Potential Disadvantages of Lifetime Gifts.
Reporting Gifts.
Reporting Non-gift Transactions.

Charitable Donations
Family LLC
Buy/Sell Agreements
Family Business Assets
Choosing the Successor in Interest
Generation-skipping Transfers
Estate Freezes

2003 DECIDING WHETHER TO USE A FAMILY LLC

Advantages of Using Family LLCs
Disadvantages of Using Family LLCs
Functional Types of Family LLCs

"Sam Walton" Family FLPs.
The Discount-type Family LLC.
Freeze-type Family LLC (LLC Recapitalization).

The Family LLC as an Asset Protection Technique
Other Transfer Tax Considerations
Administrative Considerations
Anti-abuse Regulations
Use of Undivided Interests as an Alternative

Valuing an Undivided Interest.
Continued Use by Donor.

2004 FAMILY LLC INCOME TAX RULES

Application beyond Family Context
Recognition of Donee as a Member
Allocations between Donors and Donees
Family LLC Rules Are Income Tax Rules Only

2005 USE OF FAMILY LLCs AS ESTATE PLANNING TOOLS

IRS Challenges to Family LLCs
Transfers Lacking Economic Substance
Transfers Lacking an Adequate Business Purpose
Transfers Challenged under IRC Sec. 2703
Transfers Challenged under IRC Sec. 2704

Assignee Interests.
Disregard of Applicable Restrictions.
Taxpayer Strategies.

Transfers Challenged under IRC Sec. 2036

Testamentary Transfers.
Bona Fide Sale Exception.
Favorable Cases Applying Bona Fide Sale Exception.
Unfavorable Cases Rejecting Use of Bona Fide Sale Exception.
Gift of LLC Interest.

Transfers Challenged as Gifts from Transferor
Challenges to the Amount and Availability of Valuation Discounts
Structuring and Operating Family LLCs
Appeals Settlement Guidelines for Family LLCs

2006 VALUATION DISCOUNTS

Claiming Valuation Discounts
Valuation Penalties
Marketability Discounts
Minority Discounts

Transfer of Controlling Interest at Death.
Lifetime Transfer of Controlling Interest.
Aggregation of Interests Held in QTIP or Revocable Trusts.
Valuing Transfers Occurring Shortly before Death.
Availability in Conjunction with Other Types of Discounts.
Swing Vote Premium.
Step-transaction Argument.

Claiming Available Discounts

Minority versus Marketability Discount.
Quantifying the Discount.
Tax Affecting.
Applying a Key Person Discount.

Application of Valuation Discounts to an Interest in an LLC

Application to Disregarded LLCs.
Importance of Monitoring Current Status of State LLC Statutes.
Use of Limited Partnerships Instead of LLCs.
Restricting Members' Rights to Withdraw.
State Efforts to Safeguard Valuation Discounts.

Control Premium
Voting Stock Premium

2007 USING AN ESTATE FREEZE TO REDUCE THE ESTATE TAX VALUE OF AN LLC INTEREST

Overview of Chapter 14 Rules

Transfers of Interests in Corporations, Partnerships, and LLCs (IRC Sec. 2701).
Transfers of Interests in Trust (IRC Sec. 2702).
Buy/Sell Agreements (IRC Sec. 2703).
Impact of Certain Lapsing Rights (IRC Sec. 2704).

Application of IRC Sec. 2701 to the Transfer of an LLC Interest
Exceptions to IRC Sec. 2701--Special Valuation Rules
The Section 2701 Valuation Process
Special Rules and Elections

Minimum Value Rule.
Election to Treat Distribution Rights as Qualified Payment Rights.
Election Not to Treat Distribution Rights as Qualified Payment Rights.

Application of Estate Freeze Rules to LLC
Assigning Attributes to Preferred LLC Interests to Increase Their Value

Cumulative versus Noncumulative.
Guaranteed Annual Payments.
Extraordinary Payment Rights.
Mandatory Payment Rights.
Liquidation Participation Rights.
Preferred Liquidation Rights.
Nonlapsing Conversion Rights.

2008 QUALIFIED FAMILY-OWNED BUSINESS INTEREST DEDUCTION

Recapture Tax for Early Dispositions and Failure to Materially Participate

2009 AVOIDING PROBATE AND ADMINISTRATION COSTS

What Is Probate?
Deciding Whether Probate May Be Beneficial
Alternatives to Probate
The Living Trust
Life Insurance

Incidents of Ownership.
Use of an Irrevocable Life Insurance Trust.

Use of LLC to Hold Life Insurance

Income Tax Considerations.
Estate Tax Considerations.

2010 USING A BUY/SELL AGREEMENT TO VALUE A BUSINESS INTEREST

Transferability Restrictions
Section 2703 Requirements--General Rules

Exceptions to General Rule.

Satisfying the Requirements of IRC Sec. 2703(b)

Bona Fide Business Arrangement.
Not a Device to Transfer Property for Less Than Full and Adequate Consideration.
Terms Are Comparable to Third-party Arrangements.

Grandfathered Agreements
Forms of Buy/Sell Agreement

Cross-purchase Agreements.
Redemption Agreements.

Funding a Buy/Sell Agreement
Tax-related Buy/Sell Provisions
Tax Consequences of Buy/Sell Agreement Structure
Restructuring an Existing Buy/Sell Agreement Using an LLC

2011 POSTMORTEM PLANNING

Use of Disclaimers

Disclaiming Property Held Jointly.

Choosing the Estate's Year-end
Electing the Alternate Valuation Date
Electing Special Use Valuation for Qualifying Property
Ensuring Estate Liquidity

Borrowing to Pay Estate Taxes.
Distributing Property Other Than Cash.
General Extension of Time for Paying Estate Tax.
Installment Payments.
Deferring Estate Tax Payments Related to a Closely Held LLC.

APPENDIX 20A: Family LLC Questionnaire
APPENDIX 20B: Analysis of Assets for Contribution to a Family LLC
APPENDIX 20C: Factors Influencing the Amount of Discount for Lack of Marketability
APPENDIX 20D: Checklist for Reviewing a Buy/Sell Agreement for an LLC
APPENDIX 20E: Flowcharts of Common Buy/Sell Strategies
APPENDIX 20F: Guidelines for Forming Family Limited Liability Companies
APPENDIX 20G: Guidelines for Operating Family Limited Liability Companies to Avoid IRC Sec. 2036
APPENDIX 20H: Client Letter Regarding the Importance of Buy/Sell Agreements
APPENDIX 20I: Client Letter Recommending a Family LLC
APPENDIX 20J: Sample Hybrid Buy/Sell Provisions for Inclusion in an LLC Operating Agreement
APPENDIX 20K: Citation of Sources Used in This Chapter
CHAPTER 21: LLC TRANSACTION AND PLANNING PROFILES

2100 INTRODUCTION
2101 CHOOSING TO DO BUSINESS AS AN LLC

Planning Profile
Analysis and Other Considerations

Formation as a Partnership.
Formation as a C Corporation.
Formation as an S Corporation.
Formation as an LLC.
State of Formation.

Conclusion

2102 CONVERTING AN EXISTING BUSINESS TO AN LLC

Planning Profile
Conversion Issues and Other Considerations

State Issues.
Federal Tax Issues.

Conclusion
Variation

State Issues.
Federal Tax Issues.

Conclusion

2103 FORMING AN LLC

Planning Profile
Organizational Considerations
Organizational Documents

2104 DISTRIBUTIONS TO MEMBERS

Planning Profile
Distribution of Marketable Securities
Distribution to Noncontributing Member
Distribution to Contributor of Appreciated Property
Basis Adjustments
Summary
Planning Considerations

2105 REPORTING LLC ITEMS ON SCHEDULE K-1
2106 MAKING THE OPTIONAL BASIS ADJUSTMENT

Planning Profile
Analysis
Conclusion

2107 CHOOSING BETWEEN LIQUIDATION AND SALE OF AN LLC INTEREST

Planning Profile
Analysis
Conclusion

2108 AVOIDING A TAX RETURN PREPARER PENALTY
2109 DETERMINING A MEMBER'S INTEREST IN LLC PROFITS AND CAPITAL

Planning Profile
Determination of Members' Interests in LLC Capital
Determination of Members' Interests in LLC Profits and Losses
Variation

2110 USING A BUY/SELL AGREEMENT

Planning Profile
Analysis

Types of Buy/Sell Agreements.
Tax Issues for LLC Buy/Sell Agreements.
Liquidation Agreements.
Cross-purchase Agreements.

Preventing the Admission of Unwanted Owners
Creating a Market for the Interest of a Deceased or Disabled Member
Conclusion

2111 ALLOCATING NONRECOURSE AND MEMBER NONRECOURSE DEBT

Planning Profile
Analysis
Conclusion

APPENDIX 21A: Luxury Life Articles of Organization
APPENDIX 21B: Luxury Life Agenda for Organizational Meeting
APPENDIX 21C: Operating Agreement of Luxury Life, LLC
APPENDIX 21D: Sample Schedule K-1s
APPENDIX 21E: LLC Basis Adjustment Allocation Statement for Transfers
APPENDIX 21F: Notification to LLC by Transferee Member for Transfers
CHAPTER 22: PREPARING LLC FINANCIAL STATEMENTS

2200 INTRODUCTION
2201 SPECIFIC PROVISIONS OF FASB ASC 272-10

Financial Statement Display
Comparative Financial Statements
LLC Disclosures
Conversion or Merger
Taxes
Members' Equity

2202 SELECTING AN ACCOUNTING BASIS
2203 SPECIAL ACCOUNTING TREATMENT SPECIFIED IN OPERATING AGREEMENT OR USE OF HYBRID ACCOUNTING METHODS

Special Purpose Report Based on the Basis of Accounting Specified in the Operating Agreement
Financial Statements Prepared on a Basis of Accounting Specified in the Operating Agreement Intended for General Use
Client Interpretations of the Operating Agreement

2204 TAXES

Federal Income Tax
State Income and Franchise Taxes
Accounting for Uncertainties in Income Taxes

2205 GUARANTEED PAYMENTS TO MEMBERS
2206 LOANS BETWEEN MEMBERS AND THE LLC
2207 EQUITY SECTION OF THE BALANCE SHEET
2208 STATEMENT OF CHANGES IN MEMBERS' EQUITY
2209 ADMISSION OR WITHDRAWAL OF MEMBER
2210 ACCOUNTING FOR LLC RETIREMENT PLANS
2211 CONVERSION OF AN EXISTING ENTITY TO AN LLC

Comparative Financial Statements
Conversion of C Corporation to LLC

Deferred Taxes Should Be Eliminated.
Assets and Liabilities Distributed to the LLC Normally Should Be Valued at the Predecessor C Corporation's GAAP Values.
Comparative Presentations May Include Periods before and after the Conversion.
Stub Period Presentations Require Special Disclosures.

2212 TRANSACTIONS WITH MEMBERS

Equity Interests for Services
Accrued Liabilities to Members

2213 ACCOUNTING FOR INVESTMENTS IN LLCs
2214 ILLUSTRATIVE FINANCIAL STATEMENTS AND SAMPLE ACCOUNTANTS' REPORTS
APPENDIX 22A: Illustrative Financial Statements

APPENDIX 22A-1: Limited Liability Company--Compiled, Income Tax Basis, Full Disclosure

APPENDIX 22B: Compilation Reports for Limited Liability Companies

APPENDIX 22B-1: Compilation--Limited Liability Company on the Accrual Basis of Accounting
APPENDIX 22B-2: Compilation--Limited Liability Company on the Cash Basis of Accounting
APPENDIX 22B-3: Compilation--Limited Liability Company on the Income Tax Basis of Accounting
APPENDIX 22B-4: Compilation--Limited Liability Company on the Accrual Basis of Accounting, Substantially All Disclosures Omitted
APPENDIX 22B-5: Compilation--Limited Liability Company on the Accrual Basis of Accounting, Statement of Cash Flows Omitted
APPENDIX 22B-6: Compilation--Limited Liability Company on the Accrual Basis of Accounting, Substantially All Disclosures and Statement of Cash Flows Omitted
APPENDIX 22B-7: Compilation--Special-purpose Financial Presentation That Is Not in Conformity with GAAP or OCBOA
APPENDIX 22B-8: Compilation--Cash Basis, Departure from the Cash Basis, Impact of the Departure Is Determined
APPENDIX 22B-9: Compilation--Cash Basis, Departure from the Cash Basis, Impact of the Departure Not Determined
APPENDIX 22B-10: Compilation--Tax Basis, Substantially All Disclosures Omitted, Departure from the Tax Basis, Impact of the Departure Not Determined

APPENDIX 22C: Review Reports for Limited Liability Companies

APPENDIX 22C-1: Review--Limited Liability Company on the Accrual Basis of Accounting
APPENDIX 22C-2: Review--Limited Liability Company on the Cash Basis of Accounting
APPENDIX 22C-3: Review--Limited Liability Company on the Income Tax Basis of Accounting
APPENDIX 22C-4: Review--Limited Liability Company on the Accrual Basis of Accounting, Statement of Cash Flows Omitted
APPENDIX 22C-5: Review--Special-purpose Financial Presentation That Is Not in Conformity with GAAP or OCBOA
APPENDIX 22C-6: Review--Cash Basis, Departure from the Cash Basis, Impact of the Departure Is Determined
APPENDIX 22C-7: Review--Cash Basis, Departure from the Cash Basis, Impact of the Departure Not Determined
APPENDIX 22C-8: Review--Tax Basis, Departure from the Tax Basis, Impact of the Departure Not Determined
APPENDIX A: Roadmap to Taxation of LLCs Classified as Partnerships

APPENDIX A-1: Introduction
APPENDIX A-2: Form 1065 Roadmap for LLCs--Client Summary Worksheet
APPENDIX A-3: Roadmap to Form 1065 and Schedule K
APPENDIX A-4: Roadmap Guidance

APPENDIX A-4a: Section 1: Heading
APPENDIX A-4b: Section 2: Income/Deductions
APPENDIX A-4c: Section 3: Schedule K
APPENDIX A-4d: Section 4: Analysis of Net Income (Loss)
APPENDIX A-4e: Section 5: Schedule L--Balance Sheets
APPENDIX A-4f: Section 6: Schedule M-2--Analysis of Members' Capital Accounts
APPENDIX A-4g: Section 7: Information about the Member
APPENDIX A-4h: Section 8: Analysis of Member's Capital Account
APPENDIX A-4i: Section 9: Income/Loss, Deductions, and Credits
APPENDIX A-4j: Section 10: Self-employment
APPENDIX A-4k: Section 11: Distributions and Other Information

ALABAMA
ALASKA
ARIZONA
ARKANSAS
CALIFORNIA
COLORADO
CONNECTICUT
DELAWARE
DISTRICT OF COLUMBIA
FLORIDA
GEORGIA
HAWAII
IDAHO
ILLINOIS
INDIANA
IOWA
KANSAS
KENTUCKY
LOUISIANA
MAINE
MARYLAND
MASSACHUSETTS
MICHIGAN
MINNESOTA
MISSISSIPPI
MISSOURI
MONTANA
NEBRASKA
NEVADA
NEW HAMPSHIRE
NEW JERSEY
NEW MEXICO
NEW YORK
NORTH CAROLINA
NORTH DAKOTA
OHIO
OKLAHOMA
OREGON
PENNSYLVANIA
RHODE ISLAND
SOUTH CAROLINA
SOUTH DAKOTA
TENNESSEE
TEXAS
UTAH
VERMONT
VIRGINIA
WASHINGTON
WEST VIRGINIA
WISCONSIN
WYOMING
Guide to Limited Liability Companies: List of Substantive Changes

View